Finding the perfect gift for a recovering addict is challenging because you can't ask them what they want.
The key to finding the perfect gift is finding a gift that is balanced and empathic, does not judge them, and at the same time packed with the right dose of encouragement and motivation.
In our list of 18 perfect gift ideas for recovering addicts, you will find gifts that tick all these boxes.
Finally, remember that what a recovering addict needs from you more than anything is love, support, and encouragement. Do not judge them and spend more quality time with them. Also consider giving them unforgettable experiences in addition to gifts.
Buying gifts for recovering alcoholics or recovering drug addicts are always challenging. It's challenging because you can't ask them what they want as they may ask for gifts or things that would not be helpful or beneficial to them on their recovery path and derail them from the strides of success they already made.
In this article, not only do we give you the best and amazing gift ideas for recovering alcoholics and drug addicts, but we also show you other ways to help a recovering addict and make their journey towards recovery easier and smooth-sailing one. Whether the addiction is drug-related or alcohol-related, the gift ideas in this article are relevant for all types of recovering addicts.
BEFORE YOU BUY THAT GIFT – WHAT YOU SHOULD BEAR IN MIND.
Here are some important facts to remember and bear in mind when you are thinking of buying a gift for your recovering addict friend or loved one:
1. The road to recovery is difficult and challenging for them.
The stage of addiction means that the person has reached a point where they are so dependent on the substance of their addiction that they throw all caution and reasoning to the wind. At that stage, they are most likely in serious debts because they incurred debts in trying to satisfy their substance urges. And when a person gets to the point of addiction, making a U-turn to the path of sobriety can be very challenging and difficult, and without the right support structure, they could easily relapse.
2. Gifts should be balanced and empathic.
A good gift should be one that does not trigger the urge or temptation to go back to their addiction, and at the same time encourage them and not judge them. Gifts that also facilitate the process of recovery are also great. So for example, cash gifts are a complete no-no as it would not be in their best interests since they may be tempted to use it to purchase either drugs or alcohol. Alcohol and drug-based gifts are also other no-nos for obvious reasons.
3. They need love and support and not judgment.
The last thing a recovering addict needs is judgment. For them to choose the path of recovery it means they already feel bad about the choices they've made during their addiction, and they want to make a turnaround and make better choices. Judging them would not help them on that path, it would only discourage them and discouragement is never a good thing for someone trying to find the courage to do the right thing. They need your love, support, and encouragement in this time more than ever.
As an Amazon Associate we earn from qualifying purchases. We may earn a small commission for our endorsement, recommendation, testimonial and/or link to any products or services from this website. Thank you, your qualifying purchases help support our work in bringing you real daily gift ideas.
Quick Overview: GIFT IDEAS FOR RECOVERING ADDICTS
BEST GIFT IDEAS FOR RECOVERING ADDICTS.
The best gifts for recovering addicts are gifts that have the following attributes:
Inspirational And Encouraging Gifts.
Mementos or small items that they can always have on them to remind them that they can do it. Engraved items with inspirational messages are always great gifts. They get to carry it on them and can always look at it to stay motivated and continue on the path of recovery. The following are perfect gifts with these attributes:
People may not understand the struggles that a recovering addict is facing, only them. And that is what makes the message on this T-shirt so beautiful and motivational. It sparks motivation and encouragement.
Pros.
It is made of good material.

It is a good fit.

It has an inspirational message.

It has sizes up to 3XL.
Cons.
It doesn't have a female cut as yet.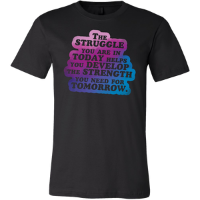 Inspirational t-shirts like this one have the precise message that a recovering addict needs to motivate them on the journey of recovery.
2. Inspirational Quotes Wall Art/Paper

.
The right quote said at the right time is often the boost that we need to get started on a challenging task. And wallpaper with such inspirational quotes is known to do that. A gift of wallpaper with inspirational quotes for overcoming addiction would go a long way in energizing your loved ones that they've got this and can beat the addiction. We have picked the top ones with the right dose of inspirational quotes for overcoming addiction made from high-quality canvass:
Patience, Persistence, Perspiration, and Success 4 Piece Wallpaper. The beauty of this wallpaper is that it not only has these inspirational messages, but the pictures it uses are also ones that can resonate deeply with a recovering addict. The pictures show persons going against all odds to achieve success, and that's the right type of pictorial inspirational message a recovering addict needs to look at when it gets tough to continue on the journey.  
Mindset is Everything Wallpaper: This is an important message to any recovering addict to encourage them to maintain a mindset towards recovery. The picture of a baby cat reflected as a tiger is also very apt and encouraging. And the size of the canvass is just the perfect size for maximum impact.
Success Tree Wallpaper: The tree in this art is a beautiful and encouraging depiction of the elements that go into success.
Never Give Up Wallpaper: Another beautiful pictorial depiction inspiration and encouragement to keep pushing towards recovery against all odds.
Pros.
It would encourage them.

It assures them of your love and support.

They can be hung or put on the table.
Cons.
There are no cons to inspiration.
These particular selections of wallpaper are made from high-quality materials that would add color and class to your recovering addict friend or loved one's living space. They come with just the right dose of inspiration to keep them inspired and motivated.
3. Addiction Recovery Bracelet.
This inspirational bracelet is a good gift for sobriety anniversaries, particularly for a recovering alcoholic. It has the anniversary year inscribed on it which serves as a reminding encouragement to your loved one that they have made it that far. It comes with options for 1 to 3 years. It is made of high-quality materials and is skin-friendly.
The amazing thing about this bracelet is that it is a really beautiful and classy fashion accessory with a motivational message. The fact that it is a great fashion accessory would make the recovering addict want to wear it all the time. And when they wear it all the time, it reminds them of the important journey of recovery they're on.
4. Sobriety Bracelet.
This beaded bracelet is a great alternative to the chain bracelet in number 2 above. It comes with beautiful stones that some recovering addicts have dubbed "healing stones".
This quality beaded sobriety bracelet is the perfect sobriety memento to keep the recovering addict on track. All the family and friends of recovering addicts who have bought this item for their friends and loved ones are agreed on this fact.
5. Recovery Encouragement Stones.
These Stones are another great dose of inspiration gift. They come with 6 small stones with inspirational messages that can serve as a daily reminder to stay on the path of recovery.
These stones can also serve as tools to use during a heart-to-heart discussion or counseling session with a recovering addict. The messages on them can serve as talking points in such sessions.
6. Inspirational Sobriety Keychain.
The great thing with keychains is that everyone needs to carry one because everyone has a key or keys. And that is what makes this particular keychain a hit to give a recovering addict. Every time they need to use their key, they see the message of inspiration and encouragement to continue on the journey of recovery. The message on it is a beautiful message of no judgment and encouragement and it is made of quality stainless steel.
(You could also consider these two other keychains that also have great inspirational messages – The Always Remember Keychain and The Uncomfortable Days Keychain).
The key chain is an accessory that everyone carries with them. Having a recovering addict carrying inspiration engraved in a keychain with them every day will keep them motivated and inspired.
7. Personalized Genuine Leather Photo Album and Scrapbook.
A great way to build inspiration and encouragement for a recovering addict is to give them pictures of hope that show them beautiful things to aim for. Nothing says "I am with you in this" like a personalized photo album. As they say, "a picture is worth a thousand words." Just showing your recovering addict friend and loved one that you see them and remember all the good times, not only tells them you love them, it tells them you don't judge them. And that knowledge alone is enough to keep them pushing on to full recovery. And choosing to present those memories in such a quality leather-bound album leaves them in no doubt about the value you place on them.
In this quality leather photo album book, you get the chance to put all the photos you have with your recovering addict friend or loved one. Since it also doubles up as a scrapbook, you can leave an inspirational short note under each photo. The front of the photo album is blank, meaning that you can personalize it and name it however you want. It comes in a great packaging that makes this gift such a great and thoughtful inspirational gift for a recovering addict.
8. Photo Memory Box.
This photo memory box is another great alternative or addition to the personalized photo album. This one is cool because you can take one or two pictures of you and your recovering friend and glue on the paper together with the flower that comes with the box and then a short inspirational message. They can then hang it in a place where they get to look at it all the time. Another great motivational and inspirational gift.
This is a photo album packed in a box. When he/she does not feel like picking up the album, they have the box staring right back at them, reminding them that they are awesome and they got this, they can do this. A truly thoughtful and beautiful gift to give a recovering addict.
Health-Related Gifts.
Staying healthy and adopting a healthy lifestyle as an alternative is a fast way to recover from addiction. Gifts that would, therefore, encourage them to stay fit and active would be good. By being preoccupied with staying active and fit, they have less time to dwell on the addiction triggering activities. The following are the best health-related gifts you could give them:
9. Fitness SmartWatch by Samsung.
This beautiful unisex piece is not your regular fitness watch. It is a fitness watch that also doubles up as a smartwatch. And this means they don't have to only wear it when exercising, they can wear it to go out too. And this means they can have it on them the whole day. And every time they check the time, they also see their fitness status and are reminded of keeping to their fitness goals.
This is a great gift because it is not only stylish, it is very functional. It is a great way to keep a recovering addict on the fitness path because they wear it every day for other things like reading emails and other important notifications, but it reminds them to not forget their fitness goals.
10. Bodyweight Exercise Cards.
This cool box of cards is great for inspiration to start on the fitness journey. It gives wonderful ideas of simple but effective exercise and fitness activities to get started on the fitness journey. This is good because if the recovering addict has no idea of what to do to stay fit or is feeling lazy to research it, they have a handy resource tool.
(You can add the Yoga Exercise Cards and the Flexibility Exercise Cards for more variety as these also do not need much equipment and can be done at home).
With these cards, you help the recovering addict eliminate any excuses for not starting on the fitness journey. This is a great way to get a recovering addict started on getting and staying fit. The exercises are simple and the instructions are also simple and easy to follow.
11. Balance Board Trainer.
This cool high-quality board is great for balancing and staying fit and coordinated. And the fact that it looks like a skateboard makes it appealing enough to draw the recovering addict into using it. It's a great gift to inspire starting on fitness. And who knows the recovering addict might decide they want to take on a new hobby of snowboarding or skateboarding after using it.
The great thing about this balance board is that it does not even require the recovering addict to do much. All it requires is trying to balance and stay coordinated. It looks stylish and funk which makes it extra appealing. Any balancing activity is always fun and engaging, and this board guarantees that, plus the added benefit of staying fit.
12. Running Shoes.
Going for a run is the easiest way to get started on being fit. It is also the easiest fitness activity that anyone can do. It would keep them distracted and focused at the same time. You can encourage them to get started by buying them a pair of very comfortable running shoes. These Male Running Shoes and Female Running Shoes come highly recommended.
Uncomfortable running shoes without protective features for the sole discourages running because of the discomfort associated. To make running fun for a beginner, give them lightweight and yet protective running sneakers and watch them stay motivated to run. And that is precisely what these running sneakers do.
13. A Yoga Mat.
Yoga is another great exercise to relax the mind. And since the relaxation of mind is key for a recovering addict, getting them a yoga mat would encourage them to try out yoga.
A great yoga mat such as this one is important for getting started on yoga classes.
14. A Fruit basket.
Healthy eating is also important on the recovery journey, and a fruit basket is not only nice and thoughtful but also very healthy. It makes for a good gift basket. This fruit basket comes packed with fresh and succulent fruits that would encourage the recovering addict to eat right.
One can never go wrong with fruit baskets when it comes to a good health gift. The fresh fruits in this basket make it a highly preferred buy.
Recovery Related Gift Items.
These are gift items that would help them on the path of self-recovery. Items such as books, writing journals, and games to keep them busy and engaged are good recovery related gifts.
15. Books.
Books are a great way to keep a recovering addict occupied and focused on recovery. 
The important thing to note about gifting a book though is that you need to choose a book whose title and content does not come across as judgmental so that the recovering addict does not feel like you're subtly judging them.
It is also important to pick a book in line with their recovery goals, and this you can find out by asking them.
There are many books out there on recovering from addiction, and they are all inspirational in their own right but the following top the list of preferred books for a recovering addict. They are preferred because they are balanced and non-judgmental. You can pick from any of these titles. 
Pros.
They are also available in Kindle format. 

They are encouraging. 

They will help in the journey of recovery.
Cons.
There are no cons to a good read.
Reading good motivational books about other addicts who beat their addiction and recovered is great motivation on the journey of self-recovery. And all these books help the recovering addict on that journey.
16. A Recovery Writing Journal.
Writing is another great therapeutic activity in the journey to recovery. This particular journal is made specifically for sobriety and is designed in such a way to help the recovering addict keep track of their progress. A really helpful recovery gift.
A journal that specifically provides for detailing the journey of recovery is the best for a recovering addict. This is because it gives them a nudge in the right direction on what to start writing about on their journey of recovery.
17. Games and DIY Activities.
Fun engaging games that get a recovering addict to use their hands and think of other things are a great way to help them on the journey of recovery. Top games to give a recovering addict are:
Sobriety Playing Cards.

These are fun playing cards with cool sobriety messages written on the side.

Recovery Adult Coloring Book

. This is a fun DIY activity game book that would keep the recovering addict very occupied. The pictures are on recovery themes.  

Brainteaser games.

This box of brain teaser games will keep him/her very occupied and engaged for hours on end. It engages the hands meaning that they have less time to pick up their addictive substances.
Pros.
The games are engaging.

They are also fun.

They can be played with a group.

They are therapeutic.
Cons.
There are no cons to fun and games.
These games are very engaging and will keep a recovering addict occupied. You can make it more fun by making out time and playing the games with them.
18. A Miniature Zen Garden.
This beautiful garden set is not just a great decoration for the table, but a great recovery set for practicing mindfulness. Mindfulness is an important part of the recovery process. And this set is awesome because it is a great decorative accessory meaning that the recovering addict can always look at it and remain in a mindfulness state.
This garden is a great gift set for the process of recovery. It helps a recovering addict practice mindfulness constantly and consistently.
And to make the whole gift-giving exciting, you can surprise them with the gift.
OTHER WAYS TO HELP A RECOVERING ADDICT.
In addition to your gift(s), a recovering addict needs your love and support. You can show them love and support by doing the following:
Spend quality time with them and be there for them.

 
Instead of just giving them the games, for example, you can spend some time playing those games with them. The company would be good for them and help them greatly.  
Take them out to fun and exciting places.

 
These should be places that would make them forget their addiction and still have clean fun. Good examples are places like amusement parks, or just going together for a spa treatment. Or a camping or road trip (without booze); concerts and musicals and movies. If you live in a small town, you can check out this article on fun things to do in a small town with friends for great ideas, or if you have a beach you can get ideas in this article on fun beach activities to do with friends.
In taking them out, avoid places with trigger items. Places like hotels and bars for example are not good for a recovering alcoholic.
If you can pay for a recovery treatment consider booking them into one.
Buy them items they may need but not be able to afford like groceries.
FREQUENTLY ASKED QUESTIONS.
Do you know any good sobriety gifts for my brother?

 
All the gift items listed in this article are great sobriety gifts for your brother. They would help him greatly on his journey of recovery.
What type of gifts for recovering alcoholics would you recommend?

 
All the gifts in this article are equally as great for a recovering alcoholic.
How about gifts for men in recovery?

 
All the gifts in this article are also great for men in recovery.
CONCLUSION.
Buying a gift for a recovering alcoholic or drug addict can be challenging. But in this article, we take care of that challenge with the list of the 18 Perfect and Amazing Gift Ideas for Recovering Addicts.
Also remember that in addition to your gift they need your love, support, and encouragement. And you can show them these by spending time with them and giving them fun experiences.
ESTIMATED TIME DESIGNING AND UPLOADING THIS ARTICLE
ESTIMATED TIME RESEARCHING AND WRITING THIS ARTICLE
Try our AMAZING GIFT FINDER TOOL! Find GIFTS with 1 CLICK!