In this article, you will find a number of items you can get as gifts for male hosts, couples, wedding hosts, and party hosts.
Are you having a hard time finding the right gift for your host? We've made your search easier. Whether your host is a man or a woman, whether you wish to impress them or simply say thank you; if you are looking for something expensive, not so expensive, unique, classy, beautiful, and or vintage, look no further. Our gift ideas will help you pick the perfect gift for your host.
To help you pick the right gift, think of something that will look good on your host or their home, something they would love their friends to see and or share with their friends and family, and lastly, something they would find aesthetically pleasing. We've identified 21 beautiful items you could use as gifts and we've subdivided them into four;
Gift items for male hosts

Host gifts for couples

Gifts for party hosts

Gifts for wedding hosts
As an Amazon Associate we earn from qualifying purchases. We may earn a small commission for our endorsement, recommendation, testimonial and/or link to any products or services from this website. Thank you, your qualifying purchases help support our work in bringing you real daily gift ideas.
HOST GIFT IDEAS FOR MEN
1.

 

VINTAGE WHISKEY DECANTER
It is a lot more common for guys to share a glass of whiskey with their guests than ladies and this is why a quality bourbon decanter set is a go-to gift (if he drinks). The good thing about this kind of gift is that a host will not mind owning a few of them and you can make this gift better by choosing a set with a unique design like this Milburga antique pewter stag whiskey set. Two words to describe it; classy and gorgeous. The set includes two 12.5oz bourbon tumblers and a 24oz decanter with pewter stopper.
Customers that have bought this bourbon set are pretty impressed with its quality and design. It is safe to say that this is perfect for a male host.
2.

 

AGELOCER MEN'S WATCH
Talk about making an impression; this watch will probably be one of his best host trophies. This platinum-plated stainless steel watch has a transparent case back, automatic mechanical movement, and a two-way winding system. Its moon inner face is absolutely beautiful and the metal buckle, unique. This watch is simple but classy. If your host has an expensive taste, you won't go wrong with a quality watch like this one.
We recommend this watch. You can find more interesting gifts for males hosts in our article Gifts for men under 1000 dollars.
3.

 

ORIGINAL BLEND COFFEE BEAN
Getting your host a blend of coffee beans can be tricky if he is a coffee lover but it is still a good choice of gift for a host. The good thing about many coffee lovers is that they have adventurous taste buds. It keeps them appreciative of a good coffee gift and that is why we recommend this medium roast whole bean coffee by Dunkin' Donuts. It has a rich flavor, smooth taste, and a soothing fresh aroma. We think your host will like it.
Pros.
Fresh quality coffee bean

Full of flavor

Good quantity

It arrives well packaged

A lot of customers feel like this coffee bean is worth the price
Cons.
Everyone has preferences and even the best coffee blends or beans have critics. However, the chances of your host liking this coffee bean are pretty good.
It is worth buying
4.

 

KENNETH COLE MANKIND
Presentation is a big deal for hosts and this is why personal care products including perfumes make great gifts. Get him this perfume by Kenneth Cole, the scent is bold, appealing, and long-lasting.
Pros.
The scent is excellent, bold but does not suffocate.

It is long-lasting and will keep a man confident the whole day

It is a value for money item
Cons.
Just like any other product, getting the original version is uncertain. However, the ratings and reviews on this perfume are convincing. This could be it.
Mankind by Kenneth Cole is a good perfume and if you are not convinced, you can try out Creed Aventus Cologne, Azzaro Wanted, or Nasomatto Duro.
5.

 

3D GENUINE LEATHER WALLET
Considering how important a wallet is to a guy, it would be great to get him this 3D leather wallet by Theodoros. We chose this wallet for its craftsmanship, sturdy look, and uniqueness.  It is equally less formal which makes it a good addition to his wallet collection. He may not consider this wallet as an everyday wallet depending on the kind of job he does, but it will be a go-to wallet for casual outings.
Pros.
This wallet brand is building a reputation for quality wallets, which means that you will be impressed with the quality of this wallet

The design is unique and beautiful. It will get a lot of admirers

The wallet can be personalized upon request

The brand offers a list of interior options for customers to choose from
Cons.
If you are looking for a big wallet, you may not prefer this wallet

It is pretty expensive but the quality and design is worth it
Buying this wallet as a gift is a perfect idea.
HOST GIFTS FOR COUPLES
It's always a great idea to get couples items they can use together such as a piece of furniture, cooking accessories, or home gadgets. Quite often, the ladies get all the good stuff, and although men do not complain, it would be lovely to consider both the man and his lady in the gift shopping. Here are a couple of items you can get for them;
6.

 

PERSONALIZED SERVING TRAY
Apart from the design of the tray, having the option to engrave couples' names, favorite quotes, or personal message on this tray makes it a good choice of gift. The gloss finishing on the tray makes it moisture-resistant; the stainless steel handles make it comfortable to hold and lastly, the personalized engravings add to the beauty of this tray.
This is a good couples gift
7.

 

BASSO INFUSED VIRGIN OIL SET
If a couple invites you for dinner or a cookout party, apart from wine, consider a food seasoning set like this infused virgin olive oil set. Gifts like these are warm and homely. It gives the impression that you have embraced their family. The infused flavors are; Garlic oil, Rosemary oil, Bassil oil, and Chilli pepper oil. Each bottle of this olive oil has its own unique flavor and adds to the taste of each dish.
This is one of the best-infused oils out there and a great choice of gift.
8.

 

VIDEO PROJECTOR
One item that will make movie nights more interesting is a video projector. It will help hosts to customize their space in a way that every guest will feel comfortable. So, if you have a couple that loves hosting dinners and movie nights, get them this mini video projector by Vilinice. It is a 100-inch screen projector and with a watching size from 30 inches to 200 inches. It is equally a high-definition projector (1080p) with an HDMI port, VGA port, USB port, and AV port. This means that it can be connected to almost any device for viewing pleasure. This is a unique gift and your couple friends will be grateful for this spice-up gadget.
This is a highly recommended projector.
9.

 

3 PIECE NONSTICK CERAMIC BAKEWARES
Kitchenwares will always come in handy and that is why they make good gifts. Consider getting them this pretty nonstick ceramic bake set. It comes in three amazing sizes and they are perfect for health-conscious couples as it reduces the need to use a lot of oil or butter. They are dishwasher safe and their design makes them a presentable serving dishpan.
You won't go wrong getting your couple friends this lovely bakeware set
10.

 

FRUTTELA TABLE CLOTH
Table clothes are uncommon gifts yet they come in handy for hosts. There are many unique, gorgeous, and luxurious looking table clothes you can pick out for your couple friends and we recommend this Fruttela tablecloth with lace trimming. It comes in different sizes and if you've been to your friend's house before, you will be able to pick the right table cloth size. However, if you do not know which size to get, it is best to avoid this gift or ask your friends for their table size.
This item is perfect if you are familiar with the couple. If you are not, choose another gift item.
11.

 

BBQ GRILL KIT
If they are foodies or grill lovers, grill accessories won't be a bad idea. This 22 piece barbeque set is made with quality stainless steel and comes in a portable aluminum case.
It is a good item.
GIFTS FOR PARTY HOSTS
Let's assume that you are looking for gifts for female party hosts, anything that adds to her elegance is your best bet. Here are a couple of items you can get for her;
12.

 

SILK SCARF
A quality silk scarf adds to the beauty of an outfit. It can be worn as a neck or hair accessory, can be used to decorate a handbag, or used to decorate a dress. However she chooses to use it, silk scarfs are valuable accessories to ladies. However, finding a quality silk scarf has not been easy. But you can consider getting this pretty Mulberry silk scarf for her. They are warm, soft, and stylish.
Worth buying
13.

 

CERAMIC VASES SET
Since presentation is an important part of hosting, vases will always be relevant. They are great decor and should be readily available when needed. Even if she does not use them immediately to decorate her home, trust us, she will use them in the near future. Get her this gorgeous black ceramic vase set. If you don't like black, it comes in other colors too. The set comes in 3 different sizes.
Pros.
They are beautiful

Great decor

Affordable
Cons.
Customers that gave this product lower ratings thought that they were big flower vases even though the product details show they are not. We think these are gorgeous vases and worth the buy unless you prefer bigger vases.
14.

 

PEARL RED ROSE BROOCH
Another cute fashion accessory a lady will love is a beautiful brooch. A host has many occasions to attend and flaunt a beautiful brooch like this pearl red rose brooch. This brooch is so stunning, a lady can't resist. It is jaw-droppingly beautiful and we think this should be your first choice of gift.
Brooches are a good choice of gift and we think this brooch is stunning. Other lovely brooches you may want to consider are White pearl crystal brooch, Maple leaf brooch, and Rhinestone crystal brooch.
15.

 

ESSENTIAL OIL SET
Will she love this gift? The answer is yes. This essential oil set includes 20 10ml bottles of essential oils in assorted fragrances. 20 bottles of essential oils to experiment with. The scents include; peppermint, sandalwood, rose, lemon, jasmine, vanilla, grapefruits, and many more beautiful scents. The packaging is top-notch. Whoever sees it will be impressed.
Pros.
They come in a good range of fragrances

They are long-lasting

The packaging is absolutely beautiful
Cons.
Although the product page says that these are natural essential oils, we truly doubt they are. They would be a lot more expensive if they were natural oils. Certain fragrances don't come cheap.
We think this essential oil set is worth getting as a gift.
16.

 

A HAND-PAINTED LEATHER WALLET
Talk about making a lady smile, you won't go wrong with this beautifully handcrafted ladies wallet by Anuschka. This brand is building a good reputation for uniquely crafted bags, purses, and wallets. Their products are equally of good quality and we have no doubt that a female host will love this wallet.
They are stunning wallets, and a lady will love having one of them. If you are still not convinced about these gifts, find more ideas in our article Gifts for impossible woman.
GIFTS FOR WEDDING HOSTS
Since both couples are starting their life together in holy matrimony, here are a couple of items you could get for their new home:
17.

 

RACHEAL RAY NONSTICK COOKWARE
A full cookware set is a good idea and that is why we recommend Racheal Ray's nonstick cookware. The set is long-lasting, the color pretty, it has comfortable grip handles, solid lids, and includes; 2 cover saucepans, a 6 quarts pot, a cover saute pan, 2 skillets, a baking pan, two cook spoons, and a vegetable peeler.
This is a value for money item.
18.

 

G6 ETERNAL LOVE STATUE
Something that will always remind them of the bond they share together is a great gift. This G6 handcrafted wooden statue tells a love story of two individuals coming together to share something beautiful. This statue is unique and beautiful, it is a perfect gift for lovers.
It is a lovely lover's gift.
19.

 

ELIXIR EDGE WINE GLASSES
The simplicity of this wine glass set, coupled with its unique modern look and elegant packaging, makes it the ideal gift for wedding hosts. The set includes 2 14oz wine glasses. These glasses are 8.7" tall and are lightweight.
The brand did a great job with their packaging. The packaging does well to secure the glasses and also make this wine glasses set presentable.
20.

 

LUXURY TOWEL SET
Ideally, a personalized luxury towel will be our go-to couples gift, however, finding the right quality seems to be an issue. We think that this is a good set of towels; they are soft, good absorbents, made with 100% cotton, and durable.
They are worth buying. Another good option will be this Royzel74 luxurious towel. Their towel looks pretty solid.
21.

 

PERSONALIZED CHOPPING BOARD
This personalized cutting board is probably one of the cutest gifts to give wedding hosts. The beauty lies in its unique personalized designs which are dependent on customers. You can get creative with your design and give your friends a perfect gift.
The engravings are beautiful, this board is totally worth its cost.
FREQUENTLY ASKED QUESTION
What is a good host gift?
A good host gift is any item you think will look good on the host, their house, and will be useful to them. These items could be fashion accessories, homewares/ decors, or gadgets. You could also go as far as arranging a holiday trip for them or paying for their spa treatments. It all depends on what you find appropriate. We've identified 21 lovely gifts for hosts in order to make your search a little bit easier.
Thank you gift for hosts
A hand-painted leather wallet, a brooch pin, an essential oil set, personalized trays, and a coffee bean pack are some of the 'thank you' gift items we've identified.
Which gifts can I get a male host?
You can get a male host a bourbon set, a quality wristwatch, good perfume, a leather wallet, and an original blend coffee bean. You can pick other gift items from our gift list.
CONCLUSION
Picking up something lovely for a host is a good gesture and we know that sometimes choosing the right gift can be ruffling. This is why we have identified amazing gift items that a host will appreciate. Whether your host is a man or woman or even a couple, our gift ideas should make your search a little bit easier.
ESTIMATED TIME DESIGNING AND UPLOADING THIS ARTICLE
ESTIMATED TIME RESEARCHING AND WRITING THIS ARTICLE
Try our AMAZING GIFT FINDER TOOL! Find GIFTS with 1 CLICK!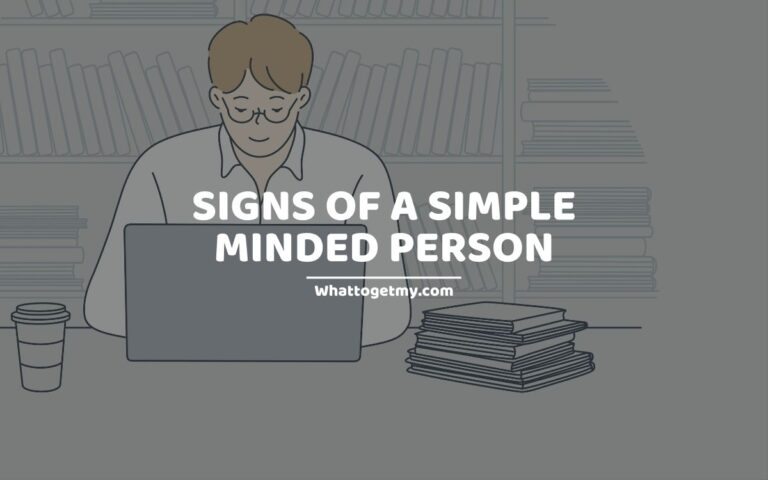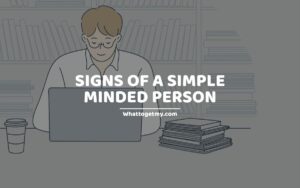 17 Signs of a Simple Minded Person
17 Signs of a Simple Minded Person WhatToGetMy Instructional Article Simple minded people are generally frowned upon by society for their apparent lack of intelligence and cavalier attitude towards life. These same people, however, seem to be able to navigate life pretty well and generally
Read More »