5 ways for How to Ask for Experiences Instead of Gifts
WhatToGetMy Instructional Article
You have made up your mind about the gifts that you would like to receive. And have decided that you do not want any more materialistic gifts for you or your family. But, if other family members insist on wanting to give you something. You would prefer to receive experiences instead of gifts.
What made your mind up about not wanting material things was the overflowing drawers and closets of past gifts. While looking at all this you could feel yourself wanting to scream "NO MORE THINGS PLEASE" you do not need them.
Yes at the time of receiving those many wonderful gifts. You and your kids were happy and excited and loved the new and trending items or toys. But over time that joy quickly faded away and these gifts were tossed to one side and left to clutter up your closets.
So now you feel that you would benefit so much more from an experience type of gift. These gifts create long-lasting memories for you and your family. They are more rewarding and thoughtful than any other gift.
So if your family and friends want to buy you or your family a gift for a birthday, Christmas or your anniversary. You would definitely prefer to receive experiences instead of physical gifts.
But your question is how to ask for experiences instead of toys on an invitation? And for any other occasion, like for Christmas how do you ask for an experience instead of gifts?
Do you tell them outright what you would really like? Or do you give them a couple of hints and hope that they get it right?
Do you tell them outright what you would really like? Or do you give them a couple of hints and hope that they get it right?
Well, it would work the same as asking for cash or how to ask for gift cards on a birthday invitation as an alternative gift. Which are as follows:
On birthday invitations 
If you are sending out birthday invitations to friends and family members. You can write at the bottom of the invitations "No Gifts Please" in a small font. Then wait for people to contact you and to ask you what they could get you instead. When they do, then this is the time to tell them politely that if they really would like to get you something, you would prefer to receive an experience as a gift.
But also be prepared that people will ignore your request and bring a gift along anyway. So remember to thank them politely for the gift.
For Christmas presents
If the festive season is approaching, you can ask family and friends in a few different ways. This would depend on the type of relationship that you have with each friend or family member. They are: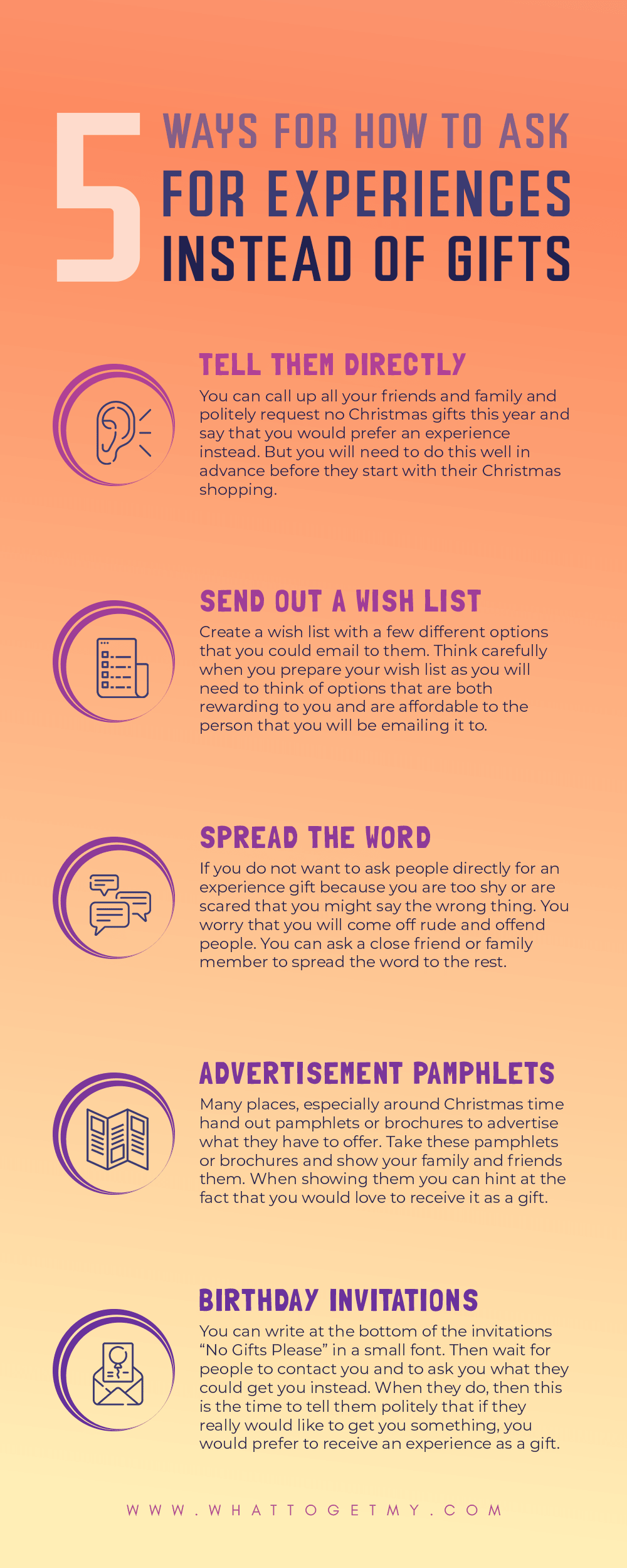 Source Link: https://whattogetmy.com/how-to-ask-for-experiences-instead-of-gifts/
1. Call them and tell them directly
You can call up all your friends and family and politely request no Christmas gifts this year and say that you would prefer an experience instead. But you will need to do this well in advance before they start with their Christmas shopping.
But before you jump on the phone you should first think about the person that you will be calling. As relationships with different family members can vary, some may be accepting of your experience gift idea and others may feel offended by your request.
Many people still find it extremely rude and offensive to ask for a specific type of gift directly. But there are many others that are opening up to the idea of giving and receiving gifts that people actually want. They are starting to see the value of an experience type of gift, no matter how big or small they are.
2. Send out a wish list
Create a wish list with a few different options that you could email to them. Think carefully when you prepare your wish list as you will need to think of options that are both rewarding to you and are affordable to the person that you will be emailing it to.
Remember experiences are not only limited to the different activities that a person can do. Experiences can be learning something new by reading books, crafting something together or spending time together as a family. It does not have to be something extravagant as many people may think. It can be something as simple as camping out in your back yard as a family, volunteering to help out where it may be needed or donating to a charity of your choice.
3. Spread the word
If you do not want to ask people directly for an experience gift because you are too shy or are scared that you might say the wrong thing. You worry that you will come off rude and offend people. You can ask a close friend or family member to spread the word to the rest.
4. Use advertisement pamphlets
Many places, especially around Christmas time hand out pamphlets or brochures to advertise what they have to offer. Take these pamphlets or brochures and show your family and friends them. When showing them you can hint at the fact that you would love to receive it as a gift. This way they will then be able to see for themselves how interesting and exciting an experience gift can be.
For each person that you would like to ask, you should first think which type of person they are, are they the offensive type or the accepting type? Then decide whether it is best to call, send them an email, spread the word through someone close to you or if you should ask them personally face-to-face.
So how do you actually have that conversation on the phone without it being awkward?
With close family and friends that are accepting of the idea, it is easy. You can be honest, straight forward and can come straight out and say it.  You do still need to remember to be polite in the way you ask them though. After all, you are telling people what to buy you.
You can do this by:
Thanking them for all the wonderful gifts that they have given you in the past

Tell them that you are looking forward to doing something different for this birthday or Christmas.

You can tell them that you are busy with or have de-cluttered your home and that there is nothing that you need

You can mention a past experience that you and your family have had and that no-one can stop talking about it.

Then ease the conversation into mentioning that another memory like that would bring so much joy to you.
With people that you do not know that well, you would still need to be polite. But you would probably need to do little more explaining in detail as to why you would prefer experiences instead of gifts.
But what type of experiences can you ask for?
There are so many different experiences that you could choose from the simplest thing like spending time out in a park with your family up to and including extreme physical activities that you can take part in.
This will also depend on if you are looking for an experience gift for only you, your kids or for your entire family. Some experiences could also depend on your interests, passions, and capabilities.
Experience gift Ideas
For kids to experience on their own
Experience gifts for kids could be anything where they would have fun and enjoy. This could be day passes, season tickets, subscriptions to things they love, something they could learn or even a gift card to places they love to go to. Examples of these are:
An Amusement and Water Parks pass

Zoo passes 

Concert tickets

Children's Museum Passes

Annual passes to a rock climbing center

Season tickets to their favorite sports games or for only one game

A movie gift card that allows them to see a few movies

Lessons for different types of activities, like swim lessons, soccer, dance, musical instrument, cooking, etc.

Tickets to a Broadway musical is the perfect

gifts for musical theater lovers

Subscriptions for kids to one of the many that will send your kids different activities to do every month.

Gift certificates to their favorite place to eat
For Adults
The type of experience gifts that you choose will depend on the type of person you are and your passions or interests. They range from energetic, adrenaline pumping to the more relaxing type. Some ideas are:
Racecar driving session

A flying lesson or two

Tickets to an Escape Room

Tickets to see your favorite artist perform

A museum membership

Vouchers for a spa treatment

A Cooking or baking class

A Pottery or painting class

Tickets to a musical

Wine tasting or brewery tour

A Safari park pass
For Families with Children
Factory tour passes are interesting for the whole family to learn about the steps or process of making different things

Attraction and amusement tickets for the whole family to enjoy

Survival skills programs that will teach you how to survive while out in the wilderness

Tickets to out of the ordinary types of museums

Family cooking classes

Family Water Park passes

Tickets to a sporting event

A night at a nearby luxury hotel for the whole family

A trip to virtual reality game center

A ride in a Helicopter
Experience Gift Ideas for Seniors
Many seniors live their life trying to fill it with as many experiences as possible before their time runs out.  Experiences that make them feel happy and loved by those around them. They have no need for new items, only memories and memories are created by learning something new and spending time with their loved ones. Some ideas are:
Flower Arranging Classes

Art Classes

Yoga Classes

A spa and massage day voucher

A lunch boat cruise

Your favorite magazine subscription for a year

Cooking classes to learn a new cuisine

A bus to trip to a favorite place

A helicopter ride
Many of the above could also be an option for you. If you are a grandparent and want to spend some valuable time with your family doing fun things together. You can ask for a family type of experience. 
There are many other experiences that you could choose from, some of them cost next to nothing and others may be quite expensive. So if you decide to choose one that happens to be on the pricey side, it is best to probably ask for a donation towards that experience. But this option may be risky, so again you would need to think about the person that you want to ask and if they will be able to afford it.
You could even try to break it down into sections, lessons or a single session. If not then you should try to choose an experience that would not cost that much money.
It may be difficult for you to ask for experiences instead of gifts. Especially, if you are dealing with friends and family that are new to the idea. It is difficult for them as many people are not used to not giving a physical item for a gift that they bought and wrapped themselves. They are also not used to the idea of someone requesting the type of gift they would like to have.
It is best to give them time, maybe a couple of years before they could begin to understand the real value of an experience gift. This could even be when they themselves receive a similar gift. But for the time being it is best for your relationship to accept and be grateful for the gift that they do give you.
But for others, they might be relieved and very grateful to you for asking because maybe they feel the same way as you do or they had no idea what gift to get you and your family for a special occasion.
When it comes to figuring out how to ask for experiences instead of gifts keep in mind the type of person you will be asking if they can afford it and then choose the best way to ask them.
ESTIMATED TIME DESIGNING AND UPLOADING THIS ARTICLE
ESTIMATED TIME RESEARCHING AND WRITING THIS ARTICLE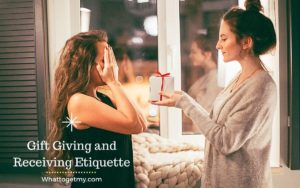 Gift Giving and Receiving Etiquette
Gift Giving and Receiving Etiquette WhatToGetMy Instructional Article It's not a birthday until you unwarp a gag gift from your cousin, a fluffy toy (you stopped liking about 15 years ago) from your aunt, and several hard-to-name items from your friends. That might be fine
Read More »