Romantic Anniversary Night Ideas
WhatToGetMy Instructional Article
You have an important anniversary in your relationship coming up and want to plan a nice romantic evening for the two of you and need some romantic anniversary night ideas.
Although most couples remember the important moments in their relationship, the exact day and time a special event occurred but do not always remember to celebrate these special occasions, especially when you have been together for many years and for many different reasons or excuses.
You feel that your previous anniversaries just snuck up on you and there was no time or energy to plan anything special or you were on a tight budget and could not come up with anything to do so your anniversary just came and went without doing anything at all to celebrate it.
Taking the time to find ideas for an anniversary celebration and celebrating it is important because it is a great way to renew and refresh your love for one another and they can help strengthen your relationship by reminding you of the good and happy memories you share together and the reasons why you are together as a couple.
The Importance of celebrating Anniversaries
Anniversaries are an important part of our lives and our relationships with other people and need to be celebrated. Celebrating them is important because:
They give you a chance to connect or re-connect as a couple by spending time together.
Celebrating anniversaries together give you the time to communicate with each other in a more relaxed way.
They bring joy and laughter to a relationship, reducing stress and increasing your heart rate resulting in some positive health benefits.
They help with strengthening your relationship by reigniting the memories of the happy times you shared at the beginning of your relationship.
They remind you why you fell in love in the first place.
They help the two of you focus on each other's good qualities
You have the chance to reflect on the past, the obstacles that you have overcome as a couple and a way of giving you hope for the future.
Is an excuse to get away from your busy life and focus on your relationship or marriage
Giving you time to look towards the future by discussing your hopes and dreams
They help you create new memories to talk about.
Some important anniversaries in a relationship that can be celebrated
Your First date and its location
Your First Kiss
The first time you say those all important three words, I Love You
The First holiday that you spend with the person you are in love with
Moving in together which is a big step towards a long-term commitment
Your Engagement which requires popping the question at the right moment and at the right place
Your Wedding Anniversary
Finding ideas for anniversary celebration is like having a date night, the only difference is that you need to put in a bigger and better effort to make it truly memorable and think of unique ways to celebrate and to make it extra special you would want it to really stand out from all the ordinary date nights.
To help narrow things down you will first need to decide whether you want a romantic and relaxing anniversary night at home or would you prefer an evening out that is filled with fun and adventure.
Some romantic anniversary night ideas are: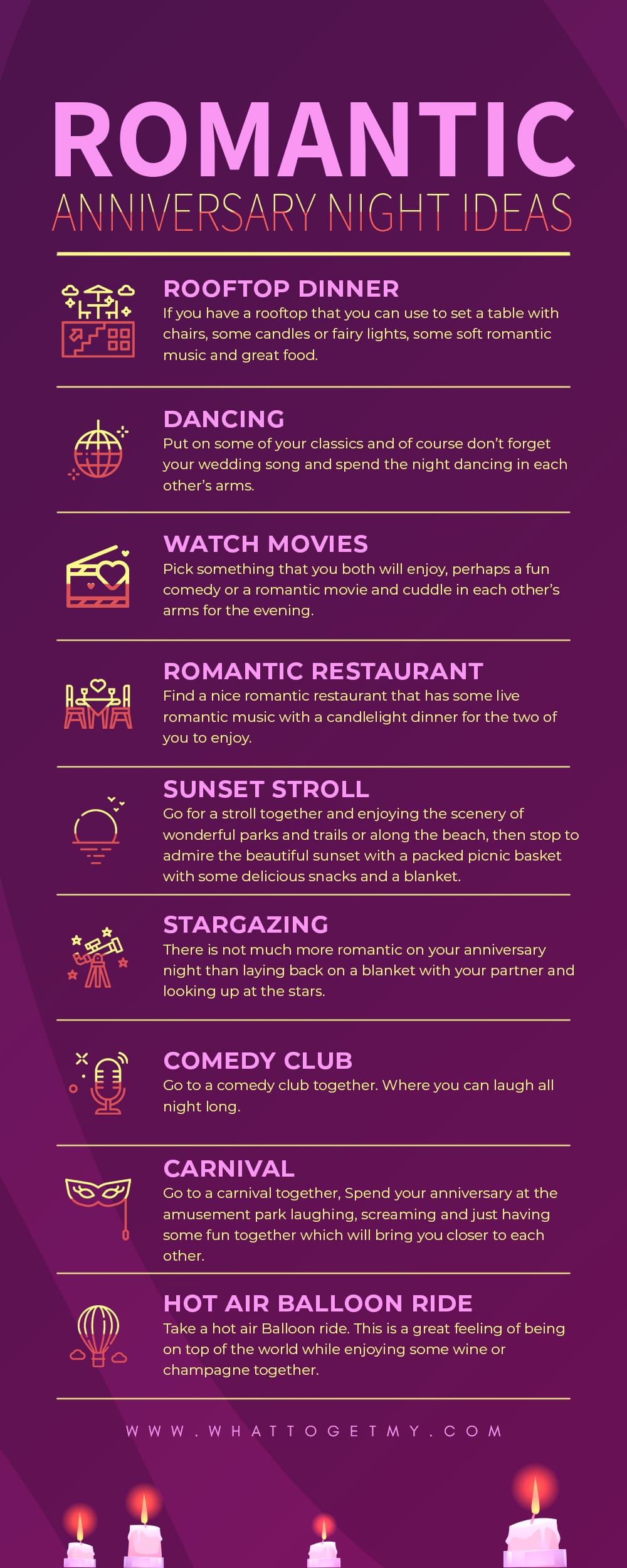 Source Link: https://whattogetmy.com/romantic-anniversary-night-ideas/
For A Romantic Evening at Home
Spending a romantic anniversary night at home can be comfortable, convenient, very affordable and you can set the scene to exactly how you want it to be with just a little imagination and creativity, you can have the perfect evening to celebrate your anniversary.
Some ideas are as follows:
Have a romantic evening by candlelight.
Write Love letters and post them all over the house.
A romantic dinner for two that you prepared together.
Have finger Foods prepared. Instead of a whole cooked meal, maybe have finger foods which you can feed each other with.
Slow dance to your favorite love songs including your wedding song.
Enjoy a romantic movie together.
Watch your Wedding Video together as it will highlight some of the special moments of your special day that you may have forgotten.
Sit by the Fire. This could be either a fireplace inside or you can make one outside with a blanket, some finger foods, some soft romantic music and just enjoy each other's company.
Share a bubble bath together. Set the mood with some candles, some wine and just relax.
Give each other a sensational full body massage
Recreate your Honeymoon Suite. If you did not have one then create the ideal honeymoon suite with rose petals on the bed and floor, fill the room with candles, champagne in the ice bucket and love songs playing in the background.
Have a Rooftop dinner. If you have a rooftop that you can use to set a table with chairs, some candles or fairy lights, some soft romantic music and great food.
Enjoy some Dancing. Put on some of your classics and of course don't forget your wedding song and spend the night dancing in each other's arms.
Watch movies. Pick something that you both will enjoy, perhaps a fun comedy or a romantic movie and cuddle in each other's arms for the evening.
For A Romantic Evening Out
Sometimes it is a great idea for couples to spend a romantic evening out for their anniversary. They get the chance to be out on the town where they are surrounded by many other people, away from all the stresses of everyday life to focus on their relationship even if it is just for a couple of hours.
Some ideas for a romantic night out:
Recreate Your Wedding Night
The day you got married is a huge milestone in your life and is one that you should celebrate every year. If you are celebrating your 10th, 15th or 20th wedding anniversary, you can make it a big event where you invite all your friends and family to celebrate with you.If you are not up to a big event, then an idea would be to visit your wedding venue and have a romantic dinner together if possible and if not then you and your partner can try to recreate your wedding night menu just for the two of you. Go through the entire process from the recipes, shopping for ingredients and cooking the entire meal together.
Go to a romantic and intimate restaurant.
Find a nice romantic restaurant that has some live romantic music with a candlelight dinner for the two of you to enjoy.
Sunset Stroll or picnic
Go for a stroll together and enjoying the scenery of wonderful parks and trails or along the beach, then stop to admire the beautiful sunset with a packed picnic basket with some delicious snacks and a blanket.
Go Stargazing
There is not much more romantic on your anniversary night than laying back on a blanket with your partner and looking up at the stars.
Nature lovers plan a weekend outdoors
Make plans to go camping for the weekend where you can do some hiking and maybe even some mountain climbing. Being in nature is a great way to spend your anniversary together as it will give you a change of scenery and allow you to connect or reconnect with each other.
Stay at a bed and breakfast
If you not a fan of camping then a night out at a bed and breakfast is a perfect romantic anniversary night idea as it will give you a chance to spend some quality time together away from the stresses of everyday life. Remember to make it a no technology night so that there will be no other distractions which will allow you to connect with each other on a more personal, intimate level.
Revisit or relive your first date
Try to recreate your first date including getting ready for it separately and meeting up separately at the very same spot if possible.
Book a Boat cruise Dinner
Book a romantic dinner cruise and treat yourself and your partner to an unforgettable, romantic experience.
For a romantic but fun evening out
To keep it romantic, you can always start off with dinner by candlelight and then move onto the fun things to do. But make sure that the fun things that you choose to do are fun for your husband or wife too.
Go to a comedy club together. Where you can laugh all night long.
Sing karaoke. Pick a couple of all-time favorites songs, sing a duet together and who cares if you cannot sing, at least you will be able to laugh about it together later.
Go dancing together, try different styles of dancing like salsa or the tango and if you can't dance, it will be a good laugh.
Go to a carnival together, Spend your anniversary at the amusement park laughing, screaming and just having some fun together which will bring you closer to each other.
Make a Scavenger Hunt relating it to facts about your marriage
Take a hot air Balloon ride. This is a great feeling of being on top of the world while enjoying some wine or champagne together.
Remember to include a thoughtful gift
Anniversaries are a celebration of an important milestone in your relationship and it would not be complete without a thoughtful gift. Your choice of gift could be a traditional wedding anniversary gift, a modern anniversary gift or you could change it by matching your gift to your anniversary year for example if you are celebrating 10 years, you could put a love note in 10 balloons and blow them up for your partner to pop and read each note. Be creative, thoughtful and have a little fun.
Some Romantic Examples for Love Notes and Messages
If you are looking for some love messages to leave around the house, to put in a balloon surprise or just to write in a special card. Here are some favorites:
Every love story is special, unique and beautiful—but ours is my favorite.
When love is true, there is no end. I hope we get to celebrate for many years to come. Happy anniversary!
I didn't think it was possible to love you any more than I did the day I married you, but somehow my love only grows. I love you today and always.
I'm so excited about the future because I can't wait to make all of our dreams come true. Happy anniversary and cheers to many more.
Having you by my side makes me the happiest, most grateful and luckiest person in the world. Happy anniversary to my soul mate.
Since you are beside me I have always been very happy. I am grateful to share this love with a person like you. I love you. Happy Anniversary!
Words simply cannot tell how much I love you. There aren't enough words in the world to express my feelings for you, so I will just say: I love you.
Your every kiss & every hug tells me that you have kept the promise you made on this day! Happy anniversary! We'll never let go of each other!
You are my true love of life which I found on this day, I can't wait to give you something special on this happy anniversary of our blessed relationship, love you a lot honey!
There's no one I'd rather sit on the couch watching TV with. Happy anniversary!
Happy anniversary to my better-in-every-way half. Seriously, you're amazing.
I love doing life with you. Happy anniversary!
I am so blessed to be married to someone as wonderful as you. Happy anniversary.
There's nowhere else I'd rather be than right here by your side with your hand in mine. Happy anniversary.
To come up with some Romantic Anniversary night ideas can be a lot of fun to organize, all it takes is a little creativity and planning for you and your partner to have a wonderful romantic evening that is fun, inexpensive and special because the only important thing is that you celebrate it together. So decide whether you want a romantic anniversary night at home or would you prefer an evening out, think about the type of gift you would like to give your partner and then choose the perfect love message to go with it.
ESTIMATED TIME DESIGNING AND UPLOADING THIS ARTICLE
ESTIMATED TIME RESEARCHING AND WRITING THIS ARTICLE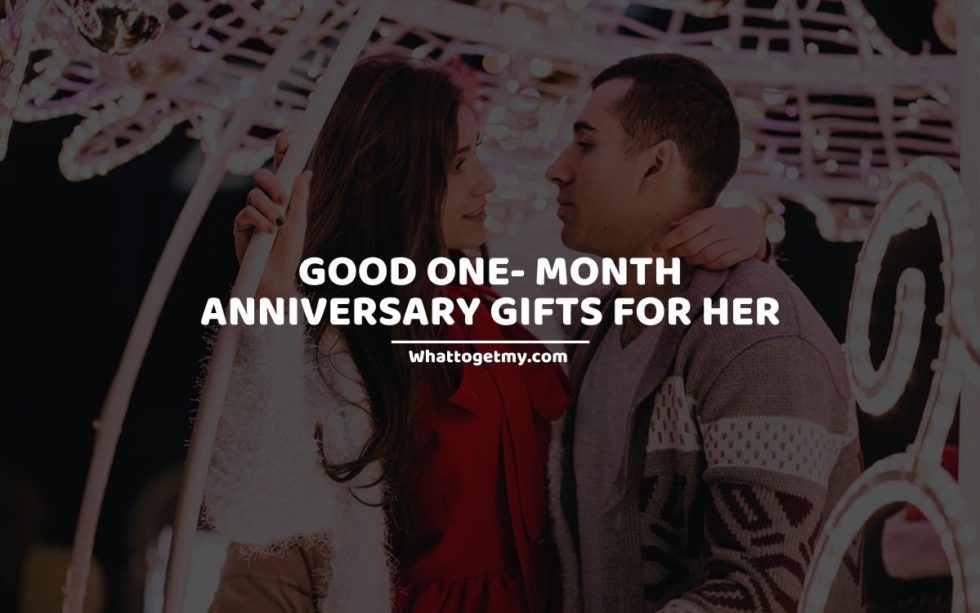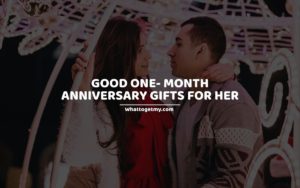 9 Good One-Month Anniversary Gifts for Her
Looking for 1st-month anniversary gifts for women can be quite challenging because you are not sure of what they like or dislike yet when it comes to material items. If you don't want to miss on the gift, you can always ask your significant other
Read More »