11 SIGNS YOU ARE BEING USED IN RELATIONSHIP
WhatToGetMy Instructional Article
SIGNS YOU ARE BEING USED IN RELATIONSHIP
Being used in a relationship might not always be quite clear or straightforward. When your partner is using you, they usually do it in subtle ways that may go over your head even when you are a very logical and observative person. When you are looking for signs of a toxic relationship, you may be looking at the obvious signs which may not always reflect what you are noticing in your relationship, however that does not dismiss that your relationship could potentially be one-sided. This article has put together some  
relationship red flags that are surprisingly toxic which you may overlook as they are quite subtle.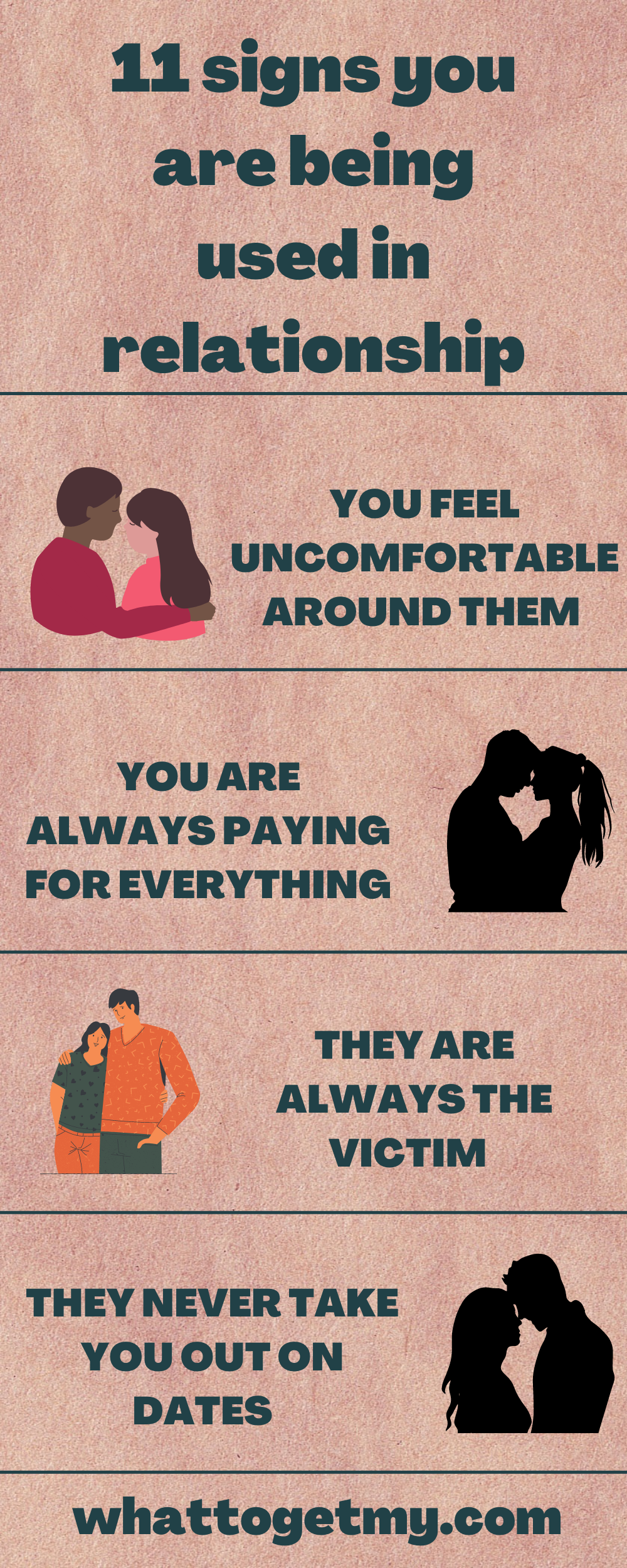 SIGNS YOU'RE IN A FAKE RELATIONSHIP.
1. THEY ARE ALWAYS TALKING ABOUT THEMSELVES
One thing that is an obvious sign if you ever find yourself wondering "is she using me?" or "is he using me?" is to pay attention to your conversations. Are they constantly talking about themselves? Do they ever take interest in what you have to say when it does not concern them? Do conversations somehow always end up being about them and what they need, or what they are going through? If you have answered yes to all or most of these questions, then there is a high possibility that your partner is using you for emotional assurance. Sure, there is nothing wrong with your partner venting to you every once in a while, however, if they are always looking for ways to talk about themselves and never seem to be interested in what you do, then they are using you and it is a red flag you should be looking out for in the early stages of your relationship.
2. YOU ARE ALWAYS PAYING FOR EVERYTHING
One of the most popular dating advice for women is that women should not pay for the first date especially when they did not initiate the said date. While this is up for debate, it is quite the expectation and norm in most heterosexual relationships. It becomes a problem, however, when the initial date has passed and you seem to be the only person that is paying for everything in the relationship. This is a clear sign that the person you are with is using you for financial reasons and it is a clear sign that you are in a toxic relationship and you need to address the issue before you proceed any further. Take a look at this article on how to not be selfish in a relationship to help you and your partner navigate the conversation around money and finances in a relationship.
3. THEY ARE ALWAYS THE VICTIM
When someone is using you as an emotional cushion, you may often find yourself wondering "am I being used?" even when the relationship is seemingly going well. This is because most of the time, people who are using you for emotional support can be draining of your energy, especially when they are always complaining and playing victim in everything that they do. They never take responsibility for anything and they are always looking for someone to blame for their misfortunes.
4. THEY NEVER SHOW APPRECIATION FOR EVERYTHING YOU DO FOR THEM
Another one of the relationship red flags you shouldn't ignore when you start seeing someone is how they react to the things you do for them. Do they appreciate your effort? Do they act as if you were supposed to do the thing you just did for them? Relationships are a give and take and if your partner is always taking from you and never showing appreciation for what you do for them, big or small, then chances are they are using you in that relationship – and disrespecting you and your efforts along the way.
5. THEY NEVER CONSIDER OR MEET YOUR EMOTIONAL NEEDS
Another one of the red flags in a relationship is when your partner never considers your emotional needs. You can tell this is when you tell your partner something is bothering you, they digress and deflect on the topic until you have given up on bringing the topic up once again. This can leave you unsatisfied, emotionally, and eventually, it can lead you to resentment because you do not feel heard by your partner. The best thing you can do when you notice this is to talk to your partner to try and figure out how they can acknowledge and meet your emotional needs before you decide it's time to give up on the relationship.
6. THEY ARE ALWAYS CHECKED OUT
When you notice that your partner never seems to be there even when they are there physically. This is to mean that they have checked out, mentally and emotionally. This could look like; being uninterested in conversation with you, always being on their phone when you are around, keeping away from you when you have come to spend time with them, not interested in any of the activities you come up with, and just generally seem disinterested in everything. This is because they are not interested in you as a human being – which then begs the question, why are they with you? The obvious answer is that you have something that they want and they know you will take it away once they discard you completely, therefore they keep you around so they can have access to whatever it is that they want from you. Here are some signs that you are being used by a woman and signs that you are being used by a man. Check them out to get a clear picture of why they may still be hanging around you when they do not enjoy being in your presence.
7. THEY NEVER TAKE YOU OUT ON DATES
Another one of the signs she's using you is that she never takes you out on dates, never suggests dates, and never agrees to go on dates with you when you initiate the conversation. This is because they are ashamed of you and they do not want to be seen in public with you. However, they are benefoting from your presence in private and they want to use you as a placeholder until someone they deem worthy of them comes along.
8. THEY ARE ONLY NICE TO YOU WHEN THEY NEED SOMETHING
One way to find the aswer to the question "are you dating a user or manipulator?" is to see their behavior towards you before and after they want something from you. People who are manipulating you into giving them things they need will act nice towards you in the period between asking and you delivering the thing. Once the transaction is done, they will go back to ignoring you or being rude to you. If you notice this patern with someone you are dating, it is a huge red flag and you should consider ending the relationship before they take everything from you. Here are some more signs of dishonesty in a relationship that you can reference to solidify and satisfy your curiosity.
RELATIONSHIP RED FLAGS.
9. YOU FEEL UNCOMFORTABLE AROUND THEM
A huge red flag for toxic people in a relationship is when you feel uncomfortable around them and their presence makes you unsure and uncertain. This is your intuition letting you know that there is something wrong with either the person or the situation. This can manifest as a complex trauma response due to something that may have happened to you in a previous relationship and your mind and body are realizing the same pattern with the new relationship. It is best to listen to your intuition in situations like this and address this issue before it becomes a bigger problem in your relationship.
10. THEY DO NOT RESPECT YOUR BOUNDARIES
One of the signs you are being used is when the person you are in a relationship with does not respect your boundaries (personal or otherwise), especially after you have communicated with them that this is a boundary you would like to be observed and respected. This is because they do not have respect for you as an individual so they see no reason to respect your autonomy.
11. THEY ACT DIFFERENTLY IN PUBLIC AND IN PRIVATE
One of the biggest relationship red flags is when the person you are seeing only acts nice and affectionate towards you in private and cold and distant when you are in public. This goes back to them not seeing you as someone they want the world to see be with them but still needing you for the moment because you are giving them something that they want.
HOW TO GET OVER BEING USED?
Although it can be quite disheartening when you finally realize that the person you were genuinely interested in was only using you for their own agendas, it is paramount that you get over them.
The first thing you have to do to get over being used is to realize your worth and spare it for yourself. The person who used you did so because you had something valuable to offer them, take this to your advantage and invest in self-care and self-love. Practicing these will help you heal and move on from the toxic relationship you had been in.
DO YOU FEEL YOU'RE GIVING TOO MUCH IN RELATIONSHIPS?
It is quite normal to feel like you are over extending yourself when you are in a relationship where the other person only takes and never gives you the same amount of love, affection, and attention that you do for them. When you feel like you are giving too much, it is important to talk to your spouse about the relationship and let them know how you feel and how they can help you by meeting you halfway. Their response to your problem will tell you everything you need to know about continuing with the relationship and trying to make it work, or not.
FREQUENTLY ASKED QUESTIONS
How to tell when it's time to move on?
According to a study, most couples will break up between 1-3 months after getting to know each other. This insinuates that if you break up with someone within that period, then the healing period should be relatively shorter or approximately the same amount of time you were in the relationship.
However, it is important to note that different people get over things at a different rate and there is no given time that is universally acceptable to get over someone, no matter how long or short you may have known them. Allow yourself to feel what you are feeling and to experience and deal with your loss in a way that makes sense to you. Just remember not to dwell in your pain and loss. It is important that you get over the person you are mourning and live your life again.
CONCLUSION
In conclusion, this article has covered how to spot unhealthy relationships, relationship abuse, and overall bad relationships especially when it comes to people using you for their own benefits. Remember to put yourself first, communicate when you notice red flags, and leave any relationship that doesn't serve you especially after you have tried to communicate with them and failed.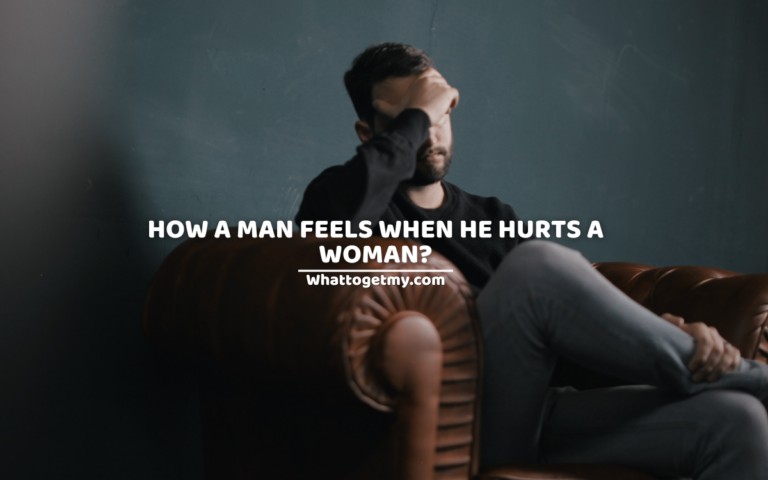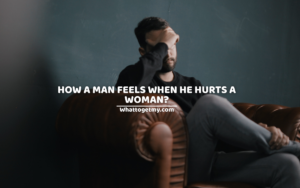 How A Man Feels When He Hurts A Woman
How A Man Feels When He Hurts A Woman? WhatToGetMy Instructional Article It's a simple fact that men hurt women. They always have, and they probably always will. Sometimes they do it intentionally, and other times their actions are truly mistakes. But with men hurting
Read More »