It may seem like such a bleak affair to get gifts for people who are dying. What do you get them? And how do you give it to them? This article navigates on what are appropriate gifts to get for someone in hospice care and what to consider when getting them each of these items.
WHAT IS HOSPICE CARE?
Hospice care is a term used to refer to the kind of care that people get (or offer) when they have been diagnosed with a terminal illness. Hospice care provides compassionate services for people who are at the end of their lives due to an illness that can not be medically cured. It is aimed at keeping the person as comfortable as possible and in the least amount of pain until they die a natural death.
When you are dealing with people – family or friends – who have to be under hospice care, what you say to them can be impactful and you will want to make your words meaningful and compassionate. Here are some examples of what you can say to someone who is terminally ill:
1. Ask how they are feeling: Although knowing that they are unwell, it is important that you ask them how they are feeling because sickness is unpredictable and some days are better than others. Asking how someone who is sick how they feel will let them know that you are thinking about them.
2. Offer help: You could offer help to them or their family to run errands for them, drive them to hospital appointments, and if you can afford it you can offer to help them out financially because chances are (depending on the type of illness and how long they have been sick) they are drowning in hospital bills.
3. Ask if it is a good time to visit: Don't just assume they want visitors all the time. Ask them what time and day would be appropriate and comfortable for them to have a visitor over. This will tell them that you still respect them and their boundaries even when they are at their most vulnerable.
HOW TO DEAL WITH TERMINAL DIAGNOSIS
What do you do when someone in your family or someone in your close circle of friends has been diagnosed with a terminal illness? After the initial shock of it all, there are things you will have to consider to do to make this transition bearable:
1. Make time to say goodbye: Spend as much time with your loved ones as you can, they need to feel that they are loved especially in their last moments.
2. Make amends: We might not always get along with family members, for whatever reason, but it is important to make amends when one is approaching death because it is the last time you will get to speak to them and see them – every argument or falling out you have ever had with them seems futile in those moments. Let them know that you have forgiven them if they had ever wronged you, or ask them for forgiveness if you were the one in the wrong.
3. Discuss Advance Care Directives: Although this is a difficult topic to discuss, it is nevertheless an important one. Make plans with your loved ones while they are still lucid on their medical wishes and who would take over their autonomy if they should be unable to do so themselves because of a mental or physical inability.
4. Talk about death: Prepare yourselves for the inevitable end that is coming. Most people will approach death in one of two ways, they will either be afraid of dying or extremely peaceful about dying. Either way, you might want to consider therapy which can be beneficial for both the person dying – so that they can be mentally prepared for what it means to be dead, and the person who will be left behind – so that they will not harbor feelings of resentment towards the person who died.
As an Amazon Associate we earn from qualifying purchases. We may earn a small commission for our endorsement, recommendation, testimonial and/or link to any products or services from this website. Thank you, your qualifying purchases help support our work in bringing you real daily gift ideas.
GIFT IDEAS FOR HOSPICE PATIENTS
1.

SCENTED CANDLES
This beautiful candle set makes for an amazing gift for people in hospice. Its essential oils will make any room smell delicious. The candles also have aromatherapy benefits which can lead to the relaxation of the mind and body since aromatherapy has throughout history been considered a natural way of healing people's minds and enhancing people's moods. Scents such as lavender and vanilla are considered soothing and have calming abilities. Scented candles for someone with depression are a great way to stimulate their senses and also amazing aides for meditation. Alternatively, you can also get them some essential oils and an oil diffuser for a similar effect.
Product Summary: These candles made from Soy burn for longer and are infused with different essential oils to deliver a relaxing and refreshing scent to your atmosphere which makes them great hospice gifts intended to relax the patient's mind and body.
2.

WEIGHTED BLANKET
This soft and comfortable blanket is a perfect gift for someone in hospice care because it is known to improve sleep quality and since sometimes sick people struggle with falling or staying asleep, this blanket would be ideal to improve and regulate their sleep. It has heat settings that can be turned up or down depending on individual preference.
Product Summary: This heated blanket is warm and snuggly and has up to 10 dial heat settings so that you can set it for your comfort. It is a good gift for someone in hospice who has trouble sleeping.
3.

FOOT MASSAGER
This heated foot massager is a great gift for male hospice patients especially if their terminal illness causes them pain in their feet. This is because it helps with muscle relaxation through heat therapy.
Product Summary: This foot massager has settings for kneading and squeezing that can be adjusted according to preference which makes it an amazing gift for a sick man in hospice care who is struggling with joint and muscle pain.
4.

Heating pad
What else can you bring to someone in hospice? These heating pads provide heat therapy which helps with pain in people who have chronic muscle pain. All you have to do is place the pad on the painful area and turn on the heat to your comfort. This heating pad is better than a homemade DIY because it allows you to adjust the heat and stays on for two hours before automatically turning it off.
Product Summary: This heating pad significantly provides pain relief when used. The automatic shut down after two hours allows you to be comfortable while it works its magic on you and not worry about when to turn it off.
5.

TEDDY BEAR
A giant teddy bear is the ultimate gift for a dying person. This is because they may not always want to have human contact or their disease may not allow them much human contact. The teddy bear will keep them warm and snuggly whenever they want to cuddle.
Product Summary: This soft giant teddy bear is 47 inches long and is great for cuddling.
6.

PHOTO ALBUM
What are appropriate gifts for someone in hospice? A photo album ranks high up on being the most appropriate gift to give someone in hospice. This is because photo albums contain a sentimental value which is memories of the life that was shared with the terminally ill person.
Product summary: This photo album has an area where you can write special messages making the gift that much sentimental and special.
7.

DIGITAL VOICE RECORDER
This is a great gift for terminal cancer patients because most people who are at the end of their life like to share their thoughts and they can't always have the strength to write on paper or type out their thoughts on a computer. A voice recorder is the simpler option because it takes the least amount of energy to get it started and just speak into it what they want to share. A bonus for this voice recorder is that it connects to computers making it easy to extract and edit audio whenever.
Product Summary: This voice recorder is simple and yet very powerful and effective and it is the best gift for someone dying of cancer. It records with time stamps for easy tracking of audio and allows for functions such as rewind, fast-forwards, and pause.
FREQUENTLY ASKED QUESTIONS
What are appropriate gifts for hospice caregivers?
There are many appropriate gifts that you can give hospice nurses. Although nurses are not allowed to receive gifts from their patients or their patient's families, you can offer them a hospice gift basket with items that are consumable and can be shared with other hospice nurses – that way it doesn't look like you are playing favorites and the gift is not deemed as some sort of payment. The gift basket should have items that will show that the gifts are for hospice appreciation – you are thanking the nurses for taking care of you or your family or friend. With that said, you cannot gift a hospice caregiver money, cars, or any other material objects (such as diamond rings or bracelets) that have monetary value and can be sold.
What to gift someone in hospice
This article has covered some of the best gifts for someone in hospice care. It is important to consider that the gift should be appropriate especially when giving it to hospice care workers. The gift has to also be useful and make life easier for the terminally ill patient. You can also add gifts that are leisurely that are meant to cheer up the patient such as paintings, cartoons, and other jokes that they may find funny or hilarious – something that does not come as a constant reminder of their impending death.
CONCLUSION
WORDS OF COMFORT TO THE FAMILY OF A TERMINALLY ILL PATIENT
There just aren't enough words in the world to express sympathy to someone who has just found out someone they care for deeply has been diagnosed with a terminal illness. It might seem futile to say anything at all because nothing you could possibly say will change anything – just as daunting as this realization can be for you, it is just as frightening (if not more) for the person who has to deal with the inevitable loss of a loved one.
When you choose your words to comfort someone whose family member is terminally ill, remember to make your words meaningful and empathetic. Choose words that convey emotion and understanding rather than indifference. With that in mind, here are some of the things you can say to a person whose family member is terminally ill:
1. I cannot begin to imagine just how incredibly difficult this is for you; I am sorry you have to go through it – but you don't have to go through it alone. We are all here for you if you need anything.
2. Your (relation) is such a gift, this world got a little bit better because they were here.
3. I know how close you and your (relation) are, and even though this is a wearying time, I know that they were lucky to have had you in their life and they love you very much.
4. I wish peace and healing upon your soul in these difficult times.
ESTIMATED TIME DESIGNING AND UPLOADING THIS ARTICLE
ESTIMATED TIME RESEARCHING AND WRITING THIS ARTICLE
Try our AMAZING GIFT FINDER TOOL! Find GIFTS with 1 CLICK!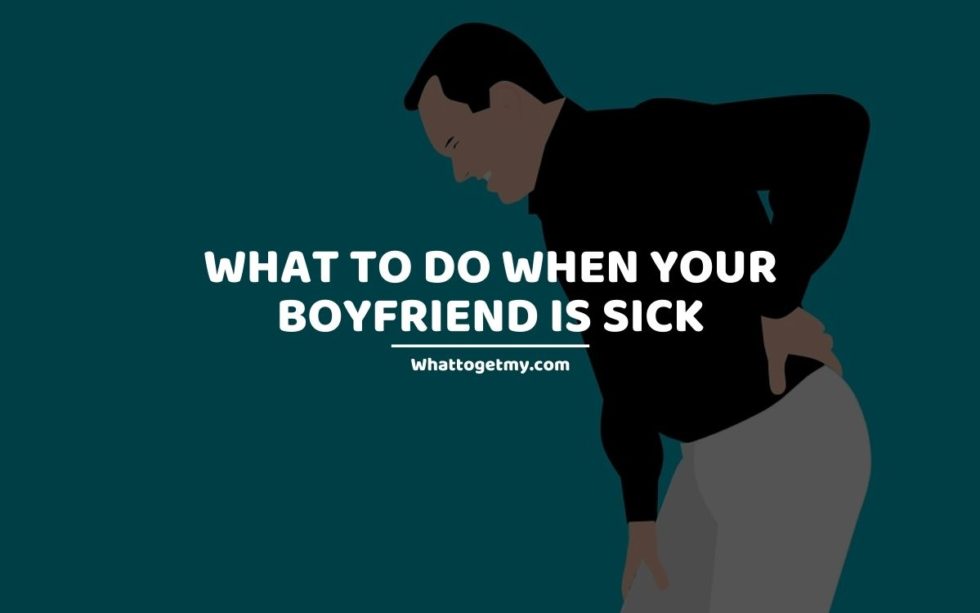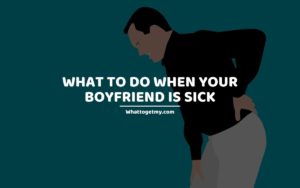 9 Things to Do When Your Boyfriend is Sick
9 Things to Do When Your Boyfriend is Sick WhatToGetMy Instructional Article It hurts to see any of our loved ones in pain, especially if we know we cannot be of much help. A sickness, of course, varies in severity from person to person. We
Read More »