In this article, you will find general gifts for people with mobility issues that are suitable for both children and adults (including seniors), and then specific gifts for the following categories: gifts for seniors with limited mobility, gifts for low mobility travelers, and great gifts for kids with limited mobility.
People with limited mobility make up a sizable portion of the American population. The stats on this from Mobility Resources makes for a disheartening read:
"IN THE U.S. AND CANADA
More than 18 million people have limited mobility caused by everything from accidents to disease to the aging process.
Six million of those 18 million are veterans.
One in five elderly people struggle with mobility."
As the above stats show, people with limited mobility have this challenge for several reasons ranging from accidents to illnesses like Arthritis, Parkinsons, and spinal cord injuries, and for a good number it has to do with age. You may be directly or indirectly affected by this and wondering what the best gifts for people with limited mobility are out there for you to purchase for you or your loved one or friend. This article hopes to provide that answer.
GIFTS FOR PEOPLE WITH LIMITED MOBILITY.
The mobility challenge could either be with the hands or legs. Be sure to find out what the mobility challenge is before purchasing your gift. The gifts in this article cover the known mobility challenges and you will be sure to find something suitable and useful.
The gifts are divided into general gifts for the mobility impaired suitable for both kids and adults (seniors included). And then the following specific sections:
Gifts for seniors with limited mobility;

Gifts for low mobility traveler; and

Great gifts for kids with limited mobility.
Quick Overview: Gift Ideas For Limited Mobility
GIFTS FOR PEOPLE WITH MOBILITY ISSUES.
These are suitable gifts for individuals with mobility problems, whether they are children or adults, depending on what their mobility issue is.
1. Non-Slip Shoe Block with Adjustable Heights.
This non-slip sturdy shoe block/stool is a piece of great assistive equipment for individuals with mobility problems of bending down to their feet. This block provides the needed support and lifts for the knee and feet for the individual to easily get to their feet especially if they need to wear their shoes or do a pedicure.
Pros.
It is sturdy.

It provides ergonomic support.

It is easy to assemble.

It is foldable/dismantlable and can be carried around.

It keeps the person balanced.

It is suitable for all ages.

It is adjustable for standing and sitting heights.
Cons.
An elderly person or someone with arthritis will need someone to help them assemble it.

The instructions are not the easiest to understand.
With this gift item, difficulty with bending to wear shoes and get a self pedicure will be a thing of the past. Customers who bought this item for their loved one with a bending mobility problem have only good things to say about it.
2. RMS Sock Aid Kit.
This is another helpful mobility assist gift for the individual who has challenges bending to wear their socks. It helps with wearing the sock and taking it off. With this easy to use assistive tool, the person wears the sock on the dummy provided and then slips their foot into it. Once the sock is on, they gently use the ropes attached to the dummy to pull it off their foot, and voila sock is on. To take off the socks, they simply hold the lanyard on the long remover stick and insert the bottom of the stick between their skin and the sock, ensuring that the hook holds on to the sock on the outside and then they pull it down and voila, the sock is off.
With this simple to use assistive item, an individual whose mobility problem is with bending down will no more worry about wearing and taking off their socks.
3. Grabber Reacher with Rotating Jaw.
This grabber reacher is useful for everyone including persons that do not have mobility issues but just need it to reach places their heights cannot reach. It is useful for an individual with a mobility problem of being able to stretch to reach and get an item they need either because they are constrained to a wheelchair or simply cannot move their muscles beyond a certain point. It can also be used by children but depends on how heavy the item they are reaching for is.
Pros.
It is lightweight.

It is suitable for all age groups.

It is easy to use.

It can pick up any item but preferably small and medium items.

It can be used anywhere.

It comes with two grabbers – one short and one long.

It is handy and easy to carry about.
Cons.
It may be heavy and difficult to use if the item being picked up is heavy.

One customer found the grip not reliable and slippery.
This reacher will make it easier for a person with mobility issues as regards bending and just picking up stuff to do so with relative ease. It is handy and easy to lug around.
4. EazyHold Silicone Adaptive Aid.
This 7-piece aid is to help individuals with mobility problems on their hands and who are having trouble gripping day-to-day items. The bands are in 7 sizes and have holes that can fit into different sized objects to provide assistive grip.
Pros.
They can stretch.

They are durable.

They grip items well.

They are comfortable to use.

They are lightweight and do not take up any space.

They are easy to maintain.

They are suitable for all ages.

They are dishwasher safe.
Cons.
A customer with arthritis said they needed someone to help them get the items into the holes.
This product is a hit with persons who have challenges with gripping items and it will also be a great gift for the person with mobility issues that you want to get them for.
5. Height Adjustable Standing Toilet Safety Rail with Foam Handles.
This rail helps with sitting and getting up from the toilet safely without causing injury. It provides balance and support for the shoulder and knees which are the two muscles usually exerted on the most when one wants to use the toilet. It also doesn't wobble when being used and can support any weight.
This product ranks high on the list of persons who purchased it for a loved one who was having mobility challenges with using the toilet. It will also be of great assistance to your loved one with the same challenge.
6. Elevated Mobile Raised Ergonomic Metal Planter Garden Bed.
This beautiful elevated garden bed solves the problems for a mobility challenged person who loves gardening or keeping flowers but is unable to do so due to challenges with bending. It is elevated and movable, meaning that they can sit on their assistive gadget and still get a feel of gardening.
Pros.
It is movable.

The garden bed is wide enough.

It has a compartment below for keeping the gardening tools.

It has a handlebar for pulling it around and two wheels.

It is sturdy and firm.

It is easy to use and maintain.

It has a drainage hole on each end of the garden bed.

It is easy to assemble.

It is not made of wood.
Cons.
The drainage holes are a little too big.

The metal material could warm up the soil if it is under the sun.

It is not suitable for deep planting.
Overall, this is a good gift to give someone with mobility issues who wants to start gardening but cannot because of mobility problems. You will however need to help them with transplanting to a bigger garden when the plants get big.
7. RMS Folding Cane.
This walking cane has an ergonomic handle to provide solid support when using it to walk. It is the perfect walking cane for someone with limited mobility problems when it comes to walking. It is also foldable and easy to carry around.
This easy to carry cane will provide the needed support for someone with walking mobility issues who do not want to exert too much of their weight on their legs.
8. Long Dressing Stick.
This long dressing stick can help a person with mobility issues with everything from wearing their shoes to pulling up the zipper on their clothes. It is also recommended by occupational therapists and other therapists for use by people with limited mobility. That is just how efficient it is. This will help a person with mobility issues have a lot of independence instead of depending on others for things like pulling up their trousers.
Pros.
It has a hook on both ends.

It is 28-inch in length.

It is easy and comfortable to use.

The hooks are vinyl-coated.

It can also be used to take off socks.

It is light-weight and easy to carry around.
Cons.
It is not foldable.

The screws on the hooks become unsteady after some use.

It cannot be used for wearing socks.
According to one customer, removing the screws on the hooks and applying glue and then screwing it back on keeps it fixed in place and solves the problem of it becoming unsteady after some use. You can do the same to it when you buy it before giving it as a gift.
9. Bed Assist Rail.
This rail assists with getting out of bed. It has a stable and sturdy foothold that stays fixed on the ground once it is attached to the side of the bed where the person with mobility issues steps down from. It is suitable for all ages, not just seniors.
Pros.
It is easy to assemble.

It stays in place once fixed to the bed.

It fits easily under the mattress.

It can also serve as a protective bar for persons who fall off easily from their beds.

It is sturdy and provides strong support.

It can fit in any size of bed.
Cons.
It would make it more challenging to make the bed in the area where it is fixed.

A very elderly person who has no strength to get up may find it challenging to use.
This product will also give a measure of independence to someone with a mobility issue of getting out of their bed.
For a variety of bed assist that doesn't have a stand to the ground but simply stays tucked under the bed, this good Tuck-In Bed Assist will be helpful.
10. Shoe Horn.
This assistive item aids with wearing and taking off shoes and can be used by all individuals with mobility problems of bending to take off or wear their shoes. The extended length of 31.5 inches means that it caters to all heights too.
Users of shoe horns say this is the best shoehorn to use and that a simple gluing of the leather casing fixes the problem of it moving around. This is a good assistive item to give a person with mobility issues of wearing and taking off their shoes.
11. Button Hook Dressing Aids with Zipper Pull.
This assistive item helps with buttoning and zipping shirts for persons with mobility issues that affect their ability to do so. Customers with arthritis and tremors in their hands have commented on how useful this little assistive item is for them.
The customer reviews on the usefulness of this item for its purpose says all there is to say about this very useful item. An individual who has a mobility problem that affects their ability to button and zip their clothes will love this gift very much.
12. Stander Omni Tray Table.
This table support is great for individuals with mobility issues who need to sit in comfortable and ergonomic sofas all the time due to back pain or stiff back muscles. This rotatable table can be set up under the sofa they are always sitting on and they can use it to eat or use their laptop or anything else that needs a hard flat surface. It also comes with a cup holder for holding their drinks separately and away from the rest of the contents on the table.
This will help anyone with a mobility challenge and needs to be stationed to a particular chair as a result of that challenge. Follow the instructions to set it up and help the person with mobility issues setting it up and they are good to go. It can also be used by other persons with no mobility issues.
13. Bottom Buddy Toilet Tissue Wiping Aid.
This assistive item will help individuals who have mobility problems of being unable to reach their back to clean up after using the toilet. The toilet paper attaches to the end and then stretches to the back to do the needful.
This product will help with cleaning up after using the bathroom for someone with mobility challenges in that area.
Check out these related articles – Gifts For Someone With Osteoarthritis and Gifts For Paralyzed Man.
GIFTS FOR SENIORS WITH LIMITED MOBILITY.
With the onset of age, most seniors become very limited in how mobile they are. As the above statistic shows, a good deal of seniors have mobility issues and need as much assistance as possible with assistive items. In addition to the items listed above, these specific items will also be useful for a senior with limited mobility.
14. Adjustable Bamboo Swivel TV and Laptop Table.
This stand seems to have been designed with seniors in mind because it has a strong, big, and firm handle that provides strong support for them when standing up from the sofa/chair. It also doubles up as a table that they can use to eat. It also has a cup holder. The table can be rotated away from the stand so that it does not obstruct the process of standing up.
The size of the tray is a small price to pay given how helpful this item is overall for a senior with mobility issues especially with standing up.
15. Parkinson Spoon For Hand Tremor.
This item helps if the senior suffers from tremors although most customers have said it is not very useful if the tremors are heavy or if the shoulders also jerk with the tremors. These help with eating and steadies their hand when using the spoon or fork to eat. It also comes with a bib.
For a senior with mild tremors, these would help them greatly with enjoying their meal without the frustration that tremors can cause.
16. Adaptive Utensils.
These utensils will be helpful for a senior with arthritis and who has difficulty using normal utensils to eat. The ergonomic handles provide comfortable and firm support during use.
These make it easy for a senior with arthritis to enjoy their meal.
17. OasisSpace Aluminum Rollator Walker.
Rollators make it easy for seniors to get around without the discomfort that can sometimes be occasioned with the use of a walking cane. This one comes with 4 big wheels that can easily navigate any terrain. It is also collapsible meaning it can be carried about relatively easily when you need to move your senior loved one from one point to another. It can also be used to travel.
Not only are these very functional, but they are also beautiful and stylish. A senior with limited mobility will love them very much.
18. Power Lift Recliner Chair for Elderly.
Sitting can be uncomfortable for seniors but not anymore with this comfortable recliner designed to give them maximum comfort and make it easy to stand up. It is also good for seniors whose leg needs to stay elevated at a certain degree.
This chair will provide a comfortable and enjoyable sitting experience for your petite senior loved one who has limited mobility and back pain.
You may also be interested in this Senior's article – Bingo Gift Ideas For Seniors.
GIFTS FOR LOW MOBILITY TRAVELERS.
These items will provide extra help for the person with mobility problems when they travel either by road or air.
19. Stander HandyBar.
This assistive device is for help with getting out of the car. It is good for low mobility travelers who travel a lot by road. It is very easy to use. You simply latch it on to the metal door latch and hold on to it to come out of the car. It is firm and sturdy and can support any weight. The only downside is that if your door latch/striker is not U-shaped, then it won't work or fit in.
Not only does this item provide support for coming out of the car, but it also comes with extra safety additions that will protect the low mobility traveler. It is a good gift to give them.
20. 3-Wheel Mobility Scooter.
This electric scooter may be very pricey but for the power it packs, it is worth it and a good investment. This makes it easy to get to your check-in terminal. It can also be easily packed up in the trunk of the car for road travel. This is an absolute must-have for someone with mobility issues in getting around. It has 3 gears and a clear LED display screen that provides useful and helpful information. It is easy to set up and charge. It is also easy to disassemble and store away. It is lightweight and weighs a lot less than conventional scooters. And the customer service has been said to be great.
Pros.
It is easy to assemble and disassemble.

It is easy to use.

It has both manual and electric brakes.

It is lightweight and easy to carry about.

The hand rests are detachable.

The seat can take any weight.

It does not take up too much space.

It is easy to charge.

Customers have said the customer service is great.
Cons.
It is not noiseless and the sound may be distracting for some.

Using it on an incline may prove challenging.

It is pricey but worth the investment.
This scooter is a worthy investment, especially if the person with mobility issues travels a lot and needs to get from one point to another very quickly.
You may also like Unique Gifts for Someone Who Likes To Travel.
GREAT GIFTS FOR KIDS WITH LIMITED MOBILITY.
In addition to the gifts in the first section, these gifts will also greatly aid kids with limited mobility.
21. Flexible Drinking Straws Extra Long 22.
This straw is helpful if a child is unable to lift a cup to drink. They are 22 inches in length which is long enough to support a child when they are seated and eating. The straws come separately/individually wrapped so that they can be stored away and used one after the other. They are larger than your usual straw and are dishwasher safe meaning that you can reuse them for some time before disposing of them.
Parents who have purchased these for their children with limited mobility said that it was very helpful and their children loved using them. Your child with limited mobility will also find it useful and enjoyable to use.
22. Cozy Wheelchair Blanket For Kids.
This blanket is designed for a child who sits in a wheelchair and will help to keep them warm and comfortable.
Parents with children with limited mobility have only good things to say about this blanket. No more feeling cold when on their wheelchair or stroller. A child with limited mobility will love these blankets very much.
You may also like these articles – Gifts For Aspergers Child and Gifts For Teenage Autistic Boy.
FREQUENTLY ASKED QUESTIONS.
What gifts for individuals with mobility problems can you recommend?
All the gifts in this article are gifts for people with limited mobility and mobility problems. Any of the items in this article will be helpful. Be sure to identify the mobility problem they have first so that you choose an appropriate gift.
CONCLUSION.
A good number of Americans have to deal with limited mobility and that makes the gift items in this article all the more important. Be sure to identify what mobility issue(s) they are dealing with first so that you buy an appropriate gift from this list.
ESTIMATED TIME DESIGNING AND UPLOADING THIS ARTICLE
ESTIMATED TIME RESEARCHING AND WRITING THIS ARTICLE
Try our AMAZING GIFT FINDER TOOL! Find GIFTS with 1 CLICK!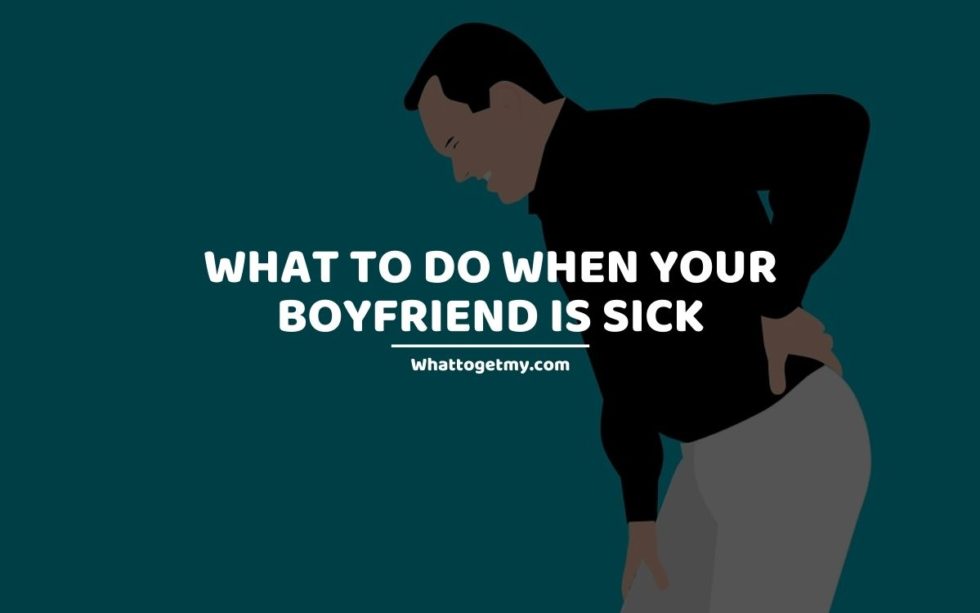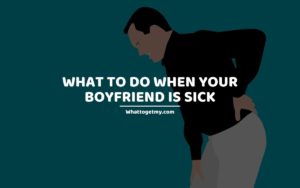 9 Things to Do When Your Boyfriend is Sick
9 Things to Do When Your Boyfriend is Sick WhatToGetMy Instructional Article It hurts to see any of our loved ones in pain, especially if we know we cannot be of much help. A sickness, of course, varies in severity from person to person. We
Read More »