9 Things to Do When Your Boyfriend is Sick
WhatToGetMy Instructional Article
It hurts to see any of our loved ones in pain, especially if we know we cannot be of much help. A sickness, of course, varies in severity from person to person. We can often do something to help the person feel better or maybe distract them from the pain or even just put them in a better mood.
This article is all about things you can do when your boyfriend is sick. When your man is sick, you usually will try your best to help them recover ASAP. However, the biggest problem with many men is they might be hesitant to let you know how they are really feeling to avoid being a burden on you, so you will have to push them a little bit to figure out how they are truly feeling.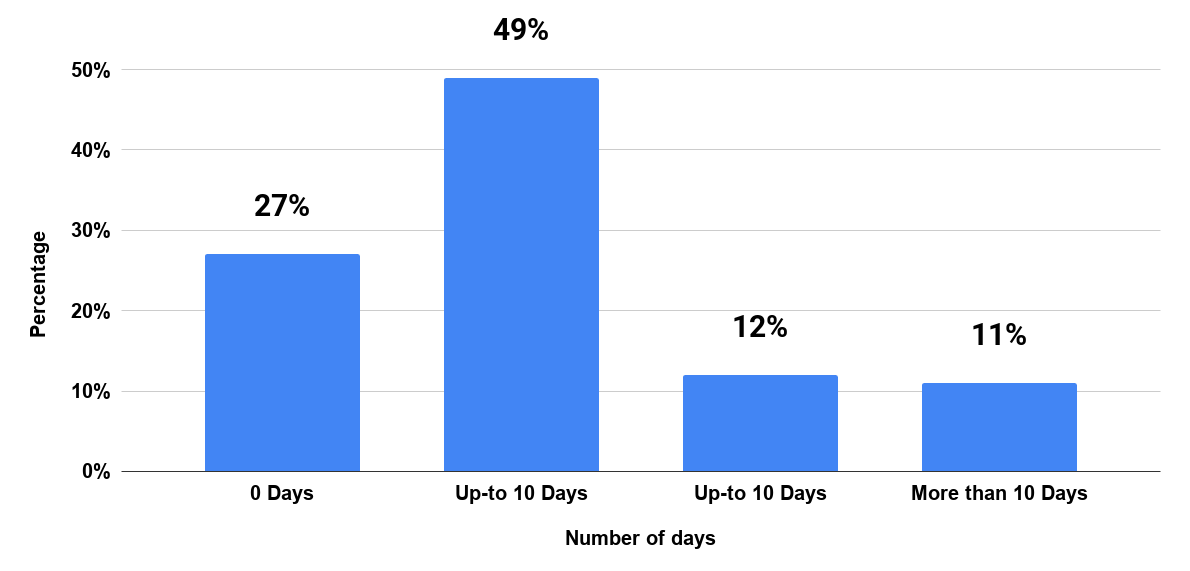 This chart shows that more than 60% of men take sick leaves in a year and 21% of them take 10 days or more. When your boyfriend is sick taking care of him during these difficult times will be needed from you especially if he doesn't have other family members or friends around him.
There are different things you can do for your boyfriend when they are ill. The first determinant factor is the severity of the illness. What you need to do when your boyfriend has a normal cold and what you should do when he is lying in the hospital bed from a severe sickness or accident is very different.
The second important determinant is the distance between the two of you. If you live in different states or even countries, there will be not much you can do than send support through text messages and phone calls or send packages and items needed to him (don't worry, we have ideas for this segment!). If you live in the same state or even house, you could be there more for him and play a more active role in his recovery.
Below we have split the things you can do for your sick boyfriend into two categories;
Things you can do if you live with him or live close to him
This category will contain things you can do to contribute directly to the improvement in your boyfriend's health and things that you can do for him to ease the stress he has so that he can heal in peace without worrying about missing on essential errands or chores.
Things you can do if you are not around physically
This category will give you ideas on what you can do without having to be present physically. It is helpful if you live far away from your boyfriend or if you are busy with work or other life responsibilities, but you still wish to be there for him.
What can you do for your sick boyfriend ( If you are available physically)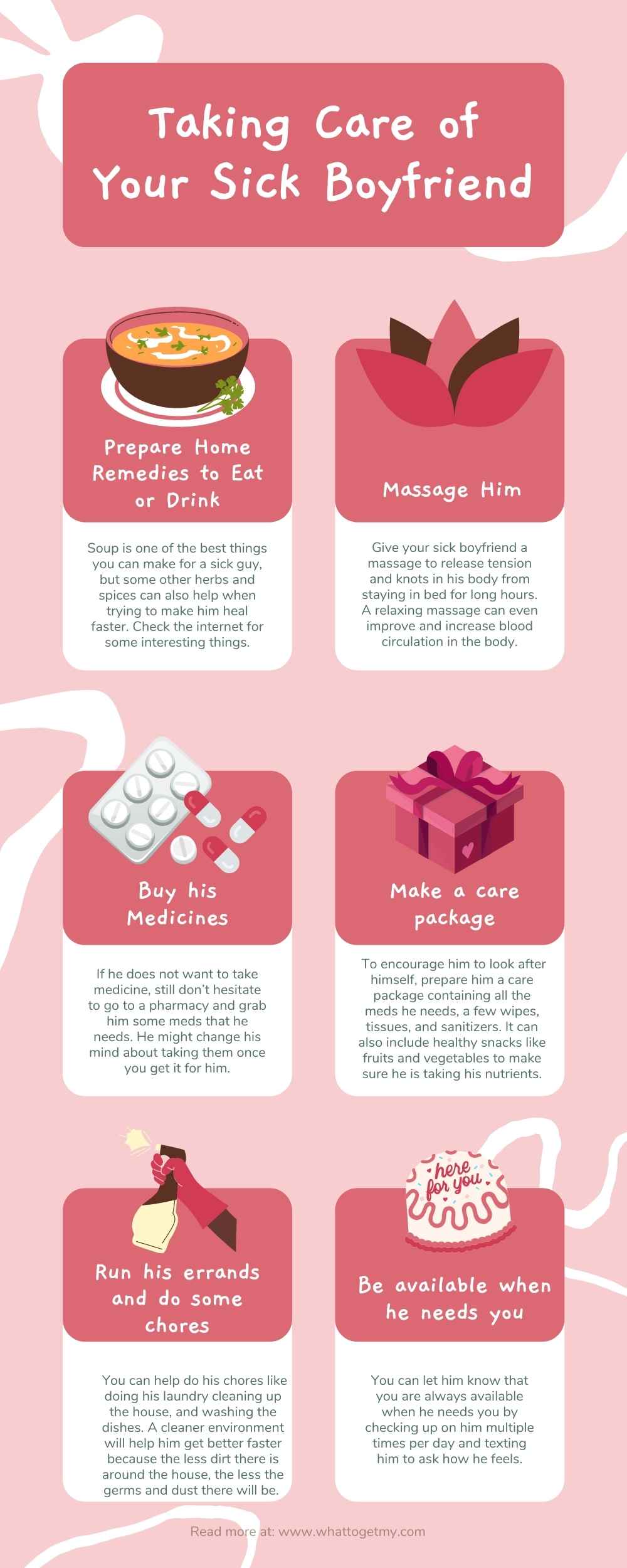 Source Link: https://whattogetmy.com/what-to-do-when-your-boyfriend-is-sick/
1. Prepare them home remedies to eat or drink
Soup is one of the best things you can make for a sick guy, but some other herbs and spices can also help when trying to make him heal faster. You can either call your mom or his mom for a great chicken soup recipe or use this great grandma chicken soup recipe from this site Fresh-out.com. Soup is full of nutrients and vitamins the body needs to feel better. The fact that it is in a liquid state will make it easier to digest and for the body to absorb, and the heat of the soup will help soothe a sore throat or a blocked nose.
2. Massage him
Give your sick boyfriend a massage to release tension and knots in his body from staying in bed for long hours. A relaxing massage can even improve and increase blood circulation in the body. Make sure your massage is not rough because anyone's body is extra sensitive when they are sick, so start slow and nice, and you can add more strength depending on how he wants it. You can also add a few drops of essential oils into your massage oil or use a vapor rub if your boyfriend has a cold, and you want to open a clogged nose or throat.
3. Buy his medicines
Boys usually don't like to take medicines and would rather let their body to heal by itself. If your boyfriend is one of those men and you see that his health is deteriorating without any medicine, don't hesitate to go to a pharmacy and grab him some meds that he needs. He might change his mind about taking them once you get it for him or after you explain in detail how it will help him get better.
4. Run his errands and do his chores
If your boyfriend is a student, you can either do his homework for him or help him solve it by contributing to research or revising and preparing for a test.
If you live with your boyfriend or he lives on his own with no house help, you can help do his chores like doing his laundry cleaning up the house, and washing the dishes. A cleaner environment will help him get better faster because the less dirt there is around the house, the less the germs and dust there will be. In addition to that, it will make your boyfriend more relaxed if he knows that there won't be a list of chores waiting for him after he gets better.
5. Prepare him a care package
When a man is sick, he might neglect his hygiene and get too lazy to look after himself. He might skip his meds or not take a shower or stay hygenic when he is ill. To encourage him to look after himself, prepare him a care package containing all the meds he needs, a few wipes, tissues, and sanitizers. It can also include healthy snacks like fruits and vegetables to make sure he is taking his nutrients.
6. Prepare a movie night
If you are looking for cute things to do for your boyfriend when he's sick, then a movie night is a perfect date night idea. You can do it even if your boyfriend is too sick to do any activity that requires him to do physical movement or being exposed to wind. You can get his favorite movie/show or even binge-watch a new movie or start a new show. This movie time will be a nice date to spend some time together without making your boyfriend tired when he is sick.
If you don't want to watch a movie or you want to switch it up a little, you can go for any activity that doesn't require a lot of physical movement. It can be playing his favorite video game or watching a bunch of videos that interest both of you on the internet, or maybe read a book together.
7. Be available when he needs you
We all have a lot going in our lives like work, families, or social life to juggle, so you most probably won't be able to be around your sick boyfriend 24 hours when he is sick. However, you can let him know that you are always available when he needs you by checking up on him multiple times per day and texting him to ask how he feels. It will let your boyfriend know that he is still one of your priorities, even in the midst of everything happening in your life.
Things you can do if you can't be physically present
8. Send a package or thoughtful gifts to his house
If you live far away from your boyfriend and cannot drive or fly to his city, you can send him gifts or flowers to make his crappy day a little bit better. The flowers can have a card in it, wishing him to get better soon or expressing your love for him.
If you want to do something bigger, you can send food that is nutritious to his house to help him get better. It can either be just soup or a whole day worth of meals that he can just heat up and eat. This kind of gift is incredibly thoughtful and helpful if your boyfriend lives alone and is too tired to cook or does not know how to.
9. Send him encouraging/ romantic messages
To make your sick boyfriend smile through the phone you can send him cheesy, romantic messages throughout the day or first thing in the morning to see it when he wakes up. If you want ideas on what to say to your boyfriend when he is sick, here are few ideas of romantic letters to choose from:
"Get well soon, baby, so I can give you a big hug."
"I wish I was there by your side right now."
"I know you got this boo, don't forget to take your meds."
Frequently asked questions
Should you give a man space when he is sick or try to spoil him till he gets better?
Most guys like to be looked after when they are sick, especially if they are not very familiar with cooking, so always try to be there for giving him while giving him space for a few hours for him to nap or you to rest as well because the last thing he wants is someone obviously stressing over his illness next to him. If you are not sure what your boyfriend is comfortable with, you can simply ask him directly.
Is it a good idea to take your boyfriend outside when he is sick?
Fresh air is never a bad idea when someone is sick. However, before convincing or suggesting to your boyfriend to go outside, make sure the weather is not freezing cold or windy, and if you decide to go out on a short walk with him or just let him sit at his balcony or front yard, make sure he is properly dressed for it. This will prevent him from catching a cold or making an existing cold worse.
What are the best foods to make or buy for your sick boyfriend?
Soup of course

Fruits rich in vitamin C as that strengthens your immune system ( lemon, tomato oranges)

 and vegetables as they contain a lot of nutrients and fiber ( especially leafy greens like spinach, kale, etc.)
Conclusion:
So here you have it, a few suggestions on things you can do for your sick man to speed up his recovery journey or to uplift his mental health. Remember, you can mix different ideas depending on your schedule, where you live, or even depending on who your boyfriend lives with( he needs more help or attention from you if his mom isn't around ). Men usually protect and take care of their girlfriends in relationships, but when they are not feeling their best, you should be there for them and let them know that you are around on fun days and the dark ones. This will strengthen your relationship even more and let your boyfriend know that truly love him and will be there for him no matter what happens.
ESTIMATED TIME DESIGNING AND UPLOADING THIS ARTICLE
ESTIMATED TIME RESEARCHING AND WRITING THIS ARTICLE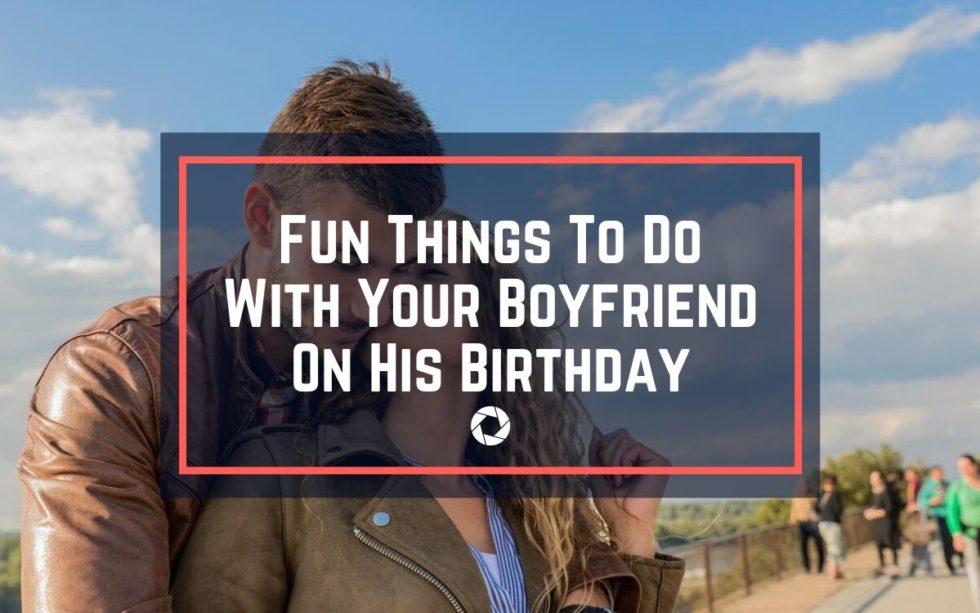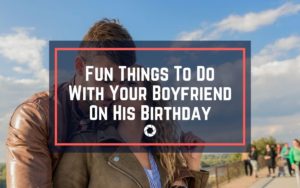 Fun things to do with your boyfriend on his birthday
Fun Things To Do With Your Boyfriend On His Birthday WhatToGetMy Instructional Article If you are looking to make your boyfriend's birthday a day filled with lots of fun, then continuing reading We know that there are so many things that you need to think
Read More »