When to Stop Waiting for Him to Propose: 9 Signs He's Never Going to Propose
WhatToGetMy Instructional Article
WHEN TO STOP WAITING FOR HIM TO PROPOSE
Although there are many benefits to marriage, for both men and women, it should never be the goal of your relationship because it takes away enjoying being in the moment with your person.
However, even in the most healthy of relationships, people have expectations and it is totally normal to expect a marriage proposal from your partner especially if you have talked about marriage or you have expressed your interest in the institution.
If you are tired of waiting for him to propose, you can always pop the question yourself. Research shows that 72% of men prefer the woman to propose – so there is your chance to be radical and break tradition.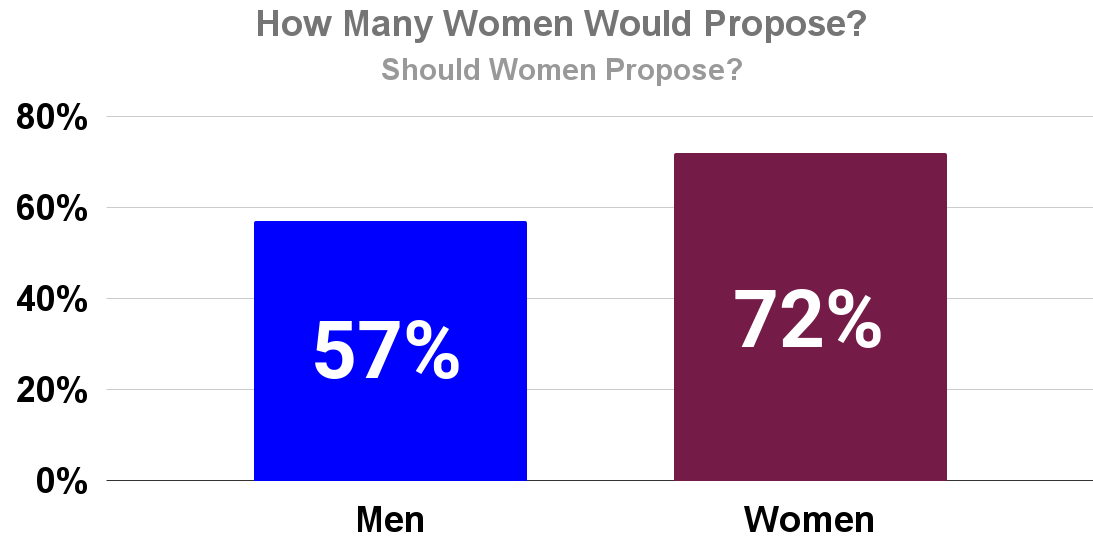 Source: Chillisauce.com
On the other hand, if you are traditional and would like to wait on the man to propose, here are some signs to look out for to know if he is eventually going to propose or not:
1. HE DOES NOT MAKE A TIMELINE OF YOUR LIFE TOGETHER
If you are wondering when to leave a relationship because there has been no proposal, then the first sign you should look out for to know that he is never going to propose is the lack of his interest in your future together as a couple. Does your man talk about the future with you? Does this future include you? If you notice that he does not talk about you being in his future, then you should move on from that relationship if marriage is what you want because that man does not picture/imagine having a future with you.
2. HE DOES NOT TALK ABOUT MARRIAGE
Another good reason when pondering about when to stop waiting for a proposal is to notice if your man talks about marriage. Men who would like to get married talk about marriages often especially when they are nearing the proposal stage, they will talk about marriage in passing just to see if you are on the same wavelength without having to give too much away. If your man never talks about marriage – whether to you or just in general, then chances are he does not want to get married, or at least not to you, so stop waiting around for them to propose and either talk to them about your future or leave and go find someone who wants the same goals as you do when it comes to relationships.
3. HE CHANGES THE SUBJECT WHEN YOU BRING UP MARRIAGE AND THE FUTURE
Waiting for boyfriend to propose can be quite depressing especially when you want to get married so badly and you have been throwing around hints for a minute. As the old adage says, communication is key in relationships and this includes nonverbal cues as well. For example, if you notice that your man always changes the subject when you bring up weddings (friend getting married, seeing a wedding dress you like, friends got engaged or went shopping for rings, etc.) this is him communicating that he is not interested in having a conversation about weddings with you. Now, this could be a red flag only when you have been with this man long enough and he has never spoken or taken interest in speaking about marriage with you. However, if you know that your man is attentive and usually cares about what you have to say – him changing the subject when you bring up wedding topics could be a sign that he is planning on proposing soon and he does not want to give anything away. You just have to look at your situation critically and assess what is happening based on past evidence and experience.
4. HE SAYS HE DOES NOT BELIEVE IN MARRIAGE AS AN INSTITUTION
One of the sure signs he won't propose is when a man blatantly tells you that he does not believe in the institution of marriage. Now, while there is nothing wrong with a different point of view in the matter, it also means that you and this man are not compatible because you essentially want two different things that neither of you should have to compromise on. Therefore, the best thing for the both of you to do for each other would be to leave each other alone and pursue people that you are each more compatible and aligned with when it comes to your beliefs about love, marriage, and other traditional values such as families.
5. YOU HAVE BEEN IN THE RELATIONSHIP FOR A SIGNIFICANT AMOUNT OF TIME
Research has shown that the average amount of time that women can wait for a man to propose is 4 years, this is because most couples get engaged anywhere between one year and four years of their relationship being official. When your relationship hits five years and your man is still not proposing, it is a sure sign to stop waiting for him to propose and move on with your life before you start to resent that man or worse, start giving him ultimatums to choose between marrying you or losing you.
However, this does not mean that your man will never ever propose to you just because you have been together longer than five years, but the chances of that happening keep getting slimmer as more time passes by.
Talk to your man about what you want to see where his head is at after five years of being together and decide for yourself whether you want to wait some more or if it is time to give up and leave the relationship.
6. HE IS VISIBLY IRRITATED WHEN YOU BRING UP MARRIAGE
Waiting for a proposal is a hard thing to do on its own, many women become obsessed about when and how their significant other is going to propose and are subsequently disappointed when time keeps going, and this is made even worse when your man gets visibly irritated when you bring up marriage talk. This is a sure sign that he does not want to marry you and you should do yourself a favor and leave that man alone. Go find yourself and pursue your passions – and who knows, maybe you will meet the love of your life on your self-rediscovery journey.
7. HE NEVER TALKS ABOUT HIS PLANS WITH YOU TO HIS FRIENDS OR FAMILY
Sometimes, waiting for proposal can cause depression. This is because you get your hopes high every time thinking that he is going to propose and you are sad every time that he does not. Eventually, you will start to feel like there is something wrong with you (there isn't) or that you are lacking in some way (you are not). Either way, that piled with pressure from family and seeing all your friends get engaged or married can easily send you into depression.
One of the best ways to avoid this is to notice if your man makes plans about you with his friends and family, does he invite you to family functions and hangouts with friends – birthdays, weddings, and things of that nature? If he does, chances are he is going to propose, be patient – especially if your relationship is new. However, if you never or rarely see your boyfriend's family and friends, chances are he does not want to introduce you to these big and important parts of his life because he knows that he does not want you in his life for the long haul.
8. HE HAS GOTTEN COMFORTABLE WITH YOU ALWAYS BEING THERE FOR HIM
One way to stop waiting for him to propose is to make yourself unavailable to your man. That means cutting off whatever it is that he gets from you that benefits his life without him feeling like he needs to marry you. If you do his laundry, make his food, or clean after him, stop doing these things – this is to show him that he needs you in his life and to value what you bring to the table more which he might – until this point, be taking for granted. Sometimes people think we are always going to be there for them because we have never shown them what life would be like without our presence.
9. HE KEEPS CHANGING THE DATE THAT HE PROMISED TO PROPOSE
If you look at your boyfriend and think "I'm tired of this guy always stringing me along!" you are not alone. Most men have and will lead a woman on and promise her a ring just to "shut her up" or to "stop her from nagging." this is highly manipulative behavior and it is used to keep you interested in the relationship and not want to leave for the period of time they have given you with excuses such as " I am trying to get my money sorted before I can propose" or "I am going through a lot right now." They dangle the proverbial carrot in front of your face and you stay because you want it to work and you have already put in too much of your time in the relationship anyway, or maybe even because you truly love them.
However, when you notice that the promises have become a redundant pattern, it is time to let that man go and for you to move on with your life.
HOW TO MOVE ON FROM A MAN THAT WON'T PROPOSE
There has been much talk in this article about moving on when you are tired of waiting for boyfriend to propose but how exactly does one go about doing so in a healthy, positive, and beneficial way? Well, here we have compiled three ways that can help you move on from a man who failed to propose to you.
1. FIND YOUR OWN PASSIONS AND INTERESTS
When you are tired of waiting for a proposal and you have decided to move on from your man, the first thing you are going to want to do is find new or revive old passions that you can focus on. Being newly single, you are going to find yourself with a lot of time that needs preoccupation so you are not constantly thinking about your ex. A good hobby is sure to keep your mind from wandering and keep you sane during your initial break-up period.
2. TRAVEL
Another way to stop waiting for him to propose is to travel. Move away from the norm of your city or town and visit a friend in the town over. Or if you have the money for it, travel overseas, see new lands and meet new and exciting people. Who knows, this might lead to your eat pray love moment!
3. TAKE CARE OF YOURSELF
And lastly, taking good care of yourself goes a long way when you are trying to get over someone. Go to that spa day, get your hair and nails done, practice some meditation, exercise, and journal. You can also add more things to this list that are personal to you that you consider to be self-care.
FREQUENTLY ASKED QUESTIONS
1. How long should I wait for him to propose before I leave?
Waiting for him to propose should never be the goal of your relationship. Once you start feeling that he has to propose to you for your relationship to feel real or become legitimate, you are already losing. Getting married should not be the ultimate goal, being in love with the person you are with should – knowing everything you can about them, helping them become better people, seeing the positive changes they can make in your life, and how you can both build towards a relationship that is built on mutual trust and loyalty. Here are 6 things you should know before getting married to someone – you can start from here to build a stronger relationship with your partner.
2. How long on average does it take for a man to propose?
According to recent data, most couples date for 2-5 years before getting engaged. This means that on average, it will take a man 3 years to propose to you – that is if everything goes to plan. Factors such as pregnancy usually speed up the engagement process when couples are traditional because they want to be married by the time the baby gets here. But in case you are still confused, here are some signs that he wants to marry you in the future. Happy hunting.
CONCLUSION
In conclusion, this article has covered the topic of when to leave a relationship when there is no proposal even after you have dropped so many hints, or even confronted them and told them what you want. If you are wondering when to stop waiting for a proposal, you have already found your answer. When you are with someone who wants to marry you, you will not second guess yourself or even ask how long it will take for them to propose to you. Here are some signs that your boyfriend won't marry you, if you resonate with any of them, it might be time to reevaluate your relationship.
Enjoy your relationship for what it is and stop worrying about what it could become – and if that is not an option for you, then you can always leave and find someone else who wants the same things as you do in a relationship.
ESTIMATED TIME DESIGNING AND UPLOADING THIS ARTICLE
ESTIMATED TIME RESEARCHING AND WRITING THIS ARTICLE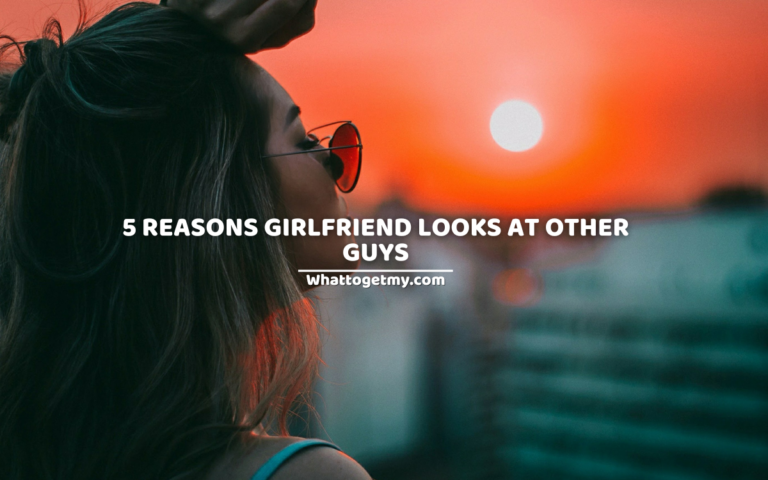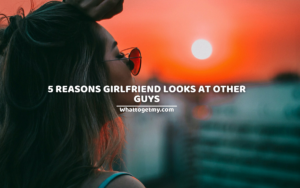 5 REASONS GIRLFRIEND LOOKS AT OTHER GUYS
5 REASONS GIRLFRIEND LOOKS AT OTHER GUYS WhatToGetMy Instructional Article Why is my girlfriend looking at other guys is probably a question you would have never though you'd be asking the internet, but here you are and so here we are. In this article, we
Read More »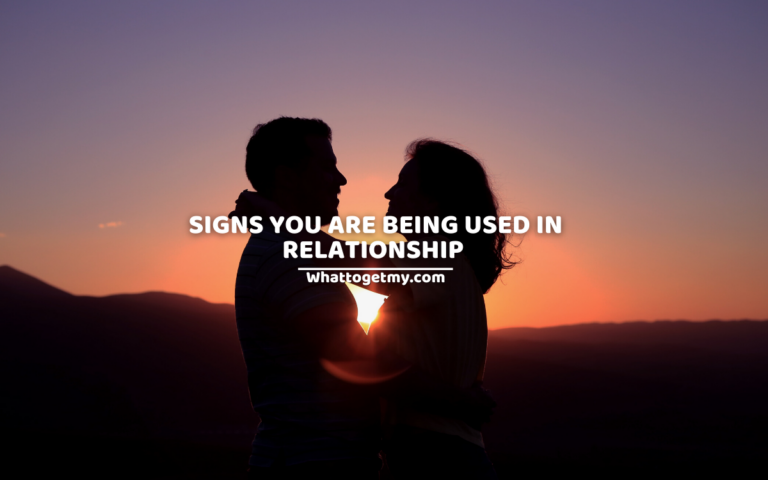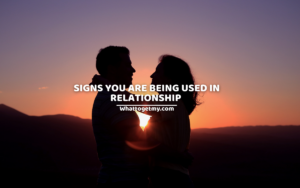 11 SIGNS YOU ARE BEING USED IN RELATIONSHIP 
11 SIGNS YOU ARE BEING USED IN RELATIONSHIP WhatToGetMy Instructional Article If you are looking for signs to see if your partner is using you, then read this article is for you. We have come up with 11 signs of a toxic relationship that will
Read More »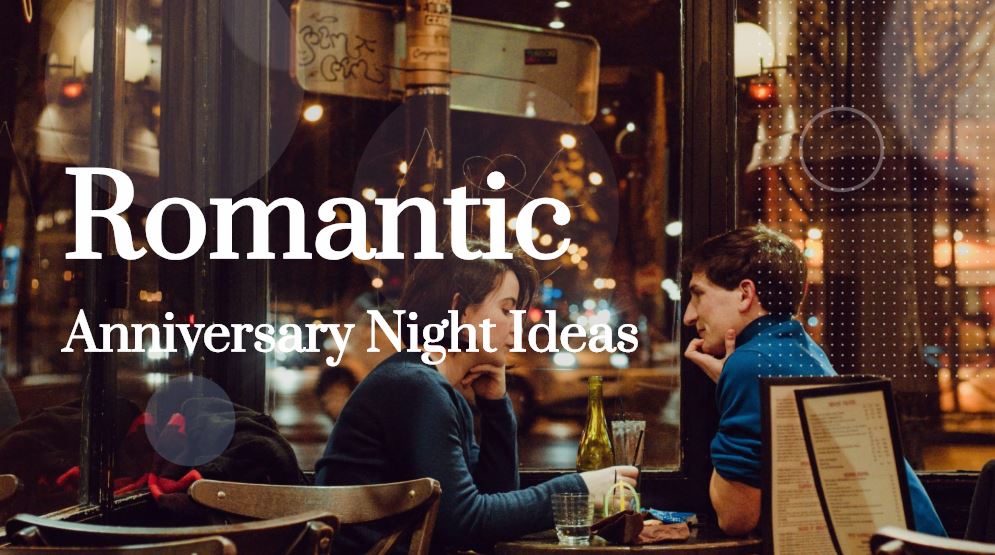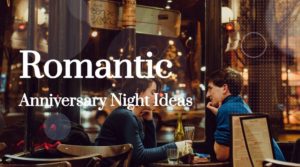 ROMANTIC ANNIVERSARY NIGHT IDEAS
Romantic Anniversary Night Ideas WhatToGetMy Instructional Article You have an important anniversary in your relationship coming up and want to plan a nice romantic evening for the two of you and need some romantic anniversary night ideas. Although most couples remember the important moments in
Read More »