11 DATING ADVICE ON KEEPING YOUR PARTNER AWAY FROM OTHERS
WhatToGetMy Instructional Article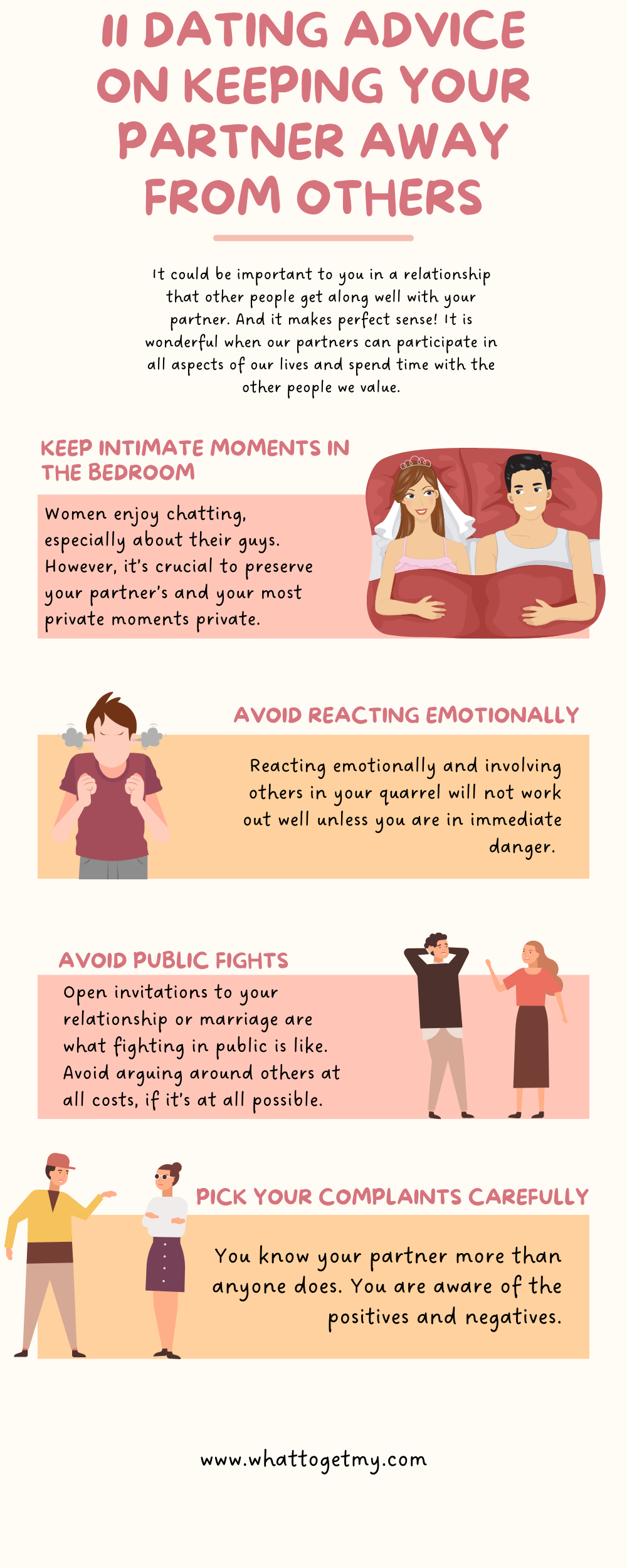 Your goals remain clean by keeping your relationship covert. Choose to proceed forward in your relationship every day. It would help if you did it because you can't picture your life without your spouse, not because you depend on social media users' fictitious approval. Those are relationship goals.
SHOULD I KEEP MY PARTNER AWAY FROM OTHERS?
It could be important to you in a relationship that other people get along well with your partner. And it makes perfect sense! It is wonderful when our partners can participate in all aspects of our lives and spend time with the other people we value.
However, what if that isn't the case? What if your partner is not well-liked by your parents, relatives, or friends? This may not be easy. You can feel bad or conflicted about choosing your partner over your partner's family or friends. If your relatives or friends tell you they don't like your spouse, you might want to respond defensively and possibly aggressively. You could even wish to keep your connection a secret from them or ignore what they have to say.
Those are typical first responses, but it can be beneficial to consider the matter further. 
Sometimes it's a close friend, a cherished family member, or even someone you don't know very well. Simply expressing disapproval, individuals from all spheres of your life might significantly damage your relationship. Your BFF might think your partner is uncool, your sister might not approve of your wife, and your parents might have negative opinions of the person you decided to spend the rest of your life with. The two of you must agree on this. Nobody should be able to emotionally or physically separate the two of you. 
You must let the offender know that you care about them but are cutting the call off or must depart if they continue to criticize you. This will significantly impact the source of the negative energy and show how committed you are to secure your relationship on a positive course; these are stages you begin to consider keeping your partner away from others.
Couples must cooperate in withstanding any influences that want to separate them. An ex-lover might occasionally call to check in on their ex, inquiring about the new partner and possibly saying something about how much they miss you and how well they are handling their loneliness. This is a trap to get you to think about relationships outside of your own, and if you fall for it, your partner will sense it and put some distance between you and your spouse.
You need to let such intrusive people know right away that you are content with your life and your relationship and that they don't need to get in touch with you if they are only curious if you're searching for a hookup. There are other places to find such changes. These are why so many people choose to keep their partners private.
Your bond with each other is a kind of sacred trust that needs to be upheld. It doesn't imply that you should stay with your partner if they are acting abusively or negatively and disregard the advice of others around you. However, most relationships are worthwhile despite the effort required to maintain them. The greatest method to keep what you have and develop your love to strengthen your connection is to build a solid relationship and work as a cohesive team.
The "you plus I versus the world" mentality determines whether a relationship succeeds or fails. This mutual-protection policy results in more fulfilling and durable relationships between the participants. Life becomes easier when you know someone has your back.
HOW TO KEEP YOUR PARTNER AWAY FROM OTHERS? 11 WAYS YOU CAN KEEP YOUR PARTNER AWAY FROM OTHERS.
ATTACKS FROM FAMILY AND FRIENDS
Without the interference of friends and family, relationships can be difficult enough. It all comes down to boundaries. The most intimate elements of your relationship should be kept private, regardless of how close you are to a friend or relative. Here are some tips for defending your possessions.
KEEP INTIMATE MOMENTS IN THE BEDROOM
Women enjoy chatting, especially about their guys. However, it's crucial to preserve your partner's and your most private moments private. Telling friends about something that can make your partner uncomfortable or catch their attention is not a good idea.
AVOID REACTING EMOTIONALLY
You're having a passionate argument and are only a few seconds away from phoning your brother or father, but it is not a wise move. Reacting emotionally and involving others in your quarrel will not work out well unless you are in immediate danger. When you reconcile, you'll expect everyone else to return to normal, but that's not how it works.
Open invitations to your relationship or marriage are what fighting in public is like. Avoid arguing around others at all costs, if it's at all possible.
IMPROVE YOUR COMMUNICATION SKILLS
When there is no pressure, discussing relationship problems with friends or relatives can be simple. When you don't immediately voice your complaints to your partner, it can lead to distance. Find the most effective approach to raise an issue with your partner, which may entail waiting for the appropriate moment.
PICK YOUR COMPLAINTS CAREFULLY
You know your partner more than anyone does. You are aware of the positives and negatives. You will harm your partner's reputation if everything you ever do is grumble to someone who doesn't know them as well. Pay close attention if you are presenting your partner negatively.
ASK FOR SOUND ADVICE WHENEVER YOU NEED IT.
To believe that you will never need someone else's help or understanding in relationships may be excessively idealistic. If you do, take the source into account. The key is to seek insight since your connection is important and must be safeguarded.
It's critical to understand what your partner is willing to share with you and what they might not be. Men are frequently much more cautious about what they tell their close friends and family members about them. Make sure you respect the agreement and have the dialogue.
CATCH SOME PROBLEMS EARLY
Family members and friends occasionally pry. It would help if you established limits by being courageous enough to respond, "That's personal and something we don't discuss," when they inquire.
REFRAIN FROM VENTING ON SOCIAL MEDIA
Stay upbeat by avoiding negative people and remarks. Living in a strawberry-scented, rainbow-colored world is better because, at least on Twitter, you can block ill-informed comments, arguments, and suggestions for what you should be doing with your life. Have a compulsive need to avoid those negative situations in your life. Be selective with your tweets.
WHEN IT COMES TO LOVE, FOLLOW YOUR INSTINCTS.
Because we don't trust our sensations and emotions, we frequently turn to outside sources for guidance. We ask a friend, "So am I correct in this situation?" We often ask questions from biased sources, but if we had some time to ourselves, we might find the answers and handle disagreements more skillfully.
Statistics from rebellove show the reason why people break up with their partners.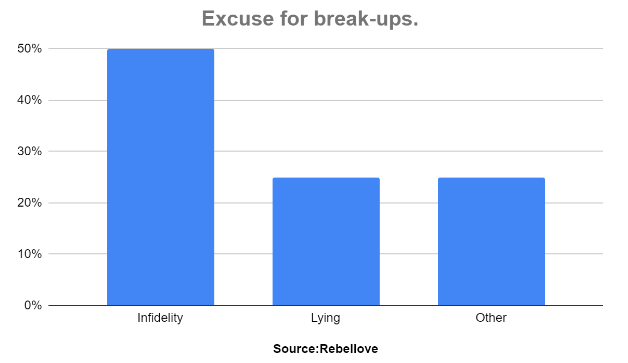 WHY YOU SHOULD KEEP YOUR PARTNER AWAY FROM OTHERS– THESE ARE FIVE OBJECTIVES TO KEEP YOUR RELATIONSHIP PRIVATE.
Relationships used to be treasured as sacred spaces where two individuals could find comfort, confidence, and support. Godly relationships must be sustained by a few key components that are motivated by a dedication to honor, love, and respect, with privacy at the top of the list. In the past, people would shield their relationships from the influences and viewpoints of others. The world has evolved.
Social media has fast evolved into many people's diaries in a culture dominated by online connections. Social media captures the most priceless moments of our lives and serves as a virtual reservoir for our feelings, memories, and experiences. The medium helps us stay in touch with our friends and loved ones and is valuable when used sparingly.
Although sharing your adoration for your lover is acceptable because love is inspirational, mindfulness is crucial. You don't have to keep your connection a secret, but privacy should still be respected for the following reasons.
YOU BECOME MORE RECEPTIVE TO OTHER PEOPLE'S VIEWPOINTS.
 You expose yourself to other people's viewpoints by discussing your problems with strangers. Growing up, we were advised to keep family matters out of public view. Our parents and grandparents were aware of the repercussions of casually discussing family matters.
NOT EVERYONE WILL BE PLEASED WITH YOUR RELATIONSHIP.
Who is happy for you? Do you want to know? Become in love. The unpleasant fact is that not everyone will be glad to see you two together. It's crucial to remember that unhappy people don't enjoy their own company, even though there shouldn't much worry about other people's opinions. Some people are so dissatisfied with their own lives that they will go out of their way to sabotage yours.
Your joy could attract detractors who spread confusion wherever they go. Being absent from view and mind can be beneficial at times. People have less to say about your private affairs the less they know about them.
IT ALLOWS YOUR EX TO FIND A WAY IN.
Being watched by your ex-boyfriend or ex-girlfriend on social media is the only situation worse than outsiders prying into your affairs. If you reveal more about your new connection, a bitter ex may take advantage of you and try to rip a hole in your current relationship.
PHOTOS MAY BE FILTERED, BUT RELATIONSHIPS CANNOT.
It's not a contemporary idea to want to be noticed. Many people have long been motivated by receiving external validation and approval. Our desire for recognition has only grown due to social media's development because it is now simpler to obtain. However, it's harmful to your relationship if you let others' attention make you feel drunk.
Being an observer of your love relationship momentarily satisfies the world's dehydration. When a couple prefers the glitz of their online relationship to their genuine connection, there is cause for concern.
5. IT'S SIMPLER TO BREAK UP.
Your partnership was wonderful. The globe felt like traveling with you and your companion during some very memorable moments. You opened up your relationship to the public, failing to remember that ultimately, your partnership is just between the two of you. Because of the nature of love, relationships do end. It is considerably harder to pick up the pieces and start a new chapter after terminating a relationship that was so widely praised on social media.
 There are consequences to sharing your connection with the world. You invited everyone to join your union, so if you choose to leave, be ready for ongoing interrogation. You can avoid the extra drama by keeping your relationship private. You can easily decide to end your relationship without hesitation, commitment, or worry.
CONCLUSION
Give your relationship and partner a stress-free space to grow, learn from mistakes, and develop without feeling pressured to maintain a false identity cultivated by social media. People can worship your connection even when you don't let it. Sharing every detail of your life can help you become the ideal of true love. People start persuading themselves to want what you have all because of what they see online, all of a sudden. Both parties in the relationship may feel a great deal of pressure. It's simple to forget what is truly important—creating an unbreakable link with your partner—in the current living culture to meet the expectations of onlookers. Relationships are already difficult to maintain even without the drive to impress others. So instead of being pressured, keeping your partner away from others is better.
FAQ
IS IT ADVISABLE TO AVOID USING SOCIAL MEDIA DURING RELATIONSHIPS?
Maintaining the secrecy of your relationship does not imply that you never discuss it or reveal the details of your romantic life. It also doesn't mean keeping your relationship status a secret. Prioritizing the closeness of your relationship, your peace of mind, and that of your spouse over strangers' prying eyes and validations means keeping your relationship off social media.
HOW CAN I IMPROVE THE BOND I HAVE WITH MY BOYFRIEND?
Together, spend time.

Try not to keep your wrath, fear, or resentment inside.

Use constructive ways to vent your frustration.

Each other's goodbye and greeting hugs or kisses.

Discuss the positive aspects of the partnership.
ESTIMATED TIME DESIGNING AND UPLOADING THIS ARTICLE
ESTIMATED TIME RESEARCHING AND WRITING THIS ARTICLE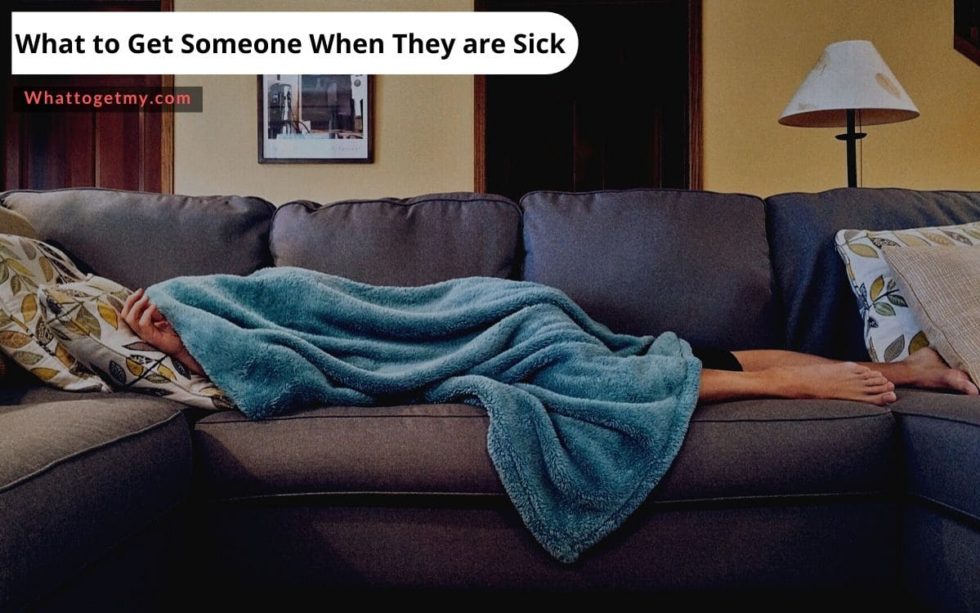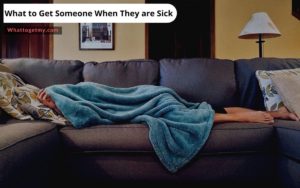 What to Get Someone When They are Sick
3 Amazing Options for What to Get Someone When They are Sick WhatToGetMy Instructional Article All you want to do is to help a sick friend or family member feel better and are looking for some ideas as to what to get them.  We can
Read More »