BOY SCOUT PATROL BOX INVENTORY LIST
WhatToGetMy Instructional Article
You have boys that are scouts and are looking to find out more about what it is that they actually do and learn when they go out on their campouts, you also want to know what a patrol box is and why each of the scouts gets a turn to check the Boy Scout patrol inventory list.
Scouts camp, they build fires and go fishing, but that is not all they do. Scouting encourages hobbies, interests, and skills that will help the scouts to develop leadership and a sense of achievement. The new skills that they learn through different activities will allow them to advance through the different ranks. As they advance each activity gets more and more challenging which helps the scouts to continuously learn new and important life skills.
Skills like teamwork, problem-solving, safety awareness and creativity are just a few of the skills that each of the activities might involve. Among other responsibilities that they learn, one of the most important is that they are given the responsibility of checking the Boy Scout patrol box against the inventory list to make sure that all the items in the box are there.
The reason why Scouts do a lot of camping is to earn their camping merit badges, which entails a total of at least 20 nights at designated Scouting activities or events. One camping experience needs to be a long-term camp of up to six consecutive nights and all campouts must be that they sleep each night under the sky or in a tent.
It is a known fact that any camping trip, no matter who the participants are cannot be complete without the process of being able to cook food and eat it, therefore having an organized patrol box on the go is the secret to experiencing a great camping trip. So the Boy Scout patrol box needs to be taken with for each of these camping events and the inventory will need to be checked against the inventory list.
The importance of the Boy Scout inventory list is to make sure that the Boy Scouts have all the necessary supplies and equipment with them on each of their campouts because if there is something essential missing then the whole troop will need to go without which could make a camping trip very unpleasant.
These inventory lists are a great tool to help keep things organized and for a Boy Scouts patrol box inventory list there is usually a standard list that is used but it can vary according to the type of camping and activities that have been planned for them to do, the places they are going to, the time of year they are going and the length of their camping trip.
A patrol box is a device used by campers and is very popular with Boy Scout for their camping kitchen requirements. A patrol box is also known as a chuck box or grub box which are both terms used for food by cowboys and it is believed to have evolved from a "Chuckwagon".
A chuck wagon is basically a portable kitchen in a box that is generally used for storing and transporting essential kitchen equipment as well as basic perishable food while out in the wilderness.
When the patrol box is packed up, it looks like a large box with handles and usually folds down on both the front and sides to reveal the contents of the box. It usually has compartments, shelves, drawers, and racks to place kitchen items such as cooking pots, pans, plates, utensils, and cleaning items to help keep cooking supplies and ingredients organized.
The main reason why Boy Scouts have a patrol box is that it makes it a lot easier for them to go camping quickly with the numerous kitchen items being always packed and ready to go. Without a patrol box packing up and moving camp could take up valuable time and there is the risk of leaving certain items behind.
There are many different types of patrol boxes available, some that provide work surfaces and utility features, providing a benefit of an additional kitchen table which can be bought or build themselves.
But many campers choose to build their own as it is often a service type project for scouts to earn awards while learning the skill of carpentry. Although the Boy Scouts troops generally only maintain one box for each patrol as it is much easier to check and maintain than one box for every scout.
BOY SCOUT PATROL BOX INVENTORY LIST
The Boy Scout patrol box would contain the basic ingredients and supplies that they would want to bring for any camping trip.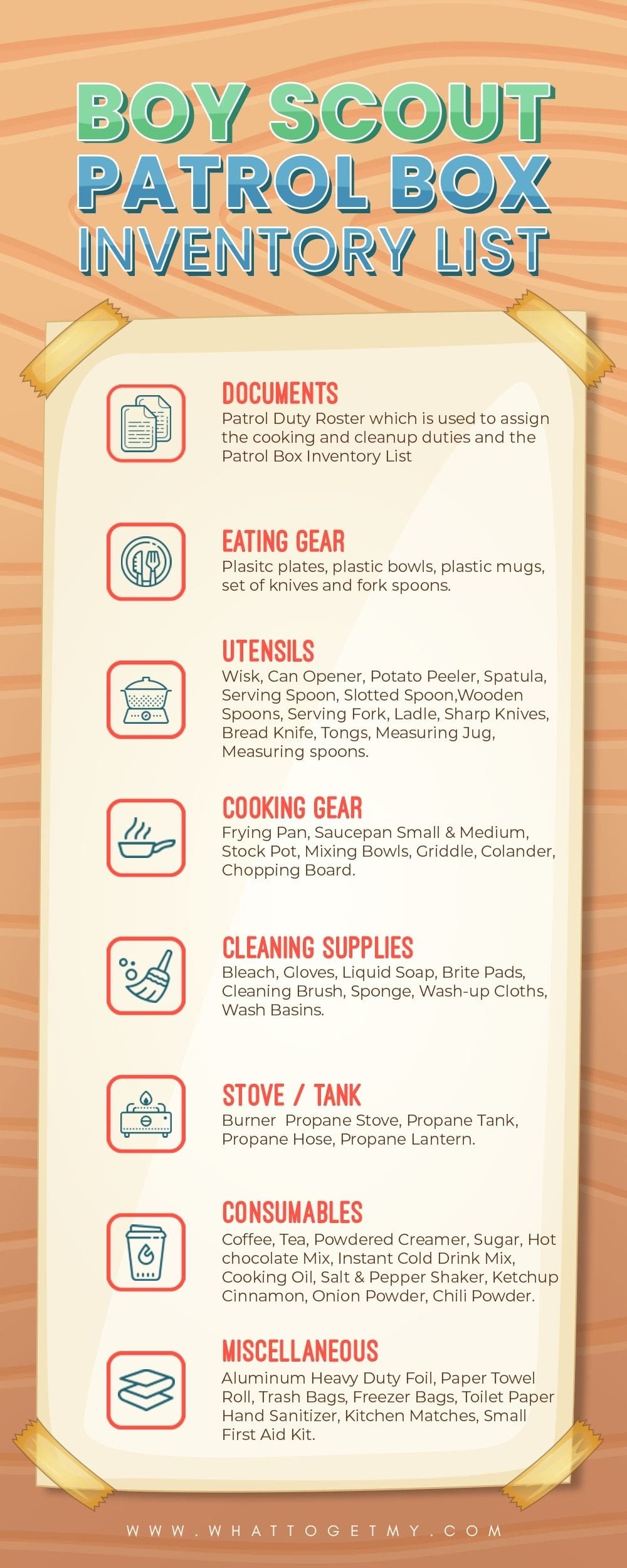 Source Link: https://whattogetmy.com/boy-scout-patrol-box-inventory-list/
Patrol Duty Roster which is used to assign the cooking and cleanup duties

The Patrol Box Inventory List
1 Wisk

1 Can Opener

1 Potato Peeler

1 Spatula

1 Serving Spoon

1 Slotted Spoon

2 Wooden Spoons

1 Serving Fork

1 Ladle

2 Sharp Knives

1 Bread Knife

1 Tongs

1 Measuring Jug

1 Measuring spoons
8 Plastic plates

8 Plastic bowls

8 Plastic mugs

8 sets of knives, forks spoons



1 Aluminum non-stick frying pan

1 Aluminum non-stick saucepan small

1 Aluminum non-stick saucepan medium

1 Aluminum non-stick stock pot

1 or 2 mixing bowls

1 Aluminum non-stick griddle (Coleman)

1 Colander

1 Chopping Board
1 Small bottle bleach

2 Rubber Gloves

1 Small bottle dish liquid soap

1 Scotch Brite pads

1 Cleaning brush

1 Sponge

Wash up cloths

3 Wash Basins



1 (Coleman) 2-burner propane stove

1 Propane tank

1 Propane hose

1 Propane Lantern
Coffee, Tea

Powdered creamer

Sugar

Hot chocolate Mix

Instant cold drink mix

1 Small bottle cooking oil

1 Salt shaker

1 Pepper shaker

1 Bottle seasoning salt

1 Small bottle Ketchup

1 Bottle cinnamon

1 Bottle onion powder

1 Bottle Chili powder
1 Aluminum heavy duty foil

1 Paper towel roll

5 Trash Bags

1 Packet zip-lock freezer bags

Toilet Paper

1 Hand sanitizer gel

1 Kitchen Matches

Small First Aid Kit
Apart from the patrol box, there are other scout outdoor essentials that are required, like:
A pocketknife or multi-tool

A first-aid kit

Extra clothing especially if cold weather is expected

Rain gear

A flashlight or headlamp with extra batteries

Trail food for maintaining energy.

Water.

Matches or a fire starter.

Sun protection.

A map and compass
Personal hygiene items for longer trips:
Toothbrush

Toothpaste

Dental floss

Soap

Comb

Waterless hand cleaner

Small towel

Washcloth

Toilet paper
Learning to build your own patrol box
If you are looking for a way to build your own patrol box at home that can be easily transported in the trunk of your car on your own camping trips, you can unfold it at the campsite to create a small work station and prepare your meals. With your patrol box, you will want to have a place for items like a propane stove, crockery, pots and pans, eating and cooking utensils, additional cooking tools and some counter space to work on.
Below is the very basics of what you need and what your steps will be to build your own patrol box. There are many resources online and on You-tube that will give you in-depth details and plans of exactly how to build a patrol box.
Materials you need
Enough Plywood to build your entire patrol box

Hinges (at least a set of 4)

2 latches

Wood glue

Plenty of Screws
Tools for the work
A Tape measure

A Drill with a small bits

A circle saw

Hand saw

Safety glasses

Construction square

Pencils
Step One: Your plan
Your very first step will be for you to sketch and calculate your plan of the box on paper, things like how it will look, what will the size of the box be? which will be determined by what kitchen items you plan to store in it. To do this you will need to gather all the camping items that you would like to put in it and stack it up on a bench or table. Then start to measure everything and work out your own dimensions of the size and the design that you want.
Step Two: Cutting the wood
To start with cutting your wood, you will need a tape measure to measure each wood piece that you will need, a table saw or a circular saw which will help you cut all the pieces of wood into the desired sizes and shape. It is a good idea to label each piece of wood on a place that won't be seen so that you can keep track of which piece must go where.
Step Three: Assembling the patrol box
Once you have measured and cut all the pieces that you need to build your patrol box with, then it is time to start assembling the box. This process should not be very difficult or complicated if you have measured correctly and cut all your pieces perfectly. Make sure that you install the front and top pieces of your patrol box well as this will enable the box to close properly.
Step Four: To Finish
To finish your patrol box off, you would apply the first layer of paint, then the second and then the final coat of paint. It is best to use a paint that will be able to withstand the extreme outdoor weather that camping can bring.
Step Five: Stocking and equipping your patrol box
Now comes the fun part and that is to stock and equip your patrol box with all the essential kitchen items that you will need when you go camping. The main vital items are:
A two-burner propane stove for cooking food

A dinnerware set

Collapsible sink and dish towels for cleaning up

Various utensils as well as the spices that you will need

Plastic wrap, aluminum foils, and zip-lock bags to cover and protect prepared food.

Aluminum frying pans and stock pots
Creating and designing a Boy Scout patrol box inventory list
There are many free printable inventory list templates that are available on the internet but to design your own Boy Scout patrol box inventory list will be so much more fun than just printing one out and you can customize it to your exact requirements for the items that you want to include in your box. Here are some ways:
To create your own inventory list, you can use Microsoft Word or Excel.

You can create your own inventory list with Google documents.
Having a Boy Scout patrol box inventory list will help to keep a patrol box neat and well organized and it is a way to check that the Boy Scouts have all the kitchen essentials with them on their camp as well as giving each boy the opportunity to have the responsibility of making sure that they have everything that they may need at their campsite stored in a fold up box that is ready to go and is easy to carry around from one campsite to the next.
ESTIMATED TIME DESIGNING AND UPLOADING THIS ARTICLE
ESTIMATED TIME RESEARCHING AND WRITING THIS ARTICLE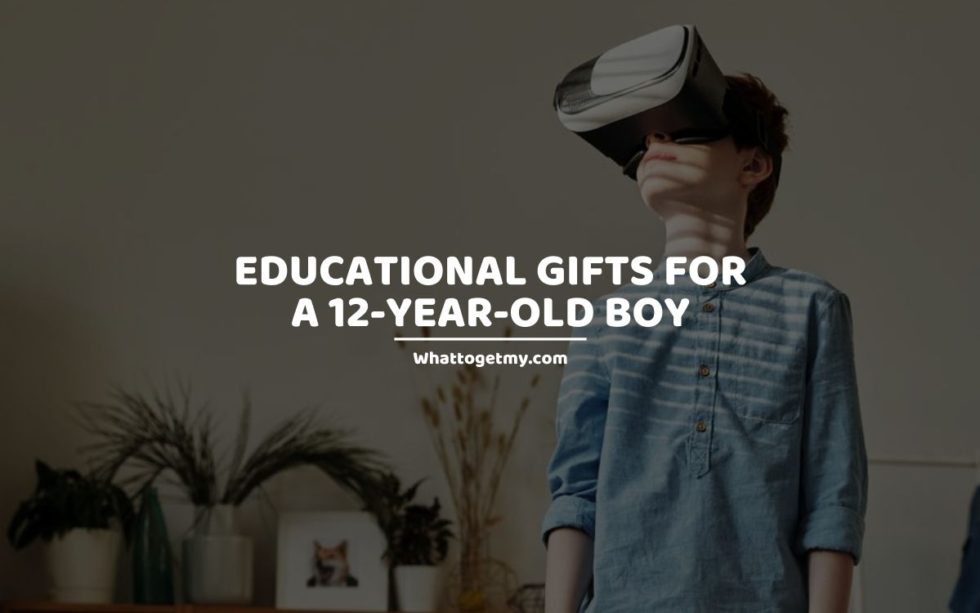 6 Educational Gifts for a 12-Year-Old Boy
Educational toys for 12-year-olds are not easy to pick. You know the reason. Tweens are sometimes just impossible, there are no other words to describe that behavioral change. Of course, we all know why that is – they don't think of themselves like kids anymore
Read More »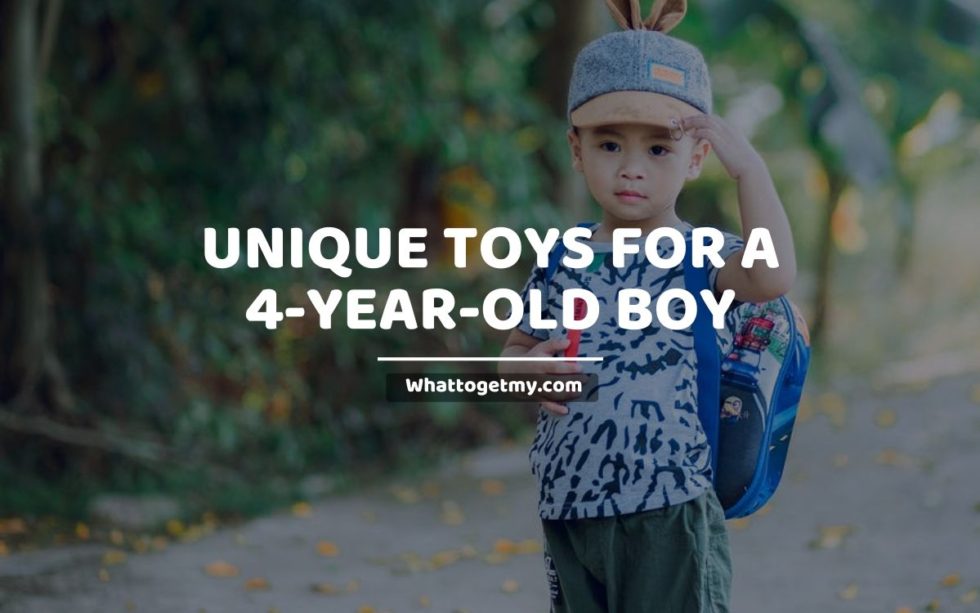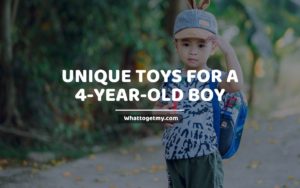 Unique Toys for a 4-Year-Old Boy
Toddlers are little adventurers who seek thrills and excitement. They are on the quest of discovering the world and nothing can stop them! You should encourage their curiosity and try to boost their creativity and imagination. The best way parents (and other family members and
Read More »