Educational toys for 12-year-olds are not easy to pick. You know the reason. Tweens are sometimes just impossible, there are no other words to describe that behavioral change. Of course, we all know why that is – they don't think of themselves like kids anymore and they want to be more like adults. So, when buying gifts, toys and other cute stuff are off the table but so are things for adults. You don't want to get gifts that are unsuitable for the age of your child, no matter how much he/she wants to feel like one! There's no skipping any single step in growing up, and you're being responsible for sticking with that. Now, where does that leave you? Basically, you have to find a perfect balance between adult and kid stuff, and we're going to help you with that!
We composed an article knowing how hard it can be to shop for tweens. After many hours of research, we came out with 6 awesome educational products. Our top gifts for a 12-year-old boy include so many fun and useful products that you won't be able to stop on just one of them! They are all perfect for 12-year-old boys, as they are fun and also beneficial for youngsters' development. So, stay with us, and we'll go through the collection together!
Before you scroll down to product suggestions, check out these useful tips:
There's a lot of stuff you can buy for a 12-year-old boy but don't make a mistake by getting a toy. Tweens are trying to imitate adults, and grown-ups don't play with toys!

It might seem that your son is not interested in anything in particular, but that's not quite true. He certainly has interests, he only hasn't shared them with you yet. Talk with your child, keep the communication open, and be patient. He'll talk with you when he's ready.
Consider throwing a party for your soon-to-be-teenager son. At tween age, children love parties as they make them feel more grown-up. For some guidance on this one, take a look at this article: What to Do at a House Party.
As an Amazon Associate we earn from qualifying purchases. We may earn a small commission for our endorsement, recommendation, testimonial and/or link to any products or services from this website. Thank you, your qualifying purchases help support our work in bringing you real daily gift ideas.
Quick Overview: Gifts for a 12-Year-Old Boy
Source Link: https://whattogetmy.com/educational-gifts-for-12-year-old-boy/
The Noble Collection Harry Potter Wizard Chess Set
Our top pick is perfect for Harry Potter lovers! It's a unique chess set with an incredible design. The board measures 18.5 x 18.5 inches and comes with pieces that are 2 to 4 inches tall. Of course, there are also two bags for holding two colors of chess pieces.
Now, how will your child benefit from owning a chess set? Well, chess is an IQ builder game. Your child will be playing a game that demands developing strategies, which is stimulating for the brain. Also, it's super fun and requires two players, so your kid can socialize more.
Do you remember the sequence in the book when Harry and Ron had to play chess to conquer evil? No? Your kid certainly does! Bring the excitement and magic from books to your home and give your child hours of fun with this beautiful chess set!
Capture the Flag REDUX: The Original Glow-in-The-Dark Outdoor Game
Are you looking for Christmas gifts for a 12-year-old boy? Look no more! The Capture the Flag game is a perfect gift for Christmas, birthdays, and all other occasions. The set includes 25 light-up game pieces, and your child and his friends can play it in 12 different ways! The batteries last for more than 12 hours, which is more than enough for undisturbed and continuous play. Also, this game is universal and can be played by kids, teens, and adults. How amazing is that?
This game will inspire your child to play outside and leave his phone aside. It also develops teamwork, social skills, and strategy! On top of everything, the game is incredibly fun to play. Players team up into two groups, divide territories, and place flags. Then, each team tries to steal the flag from the other one. Sounds fun? It is! Of course, you'll get more detailed instructions with the game itself.
This is one of the best birthday gifts for a 12-year-old boy because he gets to play the game with his friends during the party! It's also ideal for Christmas because the entire family can play together. Actually, we find it quite universal, and we think it's one of the most creative toys for 12-year-olds.
Harry Potter Complete Collection
Yes, we love Harry Potter! What can we say? The books are perfect for tweens and teens. They develop creativity and imagination and are beneficial when it comes to reading and writing skills. Children who read more are likely to have better communication skills. Besides, Harry Potter is a fun book and very well written. Your child will learn a lot about the world while having fun!
This set of 7 Harry Potter books comes in a beautiful design. Each one of them is differently covered, yet they are all equally well-made. The hardcovers and the paper are thick and of high quality. Your child will be thrilled with this set!
This is one of the best gifts for a kid who loves to read. Don't miss giving it to a Harry Potter fan, because you'll bring him so much joy! You'll also help someone develop communication, reading, and writing skills. It's a win-win!
LEGO Architecture Chicago Building Blocks Set
If you want to get your child an interactive fun toy, go for the LEGO Architecture Chicago Building Blocks set. It's a building kit that includes Willis Tower, John Hancock Center, Cloud Gate, and much more. It also comes with all the necessary information about the design, architecture, and history of the included buildings. Your child won't only have fun but also learn something new! Also, the set includes 444 pieces, which means your boy will have fun for many hours.
LEGO sets are one of the best toys for 12-year-olds you can get! If you're up to buying one, then why not a set that will teach your child something new and be more challenging? We highly recommend the Architecture Chicago Building Blocks set. It comes in many pieces for hours and hours of fun and also proves to be very well-made. Your child will go crazy over it!
Lord of the Rings Boxed Set
Don't tell us that you thought we will miss the chance to recommend the Lord of the Rings book serial? No way! Although we are fans of both Tolkien and Rowling, some prefer one over the other. If your kid is a fan of Lord of the Rings books, this is a perfect gift idea for you.
This set of 6 books comes in a beautiful design. Each one of them is colored differently, but they all compliment each other and match perfectly! The illustrations are one of the best we have seen, and the overall quality is quite impressive. Both you and your child will be thrilled with the set, so you might as well read it again!
Don't miss the opportunity to inspire your child to read more with this beautiful book set. Lord of the Rings is a classic that never gets old, and even if your child is not a fan, he'll be once he reads all the books. We guarantee that!
NATIONAL GEOGRAPHIC Hobby Rock Tumbler Kit
The National Geographic Hobby Rock Tumbler Kit is one of the most unique construction kits for 12-year-olds you can get! What makes it special? The set comes with a tumbler, 4 polishing grits, a sifter, a learning guide, and 9 types of real gemstones. It's an impressive collection!
Your kid gets to polish the included rocks, make jewelry, decorations, and other crafts. He'll have fun for hours and also learn to do something new! The set is easy to use, and it also comes with well-written instructions, so your child won't have any problems with using it. Additionally, the 2-year warranty is included in the package for the extra peace of mind.
If your child is into arts and crafts, waste no time and get this amazing kit! He'll love the chance to polish and shape the rocks into desired objects. It's fun and relaxing!
FAQ: Frequently Asked Questions
Q: What does a 12-year-old boy want for Christmas?
A: You can't know that without speaking to your child. Tweens are known for having their interests change within days or even hours. Therefore, if you thought about getting that tablet your son spoke about last Christmas, don't. He probably doesn't want it now. Ask just before Christmas, so you'll have a "fresh" gift for the day!
Q: What do you buy for a 12-year-old?
A: You can really opt for anything, from toys to high tech stuff. Just keep in mind that most tweens won't be so thrilled about getting toys. Try with educational and fun gifts. You can also go with clothes and accessories because tweens are just getting to develop their sense of fashion and style!
Q: What can you do with a 12-year-old?
A: Instead of listing all those activities here, we came up with a better solution! Take a look at our article Activities for 12-Year-Olds At Home. It will give you a lot of ideas on what to do with your child and some more info about the activities.
Conclusion
What do you think about our top gifts for a 12-year-old boy? We tried to include educational gifts that are useful and fun at the same time. Tweens are likely to learn more from fun games and activities, so we tried to find a perfect balance between toys and "boring" educational stuff. Hopefully, we succeeded, and you'll be able to find at least two products that fit your needs perfectly.
In the end, we only have one more suggestion. Think about your child's wishes and preferences. We know that figuring out what a tween wants is not easy at all. Still, if you can't reach your child and find out what he wants the most, you still know him enough to pick a suitable gift. Consider what activities he enjoys and which one avoids at any costs. If he loves playing outside, for example, get him the Capture the Flag game. On the other hand, if your child likes spending time indoors, books are a better option. See? It's not that hard! Okay, it's hard to tell whether he'll like the gift, but this way you have more chances, that's for sure.
Lastly, don't forget to think about his feelings and emotions when picking educational gifts, because you can help your child deal with the difficult ones. Show him your love and be there for him in these turbulent years. If you want to read more about how important it is to express your love and give support, you'll find a useful article here.
ESTIMATED TIME DESIGNING AND UPLOADING THIS ARTICLE
ESTIMATED TIME RESEARCHING AND WRITING THIS ARTICLE
Try our AMAZING GIFT FINDER TOOL! Find GIFTS with 1 CLICK!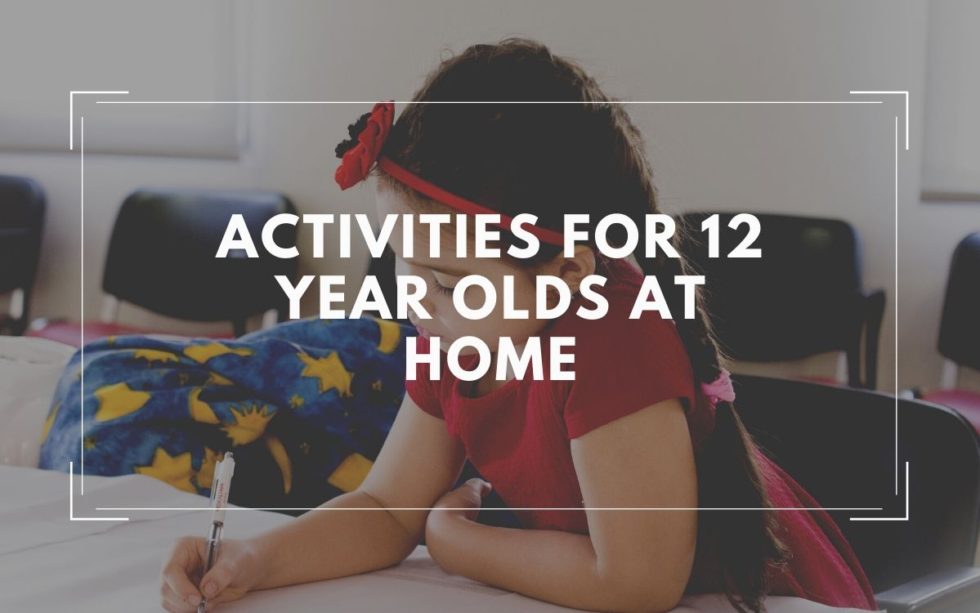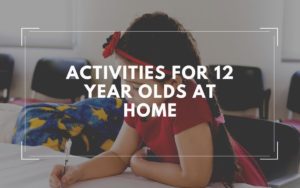 12 Super Fun Activities for 12 Year Olds at Home
12 Super Fun Activities for 12 Year Olds At Home WhatToGetMy Instructional Article Coming up with all those new ideas when your children are bored is exhausting. You're supposed to think of new ways to motivate and stimulate their little brains when your own is
Read More »