19 Fun Things to Do in the Summer With Your Boyfriend
WhatToGetMy Instructional Article
When you think of summer, you think of the bright days, long days, and short nights. For most people, summer means relaxation.
Warm weather is made for daylight outings such as picnics. This article brings you other alternative activities that you and your boyfriend can do that are innovative and fun.
According to a survey conducted by YouGov summer is the 2nd most favored season in America right after Spring with 26% of Americans preferring it to any other season.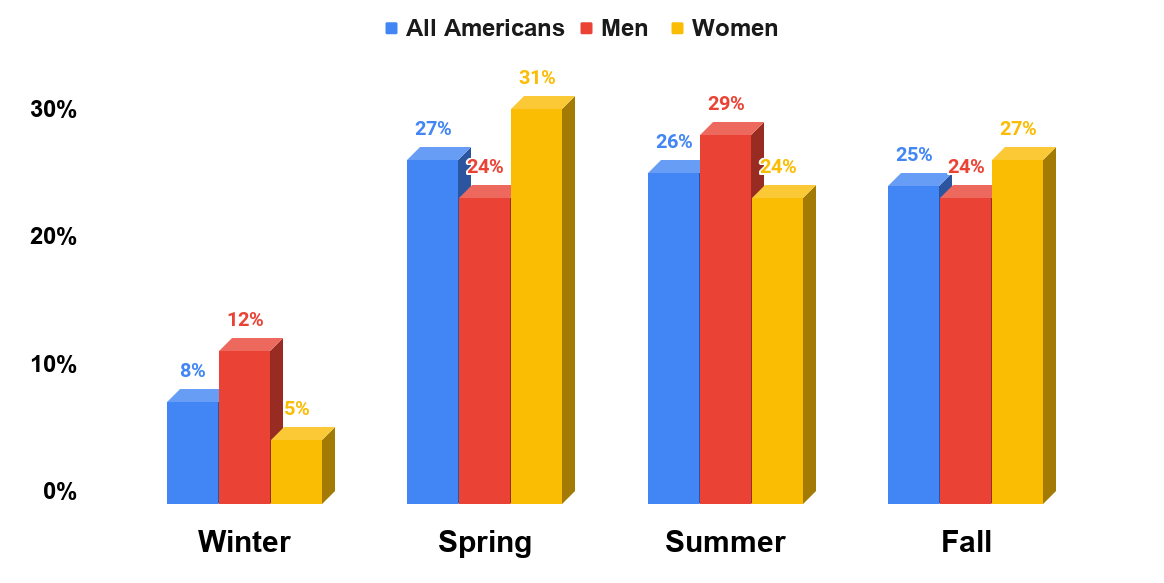 Perhaps summer is popular because of the endless possibilities that it brings. With the weather getting warmer and the days getting longer, there is more fun to be had and more daylight to be covered.
If you have a boyfriend and are in love, it is very natural for you to want to spend the summer with him doing all kinds of things. The problem now might arise that you don't know what exactly you want to do. Here is how you can solve that problem:
➊ Consider what you like doing in the summer whether it is on your own or with your friends. Chances are you will have more fun sharing these parts of yourself with your boyfriend.
➋ Consider what your boyfriend likes doing and if you have only known him for a short while – ask. This will ensure that you get to do activities that he enjoys and that way you will learn more about him as well.
➌ Consider activities that neither one of you has ever tried before but you would both like to try at least once.
When you have answers to these questions, coming up with a list of activities to do for the summer will be very easy for you and you will have a very pleasant time choosing from our list below things you think are a perfect fit for you and your partner.
FUN THINGS TO DO DURING THE SUMMER WITH YOUR BOYFRIEND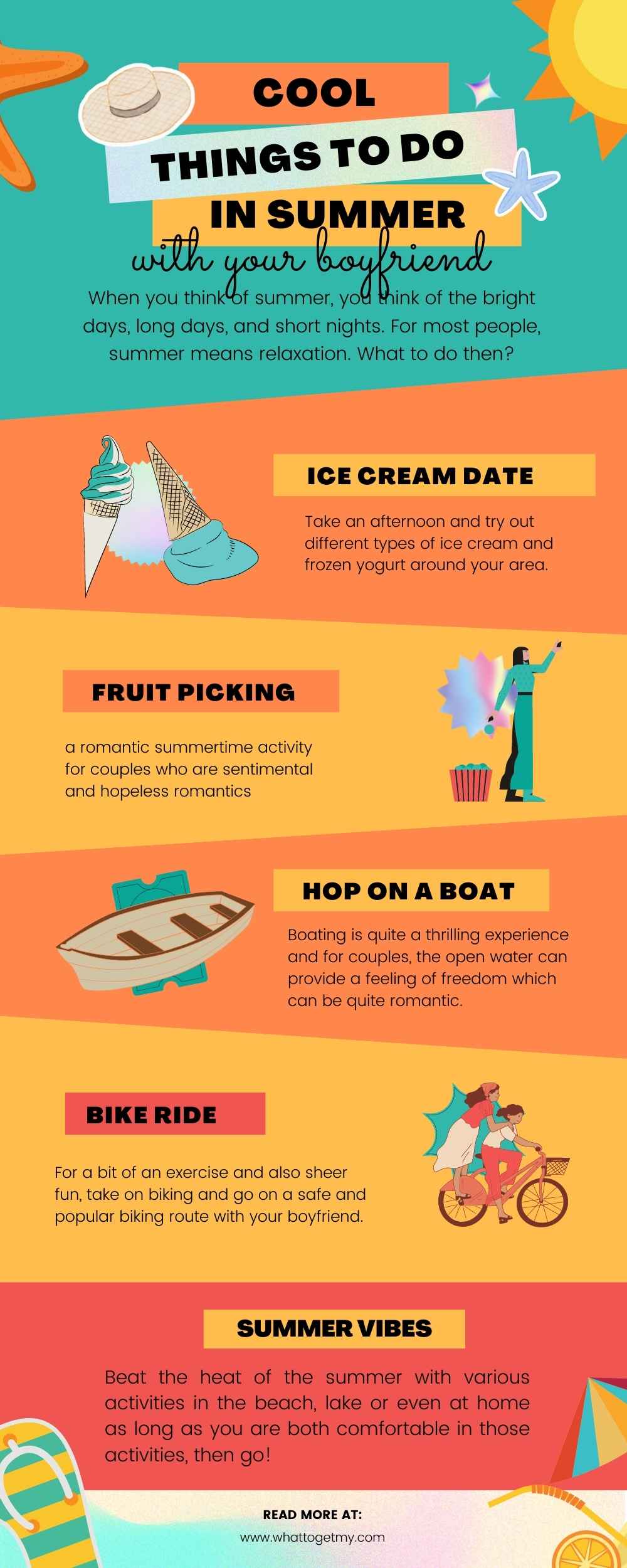 Source Link: https://whattogetmy.com/fun-things-to-do-in-the-summer-with-your-boyfriend/
1. AMUSEMENT PARKS
Visit your local amusement park with your boyfriend. There is a wide range of fun activities whether you are looking for some thrill or looking to spend a chill day – there are activities for all, the choice is yours.
2. ICE CREAM DATE
Summer brings with it the heat and humidity and you may find yourself looking for things to do on a hot day with your boyfriend. An ice cream date sounds not only logical on a hot summer day, but also fun. Take an afternoon and try out different types of ice cream and frozen yogurt around your area.
3. BEACH DAY
Summer is made for beach days! If we all could, we would live at the beach all summer. Share this experience with your boyfriend and spend the day at the beach. Swim, surf, or just lay on the beach soaking up the sun. We can't think of anything more fun to do on a hot day than spend it with the love of your life chilling on the beach.
4. PICNIC DATE
Looking for an excuse to sit down on the grass under a breezy tree – if only to look dreamy? If so, then picnics are for you! Okay, jokes aside, picnics are very romantic and they give you and your partner a chance to talk and connect with each other especially in this day and age of social media it is refreshing to put the phones down and spend some face-to-face time.
5. KARAOKE
Drunken karaoke is the kind of stuff people do on a hot day for fun so why not join in? Suggest to your boyfriend a great karaoke bar in your area and enjoy the company and melodies.
SUMMER BUCKET LIST FOR COUPLES
6. BAECATION
Everyone should have a "baecation" on their summer to-do list with their boyfriend. Jetting away to a romantic destination with your man is one of the greatest feelings in this world because you get to see the world with your love. It is such an exhilarating experience, we highly recommend it.
7. PARASAILING
If you and your boyfriend are daring and love adventure, then try parasailing for couples. It is safe and fun and definitely one of those experiences you just have to have at least once in your life.
8. BAR CRAWL
This is a great summer idea for couples who like their beer and can handle their liquor. It is such a fun experience to do at least once in your lifetime because it can have such cool unpredictable outcomes and you will get to meet new, different, and awesome people.
9. HOT AIR BALLOONING
This is a daring activity for couples to do in the summer. It is also the coolest way to see your city from a balloon in the sky. Definitely an activity on the bucket list for the daredevil couple.
FUN SUMMER ACTIVITIES FOR COUPLES
10. GROUP DATE
This is such a fun activity for couples who are getting serious and are beginning to get serious and are thinking of bringing together their friend groups. A group date is an easy way to integrate everyone in a chill environment and get everyone talking and getting to know each other. Some places you can go for your group date are: bowling, karaoke, or brunch – choose the activity and venue according to what you and your collective group of friends would be most comfortable.
11. FRUIT PICKING
This is such a romantic summertime activity for couples who are sentimental and hopeless romantics – so all of us, really. It is such a calming and once in a lifetime experience – and after you have picked your fruits, you can either make jam, salad, and pies together to complete the experience.
12. BRUNCH
Summer is brunch. There is no summer without brunch. There is no brunch without summer – do we even have to go on? Everyone loves brunch. You and your boyfriend are going to love brunch.
13. GO TO A SPORTS GAME
Attend a sports game that both you and your boyfriend enjoy – or at the very least get tickets to his favorite sports game with his favorite team playing. This will make for a very nice surprise and
14. FOOD DATE
We highly recommend food crawl for couples who are foodies. much like the bar crawl but instead of beer and liquor, you are looking for all the places that sell the best food and trying everything out. You can either try everything on the menu – granted this could take up a few days to complete with every restaurant or food truck on your list, but we promise you it is absolutely worth it! – or you can order one meal off of every restaurant on your list. The possibilities are endless! Have fun and enjoy the different meals that you are yet to try.
15. BOATING
Boating is quite a thrilling experience and for couples, the open water can provide a feeling of freedom which can be quite romantic. This is a fun activity to do when it's too hot outside because the open water and the speeding boat will provide a cool breeze. Plan a day out on a boat with your boyfriend, hire a helmsman if none of you know how to steer a boat just to be safe.
CHEAP SUMMER DATE IDEAS
16. MOVIE MARATHON
If you are looking for cute cheap date ideas for the summer, then having a movie marathon in your home from your favorite streaming service is perhaps the cheapest date ideas of them all. You have already paid your subscription and all you have to spend money on is getting snacks to eat during the movie.
17. EXCHANGE LOVE NOTES
This is such a romantic thing to do for each other. If you and your boyfriend are looking for cheap activities to do during the summer, them exchanging love notes is the absolute romantic thing you need to try out. Every day, you and your partner will write things about each other that you love, what you want your relationship to become, what you love about your relationship, and what you are grateful for every time you spend together. This is a fun way to help remind each other why you are together and also to never take for granted the beautiful love you have created.
18. WRITE A GRATITUDE JAR FOR THE SUMMER
Gratitude jars are all the crave right now – and if anyone else can do it, why not couples? The idea behind a gratitude jar is to find at least one thing every day that happened to you that you are grateful for, write it down on a piece of paper, and throw it into a jar. By the end of summer, you will unveil all the things you wrote down and see just how much good happened to you over the summer and even if you had negative experiences, you will see the positive that they came with. Give it a try and see both you and your partner grow in gratitude.
19. BIKE RIDE
For a bit of an exercise and also sheer fun, take on biking and go on a safe and popular biking route with your boyfriend. You can even make a game out of it and race each other to the finish line – of course, make sure there aren't any other bikers you may bump into and only race when it is safe to do so.
FREQUENTLY ASKED QUESTIONS
What summer games can I play with my boyfriend?
There are quite a few games you and your boyfriend can play in the summer and some of them are:
Giant Jenga: Play this intense and fun game of Jenga outside in your lawn.

Any water-themed games are great for summer – you can play games like 'dunk bucket, water slides, and balloon dodgeball'
You can even make up games as you go, as long as both of you are having fun and enjoying the games being made up and suggested.
What crazy things can I do with my boyfriend?
If you and your boyfriend are into daring activities, check out our list above for a summer bucket list for couples – we are sure you will enjoy any one (or two) of those activities. However, you can never have too many options so check out this article on Hobbies for Couples in their 20s to find some inspiration on what fun and outgoing activities you can have with your boyfriend over the summer.
CONCLUSION
Finding fun things to do in the summer for couples is really easy because there are a lot of options. Whatever activity you are looking for and planning on engaging in summer, always make sure that you and your boyfriend are up for it and comfortable doing that activity. Otherwise, have fun and explore the world around you – it is much brighter and better when you are in love after all.
ESTIMATED TIME DESIGNING AND UPLOADING THIS ARTICLE
ESTIMATED TIME RESEARCHING AND WRITING THIS ARTICLE