You are probably wondering what to get for your boyfriend as a graduation gift but nothing is coming to mind. He is one of the coolest people you know and you just want to get him something impressive. You feel like getting a mug just doesn't cut it; you want something really cool and exciting for him.
We have carefully selected some of the coolest unique gifts you can find for an electrical engineer. Whichever items you choose to get as gifts from our list is guaranteed to impress him. He will be happy with it.
As an Amazon Associate we earn from qualifying purchases. We may earn a small commission for our endorsement, recommendation, testimonial and/or link to any products or services from this website. Thank you, your qualifying purchases help support our work in bringing you real daily gift ideas.
Quick Overview: Gifts for Electrical Engineers
1. NIKOLA TESLA FIGURINE
You are probably wondering who is this guy and what is he holding? Also, why would my boyfriend like this? Well, this is Nikola Tesla, an electrical engineer known for many discoveries/inventions still widely used as a standard in electrical engineering today. He is holding the Wardenclyffe tower also known as the Tesla transmission tower which is a prototype for many wireless technology we enjoy today. Many electrical engineers are a big fan of him and his inventions, this is why this figurine will make a cool gift.
Tesla fans that bought this figurine had only positive things to say about it. They were quite impressed with the detailed craft.
2. TESLA COIL ARC LIGHTER
A Tesla coil lighter is another cool gift you can get. It mimics Tesla's idea of wireless electricity. The light works by creating an electric arc anytimes the button on the lighter is pressed. What's so cool is that this lighter is USB rechargeable and a full charge can last up to a week or more, depending on the usage. No more need for lighter fluids. This lighter is safe because the lid ensures that it does not go on accidentally. Cool item right?
This lighter is unconventional which makes it a unique gift to give. Most customers were happy with their purchase.
3. FUNNY T-SHIRT
This is a really funny t-shirt. He'll definitely get the joke, however the question is, will he be confident or comfortable wearing the t-shirt out? We don't know but we know this shirt is funny. He may love to have this t-shirt in his closet. The shirt fabric is a mixture of materials that are good absorbent and breathable.
The joke on the shirt is really funny and ambiguous, easy to be misinterpreted by a few people but it would probably not matter to him. We think this t-shirt is cool. Check out our article for more sentimental gift to get your boyfriend
4. SCIENCE GENIUS SOCKS
A Tesla design sock will be a good addition to his socks collection. It has the symbols of current, Tesla face and tower on it which is cute.
This is a nice pair of socks for engineers, you can also add this circuit board design sock to the Tesla socks. It is fun and attractive and he will love using them.
5. HARLEY DAVIDSON METAL PEN HOLDER
Even if he is not into motor bikes, this Harley Davidson model bike pen holder will still get him excited. Harley Davidson is one of the two oldest bike manufacturers in the United States with renown designs. This detailed piece of art is stunning and would probably spark a love for bikes if he doesn't already have. It will make a cool toy for your Engineer boyfriend.
This is a lovely office desk/ shelf item. Customers are happy with their purchase.
6. GALILEO THERMOMETER
Apart from the unique design of this item, the Galileo thermometer was built in line with the Galileo Galilei principle on thermometers which states that the density of a liquid changes depending on temperature. This is a cool way of measuring temperature and most engineers will love to have this item in their collection.
Most customers that bought it noted that it was functional as well as a stunning piece.
7. EDISON BULB VINTAGE LAMP
The light bulb remains one of the coolest inventions by an engineer till date. This is why this bulb lamp replica is a cool electrical engineer gift. The lamp is made with wood and glass and is roughly 10.25 inches.
This is a cute shelf/table lamp.
8. ZYKLOP RATCHET SET
Now he is done with tertiary, he will either need to upgrade his tools are get new ones for work purposes. One tool set many electrical engineers find useful is a Ratchet set and we think that you should get this Zyklop ratchet set for him. It includes a ¼ inch ratchet, 10 sockets, 2 flexible lock extensions (long and short), sliding t-handle, universal joint, wobble extension, adaptor and 24 bits.  The ratchet can be used as a conventional screw driver by attaching an adaptor and a bit. The Kraftform handle has been designed to prevent blisters and calluses while still giving you a good grip. This set was built with effectiveness and safety as top priority.
Impressive tool set, highly recommended by those that bought it.
9. OSCILLOSCOPE
Oscilloscope enables waveforms to be seen, which makes it easy to detect faults in circuits. It is an essential tool for testing electronic hardwares and your boyfriend will love this Cheffort digital storage oscilloscope if he does not already have one. This mini Oscilloscope can be used to measure voltage, frequency and pulse width. It displays AC in color, including sine, sawtooth, square and triangle waveforms which makes it easy to read. It has 4 channels, 2 analog and 2 digital channels. The package also includes 2 mcx oscilloscope  probes (X1 and X10), allen key and a user manual. Check out creative ways to give your boyfriend gifts like this.
This item is considered effective by customers that bought it. They love the size and build.
10. WIRELESS VINTAGE FM RADIO
You might be wondering why you should get this radio. Lets just say is a blend of old and new technology, an easy reminder of how things (engineering and technology) have evolved with time. This portable radio bluetooth speaker has great sound quality, good radio reception, attractive vintage look, a tuning knob and an indicator dial. It comes in a high grade plastic suitcase which is a classy way to deliver this wireless vintage radio.
Pros.
Impressive packaging

Great sound quality

Attractive exterior

Easy to use

Good bluetooth connectivity

Value for money.
Cons.
Customers had only positive reviews for this item. They love the battery life, sound quality, vintage look and packaging.
11. QUALITY WORK BAG
A solid bag that is able to fit in all their working tools will make a great gift. This Seibertron pro-multifunction bag has been built to fit in as many working tools as possible, including a laptop. It has 4 front pockets, 2 side pockets, a laptop compartment, a main compartment, front zipper pocket and inner pockets and pen slots. It also has a tough hand and shoulder strap that have been built to last.
This bag has been rated high for features such as quality material, sturdiness, durability and value for money.
12. ROBOT DIY BUILDING KIT
A wood puzzle toy he will find interesting is this Rowood steampunk Robot DIY building kit. The kit contains 221 laser cut wood pieces in 7 sheets, LED light, music box, screw driver, wood glue, sand papers, tweezers and a user manual. The estimated time to build this robot is 8 hours. It operates with two lithium batteries and can be kept in different positions.When the handle is turned, the robot sings a song titled 'can't take my eyes off you'. He will find assembling this robot mentally stimulating. The robot is very attractive and will definitely receive a lot of  attention from friends.
Most customers considered this kit giftable.
13. MAGNETIC FLOATING GLOBE
Another cool office desk/ home decor item to get for him is this magnetic floating globe. The globe is held midair by an electronically controlled magnetic system. The top part of the gadget contains an electro magnet and a magnetic sensor while the base contains a microprocessor and the electronic control component that makes the globe levitate.  This high tech gadget comes with a LED light that makes it look stunning in the dark.
Customers that bought it considered it to be a cool gadget
14. PORTABLE PROJECTOR
A mini projector is always a handy gadget to have. It will enhance his home entertainment views. It has a great visual effect: two brightness modes. Can be widely connected to different gadgets through HDMI port. The allowed projection distance is between 1m-4m and projected size from 30-100 inches. It has a built-in 5000 mAh battery which can last over two hours when fully charged. Your boyfriend will enjoy using this on-the-go gadget for his personal entertainment. You can check out more priceless gifts you can get for your boyfriend.
Customers rate it high for features such as brightness, picture quality, sheerness, portability and value for money.
15. THINKGEEK STEAMPUNK TESLA WATCH
It looks geeky doesn't it? It is afterall for geniuses. This ThinkGeek Steampunk-styled Tesla analog watch is a stunning piece of art. The catchy features are definitely the two faux vacuum tubes with LED red lights that can be switched on and off and the ornamental winding key. It is attractive and will sure receive a lot of good comments from admirers.
The uniqueness of the watch makes it a piece worth giving as a gift.
16. ELECROW CROWPI RASPBERRY PI 4
This Crowpi Raspberry pi kit is one of the best programming kits out there. It comes with 19 different sensors in a well organized portable box.
Except for a few minor suggestions that will greatly improve this kit, customers were really impressed with it.
You might want to check out other articles of ours for more gift ideas.
FREQUENTLY ASKED QUESTIONS
What are some of the cool electrical engineering gifts I can get for someone?
All 16 items in our gift list are cool, unique and will make a good impression on the person you are getting the gifts for.
What can I get an electrical engineer for christmas?
We think that the collection of socks with some cool electrical tool designs will make a good christmas gift. Also, the wireless vintage radio, robot toy kit and a portable projector can be added to your Christmas list.
List of a few cool gadgets for electrical engineers.
An Oscilloscope, a Raspberry pi, Zyklop ratchet set, portable projector and fitbit watch are a few gadgets you can get for an electrical engineer.
CONCLUSION
There are a lot of cool modelled items that an electrical engineer will love as a gift and we've mentioned 16 of them. One way of picking out a good gift is by learning one or two things about their field of work, it gives you an insight about certain inventions and inventors that fascinates them. We hope that you find the list items helpful in choosing that perfect gift.
ESTIMATED TIME DESIGNING AND UPLOADING THIS ARTICLE
ESTIMATED TIME RESEARCHING AND WRITING THIS ARTICLE
Try our AMAZING GIFT FINDER TOOL! Find GIFTS with 1 CLICK!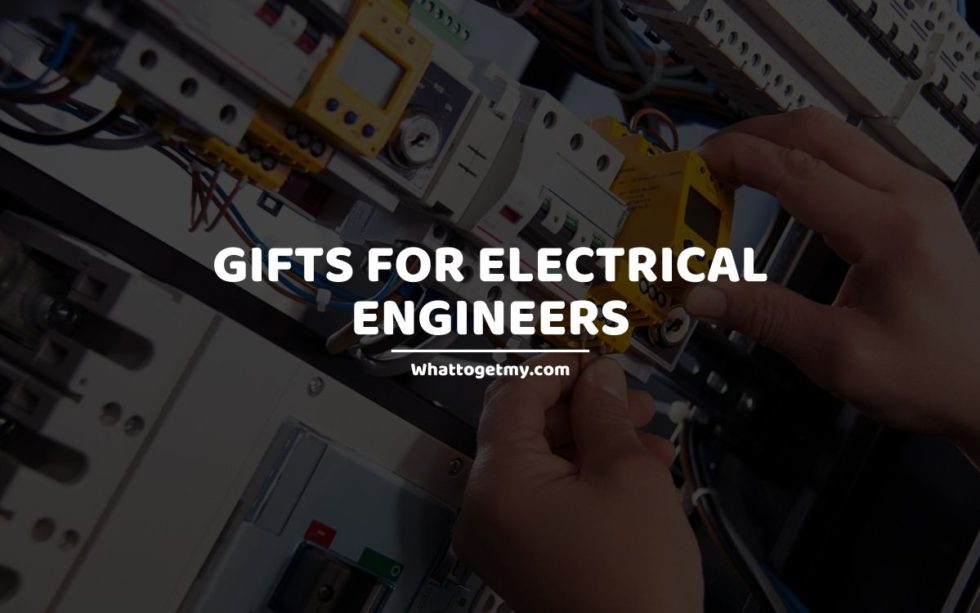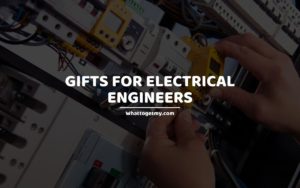 16 Graduation Gifts for Electrical Engineers
You are probably wondering what to get for your boyfriend as a graduation gift but nothing is coming to mind. He is one of the coolest people you know and you just want to get him something impressive. You feel like getting a mug just
Read More »