Most of us must have had a professor at some point in our college life that has changed our lives.
Whether they taught us a subject really well, or they were always there to make us believe in our selves, we all have encountered professors that we have wanted to thank and show appreciation for their efforts.
One of the best ways to say thank you to anyone is by giving them a gift. Many think that giving presents is not an appropriate thank you gesture for a college or university professor, but that does not have to be the case all the time. As long as you stick to gifts that are not ridiculously expensive and don't have a significant sentimental value, it should be okay to gift it to a professor.
Professors play a huge role in a student's life. University is a time when a student is learning in detail about what they would want to pursue as a career, and having teachers continually encouraging you and teaching you patiently definitely contributes to your growth and life decisions as an individual. So if you had this special professor in your university life and are looking for gift ideas for university professors then you have come to the right place!
The gifts that we have gathered up in this article are suitable regardless of the occasion on when you're gifting it to your professor. We have gifts that can be given to your professor in any of the following times:
End of semester gift

Christmas gifts for professors

Professor retirement gift

Random thank you gift

Get well soon gifts

Congratulations gift
Appropriate ways to give your gift to your college/university professor
After you have decided on what to buy for professors you should start planning on when and how you will give them the gift. There are a couple of suitable ways and time to hand your professor your gift:
You can give it to them at the end of the semester or school year so that no one in the class or university/college will think the gift was given to let the professor favor you over others. Once the semester or school year is over it is most appropriate to go to their office to give them their gift.

If the gift is a gift from the whole class then it can be gifted to the professor when everyone is present at once, and a short speech can be given for why you are giving the gift to the professor before handing it over.

If your professor is retiring or leaving for good, then the gift should be given to them on their last lecture or meeting with the class.
Whether you are looking for gift ideas for college professors or university professors we have gathered up a diverse list of appropriate, unique, and practical gift ideas for professors.
As an Amazon Associate we earn from qualifying purchases. We may earn a small commission for our endorsement, recommendation, testimonial and/or link to any products or services from this website. Thank you, your qualifying purchases help support our work in bringing you real daily gift ideas.
Quick Overview: Gifts for Professors
Source Link: https://whattogetmy.com/gifts-for-college-and-university-professors/
Unique gifts to give to your university/college professor
If you want to get a gift for your university/college professor that they won't, forget then go for something that is unique and will stand out against other gifts. You can pick a unique gift that will still show your appreciation to your university/college professor. Nice ideas from this category are a mug with a funny appreciation letter on it or a periodic table frame.
1. Nutritional Mug for Professor
This is a perfect gift to let your professor know that you appreciate everything they have done for you. The mug is unique and creative without being very personal. You can gift it to your professor alone or as a class or department.
Many reviewers have fallen in love with this cup's simple design and funny yet appreciative message. It is a great gift to give to any professor and on any occasion too.
2. Periodic table blue picture frame
If your favorite professor happens to be a chemistry professor or any other chemistry-related subject, then this frame is a very suitable gift idea for them. This frame is kind of personal while still being appropriate to gift to a professor. The frame has a unique yet simple design and comes in in one color; Blue. It can fit a 5X7 inch photograph.
This periodic table frame is a quality creative gift sold at a very affordable price, and the professor will remember his student/students who gifted them this frame every time they look at it.
A practical gift for college/university professors
Practical gifts are gifts your professor can use in their everyday lives. Practical gifts come in different sizes and prices, so you can definitely buy a gift in this category regardless of your budget. However, if you decide to buy a costly gift, then make sure you split the price with a group of students or the entire class.
3. Real leather women/men laptop bag
If your class or a group of friends want to get a present for your professor to say thank you or give them a gift for Christmas or any appropriate holiday to give gifts, get them a quality durable leather laptop bag. This bag comes with many compartments that will let the professor keep other items they need for their day inside the stylish and timeless bag. Make sure you get it in a group or class because the gift is a bit costly to be gifted  from an individual and might make the professor too uncomfortable to accept it.
Pros.
The laptop bag is designed to house an 18-inch laptop

Classy bag suitable for both genders

The leather

It is soft and long-lasting

It has a long strap that helps prevent shoulder strap fatigue

It has pockets for small, fragile items like glasses

It comes with enough space to keep your document safely

It can fit other gadgets like a tablet and phones
Cons.
The bag might be a little smudge upon arrival
Customers who purchased this laptop bag rave about the amount of space available in the bag to carry everything they need without creating a mess thanks to the many pockets available in it.
Office desk gifts for the professor
If you have noticed that your professor is always busy and rushing to get things done, you can give them practical, inexpensive gifts to keep his office more organized and reduce the mess they see.. .b around them, which will let them work with a clearer mind.
Great presents in this category include a desk organizer and a desk cup holder.
4. Yoy desk cup holder
This simple, affordable gift can do wonders for your professor's desk. Now they don't have to worry about where to keep their beverages without risking to spill it on the desk. This cup holder is sturdy and is designed to fit cups of different sizes. This cup will definitely help your professor keep a neat desk. Another benefit this holder has is it doesn't have to be screwed or glued onto any table so your professor can take it anywhere they want and just clip it to any table.
Customers love this cup holder because it helps save space on their desk and prevents spilling. Plus, the cup holder has a firm grip on the table regardless of what the table is made of.
5. Desk organizer
This desk organizer is the perfect gift for your professor who always struggles to keep their desk clean. This desk organizer will ensure your professor can have everything they needs in reach. The desk organizer has compartments of different sizes made for different materials making it easy to arrange quickly and keep it organized too. This mesh desk holder is big enough to keep folders and notebooks in it too, so it truly is an all-in-one!
Customers love the fact that this desk organizer has many compartments to fit materials of different sizes. Its lightweight and compact design definitely will help your professor keep their desks more organized.
Retirement Gift for professor
If you have a professor at your university or college that is about to retire or change jobs, you might want to thank them for all the contributions to have made to the school and you personally. A suitable gift for a teacher that is retiring or leaving is anything that can remind your professors of you or the class in general. Therefore good gifts in this category can be a class picture collage, a T-shirt or tie signed by the whole class.
6. Black Collage board (can hold up to 21 pictures)
If your favorite college/university professor is retiring or leaving, this picture college board is the perfect goodbye gift idea. This 19"x48" board can fit collage pictures of all the students in the class to remind your professor of all of you long after they leave your university/college. Your professor will keep this special gift close to their heart because of all the memories attached to it.
Pros.
The

removable mat can hold 21 4 inch x 6-inch image

The frame includes ready-to-hang durable hangers on the back for vertical or horizontal hanging options

The frame is crafted from durable solid wood

Lightweight, protective plexiglass will keep the photos looking great for years

The frame can be hanged anywhere thanks to its simplistic design
Cons.
Some buyers have complained that the frame is not as sturdy as they expected it to be
This sentimental gift is a perfect gift idea to remind your professor of the fantastic, dedicated group of students they had. The frame can be hanged vertically or horizontally, and its simple design lets it fit in regardless of the decor or theme of the room or house the professor decides to hang it at.
Gift card
If you want an inexpensive but thoughtful gift for your professor that he can use then, you should consider getting them a gift card from their favorite coffee shop or a library where they enjoy spending time. Make sure you get a subscription card is not very expensive, or it might make your professor uncomfortable or send a wrong message.
Store-bought edibles
If you know a bakery or pastry shop that your professor is a fan of and always brings the same baked goodies from the same place, you can get them a box of the goodies for them as appreciation gift or end of the semester gift.
Always include a card, whether you have a gift or not.
Regardless of whether you are giving a gift to your professors or not, writing a card to truly express how you feel towards all they have done for you and how they have changed your life is always a great way to say thank you to a professor. The card doesn't have to be very personal. Just make sure you express your gratitude towards all that they have done for you, whether it is directly associated with your class or another life lessons they thaught you and prepared you for.
Buying a gift for your college/university professors should be a fun thing to do to show appreciation and respect. Your professor will be incredibly touched by your gesture to go through the whole process just to let them know you're thankful for everything they have done for you.
Try our AMAZING GIFT FINDER TOOL! Find GIFTS with 1 CLICK!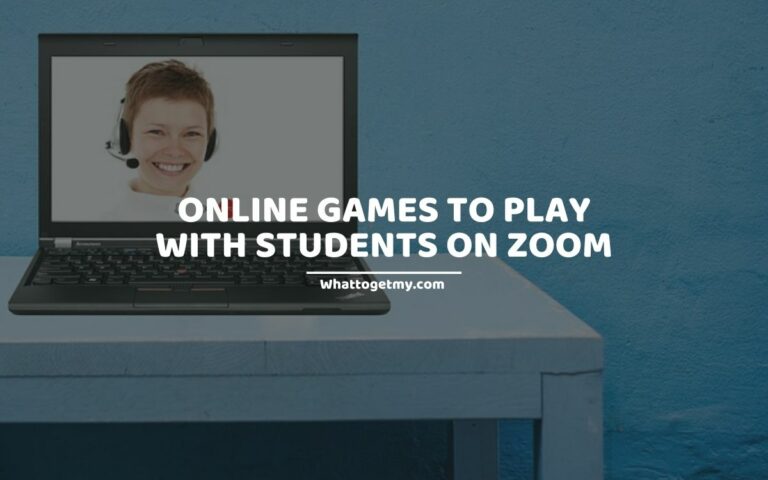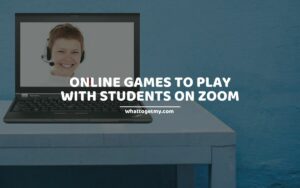 13 Online Games to Play with Students on Zoom
13 Online Games to Play with Students on Zoom WhatToGetMy Instructional Article There are mixed reactions when it comes to online or distance learning especially from teachers, some are grateful for the flexible working hours (in comparison to in-person learning or teaching) while others say
Read More »