Buying or renting an apartment or house is such a significant moment in most peoples' lives. It is only right that they organize get-togethers or parties to celebrate this milestone.
If you are invited to a housewarming party, the first thing you need to consider is the etiquette surrounding that party: is it a bring your own bottle party, do you need to bring some takeout or are they hiring caterers? All this is important information to know for you to prepare yourself accordingly
When you are choosing a gift for someone who has moved into their own apartment, the first thing you consider is the usability of the item you are getting them. If you want to know more about housewarming etiquette and conscious gift-giving, then read this article and be inspired by the gift ideas we have carefully selected for new apartment owners.
Most people who are moving into their apartment have an idea of what they want their new place to look like and the ambiance they want it to have. It is also very important to ask them what décor style they are planning on taking so that your gifts can match with their personal space and nothing feels out of place. 
Because moving can be hectic, and time and money consuming, an important rule to remember is to buy the people who are moving things that they would not otherwise buy on their own and also things that are too obvious they may be overlooked. 
A mixture of the responsible useful gifts and the aesthetic gift is the perfect balance in creating the perfect gift for new homeowners.
As an Amazon Associate we earn from qualifying purchases. We may earn a small commission for our endorsement, recommendation, testimonial and/or link to any products or services from this website. Thank you, your qualifying purchases help support our work in bringing you real daily gift ideas.
Quick Overview: Gifts for New Apartment Owners
Source Link: https://whattogetmy.com/gifts-for-new-apartment-owners/
FIRST APARTMENT ESSENTIALS
1. Air Fryer:
An air fryer is an essential gift for a new apartment owner because it provides a quick and healthy way to fry foods.
Pros.
It is very easy to operate and equally easy to clean 

It produces crisp fried foods and works as intended 

It comes with a recipe book to help and teach you new ways of making new foods 

It is a sturdy product and also durable
Cons.
Some customers complained about how the fryer stopped working after one use and even though the seller replaced these defective items, it was still an inconvenience to customers.
This air fryer fry's food without using any type of oil. It is the perfect gift for a health-conscious friend or family member.
2. Wine Rack:
A great first apartment gift for wine lovers. This stylish wine rack will make any house look elegant, it is both an aesthetic item and also very useful and practical.
Pros.
It is sleek and beautifully designed which gives it a modern look that fits in with most décor styles

It is durable and scratch-resistant 

It is sturdy and holds bottles in place

Its simple design makes it a perfect fit for small spaces
Cons.
The rack does not fit many bottles that are considered to be "small"
This wine rack holds up to nine bottles of wine; seven for normal size bottles and two for oversized bottles. Perfect for wine connoisseur's
NB: you can also bring wine as an additional gift to go with the wine rack. This is the perfect housewarming gift because it can also double as a beverage for the housewarming party and be enjoyed by everyone invited.
3. Engraved Cutting Board:
This is a great gift for a friend who is moving into a new apartment. It is personalized so you have the right to create and engrave it with their name, birthday, or (more accurately) the day they moved into their new home.
Pros.
High-quality wood 

Unique because all boards are personalized differently 

The engraving is durable because they use a laser engraving process to make sure it doesn't wear off with water

The board has versatile style patterns which makes it beautiful
Cons.
Some customers complained about receiving boards that had misspellings and this was an inconvenience. However, this was quickly resolved by the seller.
This custom cutting board is made from bamboo and comes in a variety of sizes to choose from.
4. Measuring Cups:
This is a nice housewarming gift for someone who is a baker either professionally or as a hobby.
These measuring cups are made from stainless steel metal.
5. LED Lights:
LED lights for the bedroom are the new craze right now; they are fun, aesthetic, and provide subtle lighting that glows instead of shines which makes it easier to fall asleep to and why they are a great gift idea for new apartments.
These LED lights are great for decoration and overall give a warm feeling to a room. They can also be used as disco lights for parties and decorative lights for Halloween or Christmas.
6. Dish Towels:
These will make amazing apartment move in gifts because, in all the chaos of moving, people tend to forget the most basic and essential items. These dish towels just might be the thing your friend or family member who is moving into their own apartment needs.
These dish towels are highly absorbent and super soft. They are perfect for various multipurpose uses in the kitchen. Plus, they come in five different colors for you to choose from.
7. Fleece for Pets:
A standard appropriate housewarming gift for new apartment owners that have pets. This is a great addition to the pet's bed or couch so they do not shade everywhere.
These fleeces come in a pack of 6 and are perfect for pets. Their bright colors will add an amazing look to the apartment.
GIFTS FOR SOMEONE WHO JUST BOUGHT A HOUSE
8. Wall Art:
A great gift to bring some life to a new apartment. Art, in any form, has the ability to transform the ordinary into the extraordinary. We have chosen this oil painting to give you an idea for gift ideas for new apartment owners.
Pros.
It comes on a high definition printing canvas

It is a beautiful piece of painting 

It is great quality art 

The colors on the print are vibrant and deep
Cons.
There are complaints that the artwork is much smaller in person than it looks in pictures. We suggest taking a look at the sizing chart that the seller has provided so you can get a clear idea of how small or big the canvas is.
The wall art comes in three separate frames which make the painting versatile and gives the buyer the option of arranging it according to taste in decoration.
9. Robot Vacuum Cleaner:
This is the best gift for a homeowner who is a woman because let's face it, no one likes cleaning. This robot cleaner will do all the heaver cleaning and vacuuming for you and all you have to do is turn it on! Of all the things to buy new homeowners, this is perhaps the most innovative.
Pros.
It can be scheduled to have a specific cleaning time 

It cleans dirt, debris, and dust even in hard to reach areas such as under the couch and in corners 

It can be activated by voice command using Siri, Google Assistant, or Alexa

It cleans all kinds of surfaces including carpets.
Cons.
Things get stuck to it easily and it requires human interference to untangle and free the robot which is inconvenient 

It misses some rooms if not programmed correctly

The bin needs to be emptied frequently
This Roomba robot cleaner is a smart cleaner that keeps your house clean and dust-free.
GREAT HOUSEWARMING GIFTS
10. Mason Jars:
These are a perfect housewarming gift because of their versatility. Let the new homeowner decide what they want the jars to be.
These high-quality mason jars are ideal for gifting because they come in a pack of 18.
11. Potted Plant:
A potted plant is a classic housewarming gift. However, not everybody knows how to take care of plants or even wants to so unless your friend, family member, or colleague has a green thumb, we suggest getting them these decorative potted plants. They are just as beautiful and will provide similar aesthetic value.
This faux potted plant is fantastic because it gives all the aesthetic benefits of a real plant without requiring the time and energy that a real plant requires.
12. Succulents:
Faux potted succulents are the next best thing to faux potted plants. They serve the same decorative purpose as potted plants; the only difference is the appearance. It is up to you to choose which plant you want to get for the new homeowner and which plant suits their taste in decoration style.
Pros.
The plants look and feel real to the touch 

They are small and perfect for window décor

They come in different colors which add to the home décor aesthetics 

The material used is high quality
Cons.
Some customers complained that the plants were too small. We suggest looking up the size chart before purchasing so you can make an informed decision.
These faux potted succulents are made from polyethylene which gives it a more realistic look and feel.
APARTMENT WARMING GIFTS
13. Essential Oil Diffuser:
The perfect gift for apartment dwellers. This will make their apartment smell amazing and give it a homey feeling. Plus, the aromatic smells work towards releasing tension and stress.
Pros.
The oils lightly scent the room so it's not overwhelming to smell

The product is beautifully designed 

It is easy to use and automatically turns itself off when the water in the diffuser runs out 

Provides quick aromatherapy which is good for the hormones and boots moods
Cons.
It is not durable, most customers complained about the product stops working in less than a year after its purchase 

It makes a humming noise which some people find annoying
This oil diffuser comes with 10 essential oils that are natural and safe for the environment.
FREQUENTLY ASKED QUESTIONS
What is a good housewarming gift?
A good housewarming gift is a gift that will be useful to someone who is moving into a new home. The usefulness of this gift is dependent on who the person is and what relationship you have with them. Some gifts have aesthetic usefulness, while others have practical usefulness. It is always helpful to keep the interest of the person whom you are buying the gift for and this way you will be able to give them a great gift to mark this momentous milestone in their life.
What should you bring to a housewarming party?
Usually, people bring party gifts at a housewarming party – unless stated otherwise. An appropriate gift to bring to a housewarming party would be wine or other alcoholic and non-alcoholic beverages. You can also bring flowers, vases, food, and plastic plates and cups. Remember, this all depends and differs from party to party. Here is an article that will help you decide on what other things you need for a house party.
What is the best gift idea for Christmas for new homeowners?
The best gift for Christmas is the Amazon TV Stick. It is a smart way of converting any screen or television into any streaming service. All you have to do is plug in the USB stick and your television immediately allows you to stream all your favorite shows on Amazon, Hulu, Netflix, YouTube, Disney+, and others without needing a satellite connection. The stick also comes with a remote controller so you can flip through your Amazon TV from the comfort of your couch or bed.
CONCLUSION
Getting a gift for someone moving into a new apartment should be a delicate balance between things that will be useful to their day-to-day lives and things that will make their apartment a safe and beautiful personal space where they can relax.
ESTIMATED TIME DESIGNING AND UPLOADING THIS ARTICLE
ESTIMATED TIME RESEARCHING AND WRITING THIS ARTICLE
Try our AMAZING GIFT FINDER TOOL! Find GIFTS with 1 CLICK!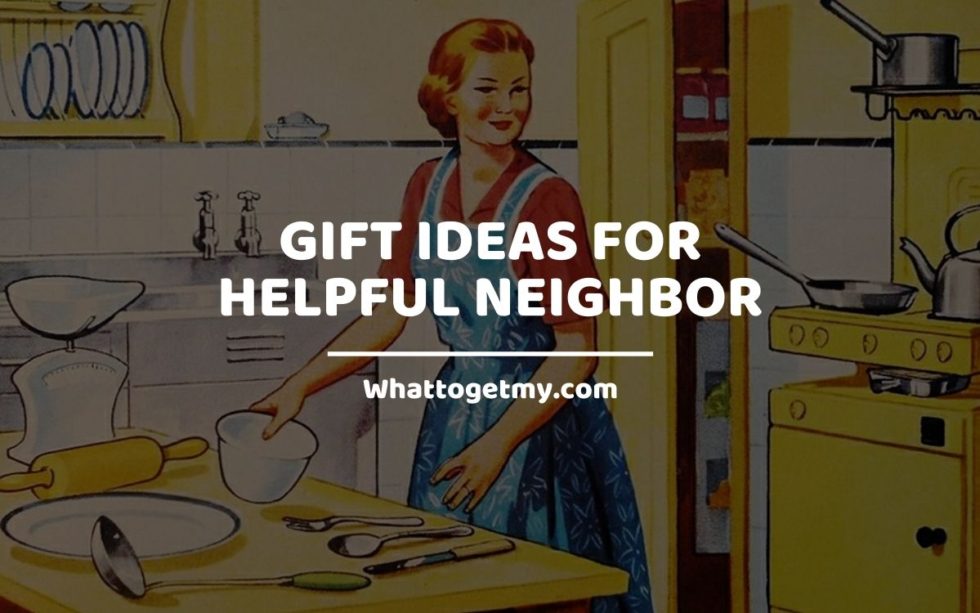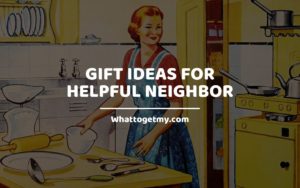 Gift Ideas For Helpful Neighbor
Have you ever been out of your home and forgot about a delivery coming, but then your neighbor received the parcel on your behalf? How about receiving help from them fixing or repainting your fence without you even asking for it? Most of us have
Read More »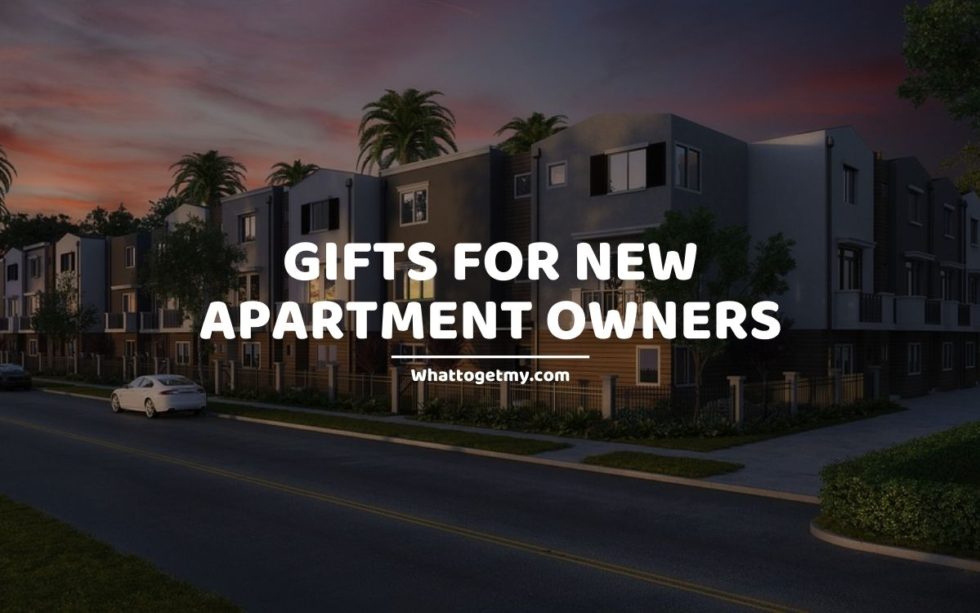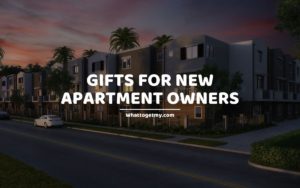 13 Unique Gifts for New Apartment Owners
Buying or renting an apartment or house is such a significant moment in most peoples' lives. It is only right that they organize get-togethers or parties to celebrate this milestone. If you are invited to a housewarming party, the first thing you need to consider
Read More »