Choosing gifts for programmer boyfriend can be a nightmare! Of course, you love your soulmate, and you want what's best for him, which makes picking a present for him even more difficult. We all have at least one die-hard programmer in our lives, and we all reached that point of not knowing what to get them. Should it be tech stuff or something completely different? Even if you do decide to get electronic devices and other accessories, how should you know which one to pick? There are so many of them at the market these days! Things get even more complicated if you're not so into technology yourself. Either way, you'll need some help if you're to surprise your boyfriend and get him something unique.
Fear not, we got your back! Not only that we made a list of potential presents, but we also prepared some extra tips to guide you through the selection process. This should save you quite some time and protect you from a terrible headache! Once you read this article, you should be able to pick and buy a present within a few moments. Let's start right away with a few simple suggestions.
There are a few things that those choosing gifts for programmer boyfriend should keep in mind: 
Consider His Needs
First things first, think about what your boyfriend needs. If programming is his job, consider getting him something not computer related. He'll probably appreciate it more as he'll get the chance to take a break from looking at the screen.  
On the other hand, if programming is his hobby, your decision will depend on the type of programming he does. Is he a gamer? Or is he's into software/hardware? What about the coding? Once you get to know his area of expertise, it'll be easier to pick a gift.
Don't Forget About His Taste
Not all programmers are the same, and they most definitely don't like the same things. Although they might all be thrilled about the same tech gadget, they'll want different designs and features. Make sure to question your boyfriend about these things, but do it carefully, so he doesn't figure out why you're asking!
Personalize the Gift
Don't forget that you're buying a gift for your boyfriend. You should connect it to something relevant to your relationship or him particularly. For example, if you're buying him a coffee mug, choose the print that describes him the best.
Budget 
Lastly, consider your budget before you go shopping. If you can do it, we recommend spending a few more bucks. Eventually, the happiness of your boyfriend is all that matters! However, if you're on a tight budget, don't despair. You can still find some creative and fun gifts, and we will help you with that.
As an Amazon Associate we earn from qualifying purchases. We may earn a small commission for our endorsement, recommendation, testimonial and/or link to any products or services from this website. Thank you, your qualifying purchases help support our work in bringing you real daily gift ideas.
Quick Overview: Gifts For Programmer Boyfriend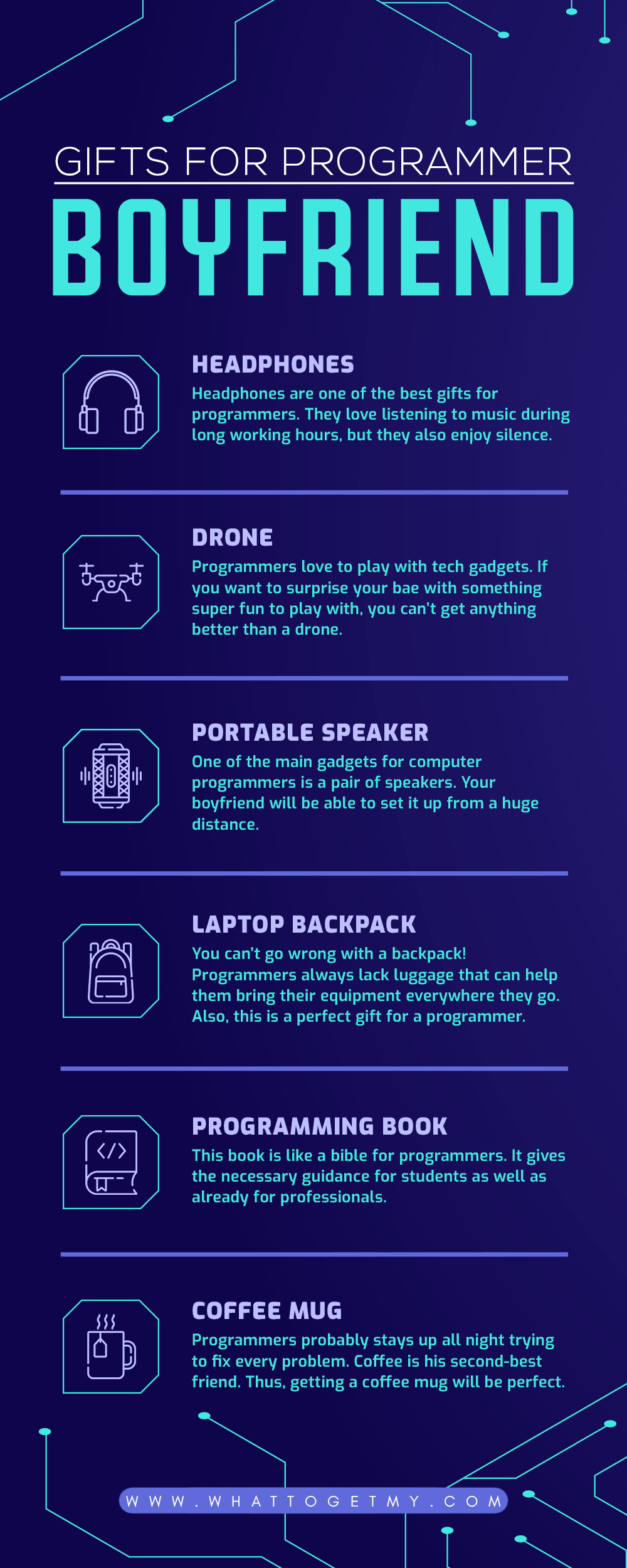 Source Link: https://whattogetmy.com/gifts-for-programmer-boyfriend/
Melt His Hearth With Tech Gadgets
⓵ COWIN E7 Active Noise Cancelling Headphones
Headphones are one of the best gifts for programmers. They love listening to music during long working hours, but they also enjoy silence. For that reason, the best present will be getting a two-in-one device. Noise-canceling headphones are just what you need! 
Cowin E7 headphones are the best available at the moment. They produce clear, powerful sound and offer the noise-canceling feature. They even allow making calls. With 30-hours battery life, Cowin E7 is perfect for office, home as well as traveling days. Every programmer will enjoy using them!
⓶ SNAPTAIN S5C WiFi FPV Drone
Programmers love to play with tech gadgets. If you want to surprise your bae with something super fun to play with, you can't get anything better than a drone. He'll be thrilled with setting it up and having the chance to maneuver it all around. 
Snaptain S5C is a budget-friendly option, so it's perfect if you're low on cash. It's easy to use and even features smart voice control. It flips and rolls for 360 degrees, which is pretty impressive. The device gives you a video transmission and allows you to edit the taken videos later on. Also, the sturdy exterior makes it resistant to impacts and weather. It will last for quite some time.
⓷ DOSS SoundBox Bluetooth V4.0 Portable Speaker
One of the main gadgets for computer programmers is a pair of speakers. Chances are, your boyfriend already has high-end speakers at his desk. However, if he doesn't have Bluetooth ones, here's an excellent idea of what to buy!
DOSS SoundBox is a compact portable speaker that connects to the computer by Bluetooth. Your boyfriend will be able to set it up from a huge distance thanks to the impressive Bluetooth range. The speaker produces quality sound and deep bass. The sleek, classy design makes it suitable for every interior. Also, the device feels sturdy and durable.
Keep Him Well Equipped
⓸ Laptop Backpack
You can't go wrong with a backpack! Programmers always lack luggage that can help them bring their equipment everywhere they go. Also, this is a perfect gift for a computer science student. He'll need a roomy, stylish backpack for school days!
We picked a big backpack with lots of pockets. You can never have enough pockets, right? The backpack is available in different colors, and it can accommodate three laptop sizes (15, 14, and 13 inches). The material is soft and breathable, and the shoulder straps are very comfortable. There's also a built-in USB charger that connects to the cable from the inside. This way, your boyfriend will have all his electrical devices at peak power all the time!
⓹ The Art of Computer Programming, Volumes 1-4A
If you're looking for gifts for aspiring programmers, search no more! This book is like a bible for programmers. Through the history of programming and deep analysis, it gives the necessary guidance for students as well as already for professionals. Also, it contains problems at the end of each section and the solutions in the back of the book. Your bae will be excited about solving them, and have so much fun! We shouldn't forget to mention that the set looks great and makes a classy present.
Make His Everyday Life More Enjoyable
⓺ Zyllion Shiatsu Back and Neck Massager
Programmers tend to sit for an entire day, right? Even if they have the best chairs in the world, their backs hurt because of the fixed position they maintain for a long time. If you want to make the life of your bae more enjoyable, get him a massager!
Zyllion is one of the most popular back and neck massagers. It offers a deep kneading shiatsu massage to relax tight muscles and spasms. Additionally, there's a heating function you can turn on according to your needs. The massager is compact and follows the lines of the back and neck. Thanks to the straps you can even secure it to the chair. All in all, it's perfect for everybody, and your boyfriend will enjoy it!
⓻ Coffee Mug
You must have noticed by now how your boyfriend tends to work late. He probably stays up all night trying to fix every problem. Coffee is his second-best friend (with you being the first one, of course). Thus, how about getting him a nice coffee mug? 
We included a popular coffee mug that has a code print! Genius, right? It's not a personalized gift, we give you that, but it will make your boyfriend smile. Besides, every time he looks at it, he will think about you! 
The mug is black, ceramic, and sturdy. It holds up to 11 ounces of liquid. You can even put it into the dishwasher and microwave. It should last for several years, that's for sure.
Something Different and Creative
⓼ CanaKit Raspberry Pi 3 Kit
For those looking for more creative gifts for programmer boyfriend, we have a perfect thing in mind. CanaKit Raspberry Pi 3 Kit! For god's name, what should that be, you may ask? It's a little computer designed for children and adults to learn the basics of programming. Even if your boyfriend is a complete expert, he'll enjoy playing with this little thing. 
This particular raspberry Pi 3 kit comes with a board, charger, case, and two heat sinks. You'll need to complement it with a microSD card though.
⓽ Coding Shirts for Geeks
Most people avoid getting pieces of clothing for their loved ones. They think it's a common thing and therefore search for more unique ideas. However, you can be fabulously creative by picking an outfit for your programmer boyfriend! For example, you can get him one of these amazing printed shirts. They are perfect for those looking for funny gifts for software engineers as well. 
Coding Shirts for Geeks come in several colors and sizes. They are made of cotton and polyester and prove to be quite durable. The color won't fade or desaturate from frequent washes, which is a great plus. The stitching is also nicely done, so the material doesn't tear. Your boyfriend will wear it proudly!
Other Ideas for Gifts For Programmer Boyfriend
If you're up for some alternative gifts, consider the following recommendations:
Games
Most programmers love playing games! If your bae is a passionate gamer, you could get him one of the newly released games. If he already has a favorite game, you can pay a yearly membership for him, or get him some of the necessary online stuff for the game itself. 
Fitness Club Membership
We already mentioned that programmers may have back problems. If you want to do something useful for your bae, you can pay him a fitness club membership. This is a great present, especially because it will motivate him to exercise and get out more often. 
Plurasight Membership/Amazon Prime Music subscription
Additionally, Plurasight membership and Amazon Prime Music subscription (or any other music channel) are great alternatives. Plurasight is a wide platform where programmers can find a lot of videos, tutorials, and other stuff work-related. Also, you can't go wrong with music channel subscriptions because programmers enjoy music while working on their computers. 
With all these tips and products in mind, you're all set to pick the perfect gift for your programmer boyfriend. Don't be scared to try something new and surprise him with an unexpected gadget. The profession doesn't change one thing – he is your soulmate and you know how he breathes. Therefore, you can't go wrong no matter what you pick. Consider the options, his taste, and needs, and just pick one of the gifts for programmer boyfriends from our list!
ESTIMATED TIME DESIGNING AND UPLOADING THIS ARTICLE
ESTIMATED TIME RESEARCHING AND WRITING THIS ARTICLE
Try our AMAZING GIFT FINDER TOOL! Find GIFTS with 1 CLICK!