Getting a gift for a stranger can be nerve-wracking because you don't know what they like or what they are interested in.
Although it is a difficult task, it is not an impossible one. This article gives you 7 of the best gifts you can give to people you just met and haven't gotten the chance to know them very well.
These gift ideas are spread out according to time of the year, occasion, and how useful they would be to the recipient.
Sometimes it just so happens that you have to get gifts for people you don't know. These don't necessarily have to be strangers, it may be the new girl next door you are trying to impress, a quiet coworker you have only talked to once on the elevator, or a neighbor who you are not friends with but is currently going through a rough patch. As an adult, chances are you are going to have to get gifts for strangers at least once in your lifetime and it is best to be prepared for when such time inevitably arrives.
If getting a gift for a family or friend you know quite well can be a pain, imagine how taxing it would be to try and get a gift for someone you have no knowledge of either their interests or hobbies. We have come up with a list of items you can get for someone you don't know, so you don't have to worry yourself:
As an Amazon Associate we earn from qualifying purchases. We may earn a small commission for our endorsement, recommendation, testimonial and/or link to any products or services from this website. Thank you, your qualifying purchases help support our work in bringing you real daily gift ideas.
Quick Overview: Gifts for Someone You Don't Know
1.

MUG CUPS
This is an appropriate gift for friends you don't really know. These could be friends who you just met and are in the early phases of getting to know them. The reason these mug cups are the perfect gift for a new friend is that there is a 50+ percent chance that this person drinks coffee if they are a person over the age of 18 and aside from the aesthetics the mug cups are useful and they would get good use out of them.
The thermos mugs come as a pair set and they are made out of heat-resistant glass which allows them to keep hot liquids hot without cracking.
2. 

A COZY BLANKET
A cozy blanket is a great birthday gift for someone you don't know well because who doesn't like to snuggle in their comfortable blankets on the sofa during cooler seasons? Although perfect, this gift should be bought when it is cool outside otherwise it will not make sense to gift someone a blanket in summer – so keep in mind the timing.
This cozy throw blanket comes in a variety of colors and in 2 styles. It is machine washable so you can easily clean it without worrying about losing the softness.
3. 

SCENTED CANDLES
The perfect gift to give someone you don't know well; you can never go wrong with scented candles. They smell good and come in different fragrances for your choosing. They can be used in homes or offices/working spaces and they enhance feelings of serenity and tranquility.
These Yankee Candle fragrance candles are made of environmentally friendly wax and can burn up to 110 hours.
4. 

TOTE BAG
A tote bag is a safe gift to give people you don't know because, at some point, people are going to need a tote bag in their life – and when you need a tote bag, you almost always never have one. So why not eliminate that problem for them? Plus, even if they have other tote bags, there's no such thing as owning too many tote bags.
This faux leather tote bag is big enough to hold a laptop or an iPad and other essentials and it can be used as a daily bag or as a carry-on when traveling.
5. 

ESSENTIAL OIL DIFFUSER
An amazing secret Santa gifts for someone you don't know would be the essential oil diffuser. It is a modern way of releasing natural scents and herbs and smells into your environment.
This diffuser is great for aromatherapy in a home. It has 14 different LED lights to help calm you down and reduce stress.
6. 

12 MONTH PLANNER
This is a great Christmas gift for someone you don't know well. It is a specific gift because it would not make sense to give someone a planner when the year is already halfway through so time it in a way that you are giving them the gift at the end of the year or at the very beginning of the next year preferable on New Year's Day.
This planner has tabs and pockets designed to store any small or loose items the writer might have and need to store. It also has marked holidays which helps to follow the nationally observed holidays.
7. 

BOSE BLUETOOTH SPEAKER
The Bose Bluetooth speaker is a great gift for men you don't know. Not to generalize but almost all men are into electronics and this speaker is a great and impressive piece of equipment.
The Bose Bluetooth speaker comes in 6 different colors to choose from. It plays up to 8 hours after being fully charged and allows you to make and take phone calls when your phone is connected to the speaker.
FREQUENTLY ASKED QUESTIONS
What do you get someone who wants nothing?
Even though some people might claim that they want nothing for any special day, they always want something and they just don't know how to ask for it. You should always pay attention to what this person likes, and what they talk about wanting in that period of their life. For example, if they have been talking about getting a new phone for themselves for the past few weeks, then chances are they will appreciate you if you gifted them with a brand new phone. Listen to what they say they want and you will find the perfect gift for them, but in the meantime check out this article to get some inspiration.
What to get someone for Christmas when you don't know what they want?
Christmas gifts are perhaps the easiest of gifts to get for anyone, whether you know them or not. This is because most Christmas gifts are Christmas themed and as long as you stick to the theme, you can never go wrong with a Christmas gift, even for strangers or people you don't know very well.
What do you get a girl you don't know for Christmas?
The easiest way to get a girl you don't know a good gift for Christmas is to ask her what she wants for Christmas. Not every gift needs to be a surprise. Asking her what she wants will ensure that you will get her something she likes and wants or can find useful in her life. However, if you want to surprise her, then you can ask her closest friends to help you look for a gift for her. If this is a girl that you lie and want to pursue romantically, this will impress her because it will show her that you are resourceful and you put in the effort.
What do you get someone you just met for their birthday?
This depends on their age, likes, hobbies, and also your budget. Most people are just happy to get gifts at all, no matter what they are. However, if you are trying to make a lasting impression, then getting them gifts that align with their hobbies will bring them more joy than getting them a generic gift. If this person is close to the same age as you, ask yourself what do the majority of the people your age group like? For example, Gen Z'ers are into technological gadgets such as tripod stands, hi-definition cameras, light rings, and apple products. Therefore, if you are a Gen Z trying to get another Gen Z a gift, you would have a lot of luck getting a gift that the majority of the Gen Z demographic likes.
Related Articles:
CONCLUSION
In conclusion, getting a gift for someone you do not know is a very hard task especially if you are trying to get them a good, memorable gift – and if that gift has to be a surprise of sorts so you cannot ask them directly what they want. We hope that the list provided above can help you get some ideas on what you can get that coworker or a new friend you just made for Christmas or their birthday that's coming up. Always remember when it comes to gifts, it is the thought that counts but make your gift thoughtful anyway.
ESTIMATED TIME DESIGNING AND UPLOADING THIS ARTICLE
ESTIMATED TIME RESEARCHING AND WRITING THIS ARTICLE
Try our AMAZING GIFT FINDER TOOL! Find GIFTS with 1 CLICK!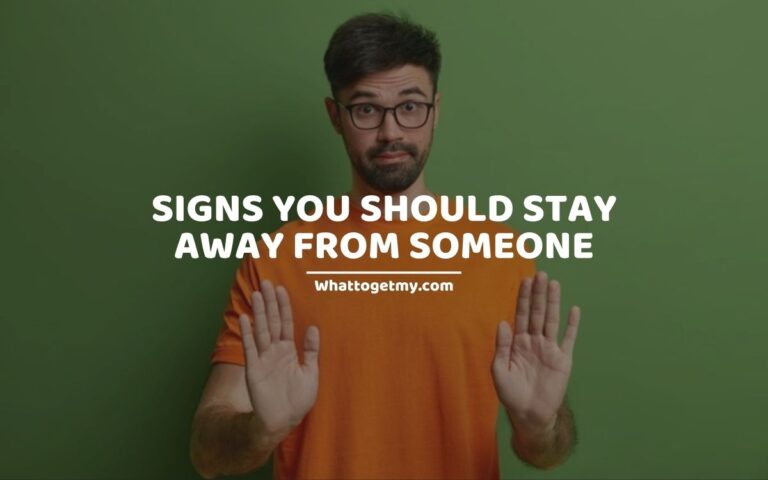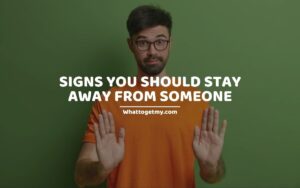 11 Signs You Should Stay Away from Someone
11 Signs You Should Stay Away from Someone WhatToGetMy Instructional Article Toxic or negative people are hazardous to keep up with. You need to know what type of people you should stay away from. Friendship or relationship can be challenging, and it is not easy
Read More »