We know that buying gifts for a diabetic dad is not very different than shopping for someone who doesn't have a medical condition. However, there are certain gifts that someone with diabetes could appreciate. Those gifts can help them easily manage their condition. We're not talking about medical equipment but about everyday items that could prove to be very useful. If you're stuck and don't know what to buy, stick around to see our list of helpful gifts. We've got ideas for all kinds of men with diabetes, so you can surely find the one that suits your dad.
Before you check out our list, we'd like to mention a few things:
The usual

 

gift-giving etiquette

applies when you're shopping for people with medical conditions. You just need to optimize and personalize your gift, so it can fit their unique lifestyle.

People tend to give gifts in accordance with people's hobbies and interests. If

 

your dad doesn't have a hobby

, you'll need to think of other ways to surprise him. You can get him a useful gift or take him out instead of buying a present.
As an Amazon Associate we earn from qualifying purchases. We may earn a small commission for our endorsement, recommendation, testimonial and/or link to any products or services from this website. Thank you, your qualifying purchases help support our work in bringing you real daily gift ideas.
Quick Overview: Gifts For a Diabetic Dad
My Identity Doctor Leather Medical ID Bracelet
Some people hate wearing medical bracelets. They don't want to make their medical condition "public". However, when your dad is having a seizure, paramedics must know what condition he has, so they can help him faster. If he's surrounded by strangers who don't know anything about him, it would be better for everyone that he carries noticeable information about his health.
An alert bracelet is essential for people with any kind of medical condition. This custom medical bracelet is made of leather and you can get it in black or brown color. It can be adjusted according to your needs because you can engrave any information on it, about medical conditions, medications, allergies, contact numbers, etc. On top of everything, the bracelet is very stylish and casual, a perfect match for everyday clothes.
This medical bracelet looks like a stylish watch, so you can wear all the important information about your condition on your wrist. Genuine leather plus quality engraving, what more can you expect from an alert bracelet?
Letsfit Smart Watch, Fitness Tracker with Heart Rate Monitor
We all need to take better care of ourselves and be more physically active. Whether you need gifts for people with diabetes or anyone else, a fitness tracker is a very healthy option. It can allow you to understand your health better by providing data during your workout.
Like most fitness trackers, Lestfit smartwatch can keep records of steps, calories, mileage, etc. Connect your watch with Android or iOS systems and track your progress through the fitness app. You can even receive and read messages and notifications with this watch, so you don't miss out on important events while working out. With 10 days of battery life per full charge, you can have the data about your progress anytime.
From tracking workout to receiving messages and listening to music, Letsfit makes improving your health easier. It's waterproof and durable, so make sure to wear it any time you exercise.
TaoTronics Bluetooth Headphones
A needed accessory for a relaxing workout is a pair of quality headphones. You want to exercise at your own pace and the gym music might be a big distraction. If you want to help your dad improve his health, encourage him to work out by getting him amazing headphones.
TaoTronics Bluetooth headphones are made for enjoying sports They are water-resistant so you can even exercise in the rain if you want to. That also means they're sweat-proof, so they won't constantly fall out of your ears. Battery life is superb – up to 14 hours per charge! The headphones have noise isolation too. Enjoy your music without outside interference.
Enjoy high-quality sound during your workout with these incredible Bluetooth headphones. Ignore your surroundings while you focus on exercise and health improvement! When you're not using them, simply attach the two earbuds and wear them around your neck. Perfectly convenient, right?
The Complete Diabetes Cookbook
Dietary restrictions don't have to stop you from enjoying tasty meals! With this cookbook you can browse through more than 400 recipes, so you can find the ones you'll enjoy the most. Healthy and nutritious ingredients are crucial for preparing a nice meal that can benefit anyone, not just diabetics. If you're in a need to find gifts for someone with diabetes, this recipe book might be perfect.
America's Test Kitchen's cookbook provides an easy path to healthy eating habits. The recipes are recommended for a balanced diabetic diet by dieticians and doctors. The cookbook contains creative recipes for breakfast, lunch, dinner, and snacks. Complete nutritional information comes with every recipe, so you can easily find the meal for daily needs. Teach your dad how to make great food while still watching out for his health.
Best gifts for diabetics are the ones that improve their health. A cookbook with delicious and healthy recipes is the thing your dad's kitchen definitely needs. You can offer to try out some of the meals with him and he'll be thrilled!
NutriBullet Blender Combo
A blender for making smoothies, juices and other healthy food options is one of the best gift ideas for a diabetic dad. NutriBullet can make a healthy combo by extracting all the nutritious elements of various fruits and vegetables. It has three precision speeds that allow you to make everything from simple smoothies to master-chef soups. You only need to choose the program that suits your needs best and the blender will do everything else.
The cups are made of durable plastics that are easily washable. The blade is made of stainless steel so, so you can be sure your dad will use this blender for a long time.
Prepare stunning meals without any hassle with NutriBullet blender. Very sturdy plastic cups and steel blades enable the durability of the blender. You won't regret buying it!
Glucose Meter, Insulin Pen and Diabetes Supply Bag
Does your dad carry his essential supplies in a worn-out bag? On top of that, his supplies are not organized, so he's having a hard time keeping track of his things. It seems like he's ready for this functional (and stylish) supply bag.
Sugar Medical has made a bag specially designed for people with diabetes. Its interior pockets can fit two insulin pens, lancet, syringes medications, and even snacks. Front pockets are made for a medical ID card, driver's license or a cell phone. Everything is easily secured inside a durable polyester bag that can be easily cleaned with a wet cloth.
This medicine pouch makes carrying supplies convenient and easy. It's very spacious, so you can be sure your dad will pack everything he needs in it.
Human Touch Foot & Calf Shiatsu Massager
Everyone needs to relax after a long day at work. Shiatsu massager for feet and calves might just be the gift your dad needs. Human Touch's product provides highly effective massage by completely surrounding the feet and calves. It imitates the techniques of professional massage therapists.
Human Touch's massager enables relaxation at home. It gives instant relief of sore muscles and provides maximum comfort. It has four power settings, so you can choose the intensity that can fit your preferences. Any dad would be lucky to have this shiatsu massager.
Choose the type and intensity of massage and you can start your relaxation in the comfort of your home. It truly is wonderful to get your feet and calves massaged anytime you want!
OrthoSleeve Wellness Care Socks
You can't have a list of gifts for dads without putting a pair of socks on it, right? Or three pairs in this case. OrthoSleeve socks are everything you're searching in gifts for diabetic patients. Diabetes can disrupt normal blood flow and cause swelling. The socks are designed to keep your feet dry and the light gradient compression proved to be very helpful with swollen feet. Wellness care socks are made of durable and soft moisture-wicking fabric that allows your feet to breathe. That's why you can even use them for exercise and your feet will still stay dry.
These socks offer the right amount of light compression, so they're one of the best gift ideas for a diabetic dad. He'll be satisfied that his feet aren't swollen, sour and sweaty anymore. You might even need to order some extra pairs because he'll love them!
Frequently asked questions about gifts for a diabetic dad
How can I help my dad with diabetes?
There are a lot of ways you can help your dad: encourage him to eat healthy food (but don't nag), attend a diabetes support meetings with him, exercise with him, and be positive so you can always cheer him up when he's feeling blue.
How is the family of a person with diabetes affected?
Diabetes doesn't affect just the person who is diagnosed with this condition. Families are involved with the patients' ongoing medical care; they help with paying doctor visits, blood testing supplies, healthy foods, etc. The family support system is crucial for diabetics.
What is a nice food gift for a diabetic?
Best food gifts include apples, pears, oranges, apricots, peaches, and other citrus fruits. A gift basket from fruits of various shapes and colors is an excellent foot gift for diabetics.  
What to get a dad that has everything?
Offer him your time, provide him a unique experience or opt for a creative gift for a dad that has everything
Conclusion
We hope that some of our helpful gifts for a diabetic dad will suit your needs. We tried to list all the good sides of the products and some of the problems that come with them, so you can make an informed decision. It's hard to shop for a dad but at least now you have some nice options in front of you.
If your dad likes to be surprised, you can add a small thing in addition to your helpful present. Check out our list of funny gifts for dads and try to make your dad laugh.
ESTIMATED TIME DESIGNING AND UPLOADING THIS ARTICLE
ESTIMATED TIME RESEARCHING AND WRITING THIS ARTICLE
Try our AMAZING GIFT FINDER TOOL! Find GIFTS with 1 CLICK!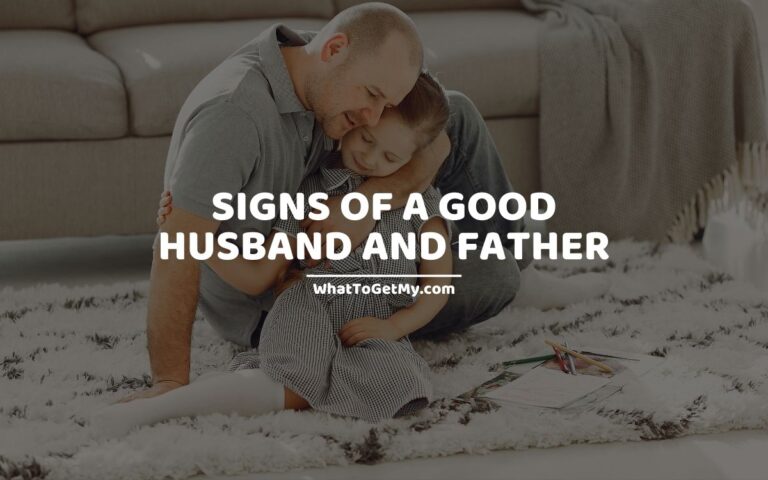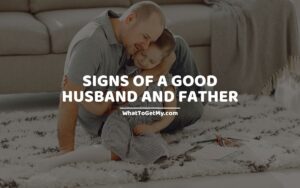 35 Signs of a Good Husband and Father
35 Signs of a Good Husband and Father. WhatToGetMy Instructional Article It's not enough to say you are a good husband and father. Your actions have to match that description. Your wife should be able to proudly say "I have an awesome husband" and your
Read More »