Your grandson has put in the work and will be graduating soon. You are so proud of him and want to reward his effort, however, you are unsure of what to get as a gift. You are looking for something that speaks volume, something he will not forget in a minute, and something that will always remind him of how proud you are of him. You are looking for the best high school graduation gifts for grandsons you can find.
In this article, you will find amazing sentimental

gifts for high school graduates

no matter your budget. We have grouped our 23 gift ideas into 3 subheadings namely; 1) Special high school gifts for grandson, 2) Gifts for high school boys, and, 3) Personalized high school graduation gifts.
You might find our article titled "College graduation gifts from parents" also useful.
As an Amazon Associate we earn from qualifying purchases. We may earn a small commission for our endorsement, recommendation, testimonial and/or link to any products or services from this website. Thank you, your qualifying purchases help support our work in bringing you real daily gift ideas.
Quick Overview: High School Graduation Gifts for Grandson
SPECIAL HIGH SCHOOL GIFTS FOR GRANDSON
1.

GRANDSON ENGRAVED BASKETBALL GIFT
Highschool is one milestone out of a few others your grandson will be crossing. The perfect high school graduation gifts for him will be items that will keep him motivated as he continues to soar. This inspirational basketball fits well. If your grandson is into basketball, or sports in general and you are looking for a relatable gift, we suggest this engraved inspirational basketball as a gift, it is perfect. The message on the ball is motivating. It is an item that he will look at and cherish for a lifetime.
Product summary
A lovely high school graduation gift
2.

ACHIEVE YOUR DREAMS BALLPOINT PEN
This "achieve your dream" ballpoint pen is a simple yet elegant gift. The quote is both motivating, and encouraging and since it's coming from a grandma or grandpa, the pen becomes extra special.
This pen has a rubber stylus tip that allows you to use your touchscreen device without touching it and a flashlight at the bottom end of the pen.
Product summary
Elegant pen. This is a special high school gift for grandsons.
3.

WISE OWL TRINKET BOX
Owls are associated with being wise and learned. This positive association makes them symbolic in the educational/intellectual spheres. Get your grandson this wise owl trinket box as a graduation gift. This trinket box is not only aesthetically pleasing but also a relevant gift for the occasion. It will act as a good decor on his shelf, and good storage for precious jewelry.
Product summary
This box is all sort of gorgeous, plus it is well made. A thoughtful gift for grandson from grandmother/grandfather for high school graduation
4.

GRADUATION CORGI
Is your grandson a dog lover? This plush is perfect for any dog lover graduating. It is small, cuddly, fluffy, and soft. We love its cute and happy-looking face. Your grandson will be 'awwed'. If you wish to make a gift box that includes this Corgi dog, you can also add a graduation mug, Ferrero Rocher chocolate, an inspirational keyholder, and a graduate congratulatory figurine to the gift box. All these gift suggestions are on our gift list.
Product summary
This is an adorable high school graduation gift for grandsons.
5.

GRADUATION MUG
Even if you are not hyped about giving mugs in general, you might have a second thought about this graduation gown and cap mug. It looks oddly cute in person and the packaging is probably the most loved feature of this mug. It is like unwrapping a present. We think it is a fun graduation item that is worth giving. It is a keepsake item.
Product summary
It is a cool graduation mug
6.

GRADUATE CONGRATULATORY FIGURINE
This Disney's Ludwig Von Drake congratulatory figurine is a funny graduation gift that might get your grandson smiling on his special day.
Product summary
If you are looking for funny high school graduation gifts, add this item to your list.
7.

SHOOT FOR THE MOON INSPIRATIONAL KEEPSAKE & PAPERWEIGHT
For someone who still has some educational height to attain, this item is perfect. Keep your grandson motivated with this inspirational keepsake item, it will last him a lifetime.
Product summary
Lovely item.
8.

SAVAGE METAL EDISON STEAMPUNK LAMP
The perfect high school graduation gift for a geeky grandson will be this Steampunk Edison metal lamp. It is unique, aesthetically pleasing, a collector's item, and durable too. This cool item is something he will not forget in a bit.
Product summary
This is a unique gift
9.

CHOCOLATE GIFT BOX
Add a box of Ferrero Rocher to his special day. The unique taste and quality of this chocolate make it one of the best snacks for winners.
Pros.
The creamy taste and crunchiness of this chocolate is divine

Most Ferrero Rocher chocolate taste fresh

This is probably one of the snacks you can comfortably give without fear of it being liked.

The packaging is classy and fits any special occasion
Cons.
It is possible for the packaging to arrive dented if the box was poorly handled in transit
Product summary
A mouth watery high school graduation gift
10.

FUN GRADUATION T-SHIRT
Rock this 'high school complete' t-shirt to his graduation and cheer him on as he received his certificate. It will be a fun and humbling experience for him. Cool grandparents are on demand, he'll be happy to have you.
Pros.
The t-shirt is breathable

It comes in different sizes and mature colors

The design is cool and fun
Cons.
The shirt shrinks and should not be exposed to a lot of heat. It is best to also hand wash it.

If you are looking for a long-lasting tee, this shirt might not be ideal. We however think it's a perfect one-day celebratory t-shirt for the family.
Product summary
Although this t-shirt might not last, it is still perfect for the occasion.
11.

INSPIRATIONAL KEYCHAIN
He has dreams and desires for his life and even the smallest of gifts like this inspirational keychain can keep him motivated.
Product summary
This is a pretty little inspirational fuel to keep him fired up.
GIFTS FOR HIGH SCHOOL BOYS
12.

MINI RETRO BLUETOOTH SPEAKER
He now has enough time on his hands for some adventure before he decides to take his next big step. A cool gadget he will find very useful in his outdoor adventures will be this mini retro bluetooth speaker. It has quick connectivity, allows up to 4hrs music play time, and can be recharged with a bluetooth speaker. Apart from the retro design of this bluetooth speaker, its tiny size is another attractive feature for a lot of young people.
Product summary
A highly recommended high school graduation gift for grandson.
13.

LEATHER SHOES FOR MEN
A good fashion item for graduation, higher institution, and or a new job will make a good graduation gift. This formal leather shoe is for young and vibrant young men like your grandson and he did be pleased to get them.
Product summary
Cool shoes.
14.

1080P HD PROJECTOR
Personal space is a big deal for high schoolers. Once your grandson has graduated, he might start seeking to rent his own space or modifying his current space. He might not have enough to get a tv for himself but with a projector like this one, he gains a little independence. This gadget is equally convenient in ways television isn't.
Product summary
The projector still comes highly recommended.
15.

LOVERY SPA KIT
Now he is done with high school stress, he deserves a bit of pampering to ease his body and mind. This Lovery spa kit will make a good relaxation gift.
Product summary
Amazing product. Opening the box feels great.
16.

FUJIFILM INSTAX INSTANT CAMERA
Another fun gadget you can get your grandson will be this Fujifilm instant camera. This camera is by no means a professional camera and therefore the quality of pictures it produces will be a far cry from a pro camera. This is rather a fun camera that provides a way to record one's moments with its "snap on the go" feature. He can create a yearbook by getting quick fun pictures with his friends before they part ways. This gadget will also be useful on fun trips, get-together parties, and day-to-day activities.
Product summary
This is a yay high school graduation gift. Check out our article on Gifts for a teenage photographer, it might come in handy when you least expect it.
17.

FOSSIL MEN'S LEATHER WATCH
One gift you can't go wrong giving is a wristwatch. It fits into everyone's fashion outlook and therefore is a valuable gift. Surprise your grandson with this leather strap watch as a graduation gift. It is a dynamic watch, very mature and at the same time youthful. You can also get this watch engraved in some US and Canadian Fossil shops.
Product summary
This is a perfect watch for teenagers.
18.

BOSE NOISE CANCELLING HEADSET
Although graduating from high school comes with a lot of excitement, it also comes with stressors. School leavers often worry about life after high school and one way they try to reach an 'equilibrium' by chilling as much as they can either through music, movies and or games (video). During their chill time, a headset like this can add to the experience.
Product summary
This is a cool headset. It will make a good high school graduation gift.
19.

IRON FLASK THERMO MUG
Make a high school graduation gift box and include this lovely flask as one of the gifts. This flask is a great item to have. It stores cold water for a long time which will be great for all his outdoor adventures. The flask also looks cool.
Product summary
This is a good item for a teenager to have but we do not advise that you give him this flask alone as a graduation gift. Add something more to this gift.
20.

HOODIE LEATHER JACKET
He is now a big guy and will be up-ing his fashion style soon. Send him a nice leather jacket as a graduation gift and we recommend this one. The quality is great, and the design is lovely. The hoodie is detachable and the jacket is soft and comfortable.
Product summary
You can make this jacket a little special by customizing his name and or a special message in it. However, the sellers do not offer this option.
PERSONALIZED HIGH SCHOOL GRADUATION GIFTS
21.

PERSONALIZED NECKLACE PENDANT
A customized photo of your grandson with a beautiful graduation message on a dog tag is an enduring gift; one that he will continue to cherish throughout his life.
Product summary
This is a great item.
22.

PERSONALIZED BOBBLEHEAD GRADUATION FIGURINE
Watch as he chuckles when he opens up his gift to find a bobblehead figurine of himself. He won't be expecting this funny gift from grandma but he will appreciate it big time.
Product summary
This bobblehead is well-made and would last for a long time. It is a cute keepsake item and would make a fun graduation gift for grandsons.
23.

PERSONALIZED MINIATURE COMPASS GIFT
It is always our desire that our loved ones choose paths that will lead them to greatness. Wish him well with this personalized miniature compass gift.
Product summary
A beautiful keepsake gift to grandson and a perfect high school graduation gift for him.
FREQUENTLY ASKED QUESTIONS
1. What should I get my grandson for graduation?
Get him gifts that propel him for the future, gifts that show him that you are proud of him, and gifts that he will cherish for a long time. We have listed 23 of these gift ideas, from cool gadgets to cool fashion outfits. Some of our favorites are; the personalized bobblehead figurine, noise-canceling headset, wise owl trinket box, steampunk Edison lamp, and inspirational basketball.
2. How much money should grandparents give for high school graduation?
There is no specific amount but a 100 dollar and more will make a good graduation gift. Check our article on Creative ways to give money for graduation.
CONCLUSION
High school is not an easy phase for so many teenagers and therefore getting through it is a big win that ought to be celebrated. In this article, we listed 23 interesting items you can get your grandson to make this milestone a special one for him. We hope that you find our gift ideas helpful.
ESTIMATED TIME DESIGNING AND UPLOADING THIS ARTICLE
ESTIMATED TIME RESEARCHING AND WRITING THIS ARTICLE
Try our AMAZING GIFT FINDER TOOL! Find GIFTS with 1 CLICK!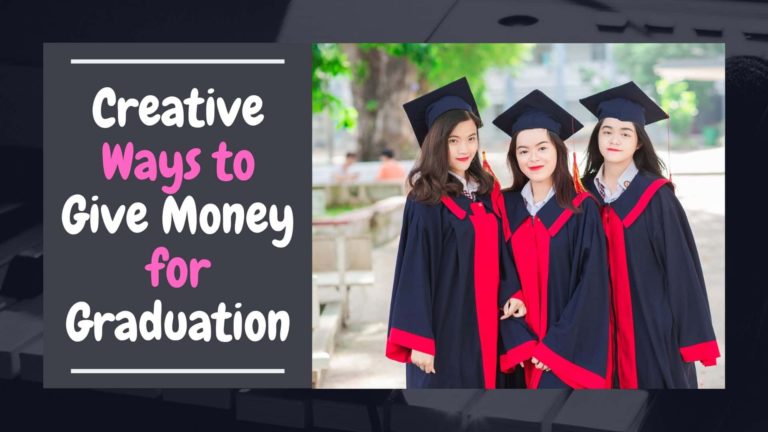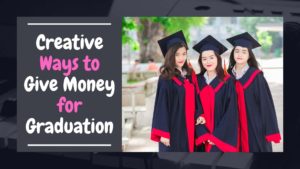 10 Creative Ways to Give Cash for Graduation
Creative Ways to Give Cash for Graduation WhatToGetMy Instructional Article So you have a graduation coming up soon and the graduate has requested to receive cash instead of gifts, but you don't want to just hand over the cash to them in a plain, simple
Read More »