When we think about what thank you gifts to get someone or a group of people, we automatically think of food-related gifts because it is the easiest gift to get. It is a gift that would please anyone, because who doesn't love chocolates, cookies or nuts? However, if you really want to be sincere about saying thank you to someone, it would need a little effort on your part as you will have to come up with non-food Thank You gifts to give.
Food-related gifts are a nice gesture but it can also be unsuitable sometimes because of two reasons. Firstly, the recipient can have certain food allergies or may be diabetic and cannot eat anything in the food-related gift that you give them. The second reason is that once the gift is opened and goodies have been eaten there will be nothing left to be remembered. The thank you message will be great for that moment but then very quickly forgotten about.
To help you come up with some thoughtful thank you gift ideas to give to a specific person or a group of people, you would need to think a little bit about the person that the gift is for and for the reason that you would like to thank them.
Examples of people to say Thank-You to:
Wedding guest that will be attending your wedding 

Guests that attended your baby shower.

For special friendships.

Teachers or coaches who have spent all year working incredibly hard by giving you lessons to prepare you for the next step of your life.

Employees who gave you a year of hard work and have learned to tolerate all your ups and downs along the way.

Co-workers that have worked alongside you, helped you and supported you to reach the same goal.

Bosses, you may want to thank for a great year or a special promotion that you received.

Family members, like your Mom and Dad, brothers and sisters, Aunts and Uncles, and your significant other for everything special that they have done for you.
Some Important Reasons to say Thank-You
To show other people that you recognize and appreciate the things they do.

Saying thank you shows selflessness, kindness, and compassion for others.

It makes others feel great about performing a kind act, and they will be willing to perform another if needed.

It makes you feel good too when you thank someone for a kind act that they have done for you.
How to say Thank-You
The main ways to thank someone would be:
By actually saying the words "Thank You" and stating the specific reason for thanking them with a smile on your face and by keeping eye contact to ensure that it is heartfelt.
You can thank someone by giving them a Thank you card or a gift card that is okay but not that great on its own.
By giving them a gift. Non-food thank you gifts is preferred because it will have a lasting effect on the recipient. Every time they look at it they will remember the reason you gifted it to them and be reminded of your appreciation and generosity.
To help make it easier on yourself when you are trying to decide on the type of thank you gift for someone, you need to think about a few factors first. For instance, are you looking for thank you gifts for men or women? Think about things that you know about them, their likes and hobbies. Lastly, think about the role they have in your life, for example, are they co-workers, teachers, or are you looking for thank you gift ideas for friends?
Some great non-food thank you gifts for any occasion that are great gift ideas for both men and women. Also, you can try to make the gifts unique by including customized thank you cards when packing the gifts. There are also some great gifts out there that you can tweak a little bit to make each one special.
Below are some carefully picked appropriate thank you gifts ideas for any occasion and budget for.
As an Amazon Associate we earn from qualifying purchases. We may earn a small commission for our endorsement, recommendation, testimonial and/or link to any products or services from this website. Thank you, your qualifying purchases help support our work in bringing you real daily gift ideas.
Our Gift To You:
Find out how to download This
Free Printable "Thank You" Card
at the End of This Article.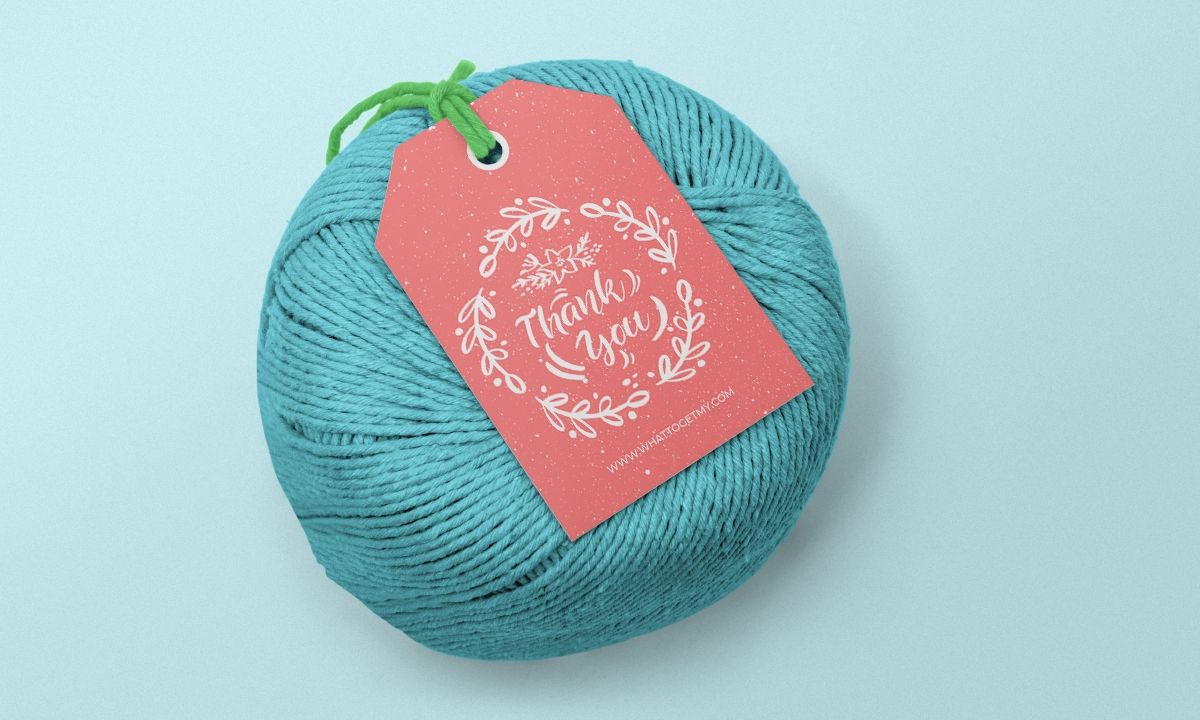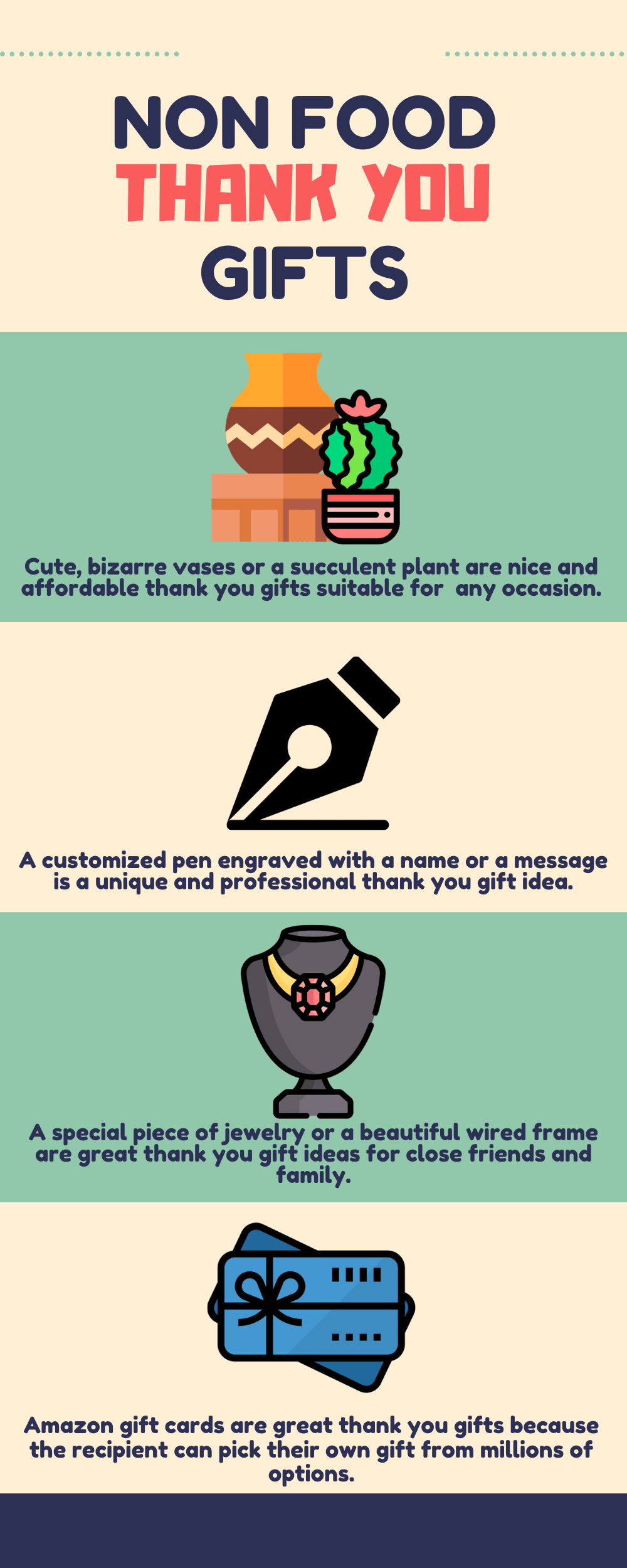 Source Link: https://whattogetmy.com/non-food-thank-you-gifts/
"Thank You" Wine Bottle Labels
Turn a good bottle of wine from boring into a great Thank You gift with these Wine Bottle Labels! It is a fun and unique gift and any recipient would love it on any occasion. (Wine is obviously NOT included). You can give them as your gifts for the holidays, best friend gift, a birthday gift for mom or dad, valentine's day, teacher appreciation, realtor, doctor, or for anybody else you would like.
Reviewers that have purchased this Thank You Wine Bottle labels Gift Set have had mostly positive things to say as they were easy to apply and gave a nice personal touch on a thank you gift.
Little Ceramic Owl Pots – Pack of 6
These Rose Create 6 Piece Mini Ceramic Owls Succulent Plant Pots are an excellent Thank You gift for anyone you want to show your appreciation to. You can fill each of these 6 Owl styles pots with succulent or cactus plants that are perfect to use indoors or outdoors. Plant any type of miniature flowers or a variety of candy and give them individually to teachers, guests, or even employees.
The majority of customers who purchased this ROSE CREATE 6 Pieces 2.5 Inches Owl Pots had positive things to say as they find that these pots make adorable mini succulent arrangements and are a perfect little Thank You gift.
Wisdom Vine Leaf Friendship Necklace
This Smiling Wisdom Vine Leaf pendant Friendship necklace is embedded in a jewelry box. It comes with a wallet-sized keepsake friendship card that will help you find the words to say "Thank You" and make a better connection with any women who is your friend, or wife. It will bring joy to someone important to you by touching their heart and inspiring them.
The majority of the reviewers that have purchased this Smiling Wisdom Vine Leaf pendant Friendship necklace found it to be a great and meaningful friend gift for a special person and in return, the recipient loved it too.
Bath bomb gift set- Pack of 6
These gluten-free and vegan bath bombs are one of the most suitable thank you gift ideas for women. Each pack comes with 6 bath bombs consisting of different scents and flavors each. The bath bombs are made of organic and quality products, making it suitable for women with sensitive skin.
Most customers who purchased this product are satisfied with the quality and size of these bath bombs, therefore making them one of the great, inexpensive thank you gift ideas.
CB Gift Heartfelt Collection-Heartwarming Expressions Wire Framed Sentiment and Verse
Show your appreciation with this very elegant wireframe that looks antique and has a beautiful message that speaks straight from your heart. It makes the perfect Thank You gift for someone special in your life to remind them that you care, you are thinking about them and appreciate what they have done for you.
This gift is a perfect gift for any of the following people in your life, just to name a few:
Customers who purchased this Heartwarming Wire Framed Sentiment and Verse had positive things to say as they find the frame to be nice looking, of good quality, and their recipients all loved the gift.
Personalized Ballpoint Pen With a Name or a Message Engravement
If you're looking for a professional thank you gift then this engraved pen is a perfect idea. You can gift it to your boss, or if you have a friend or family member who enjoys writing. You can engrave the pen with a name or a special message
Customers who purchased this pen have been very satisfied with the quality of the pen and packaging. The delivery time is also really quick, making it a perfect last-minute thank you gift idea.
Unique Succulents Plant with Personalized Gift Note
This is a Perfect and Unique Gift to say Thank You to a Wife, Mom, Friend, Co-Workers, Boss, or as a gift for any other occasion. These simple to maintain succulents look so beautiful, the recipient will love it no matter who they are.
Customers that have purchased this Live Succulent Plant – Garden Centerpiece with Thank You Gift Box has had mostly positive things to say as they look beautiful and they are a great thank you gift that everyone will love.
Amazon "Thank You" Gift Card
Amazon Gift Cards are the perfect way to say Thank You by giving someone exactly what they're hoping for. The recipients can choose from millions of products storewide and can either buy something immediately or wait for a sale of the product they have their eye on.
The majority of the Customers that have purchased this Amazon Gift Card in a greeting card have had positive things to say as it is a great Thank You gift to give to someone to show your appreciation and can be used for any occasion.
Sometimes, saying thank you to someone takes a little more effort on your part than just to give them a Thank You Card or to say the words. So next time you're thinking what to send as a thank you gift, remember all the factors mentioned above and make sure you stick to a budget that suits you so you avoid getting carried away. Getting gifts doesn't mean that you should ditch the whole Thank You Card because non-food thank you gifts are never really complete without a beautiful Thank You Card with a meaningful message attached to it.
Get This and So Many More Free Gifts on Our New Marketplace, Spark Resort!
ESTIMATED TIME DESIGNING AND UPLOADING THIS ARTICLE
ESTIMATED TIME RESEARCHING AND WRITING THIS ARTICLE
Try our AMAZING GIFT FINDER TOOL! Find GIFTS with 1 CLICK!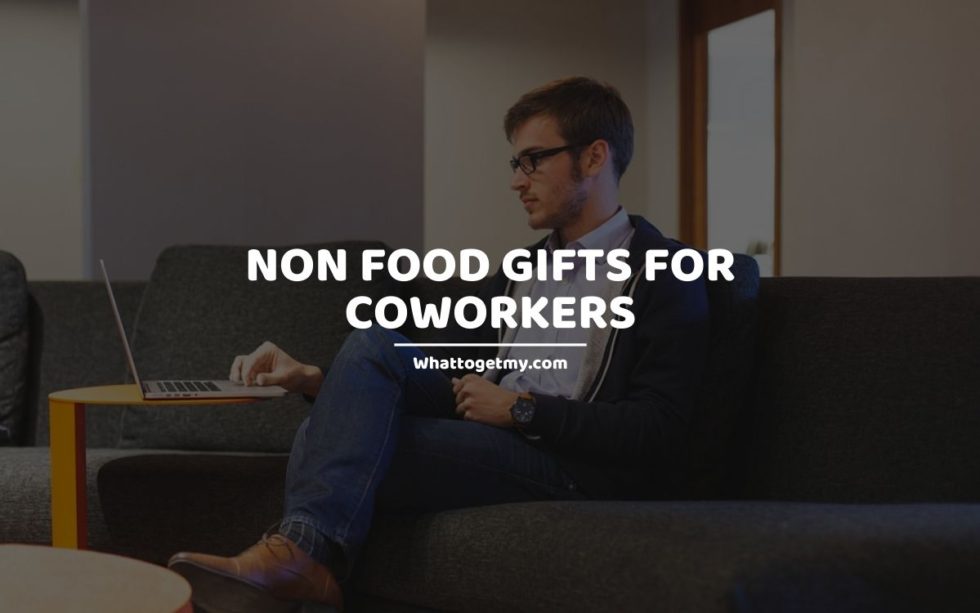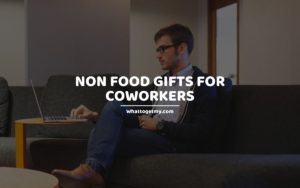 Have you ever been protected or vouched by your boss from something you did for the company? How about a coworker covering up your schedule or activity because you have to attend an emergency? Then you must have had that grateful feeling towards them. If
Read More »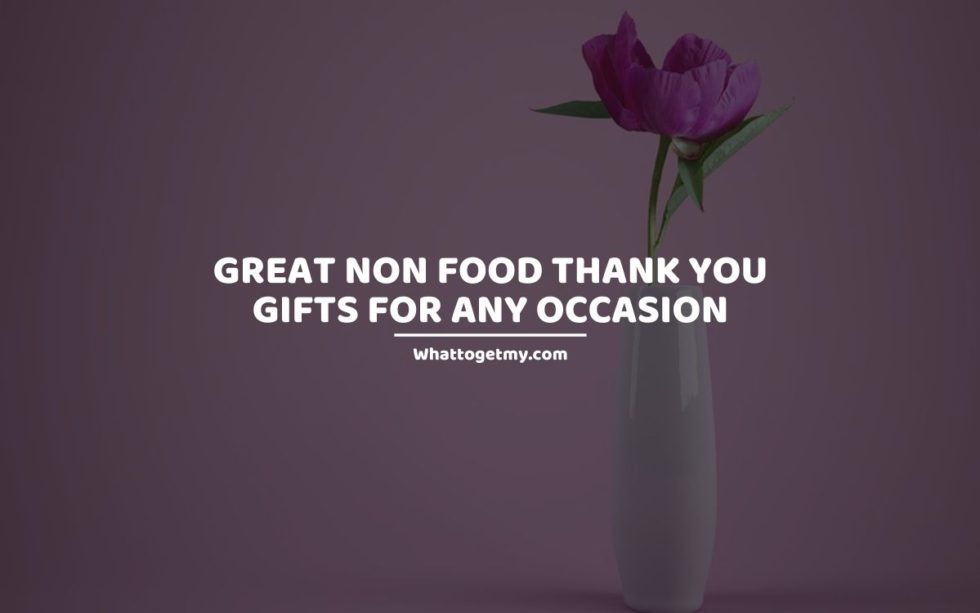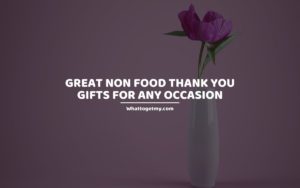 When we think about what thank you gifts to get someone or a group of people, we automatically think of food-related gifts because it is the easiest gift to get. It is a gift that would please anyone, because who doesn't love chocolates, cookies or
Read More »