Fun Things to Do With Someone in a Wheelchair
WhatToGetMy Instructional Article
There are many different reasons and factors that put people in wheelchairs.

Whenever you are planning activities with wheelchair bound people, consider the mobility of the activity and the availability of the person.

Read this article to find out activities that are both fun and safe that you can do with your loved ones who use wheelchairs.
DIFFERENT TYPES OF DISABILITIES THAT CAUSE IMMOBILITY
People end up using wheelchairs for different reasons. For some people the wheelchair is temporary until their body heals and they can go back to being able bodied with physiotherapy. Others, on the other hand, wheelchairs are their permanent mode of mobility. There are a few ways that people end up on the wheelchair and these are:
BIRTH:

Some people are born with spinal and neuro diseases or impairments that hinders their mobility. These people are required to use wheelchairs from very young ages so as to be able to move around.

ACCIDENT:

Some people end up on the wheelchair due to accidents that either affect their spinal cord or that leads to double leg amputation.

DISEASES:

Some people are wheelchair bound because of diseases. Usually, these people are only bound to the wheelchair temporarily although this is not always the case.

AGE:

This is another factor that people find themselves wheelchair bound. Old age limits mobility and it becomes safer and more comfortable to use the chair to move around than walk due to arthritis and other complications that arise because of old age. Check out these

gifts for someone with arthritis

to find some items that you can purchase to help you (or someone you care about) fight the symptoms of arthritis.
Wheelchair use for men and women. Source: Researchgate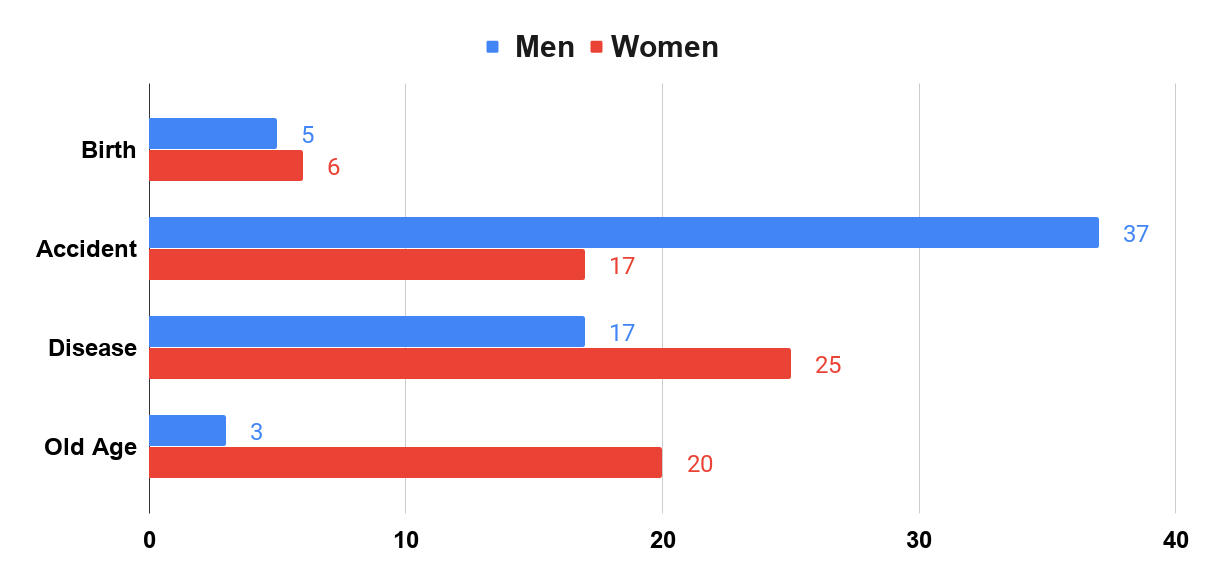 THINGS TO CONSIDER WHEN PLANNING ACTIVITIES WITH WHEELCHAIR BOUND PEOPLE.
MOBILITY: This is the first thing that you should always consider when planning on activities that you want to do with people who use wheelchairs. In an ableist world, most activities are catered to able bodied people and do not have adaptations or options for disabled people. Only pick activities that will accommodate your friend or family member in a wheelchair.
AVAILABILITY AND COMFORTABILITY OF THE PERSON IN THE WHEELCHAIR: Another key element when planning these activities is to consider how available the person is and if they would be comfortable doing whatever it is you are planning especially if you are not involving them in the planning stage or if you intend for the activity to be a surprise.
THINGS TO DO WITH SOMEONE IN A WHEELCHAIR
1. WINE TASTING TOUR: This is a fun activity you can do with your loved one who is wheelchair bound. There are many activities that are included within a wine tour that includes even people who do not drink alcoholic wine. You can opt to go grape picking, or taste sparkling (non-alcoholic) wine. This is such a special activity because it's not an everyday kind of activity, make a day out of it; and listen to some old songs that you both enjoy on the drive there.
2. CINEMA: A night in watching the best blockbuster movies is just about the most relaxing and romantic activity you can plan for your loved one. Surprise them with tickets to the latest summer movie or for more intimacy, plan a movie night in your own home (and in their comfort) and stream both of your personal favorite movies.
3. CASINO NIGHT: If your partner likes gambling for fun then a Casino night would be the best gift for them. Get to experience the glamour and flashing lights that Casino nights have to offer. Go big, if you can and fly out to Casino central – Las Vegas! To get the full Casino experience.
4. POETRY/PLAYS: Spend the night with some of the best literary pieces brought to life. A poetry night is the best gift for creative partners and it is also a good excuse to get away from the house and enjoy the fresh crisp air.
5. CONCERT: Surprise your partner with tickets to their all-time favorite (cover) band. Nothing brings people more joy than music. This is also a great way to reconnect and reminisce about the early days of your romance.
6. PICNICS: Is there anything more romantic than a picnic? The best part about this activity is that it can be done anywhere, in your backyard, garden, on a hike, and more commonly at a park. Wherever the venue, food drink and good conversation are the benchmark of romance and your partner will appreciate you for making the effort especially when it is done spontaneously.
7. BEACH DAY: Because who doesn't love a day out at the beach enjoying the sun and warm water surrounded by family and friends? The beach is perhaps the best thing about a hot summer day. You can make a day out of it and invite your other couple friends so you can catch up and get away from your jobs and children (if you have any).
ACTIVITIES FOR DISABLED ADULTS IN WHEELCHAIR
8. SPORTS: These can either be individual sporting games such as tennis or catch and team sports games such as basketball, bowling. Most of these games have inclusive leagues for disabled people and people in wheelchairs.
9. COOKING: This is a hobby that adults in wheelchairs can participate in. It is safe and brings comfort. They can try out new recipes and learn new tricks to make old favorite foods. This activity is enjoyable for people who have a passion for cooking and it is okay if you are not one of them, you can always pick a hobby that you are passionate about and hone your skills in that.
10. HIKING: Wheelchair bound people can go hiking on trails that are safe for them. These hiking trails are often designed to fit their needs such that hiking there is safe and fun. A person does not need to sacrifice their active lifestyle just because they are bound to a wheelchair.
THINGS TO DO WITH HANDICAPPED PEOPLE
11. VISIT A MUSEUM/ART GALLERY: If your friend or family member in a wheelchair is someone who likes Art, then spending the day at a museum of Art or an Art Gallery can be both a fun and educational activity for them (and you).
12. SOLVE PUZZLES: If you and your handicapped friend enjoy solving puzzles then this is the activity for you. You can solve complex or simple puzzles and just enjoy each other's company. You can also choose to add board games to spice up the fun.
13. ESCAPE ROOMS: Escape rooms are like puzzles except you get to live in the puzzle and solve it to get out. This can be such a fun experience especially for people who enjoy the thrill of suspense and solving mystery. Alternatively, you can also attend murder mystery parties.
14. BOATING: A great outdoor activity, boating is an exciting way to get out on the open waters and enjoy the scenery and the thrill of nature. Remember to bring all the safety equipment and to take all necessary precaution to ensure that your boating experience is not only fun but also safe for all passengers.
15. FISHING: If you and your wheelchair bound friend or family member enjoy fishing as an activity, you can go fishing and maybe even go the extra step and make a camping weekend out of it.
16. SPA DAY: Make a day of getting you and your friend and loved one(s) pampered. From manicures and pedicures, to full body massages, aromatherapy, and saunas. This activity can be enjoyed by both men and women and it is such a relaxing activity that rejuvenated your body and mind.
ACTIVITIES FOR KIDS IN WHEELCHAIRS
17. BUMPER CAR RACING: This is a fun and safe activity to do with kids who are in wheelchairs. Plan a fun day out and take them to your local arcade and let them enjoy being kids in a safe environment.
18. VIDEO GAMES: Most children and teenagers love playing video games. Find a couple of video games that your child enjoys playing and play with them. This is a great way of bonding with your child because you will be taking interest in activities that they like and enjoy. Here are a few tips to help ensure that your child is playing video games moderately.
19. MINIATURE GOLF: This is also another fun activity to do at a children's arcade. It is safe and accessible to wheelchair kids.
20. HORSE RIDING: This can be a bit tricky because not every horse ranch allows or even has the capacity to let mobility impaired individuals to ride horses. However, if you find one that does and has the capacities to safely allow your child to ride then you should definitely take them. This will be such a great experience for your child and they will remember it for the rest of their life.
HOW TO HELP SOMEONE IN A WHEELCHAIR
1. ASK IF THEY NEED YOUR HELP
Before you help a person who is wheelchair bound, you must first ask if it is okay for you to do so at that particular time. Yes, even when the person is your kid. It is important for you to understand that people in wheelchairs want to be as independent as their bodies will allow them. Asking children if and when it is okay to help them not only teaches them consent, it also teaches them that they are autonomous and in control of their bodies. Asking adults who are in wheelchairs if they need help makes them appreciate your respect for their autonomy and your faith in their independence. Only help when they agree and grant you permission to help or when they ask for your help without your asking.
2. RESPECT THEIR PERSONAL SPACE
Taking care of someone who is in a wheelchair often means that the caregiver will have to clean up after them. It is important, as a caregiver, to remember to give people in wheelchairs their personal space and respect their privacy. This means that you do not go through their personal belongings or snoop around their journals and personal computers. This is also applicable if you are a parent of a wheelchair kid or teen. It is your responsibility to grant your child(ren) moments and pieces of privacy.
3. SEEK ADAPTIVE TOOLS AND MAKE NECESSARY CHANGES
Make the necessary changes to your house to ensure that the person in a wheelchair does not depend on another person's help 100% of the time. It is your duty and responsibility to allow them to be independent as far as their body can allow. Click here to learn more on how you can improve your home to accommodate someone bound to a wheelchair.
4. SEEK THERAPY
If the result of them ending up on a wheel chair was because of an accident or chronic illness, then it is necessary that you help them seek professional help so they can talk about their experiences in a professional and judgement free environment because oftentimes, the experience is considered to be tragic and has a negative impact on their mental health. Read this article to find some ways you can help someone who has anxiety and depression at home.
FREQUENTLY ASKED QUESTIONS
Are people in wheelchairs allowed to travel on a plane?
Yes, it is perfectly safe for people in wheelchairs to travel using a plane. They are helped onto their seat by the plane attendants during takeoff and landing. There is a transfer chair that is featured on planes that allows people in wheelchairs to transfer from their chair to their seat and because of it some wheelchair users may not need help from an attendant except to store their wheelchair safely until deplaning.
Can people in wheelchairs drive?
No. people in wheelchairs have a mobility issue and as such are not allowed to drive by law and also they cannot drive because it is physically impossible for them.
CONCLUSION
In conclusion, always be aware of the emotional and physical needs of people who are wheelchair bound. As a caregiver, it is also important that you take care of yourself as much as you take care of your loved one in a wheelchair. Doing these activities with your loved one who is in a wheelchair will not only help them bond with you but also help you relax and take time away from your normal routine. These activities are family friendly and fun for people of all ages.
ESTIMATED TIME DESIGNING AND UPLOADING THIS ARTICLE
ESTIMATED TIME RESEARCHING AND WRITING THIS ARTICLE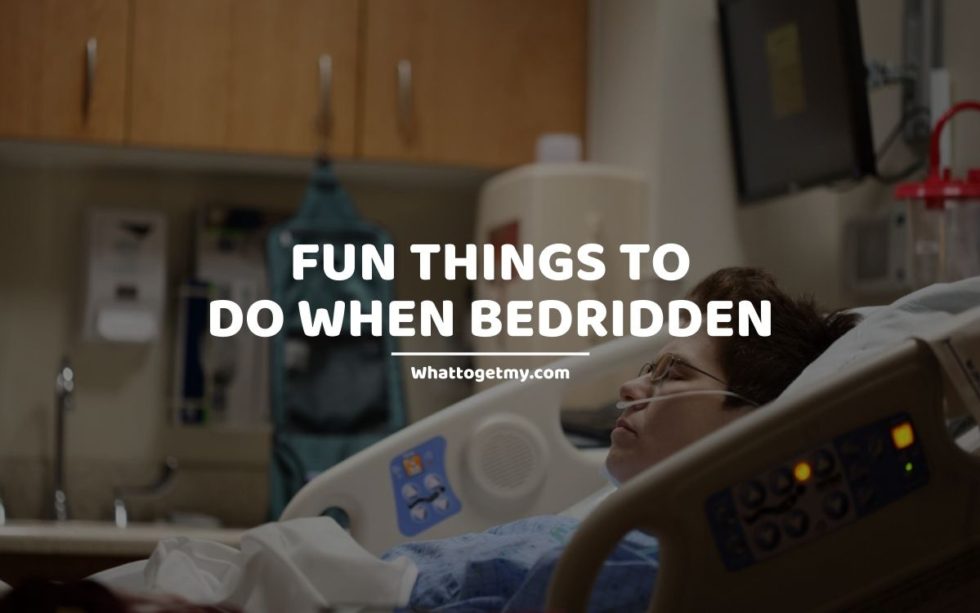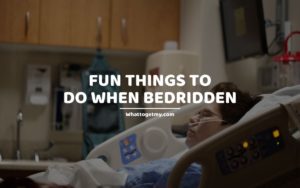 Fun Things to Do When Bedridden
Fun Things to Do When Bedridden WhatToGetMy Instructional Article Having limited movement because of a chronic illness, pregnancy, or after surgery can take a toll on your life. You will be making huge adjustments to your lifestyle and that might mean having to give up
Read More »