17 Unique 60th Birthday Celebration Ideas For Husband.
WhatToGetMy Instructional Article
60 is one of the significant ages that one can get to and no small feat at all. And this is why for your husband turning 60, it is important to celebrate his life and the joy of making it to 60.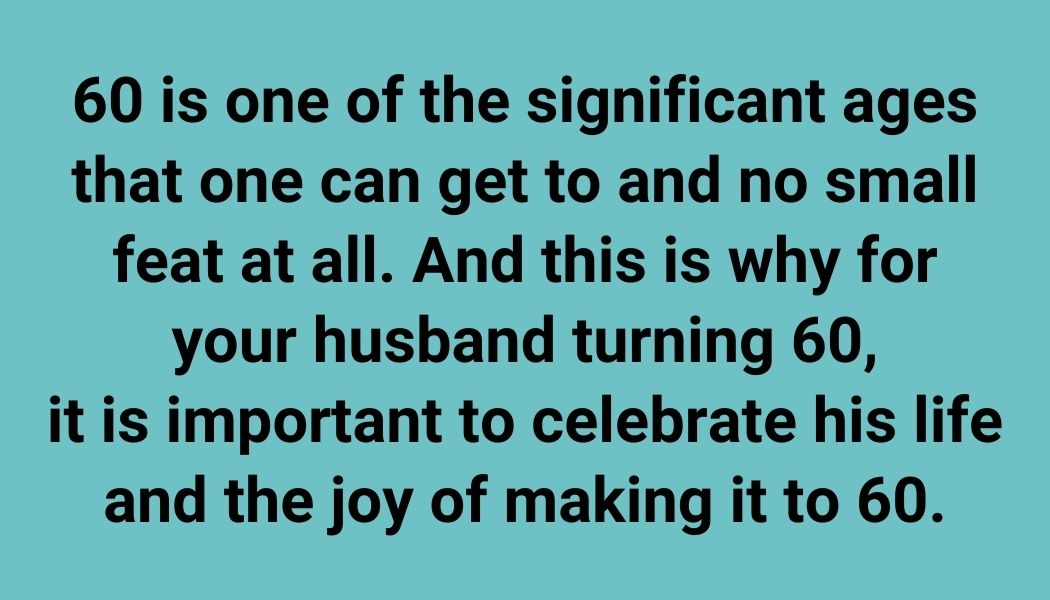 If you are trying to figure out what to do for your husband's 60th birthday, this article has got you covered. We will show you:
Percentage of adults in the U.S. aged 60 years and older who were concerned about select health problems as they age as of 2015. Source: Statista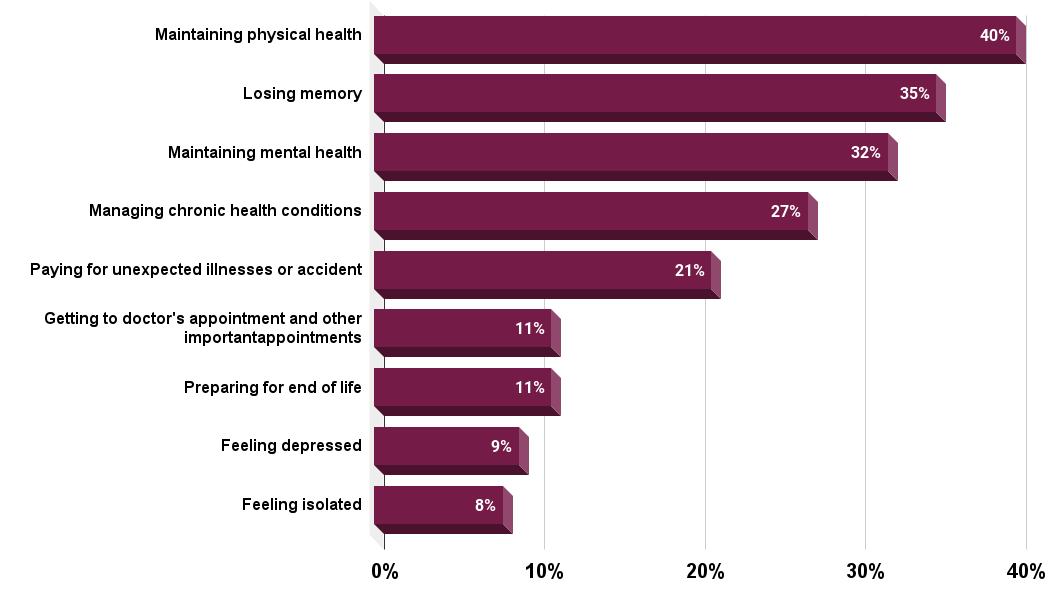 When it comes to planning a birthday party for your husband, the question one is always faced with is, what exactly is it that husbands want for their birthday? Answering this question is key to planning any enjoyable birthday party. There is no easy or straightjacket answer to this question. However, taking the 6 things we list below into account would go a long way in answering this question and ensuring you give your husband an enjoyable 60th birthday celebration.
As the above chart shows, turning 60 also comes with its fair share of health (and sometimes mobility). And thus in planning any party for your husband's 60th birthday, these health challenges should also be taken into account.
Your husband's personality, preferences, tastes, likes, and dislikes.
This will inform the type of party you can throw for him. If your husband is the reserved type that does not like large gatherings or parties, then organizing an extravagant party with a long guest list will have the opposite effect of being enjoyable to him. And since you do not want a birthday celebration that he would find dreadful, it is best to tailor any celebration to his personality.
The time and duration of the event.
Remember that at 60 he is no longer the agile 25 or 30 year old adult he was. Birthday celebrations that last well into the evening are therefore not advisable because he also needs enough sleep/rest time for the day.
Thus, it is best to have the birthday on a weekend and it should not exceed 5 hours max. So usually birthday celebrations that last from 4p.m to 8p.m work best for older celebrants from their 50's upwards.
Your budget for the party.
This is arguably the first and most important consideration. Your budget will determine how lavish or conservative your party will be. It will help you decide important things like what type of party to organize, where to have the party, and the number of persons to invite.
Set your budget well in advance of the birthday so that you can start planning.
The theme for the party, the venue of the party, and the number of guests to invite.
These will be informed by your budget and as well as your husband's personality. If for instance he is not very outgoing and prefers celebrating special occasions with just close friends and family then you cannot have a long guest list. You also would not need a big venue and would be able to play with a variety of themes suited to small intimate parties.
Whatever type of party you choose, ensure that the guests are people close to your husband and who he would love to spend the evening with. Unless you are planning a surprise 60th birthday party for him, it is advisable to run the guest list by him and see if he is happy to have everyone on the guest list as part of the celebrations.
Get the children involved.
Remember you want a party that is not just a party but a celebration of his life. And each of your children will bring their unique flavor to the party that would reflect their special relationship with their dad. It would also make the children feel very much a part of the occasion if they are involved from the get-go.
Our article on What Do Husbands Want for their Birthday gives you more ideas on what your husband may want for his birthday.
Things To Do For Husband's 60th Birthday – 17 Unique 60th Birthday Celebration Ideas For Husband.
Are you looking to celebrate your husband's birthday differently? Then this list gives you 17 unique things to do for your husband's 60th birthday. The ideas listed in this section cover all types of personality. And thus, whatever your husband's personality or preference, you are sure to find a celebration idea or two to try out as you celebrate your husband's 60th birthday.
This article on How to celebrate husband birthday differently also has more ideas for you to check out.
8 Exciting Birthday Ideas For 60 Year Old Husband.
Try out any of these 8 exciting 60th birthday ideas for your husband, to bring a smile to his face as he celebrates his special day.
1. Intimate dinner at a restaurant with close friends and family.
If your husband is the type that loves small and intimate birthday celebrations then this is a good option to settle for. You can spoil him to a different restaurant from the ones he is used to. Invite close friends of the family and members of your family and enjoy a quiet birthday dinner where he is the center of attention.
Do not forget to speak to the restaurant in advance about decorating the table reserved for you with 60th birthday decorations like balloons and the likes.
It would also be lovely to have each person say a word or two about the celebrant and wish him well in his new age. Your husband will love this very much.
2. The good old birthday party.
For the husband that still loves the good old elaborate birthday party filled with lavish and/or beautiful decorations, lots of food, and a long guest list, then give him exactly that. It would make it extra memorable for him. Make the party unique by:
3. Boat cruise
If you and your husband enjoy boat rides, spoil your hubby with a boat cruise birthday celebration with close friends and family. No better time than 60 to have a lavish boat cruise birthday party/celebration.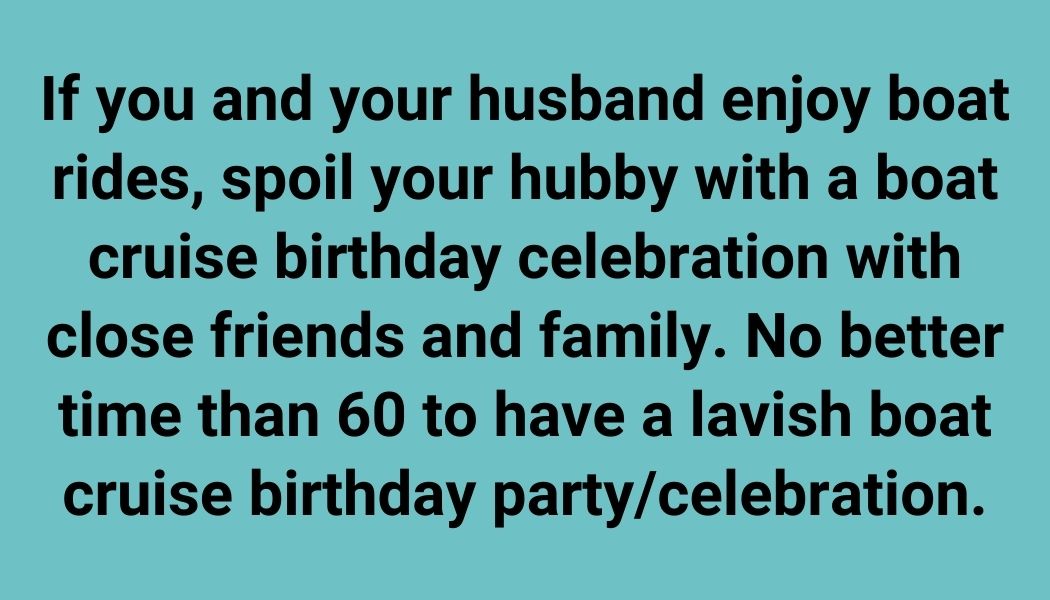 4. Garden and/or barbeque party.
A garden and/or barbeque party is a great alternative to either a big birthday party or even a small intimate dinner with close friends and family. Whatever size of crowd you want to have, a garden and/or barbeque party will always work.
5. Picnic outing.
If you want your husband's 60th birthday to just be about the two of you then consider a picnic outing instead. Choose a picnic site that is symbolic and means something to both of you – maybe the picnic site where you first met (if you met at a picnic site), or where you had your first picnic or something along those lines.
Having the picnic outing in such a symbolic location will make the birthday extra special for him and remind him of why he loves you so much.
6. Adrenaline birthday outing – tandem skydiving.
For the 60 year old husband who has not yet indulged in tandem skydiving, this is the perfect opportunity to give him that treat before he gets more advanced in age. Everyone should try tandem skydiving at least once in their life. This would be a fun way to celebrate his life at 60.
Although, it has to be said that if your husband has a heart condition, then it may not be advisable to engage in such high adrenaline fun activity.
7. Nature outing.
Are you and your husband lovers of the outdoors and nature? Then try out a nature outing as a way to celebrate his birthday. You can take him to a nature reserve or the Great Canyons, or to a Delta somewhere in Africa or the Middle East. For the nature lover, nothing is more exhilarating than enjoying their birthday surrounded by nature at its best.
8. Tickets to the Olympic Games or any other type of sporting event.
If your hubby falls in the category of 60 year olds that love the Olympics and especially the Olympic sports in this chart, then he would be thrilled to receive tickets to the Olympic games as a birthday celebration gift. If his birthday falls in the year when the Olympic games are being held, a ticket to his favorite Olympic game would make it a memorable birthday for him.
5 Thrilling Surprise 60th Birthday Party Ideas For Husband.
Perhaps you don't want your husband knowing what you are up to, and you want to surprise him, why not give him a pleasant surprise 60th birthday party with one or more of these 5 Surprise 60th birthday party ideas.
And don't forget to check out our helpful article on Surprise birthday ideas for husband with family for helpful ideas on organizing a surprise birthday party for a husband.
9. Weekend getaway.
Surprise him with an all-expense-paid weekend getaway either here at home or abroad outside of the U.S. You can surprise him either on the morning of his birthday or the week of his birthday so that he has enough time to prepare for the trip. If your husband is still actively engaged at his work, then be sure to book the getaway around his schedule so that there is no impediment to his taking the trip.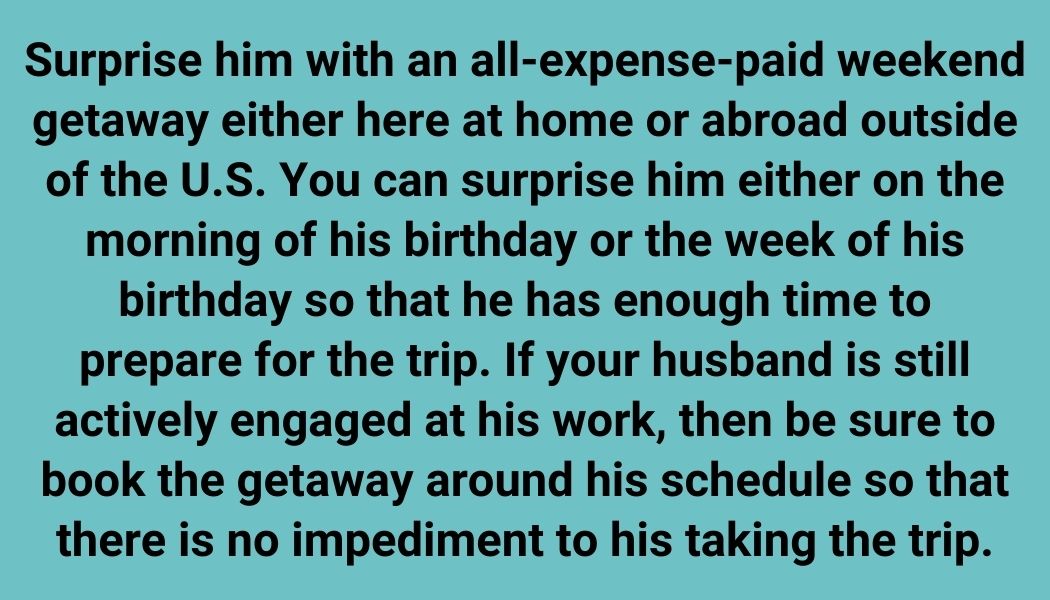 10. Surprise birthday party.
This is your traditional birthday party but without the knowledge of your husband. Pull a surprise party on him on his birthday and watch him tear up a little with all the love he would receive. Remember to remind the guests that it is a surprise party so that no one ruins it by letting him know.
11. Surprise renewal of vows and birthday celebration.
Who says that only the husband initiates a renewal of vows? You can be the unconventional wife that goes on one knee and gives her husband a ring to signify how strong your marriage is. This one is a particularly great idea if your wedding anniversary also happens to coincide with his birthday.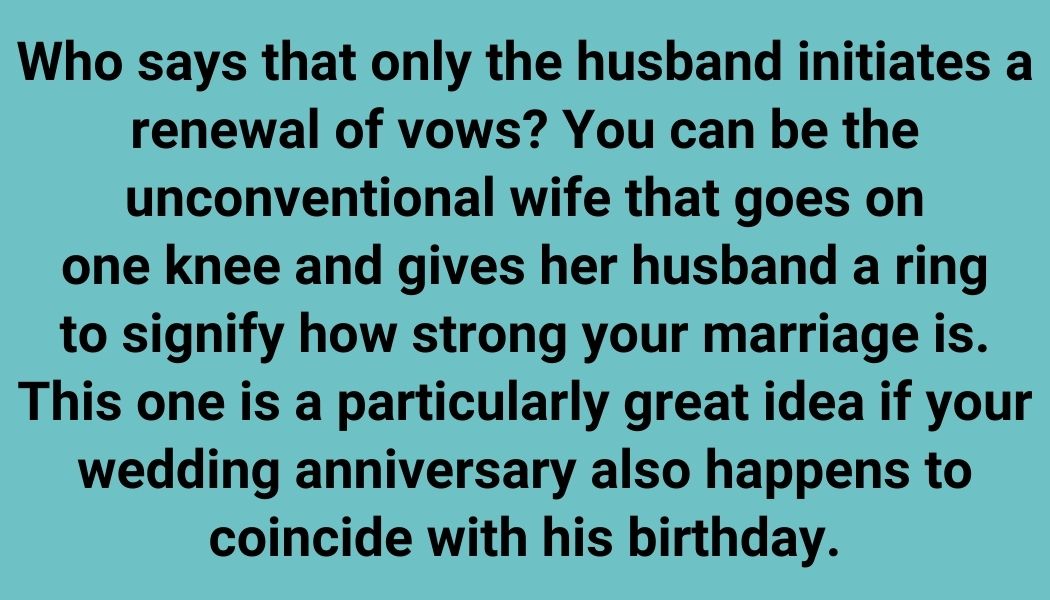 This would be super exciting if the renewal of vows comes packaged as one of the lineups of the surprise birthday party. You can during a strategic time while the party is going on (maybe when you are both on the dance floor) go on one knee and "propose".
This would not only make him weak at the knees, it would warm his heart very much and bring tears to his eyes. And not to mention how much more in love with you he will be.
Have a priest or someone of equal rank on standby who would then officiate the renewal and exchange of vows.
12. Surprise birthday delivery.
Package a special birthday gift and have it delivered on the morning of his birthday whether at home or at work. If you are planning for the delivery to be at home, you can either deliver it with breakfast in bed or have him answer the door when the delivery man arrives so that he receives it himself.
13. Cigars, Bourbon, and/or whiskey lounge party.
For the husband who loves his bourbon (or whiskey) and cigar, nothing could be more enjoyable than a cigar and bourbon party. This would be great at a cigar and bourbon lounge where he can relax and enjoy his cigar and bourbon while enjoying the ambiance of a lounge.
4 Unique 60th Birthday Party Theme Ideas For Husband.
A themed party always brings uniqueness and fresh flavor to any party. Don't know what 60th birthday party themes to settle for, check out and try out any of our unique 60th birthday party theme ideas for husband.
14. Days of our lives theme.
This is a theme that works well if you are celebrating your wedding anniversary together with his birthday. This theme celebrates his life and yours together. Put together a photo collage and video of his life and both of your lives together and give it to him as a present. If you are having a birthday party, consider strategically decorating the venue with some of these photos. You can also make it special by dressing up in his favorite dress.
15. Retro/A Decade theme.
With this theme, you can ask your husband to choose which year or decade he loves the most. It could be the 1950's or 1970's. And then have his celebration around that theme.
16. My wishlist (or bucket list) theme.
Ask your husband to make a wishlist (or bucket list) of everything he wants or wants to do, and make his birthday about granting all (or as many) of the wishes on his wishlist.
17. 60 for 60 theme.
This sounds like an impossible theme to pull off but it is not as herculean as it looks. The beauty of this theme is that you can spin it either way you want – you can decide to make it
Frequently Asked Questions.
1. How do I celebrate my husband's 60th birthday?
You can try out one or more of the 60th birthday ideas for husband listed in this article. And to help you plan the birthday, don't forget to check out our section on how to plan the birthday.
2. What can I get my husband for his 60th birthday?
Our gift article on What to get dad for 60th birthday has good gift ideas that can also work for your husband.
3. What should I do for my 60th birthday man?
The ideas listed in this article will be perfect as 60th birthday ideas for any man.
4. How do you make a 60th birthday memorable?
Make it all about celebrating the celebrant's life and accomplishments at 60. Have the day filled with things that mean the most to them. At 60, one becomes more reflective and laid back. This is why a laid-back birthday that celebrates their life and reminds them of things that mean the most to them is the most memorable birthday for a 60 year old. All the ideas listed in this article have this characteristic and you won't go wrong with any of them.
Conclusion.
Your husband's 60th birthday is another significant milestone that should not go uncelebrated. And in this article, you will find unique ideas of how to celebrate this milestone for him and with him. This article also helps you with 6 helpful tips in planning the 60th birthday party.
ESTIMATED TIME DESIGNING AND UPLOADING THIS ARTICLE
ESTIMATED TIME RESEARCHING AND WRITING THIS ARTICLE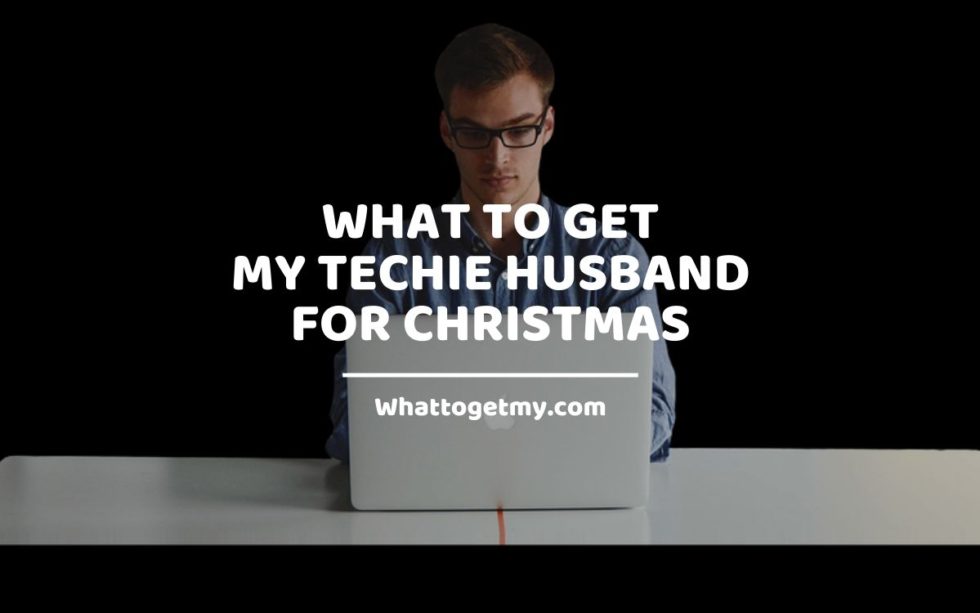 What To Get My Techie Husband For Christmas
Looking for gift ideas for someone precious like your husband can be difficult, especially if he is a techie person, and you're not. You might be left wondering and asking yourself, "what to get my techie husband for Christmas?" What makes it hard is the
Read More »