Consumable goods are items that are used regularly and require constant replacement.
Consumable gifts are great for minimalists, although they can make a great gift for anyone.
This article highlights some of the best consumable gifts you can get for people across all age groups in your life.
WHAT ARE CONSUMABLE GIFTS?
Consumable gifts are items you can give as gifts that can be used and/or eaten. These are items that need to be replaced regularly that would sometimes (though not always) be considered needs – these are things that we need for nutrition, sanitation, and physical and mental wellbeing. Consumable gifts are usually catered towards minimalists, although anyone can be a recipient of consumable goods.
CONSUMABLE GIFT IDEAS
When you are thinking of consumable gift ideas, think of all the things you can get someone that they can use on a daily basis. This will help you make the best selection and estimate exactly what they may need. Below are examples of some of the consumable gift ideas:
As an Amazon Associate we earn from qualifying purchases. We may earn a small commission for our endorsement, recommendation, testimonial and/or link to any products or services from this website. Thank you, your qualifying purchases help support our work in bringing you real daily gift ideas.
QUICK OVERVIEW: BEST CONSUMABLE GIFTS
Source Link: https://whattogetmy.com/best-consumable-gifts/
CONSUMABLE BIRTHDAY GIFTS
1. 

SNACK BOX
A snack box is a great example of a consumable good because it is food and it falls under 'nutrition'. This snack box contains a variety of snacks that are good for children and adults alike.
Product summary: This assorted snack box is great for parties and personal snack times. It contains 50 packets of assorted snacks – however, some of them may contain nuts so check before consumption if allergic.
2. 

CHOCOLATES
Who doesn't love chocolates? They are delicious and they melt in your mouth! These assorted Ferrero Rocher chocolates are perfect for any time of day and a great gift for people with a sweet tooth.
Product summary: There are 24 pieces of chocolate divided into 3 flavors. They are a beloved delicacy that is cherished by most chocolate lovers across the world.
CONSUMABLE CHRISTMAS GIFTS
For consumable Christmas gifts, think of all the edible Christmas themed foods that are beloved by all across the country. The secret is in the flavor and aromas.
3. 

GINGERBREAD COOKIES
Perhaps the most famous cookies of this time of year – the gingerbread cookies. Almost everyone has a variation of these in their homes on or during Christmas festivities. Getting this as a gift for someone will be giving them the essence of the holidays.
Product summary: These delicious cookies are baked and sugar-free. They are great for desserts and snacks in between meals.
4. 

INCENSE
What is more Christmas than the burning of sage? An herb which was burnt at the birth of Jesus Christ – which the holiday celebrates. Get into the spirit and burn some sage to honor and channel the true meaning of Christmas.
Product summary: These Nag Champa incense sticks have a great aroma and come in a variety of smells for your choosing, and they weigh a total of 180g.
5. 

FACE SCRUB
We all like to look good no matter what time of year it is. A face scrub is a great gift for Christmas especially for people who wear makeup either for costume or beauty purposes. The scrub helps clean them up and also open up their pores to avoid skin breaking out.
Product summary: This face scrub is gentle on the skin, it exfoliates and sheds impurities and dead skin cells leaving your skin feeling young and radiant. it is required that you use it twice daily for best results.
CONSUMABLE FATHER'S DAY GIFTS
For Father's day, get your dad these masculine and manly consumable products to show him how much you appreciate him:
6. 

GOLF BALLS
This is a great gift for your dad if he likes golfing. These balls are perfect for practicing both long and short games to help him improve on his stroke.
Product summary: These balls are soft and use low drag aerodynamics to swing further.
7. 

CLEATS
A great gift for your dad if he plays or is a baseball enthusiast. These cleats are great for playing in any field because of their soles which grip the ground and make the shoe sturdy when running on all surfaces.
Product summary: These shoes have a rubber sole which helps them to retain traction on all surfaces of any type of field. They are built to last long and for comfort.
8. 

SWIMMING GOGGLES
A great gift for your swimmer dad. These will protect his eyes from the chlorine that is found in pools that can hurt the eyes and hinder vision underwater.
Product summary: These swimming goggles are great for seeing underwater. they can be adjusted to fit different size heads and are easy to take care of.
CONSUMABLE MOTHER'S DAY GIFTS
For Mother's day, get your mom these thoughtful feminine consumable products to show her how much she is appreciated:
9. 

MANICURE KIT
Every woman appreciates a well-done manicure even if it means having to do them herself every once in a while. This manicure kit helps to keep nails clean and in the desired length.
Product summary: These tools are made of stainless steel which means they are rust-resistant. They are uniquely designed, portable, and multifunctioning.
10. 

BATH BOMBS
Bath bombs are the perfect combination of relaxation and an aromatic bath. These are perfect for smoother skin, and a nice smelling body fragrance.
Product summary: These bath bombs are organic and hypoallergenic. They come in different colors and have different fragrances, and they also contain different kinds of essential oils for the nourishment of your skin.
11. 

MAKEUP KIT
A woman can never have too much makeup. Update/upgrade your mother's makeup collection with this makeup kit that comes with additional brushes and sponges.
Product summary: This makeup kit is made cruelty free and contains various items needed for full-face makeup. It is environmentally conscious and very minimalistic.
CONSUMABLE GIFTS FOR MOM
12. 

SCENTED CANDLES
Scented candles make every room they are lit in smell nice. They are the perfect gift for someone who appreciates the natural aromas of different herbs and spices.
Product summary: These candles have a long burning time. They are made of paraffin wax and laced with vanilla essential oil for fragrance.
13. 

LOTION
Everyone uses lotion every day, it probably is the most consumable item on this list. A good bottle of lotion will leave your mother feeling young again and her skin smelling fresh.
Product summary: This lotion is lightweight, fast-absorbing, and nourishing. It is great for dry skin because of its moisturizing and hydrating factors.
CONSUMABLE GIFTS FOR DAD
14. 

E-BOOKS
The best gift for dads who read. The e-book is a better option because it can be read on an electronic device which allows for brightness adjustment.
Product summary: This is a good non-fiction book that teaches you about money – having it, saving it, and investing it.
CONSUMABLE GIFTS FOR GRANDPARENTS
15. 

ESSENTIAL OILS
Grandparents love serenity and tranquility – what better way to give them those things than to gift them with these natural essential oils that have different fragrances? They can use them in their lotion as perfume or with an oil diffuser as air refreshing in their home.
Product summary: These essential oils are therapeutic. They are natural and have no artificial additives and they are for external use only – do not use to cook or ingest in any way.
16. 

COLORING BOOK
Coloring books are calming and a fun and creative way to spend time. They are the perfect consumable gift for seniors because most senior adults have no jobs or obligations and have a lot of free time on their hands that they can use to relax and have fun with the coloring book.
Product summary: This is a fun coloring book for people who enjoy doing small simple tasks over a long period of time.
CONSUMABLE GIFTS FOR TODDLERS
17. 

DIAPERS
Diapers are the best consumable gifts for kids under five years of age who still wear diapers. They are used every day, continuously, for five years (and maybe more depending on how soon or late the baby is potty trained)
Product summary: Pampers are gentle and comfortable on the baby. They are made of natural ingredients and are hypoallergenic.
FREQUENTLY ASKED QUESTIONS
What do you get a dad that doesn't want anything?
There is always something you can get even for the man who claims he does not want anything. The trick is to pay attention to his hobbies, what does he like? What sports is he into? What kinds of shirts does he wear? And so on, the more you take time to notice these things about your dad, the easier it will become for you to find a gift for him – golf balls if he is into golfing, a polo shirt if that's the kind he wears or maybe a nicely aged bottle of whiskey. These articles will help you understand more about what to get a man who wants nothing and What to get a dad that has everything for Christmas.
What do you get a non-materialistic person?
If you are a person who finds value in material things, you may find it hard to shop for a gift for someone who doesn't hold materialistic things to the same value as you. Of course, you want to make them happy by getting them a gift they will appreciate and cherish, so how do you go about it? The most obvious thing you can do is ask them what they want – but that ruins the surprise which is the basis of gift-giving, isn't it? Well, here are a couple of things you can do or get for your non-materialistic friend or family member; book them a vacation somewhere they have always talked about wanting to go, spend some quality time with them on the special day/occasion, donate money to a charity they support in their name, get them a plant or pet, buy them a constellation star, get them a gift card for a spa day, and get them a subscription to their favorite streaming service. Check out this article for more ideas on non-materialistic gifts.
CONCLUSION
When getting someone a consumable item for a gift, you have to consider their age and how often they are going to use the item you are about to get for them. These 17 gifts listed above are some of the consumables you can get for your loved ones, we hope they will inspire you for the next time you are thinking about what to get your minimalistic cousin, mother, or family friend.
ESTIMATED TIME DESIGNING AND UPLOADING THIS ARTICLE
ESTIMATED TIME RESEARCHING AND WRITING THIS ARTICLE
Try our AMAZING GIFT FINDER TOOL! Find GIFTS with 1 CLICK!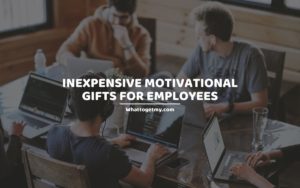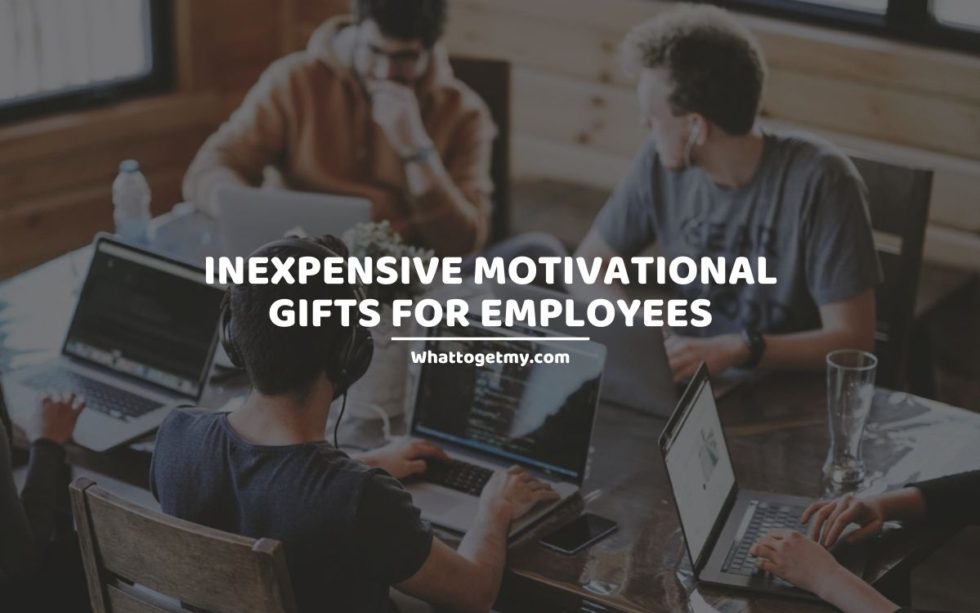 21 Inexpensive Motivational Gifts For Employees
Motivational gifts are a good way to keep your workforce motivated and more productive. This will ensure that they give only their best to the growth of your business. There are three tips for giving such motivational gifts and you will find them in this
Read More »