Finding gifts for older people can be quite tasking especially if there is a generational gap between the buyer and the intended giftee. This is because old people have been set in their ways, they know what they like, what they don't like, what they would consider trying, and what they would never ever bother trying.
Getting them  gifts needs to be a delicate balance between things that they like, things that they will find useful, and in some cases, things that do not outrightly say "you are old, use this!" (because let's face it, what lady likes to be told she is old?) It is important to also incorporate humor in your gifts (because laughter is the best medicine, right?) but only if you are sure she will not take offense to the intended light-heartedness of the joke.
If you are looking for funny, witty, and useful 75th birthday gifts for a dear old woman in your life, you have come to the right place. This article will help you find a gift that best suits your 75-year-old lady for any occasion – whether it be a birthday, mother's day, valentine's day, or Christmas.
As an Amazon Associate we earn from qualifying purchases. We may earn a small commission for our endorsement, recommendation, testimonial and/or link to any products or services from this website. Thank you, your qualifying purchases help support our work in bringing you real daily gift ideas.
Quick Overview: Gifts for 75-year-old Woman
BIRTHDAY GIFTS FOR 75-YEAR-OLD WOMAN
1. 

YOU'RE ONLY OLD ONCE BY DR. SEUSS
This is one of the great gifts for a 75-year-old woman with a witty sense of humor.
Product Summary: This is a light-hearted book that makes fun of the troubles of getting old.
2. 

BIRTH MONTH FLOWER NECKLACE
This is a great gift idea for a 75-year-old woman's birthday especially if they love flowers. The necklace incorporates different types of flowers into the pendant that gives a beautiful finish to a beautiful piece.
Product Summary: The pendant on the necklace is shaped like a teardrop and decorated with real dried flowers. It has a 16-inch chain that can be adjusted according to preference and liking.
3. 

FUNNY COFFEE MUG
This coffee mug is an amazing gag gift for your old lady. Fill her day with laughter and light on her birthday.
Product Summary: This ceramic mug holds 15 ounces of liquid and is microwave and dishwasher safe.
4. 

GIFT BASKET
This vintage candy gift box is a good gift for a woman's 75th birthday because it contains all the candies that she liked growing up. It is a great nostalgic gift that will melt her heart with its sweetness.
Product Summary: The perfect gift for women turning 75 that has a 60-day money-back guarantee should the customer be unsatisfied with their purchase.
5. 

BIRTHDAY CARD
What is a birthday without a birthday card? Show your 75-year-old woman that you care for her by getting her a birthday card with sweet poems and messages written on them.
Product Summary: This birthday card is customizable which makes it the best gift because you can make it say whatever you want for your loved one.
6. 

PERSONALIZED GLASS PLAQUE
This is such a genius gift idea for a woman turning 75 because you can personalize it with anything she loves; her favorite song, a picture of her in her youth, or an academic accomplishment certification. Anything that will make her smile.
Product Summary: This plaque is made from an acrylic material which makes it long-lasting because it is not prone to breaking, unlike glass.
75TH BIRTHDAY GIFTS FOR MOM
7. 

SCENTED CANDLES
This beautiful candle set makes for an amazing gift. Its essential oils will make any room smell delicious. The candles also have aromatherapy benefits which can lead to the relaxation of the mind and body since aromatherapy has throughout history been considered a natural way of healing people's minds and enhancing people's moods. Scents such as lavender and vanilla are considered soothing and have calming abilities. Scented candles for someone with depression are a great way to stimulate their senses and also amazing aides for meditation. Alternatively, you can also get them essential oils and an oil diffuser for the same effect.
Product Summary: These candles made from Soy burn for longer and are infused with different essential oils to deliver a relaxing and refreshing scent to your atmosphere.
8. 

PERSONALIZED FAMILY TREE CANVAS
This is an awesome gift for a 75-year-old woman because it shows off the family tree. This can be a great reminder to her of all the people in her life – past and present – who love(d) and cherish(ed) her and make her see a generation she created and a legacy that thrives because of her.
Product Summary: This canvas is customized to fit any type of family structure you might want. It uses uv-resistant colors that are saturated and can last up to 100 years, making it not only unique but also durable.
75TH BIRTHDAY GIFTS FOR GRANDMA
9. 

WEIGHTED BLANKET
This soft and comfortable blanket is a perfect 75th birthday gift for her because it is known to improve sleep quality and since older people often struggle with getting enough sleep, this blanket would be ideal to improve their sleep. It has heat settings that can be turned up or down depending on individual preference.
Product Summary: This heated blanket is warm and snuggly and has up to 10 dial heat settings so that you can set it for your comfort.
10. 

FOOT MASSAGER
This heated foot massager is a great gift for mother's day especially if your mother-in-law has arthritis or is an elderly woman. It helps with muscle relaxation through heat therapy.
Product Summary: This foot massager has settings for kneading and squeezing that can be adjusted according to preference
11. 

GENERATIONAL PHOTO FRAMED
This is a great gift to give to your 75-year-old grandma especially if you are a woman, too. You can include photos of your grandmother, your mother, and you (and sisters if you have any) – 3 generations of women in your family.
Product Summary: This picture frame is made from silver metal and has a velvet back and can hold a 4 by 6-inch picture.
TRADITIONAL GIFTS FOR 75TH BIRTHDAY
12. 

PERSONALIZED NECKLACE
Every woman deserves a necklace that is unique to her and defines who she is. This pendant will have that effect on your old woman especially if she is fond of nature and likes plants and flowers.
Product Summary: This personalized necklace is uniquely and beautifully handmade with dried flowers that best define and characterize your old woman.
13. 

BIRTHDAY CAKE
They say the cake makes the party, and they are not wrong. Indulge your old woman's sweet tooth and get her this delicious fruit cake from DeLuxe.
Product Summary: This fruit cake is made with cherries, raisins, and pure honey.
FREQUENTLY ASKED QUESTIONS
1. What is the traditional gift for a 75th birthday?
The traditional gift for a 75th birthday is anything platinum; rings, necklaces, bracelets, belts, high heel shoes, etc. If they make it in platinum, it can be gifted to a 75-year-old. Remember to give them gifts that they will like and most likely use as opposed to gifts you think they need such as the latest trending fashion because chances are at their age, they already know what works for them, and what they like in clothes and accessories.
2. What should I get my grandma for her 75th birthday?
As with anyone else, get your grandma gifts that are meaningful and useful to her. Pay attention to what she loves, the songs she listens to, her wardrobe, the places she likes to go to, her home and decor style. All of this will help you determine the best gift for your grandma. If you still find yourself struggling with what to get her especially because you are not in close proximity to know her daily routine or even her house setup, then look at our list of gifts for grandparents who live far away for inspiration on what to get her for her birthday that she will appreciate.
3. What is a good gift for elderly women?
A good gift for an elderly woman is one that she will find useful, has sentiment, will cheer her up and make her happy, or can help her easily navigate her day-to-day life. Get them things like comforters and blankets, walks if they have difficulty with mobility, and foot massagers or heaters just to mention a few. This article is a great start for gifting the elderly although you should also check out this article on gifts for someone with osteoarthritis – a disease that often affects the elderly.
CONCLUSION
In conclusion, getting a gift for a 75-year-old woman – whatever the occasion – should be fun and easy to do. Look for things and items that inspire them, make them sentimental, or things that they can find useful and that can help them get around the house every day with minimal assistance.
ESTIMATED TIME DESIGNING AND UPLOADING THIS ARTICLE
ESTIMATED TIME RESEARCHING AND WRITING THIS ARTICLE
Try our AMAZING GIFT FINDER TOOL! Find GIFTS with 1 CLICK!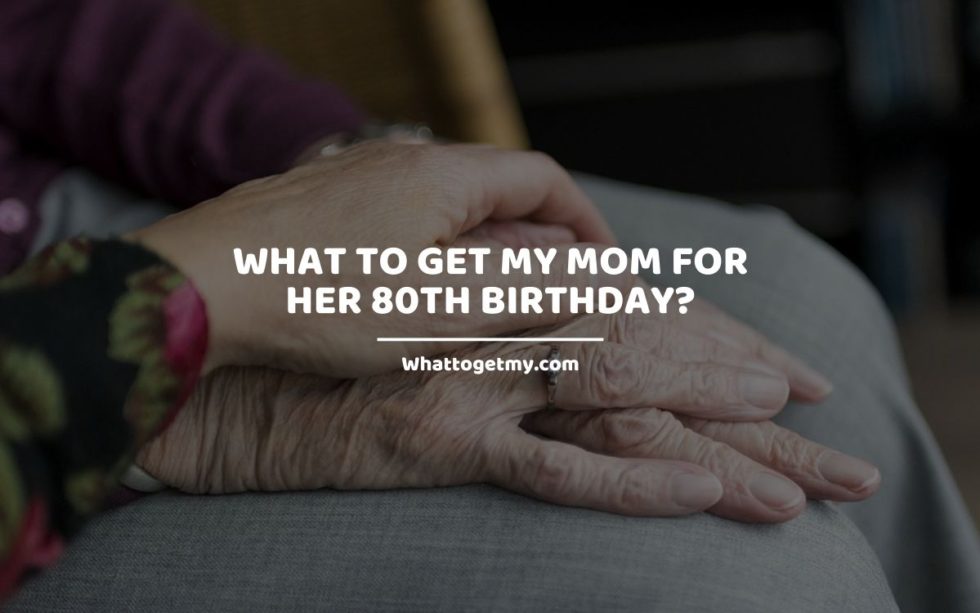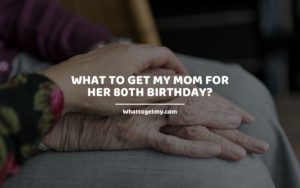 What to Get My Mom for Her 80th Birthday?
What to get my mom for her 80th birthday is not an easy question because there are so many good ideas out there! We've made a selection of 9 great gifts, so you can pick the one she'll absolutely love. Remember that the 80th birthday
Read More »