Are you looking for a way to have some fun with your boyfriend? The first thing that comes to mind is to search through some cheesy gifts for your boyfriend.  The gift that you choose would need to be so good that it will have him rolling on the floor with laughter.
The reason for this is that you may feel you need to lift your boyfriend's spirits or that it is just time to put a little playfulness back into your relationship. So then why choose a cheesy gift? Why not choose a couple of cute gifts for your boyfriend or gifts that are romantic or some that are cute sentimental gift ideas for boyfriend and then just have a fun outing together?
Well when you think about what kind of boyfriend gifts are classified as cheesy, then you think that these types of gifts are usually cheap gifts that have no purpose at all other than to be used as a gag gift to play a joke on someone, to embarrass them or to make them laugh really hard.
But there are other types of gifts that can be cheesy romantic gifts which are usually both cheesy and romantic. They are also usually cheap gifts or are handmade that are considered boring by other people but might have a sentimental meaning to the both of you.
Why would you waste money on a cheap gift for your boyfriend?
Well, everyday life is so busy and so serious that sometimes it is necessary and important in many relationships to take a break from their everyday life and have a little fun together.
Why is it important you may ask?
When a couple is playful with each other and makes the time to have a little fun together by laughing and joking around. They are strengthening the bond that they have with each other and most of the time they don't even realize it.
Being playfulness in a relationship is important for two reasons:
It helps them to build a stronger, healthy, happy, and long-lasting relationship

It helps to build some amazing memories of all the good times that they have together
What would the purpose be of giving your boyfriend a cheesy or gag gift?
Many people find that a gift that is a cheesy gift has only one purpose and that is to have a little fun for just that one moment. The very moment the intended person opens their gift so that they can see the look on their faces. Making the purchase of that particular gift worth it.
Although that may be true, there are other things that a cheesy or corny gift for him accomplishes. Some of them are:
It shows that you genuinely care about the person

It sends a clear message that you know them very well, enough to tease them just a little about their usually annoying habits or shortcomings.

It reminds them of other forgotten adventures that the two of you shared where something funny might have taken place.

It reminds them that there is a special bond between the two of you that you got to know each other better.

A cheesy gift can give a strong message that you plan on continuing the relationship for a long time to come because if you weren't, you would not make the effort or waste money to have a little fun.
How to find great cheesy boyfriend gifts
Before you come up with cheesy gift ideas for your boyfriend, you need to think first of the reasons for wanting to give him the gift in the first place. Here are some things that you could consider:
➦ Does he have a sense of humor?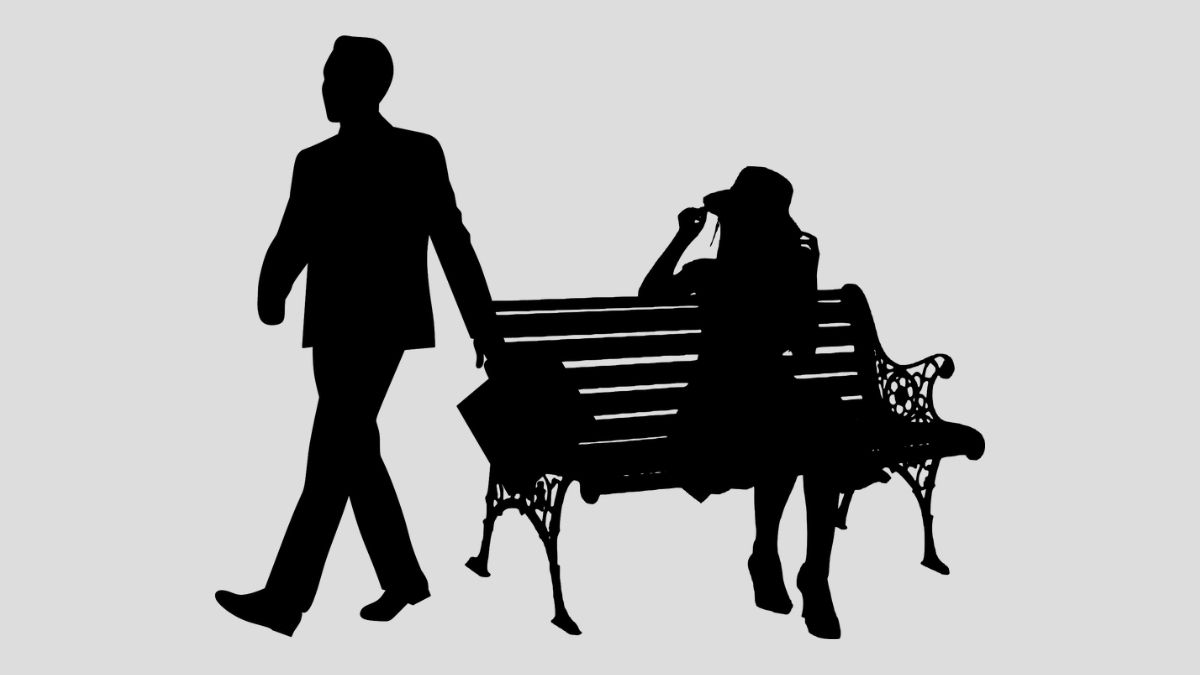 If your boyfriend does not have a sense of humor then the cheesy gift you choose for him might not be received well on his part. He might then consider the gift as an insult. In order for your gifts to be appropriate, he needs to be the type of person who enjoys hilarious jokes, practical leg-pulling, and making other people laugh or being laughed at by others
➦ Is the cheesy gift the right gift for him
To choose the right gift, it has to hold a special message that is intended only for your boyfriend. It could be something that reminds him of a humorous incident that has occurred in his life or a private joke that the two of you share.
➦ Consider how he will react to the gift
Once you have a gift in mind and just before you purchase it, take a moment to think about how he will react to the gift. If you think that he might be upset and angry by the gift, then it is not a good idea to purchase it. It would then be a better idea to go for more meaningful gifts for him or for something that is more useful to him like a multi-tool.
➦ Choose a cheesy gift according to his personality
For you to find the best cheesy gift that will suit your boyfriend perfectly, think about his likes, interests, hobbies, and even some of his shortcomings. For example, if he struggles to shave his neckline or beard in a straight line, you could think of a gift that could assist him.
If he is an avid golfer, you could maybe get him a funny ball sack or if he loves to fish, then fish sandals will do the job. Another option is, if you and your boyfriend love to play adult games with some friends that are hilarious, then the perfect gift would be what do you meme game?
If you are maybe looking for cheesy romantic gifts, this could be a gift that you could make yourself at home for your boyfriend. It really doesn't matter what you make for him as long as it is something from the heart which will make him happy. Some examples could:
Create a cardboard message for him by only using the words from chocolate wrappers.

You can make him an origami love note that is shaped in a heart. You can then write a cute romantic or funny

cheesy love quotes

or a message inside the note

Purchase a mason jar and decorate it with your boyfriend's favorite colors with the words of something like 20, 30, 50 things I like about you or love about you. You can then either write each thing on a note and put it in the jar or you can use his favorite candy and write a message on each individual one for a very thoughtful gift.
As an Amazon Associate we earn from qualifying purchases. We may earn a small commission for our endorsement, recommendation, testimonial and/or link to any products or services from this website. Thank you, your qualifying purchases help support our work in bringing you real daily gift ideas.
Quick Overview: Cheesy gifts for boyfriend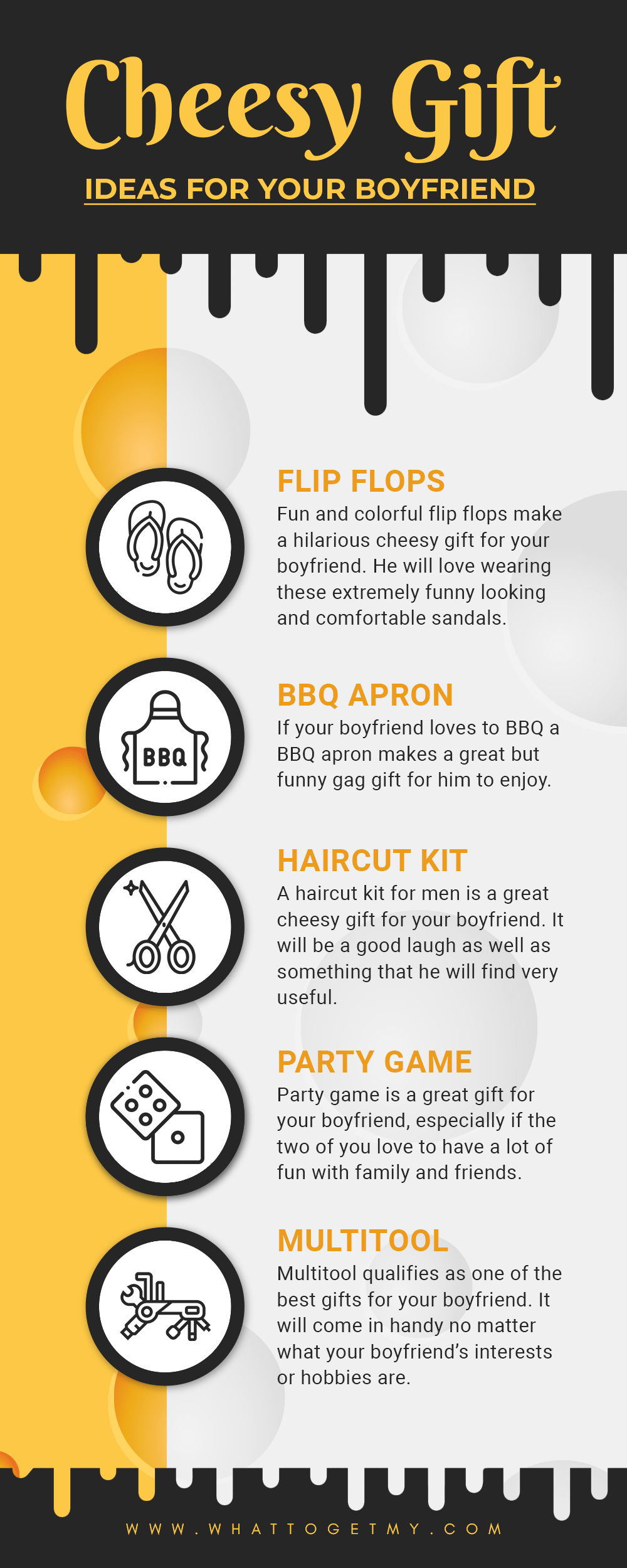 Source Link: https://whattogetmy.com/cheesy-gifts-for-your-boyfriend-funny/
⓵ Creative Fish Slippers
This fun and colorful beach bass flip flops make a hilarious cheesy gift for your boyfriend. He will love wearing these extremely funny looking and comfortable sandals in and around water, with a sole that is slip-resistant. And if he happens to be an avid fisherman these will definitely be a great hit.
Customers that have purchased these fun fish slippers are extremely satisfied with them as they find them to fit comfortably with great colors and are a good laugh.
⓶ BigMouth Inc The Grill Sergeant BBQ Apron
If your boyfriend loves to BBQ, this grill sergeant apron makes a very cool but funny gag gift for him to enjoy. It is equipped with multiple pockets for everything that he could possibly need while he is grilling. Who knows he may even become the best BBQ griller in town.
Customers who have bought this grill sergeant BBQ apron love it and find it to be perfect for a man who loves to grill and is a lot of fun. It helps to keep everything that he needs to be organized.
⓷ Revo Haircut Kit
This grooming kit for men is a great cheesy gift for your boyfriend. It will be a good laugh as well as something that he will find very useful. He can finally have the help that he may need to get that hairline or beard line straight without having to visit the barber.
Customers that have purchased this Revo haircut kit are amazed at how easy it makes it for them to shave or trim their beard and hairline correctly. This kit helps make them look good and saves on barber costs.
⓸ WHAT DO YOU MEME? Party Game
This hilarious game is a great gift for your boyfriend, especially if the two of you love to have a lot of fun with family and friends. It is a party game for adults that will have all of you rolling on the floor with laughter while each player is trying to be creative and funny.
Customers that have purchased this what do you Meme? Find it is a great party game that can provide hours of fun and laughter with adult friends and family.
⓹ MySack Golf Ball Storage
This makes the perfect gift for your boyfriend if he has a great sense of humor and is a golfer all in one. This unique and funny gift is the perfect way to carry extra balls with him as it attaches securely to his golf bag and is sure to have everyone who sees it laughing
Majority of the customers that have purchased this Golf Ball Storage Sack find it to be the perfect gag gift for the golf lover in their life that gets everyone talking on the golf course.
A non-cheesy gift idea that is useful
If your boyfriend is not the type of person who enjoys jokes played on him and you are looking for a gift that is small but is one of the best gifts that you could give him. Then this would be it.
⓺ Gerber Suspension Multi-Plier
This Gerber suspension multiplier qualifies as one of the best gifts for your boyfriend. It is made to last and is lightweight, tough, and reliable. This multi-tool will come in handy no matter what your boyfriend's interests or hobbies are, as it has a tool that will be perfect for almost any job.
Those customers that have already purchased the Gerber suspension multiplier have found it to be a very useful tool to have handy at all times. They are impressed with high quality, the number of tools available, and say that it is their favorite multi-tool.
Frequently asked questions
1. What time is it most suitable to give a cheesy gift to your boyfriend?
In order to make your gift even more cheesy it is most suitable to give it to your boyfriend randomly, when he is expecting it the least.
2. Is it appropriate to give the gift in a cheesy way like surprising him in public or around his friends?
You should make sure you choose an appropriate setting, if you know your boyfriend's friends and know that he would like it if you do it around them, then go for it. It will make the gift giving way as memorable as the gift itself.
Conclusion
When looking for cheesy gifts for your boyfriend, you need to consider first how you think he will react to the gift that you have chosen. Does he have a sense of humor? And if he does try to choose a gift that suits his personality, interests, and hobbies perfectly. You can even choose a gift that will suit a past humorous incident that has occurred in his life or a private joke that the two of you share with each other.
ESTIMATED TIME DESIGNING AND UPLOADING THIS ARTICLE
ESTIMATED TIME RESEARCHING AND WRITING THIS ARTICLE
Try our AMAZING GIFT FINDER TOOL! Find GIFTS with 1 CLICK!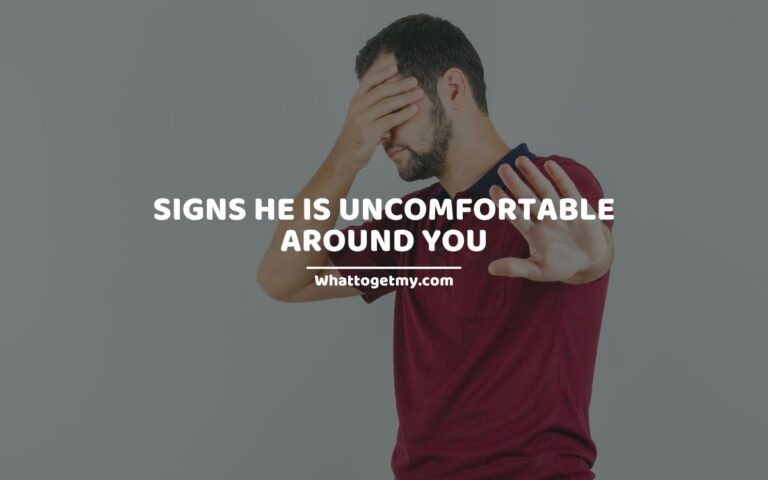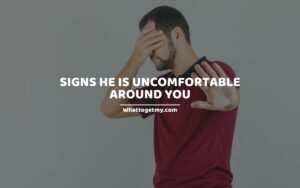 11 Signs He Is Uncomfortable Around You
11 Signs He Is Uncomfortable Around You WhatToGetMy Instructional Article When it comes to what makes a man uncomfortable around a woman, there are 4 top reasons to the question of "why is he so nervous around me?" Why not read on to find out
Read More »