So, your boss is leaving and you don't know what to get her as a gift. We get it, it's sometimes hard to pick appropriate gift ideas for a female boss. We don't know them personally, so we have to opt for universal things. Yet, if you are fond of a person, you don't want it to be too impersonal. She needs to know that you didn't just stop by the store and picked the first thing that you found. You have to think it through and get something meaningful, especially for the farewell. Luckily for you, we have done thorough research to help you with the task. After hours of research, we made a list of 9 amazing gifts that every female boss will adore!
As an Amazon Associate we earn from qualifying purchases. We may earn a small commission for our endorsement, recommendation, testimonial and/or link to any products or services from this website. Thank you, your qualifying purchases help support our work in bringing you real daily gift ideas.
Quick Overview: Farewell Gifts For Female Boss
Our Gift To You:
Find out how to download This

Free printable farewell card

for your boss
 at the end of this article.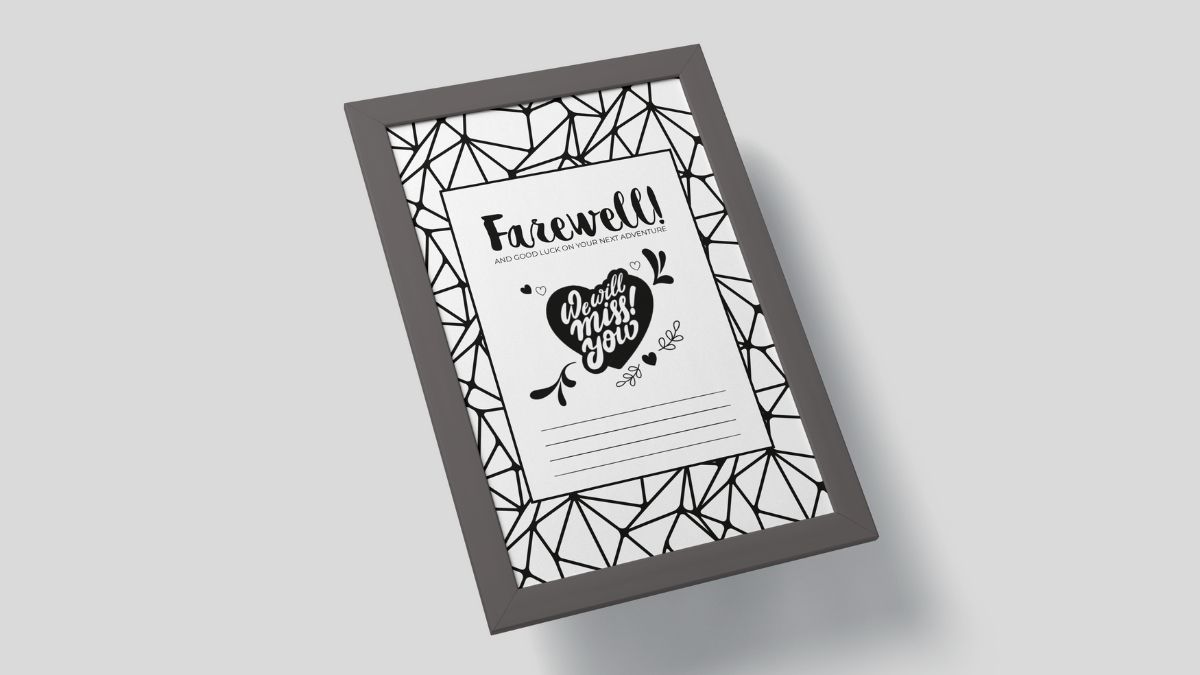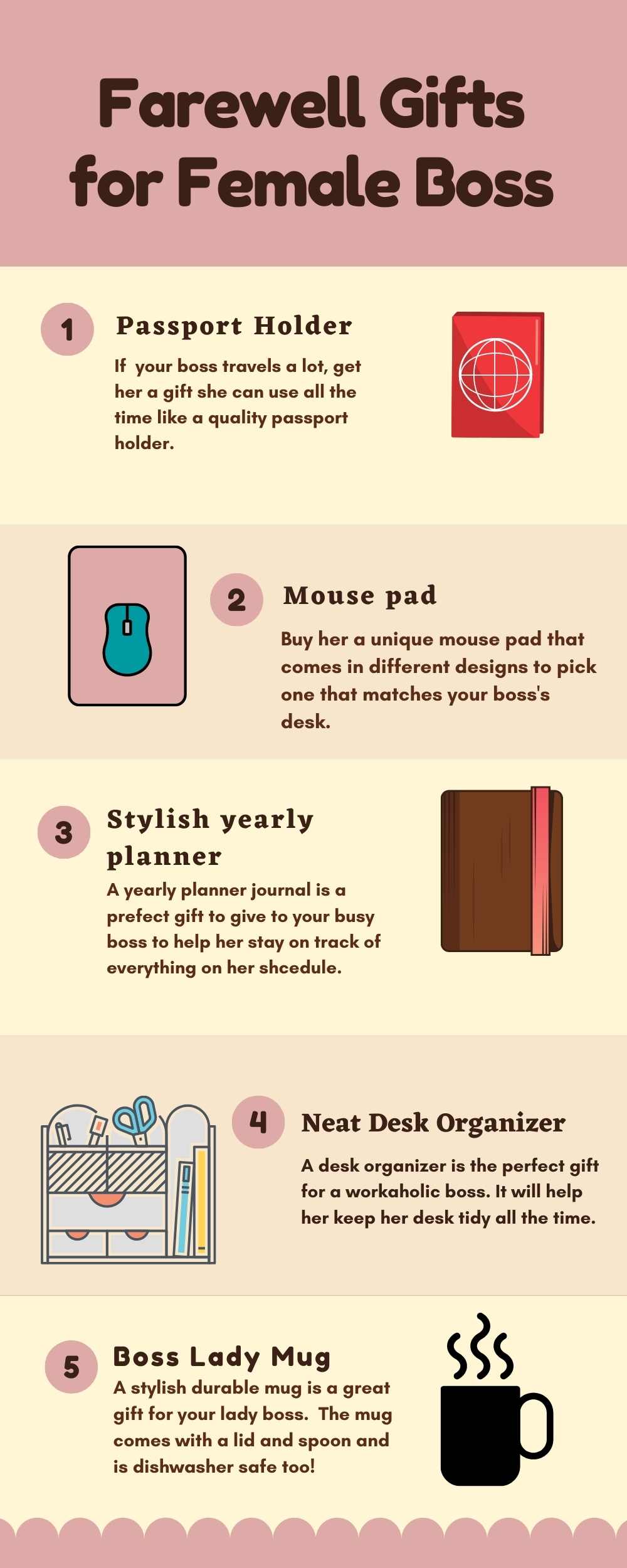 Source Link: https://whattogetmy.com/farewell-gifts-for-female-boss/
WALNEW Passport Holder
If your boss is always on the road, getting her a passport holder is an excellent choice. We recommend one of the most popular and best-rated cases on the market, coming from Walnew. The case is made of high-quality leather. It's compact and easily fits in pockets and purses. The interior has several slots for cards as well as a pen slot. It opens up smoothly yet doesn't feel flimsy. There's a convenient magnetic buckle on the side of the case, allowing you to secure the items stored inside.
This passport holder is super convenient for traveling. It keeps the passport and other cards protected when on the road, not to mention how stylish it turns out to be. It makes a great addition to every style! For more similar ideas, look up into our article about Unique Gifts for Someone Who Likes to Travel.
Oriday Mouse Pad for Home and Office
You can't go wrong with getting a mouse pad for your boss! It's a simple yet convenient gift, and she'll love it. Of course, we are not talking about just any kind of mouse pad. Here we have a classy one that comes in 11 different designs. You can pick the one that perfectly matches the style of your boss. All of these mousepads are made of high-quality rubber, and they have sleek surfaces for easy cleaning. Thanks to the ergonomic design, they are also very comfortable even during extended use.
One of these amazing mouse pads will make your boss super happy! They are colorful, classy, and bring more joy into daily tasks. Additionally, they are ergonomically designed for more comfort when working on the computer.
Bloom Daily Planners Hardcover Year Planner
Even if your boss has a planner already, you should consider getting her one. Particularly a stylish year planner like this one! We had to include it on the list, as it is one of the most popular planners on the market, and it does look amazing making it a classy gift for female boss. The best thing about it is that it gives a lot of free space for writing. You don't only get to write plans daily or monthly, but to write about your year goals and record other notes that cross your mind. We also liked the sturdy covers with metal reinforced edges. They make the planner more durable and easier to use.
With hardcovers and reinforced edges, this planner is built to last. It looks truly amazing and makes a perfect gift! With it, you get to write down all your plans, notes, inspirational quotes, and much more. It's just a must-have for every busy person!
Eccolo World Traveler Inspiring Art Desk Stand
So you need a gift for a female boss who has everything? Worry not, we have a perfect one in mind! Eccolo World Traveler offers an amazing desk stand with inspirational quotes. It has a wooden base and holds the cards that come in 12 colors and with the same number of quotes. They also have a nice touch of gold on the letters. One can change them at will, according to the mood and occasion. Your boss will enjoy swiping between these inspirational quotes during long working hours!
Eccolo Desk Stand is truly inspiring! With 12 different quotes, it offers inspiration at any time and any daily task. The cards are wonderfully designed, and they match every interior style. We highly recommend this little essential as a gift for everyone, not only your female boss! For more similar inspirations, don't skip to check out our article about Unique Office Desk Gifts For Her.
Zen Garden Handmade Kit
Searching for gifts for the professional woman can be challenging, but don't make it more difficult than it already is! You don't have to buy something super special, but witty and smart. For example, Zen Garden Handmade Kit is just the perfect little thing.
The kit is designed to relieve stress and anxiety, which means it's perfect for workaholics. It promotes relaxation and makes daily tasks bearable. The black container is compact and matches every home or office style. It comes with sand, stones, and mini rake, which means you only need to wrap the item in some fine paper and deliver it as a gift!
People all over the market are thrilled with this little item! It's super useful and fun, especially for those who are spending a lot of time in the office. The kit is relaxing and enjoyable. As we already mentioned, it is a perfect gift for those who already have everything.
Mirstan Large Size Desk Mouse Mat
If you want to get unique gifts for a boss, you should probably go with the mouse pad. Yes, we already included a mouse pad on the list, but we just couldn't overlook this amazing item. The Mirstan pad is made of high-quality material. It's soft and smooth and allows for easy operation. It also ensures comfort during extended use. The best thing about it is the size! The pad is super large, allowing you to put on the keyboard, mouse, and other stuff. It even has a phone stand and a pocket for notes and other little items. How great is that? Oh, and the surface is waterproof as well, so you don't have to worry about spills and leaks. Your boss will love it!
This waterproof desk pad is ideal for home and office use. It has a phone stand, a pocket for notes, and it protects any paper you put underneath it. We highly recommend it as a gift for coworkers and bosses!
PAG Desk Organizer Set
One of the best gifts for female boss leaving the company is an organizer set! Workaholics could always use some more organizers and planners to make their lives easier. We think that the PAG desk organizer set is one of the best you can find at the moment.
The set includes a hanging file organizer, a file tray, a letter sorter, a pencil holder, and a sticky note holder. It has everything you need for organizing a home or office desk! It's also available in three colors, so you can get the one that complements the interior. All pieces are made of sturdy metal, and they prove to be quite durable. They are also resistant to corrosion.
The PAG desk organizer set is perfect for home and office use. It's stylish, available in three different colors, and keeps things organized. With 5 different organizing items, it'll keep all your books, letters, notes, and other essentials in their place.
Jumway Boss Lady Mug
When it comes to farewell gifts for female boss, we recommend getting this beautiful mug! If you want your boss to know that she was a special and valuable member of the team, a meaningful gift is a must. Besides, if she already has a lot of other things, she could use a mug for future office or home use – and she gets to show off with a fancy headline! 
The Boss Lady mug is astonishing! It comes in a marvelous pinkish color, with a touch of gold over the letters. What we like even more is that the package includes some extras. You'll find a cup lid, a spoon, and a greeting card! The mug has a large capacity (14 ounces), and it's dishwasher safe. You won't have any issues with the maintenance, nor will the mug break easily. It's quite sturdy and durable!
Pro Tip: If you need some extra help with that included greeting card, you can follow our article about Things to Write in a Boss Day Card.
Giving the Boss Lady mug is closer to personalized gifts for female boss. The mug is stylish, sturdy, and durable. The witty headline and colorful design are hard to beat. It's perfect for bosses who have to work late and need extra coffee to boost their energy! For more ideas like this, look up into our article Gifts for The Impossible Women.
BALORAY Lunch Bag
Last but not least, we have a lunch bag to recommend! It's one of those compact bags you can use for various purposes. We think it's ideal for work and traveling. It's compact and lightweight yet has a large capacity. It can hold a lot of food, different snacks, and drinks. The bag features an aluminum foil (BPA free) and interior insulation. It keeps food and drinks warm or cold up to 4 hours. All in all, it's quite convenient, and you can't go wrong with giving it as a gift!
We highly recommend this lunch bag for everyone, not only for bosses! It's portable, has a large capacity, and looks classy. The stored food and drinks will stay fresh, tasty, and ready for lunch!
Frequently asked questions
1. Can you give these gifts to a boss any time of the year?
Yees these gifts are appropriate to give to your female boss anytime of the year, whether she is leaving or not.
2. Are these gifts appropriate to be given to a coworker?
These gifts are suitable for any working woman, like your spouse, sister, co-worker etc. The gifts can also be given from a boss to a female co-worker who is leaving (besides the mug cup).
Conclusion
If you scrolled down through our list of gifts, you are all set to pick the perfect one for your boss. Don't worry, these are the best-rated products on the market, and your boss will love each one of them. You can't go wrong regardless of which one you choose. Still, if it bothers you too much, you can try to remember what you have seen missing from her office. For example, if she doesn't have a coffee mug, get her Boss Lady one! We hope our detailed guide with 9 farewell gifts for female boss will help you decide on a perfect one.
Get This and So Many More Free Gifts on Our New Marketplace, Spark Resort!
ESTIMATED TIME DESIGNING AND UPLOADING THIS ARTICLE
ESTIMATED TIME RESEARCHING AND WRITING THIS ARTICLE
Try our AMAZING GIFT FINDER TOOL! Find GIFTS with 1 CLICK!