11 Friendly Games to Play with Your Grandma: 8 Other Fun Grandma Activities
WhatToGetMy Instructional Article
Have you ever been so excited about visiting grandma or grandma coming over for holiday and after you've met her, you don't know what else to do? You get a little anxious and begin to wish you had properly planned for activities that will help you guys to maximize your time together. If you are reading this, you certainly do not want a dull moment. In this article, you will find some exciting games to play with your grandma and other fun activities to do with her too.
This article has been subdivided into two; 1) happy games to play with your grandma, and 2) fun things to do with your grandma.
It might excite you to check a couple of other interesting game articles we've written;
Speaking of Grandmas, do you prefer that your grandma lived close to you or far from you? In a 2011 study, 43% of grandparents reported that they lived more than 200 miles away from their grandchildren. Source: Statista.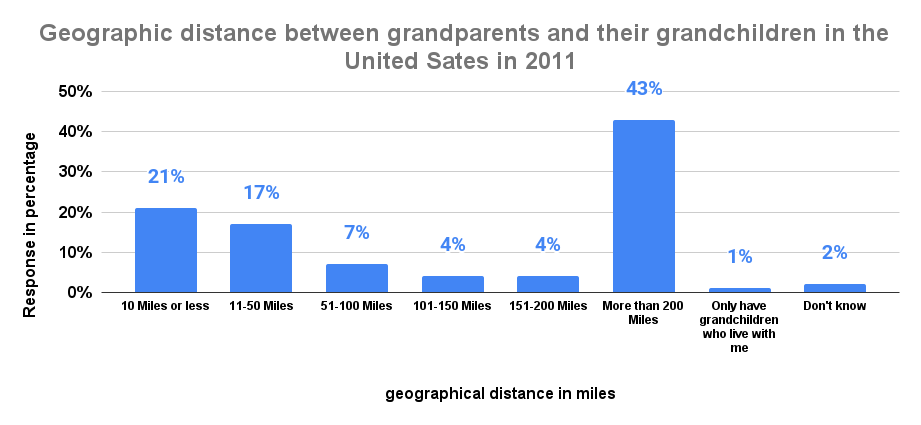 HAPPY GAMES TO PLAY WITH YOUR GRANDMA
1. KARAOKE / SINGING GAMES
Do you have a family that enjoys music? How about song games? Even if you guys do not know how to sing, Karaoke/ singing games can be fun for the family. Everyone will surely get a good dose of laughter playing games like Encore, Spontaneous, Carpool karaoke games, karaoke roulette, and don't forget the lyrics. They are engaging and informative. You will be surprised at what everyone has to offer. Some of these games require players to do a couple of other playful activities apart from singing, making everything lively/ super active. You could add monetary incentives or other forms of incentives in your games, it spices up things. Be sure to find many other karaoke games online/app. Grandma will be excited to sing some old-school songs.
2. JIGSAW PUZZLES
While you and grandma have a good bite at her homemade cookies and pies, jigsaw puzzles will keep you guys busy. We love jigsaw puzzles because they come in various counts or levels of difficulty to suit players' age and ability. Can you and grandma get through a 750+ jigsaw puzzle in a day? Test yourselves and see how far you go. There are a couple of cool jigsaw puzzles on amazon, like, dog gone funny, cricket hawk harbor, and wooden dragon jigsaw puzzles. The great thing about jigsaw puzzles is that they could be framed and used as home decors.
3. GIANT CONNECT 4/ FOUR IN A ROW
Let's say it's a grill weekend and the whole family is at grandma's place. You want to create an obstacle game for everyone to enjoy including grandma. We recommend that you add a giant connect four/ four in a row game as one of the obstacles. It is a great outdoor game that everyone can play together; it is easy to learn and super fun to play. Get everyone in teams including grandma, players should then take turns to fit their plastic coins into the connecting holes with the help of a timer and see which team can think fast on their feet. Check out this giant four in a row by Gosport. This will be a fun game for grandma.
4. BEAT THAT
Get everyone active with Beat that. This is a crazy family game to play with everyone including grandma. It requires players to perform ridiculous challenges like bouncing balls into cups in different ways, stacking up dice with the bottom of two cups, using a chopstick to knock over balls, standing up from the ground with a cup on your head, and more than 150+ other challenges. Players can work in teams or individually to complete each task. This game encourages teamwork, coordination, alertness, and self-confidence. This game is great for both children and adults.
5. RING TOSS GAME
Another obstacle game that grandma can play with her grandchildren is the ring toss game. This is a great indoor and outdoor game and can be played in many fun family events. It is perfect for a boring rainy, snowy day or a hot summer grill or chill day. Challenge yourselves and see who is a good thrower. You might like this ring toss game on amazon.
6. OVERCOOKED 2
If grandma can handle pc games, play overcooked 2 with her. This might easily become one of her favorite games. It is a fast-paced kitchen game that emphasizes teamwork and communication. It will be great to find out if you and your grandma can make magic happen in the kitchen. Overcooked 2 is a great bonding game for grandma and her grandchild.
7. CHECKERS
This board game is quite popular in many American homes. Our parents and grandparents grew up playing this game and would give you a run for your money. Does your granny know how to play the game of checkers? engage her and see her prowess. Speaking of the Checkers game, do you think it is a game of luck or chance? If you think it is a game of luck, a lot of people will disagree with you.
In a 2020 study by Statista, 77% of respondents believe that checkers is a game of skill rather than it is of luck.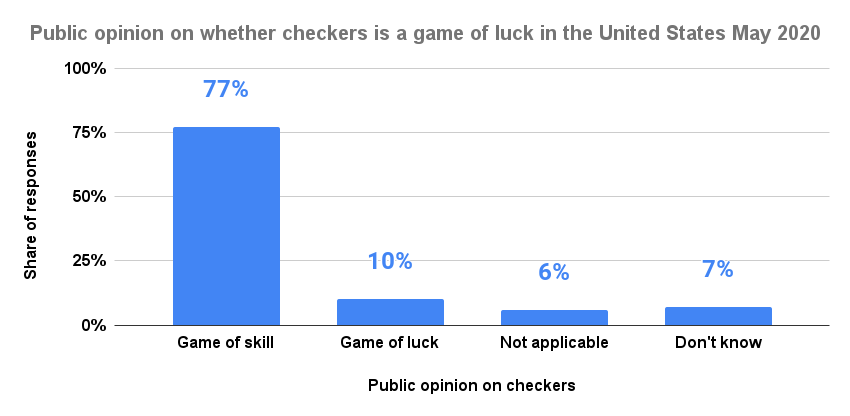 8. UNO
Take the game of UNO when visiting grandma. There is hardly a dull time with this classic card game. Uno game is easy to learn and fun to play. Apart from the general rules of the game, UNO can be played in many other ways and this makes it addictive. UNO is great to add to your list of "games to play with your grandma".
9. WORD TEASERS (Jokes & Riddles)
This is another exciting card game you can play with grandma. Grandma's are usually good with riddles and therefore we think that you and grandma will love the jokes and riddle edition. Test yourselves and see how many riddles you get correctly. Word Teasers games are usually a great conversation starter.
10. FACEBOOK SCRABBLE
If your grandma is on Facebook, both of you can enjoy the game scrabble. Wouldn't it be fun to watch grandma beat you in the game of scrabble? Scrabble is a great way to keep grandma and yourself mentally alert, and updated with words. There is always a new word to learn on scrabble. Since this game does not require complicated movement, it will be pretty easy for grandma to get a hang of it.
11. CHARADES & WOULD YOU RATHER
Let's assume that you will be hanging out with your grandma via zoom and you are wondering what quick and fun game you two can enjoy, Charades and Would you rather are good games. You could personalize charades to make it more enjoyable for grandma. Would You Rather is a great way to learn about grandma. You could actually use the Would You Rather game to pick the perfect gift for grandma without her knowing.
FUN THINGS TO DO WITH GRANDMA
12. DRESS UP & FUN PHOTOSHOOT
Create fond memories with grandma through a fun photo shoot or even a video shoot. How about you and grandma do a dress-up, themed "down memory lane", where you guys mimic fashions of different decades or generations? You guys could also recreate a picture you took a while back or your favorite scene in a movie. The whole adventure will be fun and stressful and definitely worthwhile.
13. BAKING/ COOKING COMPETITION
One thing a lot of grannies love to do is to dish their favorite recipes and have their children and grandchildren enjoy them. Well, sometimes the younger generation feel like they can make a recipe better than their parents or grandparents do. A family cookout competition will settle this. Does granny enjoy cooking or baking? How about a family and friends cooking or baking competition where granny tags with some of her grandchildren against anyone that wants to challenge granny's recipe? This is such a fun way to bond with everyone because, at the end of the day, everyone will be helping each other to get their meal done. We will only recommend this competition if the entire family has a healthy relationship with each other.
14. RIDING TOGETHER
Have you ever seen a tricycle competition between a grandma and her grandchild? Hilarious. Grandchildren (young or old) have a way of making their grandma do things you would ordinarily think are beyond their limits. At the end of the day, they not only "ride together", but also have fun, stay active and create cherishable memories. It doesn't have to be a tricycle competition, but here are a couple of other riding together grandchildren can do with their grandma that will be worthwhile;
A remote toy car competition (for young grandchildren)

A car trip to another town or nowhere in particular with some old-time favorite songs

If you are good at skating, get grandma to take some good shots of you skating. Teamwork is part of "riding together"

Canoeing

Riding swings
15. GARDENING
If gardening is a big deal for grandma, join her as often as you can. Make some adjustments or upgrades to her garden. You could gift her garden with pretty stone figurines, bird feeders, attractive night lights, and garden chairs. If you are too young to afford any garden gifts, grandma will always appreciate an extra hand tending to her garden.
16. DIY's
There are many exciting DIY projects you and your grandma can do together. It could be, paint by number, jewelry making for adults or children, rhinestone painting, knitting, making a colorful throw blanket for everyone, and science projects. There are tons of ideas on amazon.
17. STORYTELLING/ READING TOGETHER
Storytelling is a great bonding activity for the family and usually, grandparents have lots of intriguing stories to tell. This activity can be done as a 'seat around the campfire' storytelling exercise where everyone will be given an opportunity to tell interesting stories they have either read or experienced.
18. MOVIE NIGHT
You could organize a movie night at home with grandma or go to the movies together. It is a good way to bond with grandma. It'll give both of you something to talk about even in the distant future. It is always a great idea to ask grandma about the genre of movies that interests her. You certainly don't want to be the only one watching a movie for the both of you.
19. CAMPING
Camping is a fun activity to do with grandparents. You get to learn one of two things from your old folks. The best part about camping with them is the smoked food you eat together, the amazing stories they share, and their overall warm gestures.
FREQUENTLY ASKED QUESTIONS
1. What are fun things to do with grandma?
There are many fun things you can do with your grandma, such as storytelling, fruit picking, gardening, fun photoshoot, cooking or baking together, doing DIY projects together, going to the movies, playing in the park, and getting ice cream afterward, competing against each other in card games, board games or video games, camping, strolling, going for a concert and many more. When planning for activities to do with grandma, it is important to consider her age and overall well-being. Please do not overstress grandma, be nice.
2. What can you play with grandma?
Play Checkers, UNO, chess, beat that, connect 4, overcooked 2, word teasers, jigsaw puzzles, and karaoke games. These are fun games that will keep grandma entertained.
3. What games can you do with grandparents on zoom?
You could play Charades, 20 question games, this or that, and would you rather. Check our article "Online games to play with students" for more ideas.
CONCLUSION
It is always a great idea to plan for activities before meeting your grandparents for holiday. It helps you maximize your time with them. If you will be spending time with grandma soon, in this article, we've provided you with a list of activities that will help you guys to avoid boredom or awkwardness and create long-lasting memories. If you are confused about the game to pick, jigsaw puzzles will save the day. There are lots of exciting jigsaw puzzles on amazon and we have referred you to a couple of them in this article. We hope that you find this idea very useful.
ESTIMATED TIME DESIGNING AND UPLOADING THIS ARTICLE
ESTIMATED TIME RESEARCHING AND WRITING THIS ARTICLE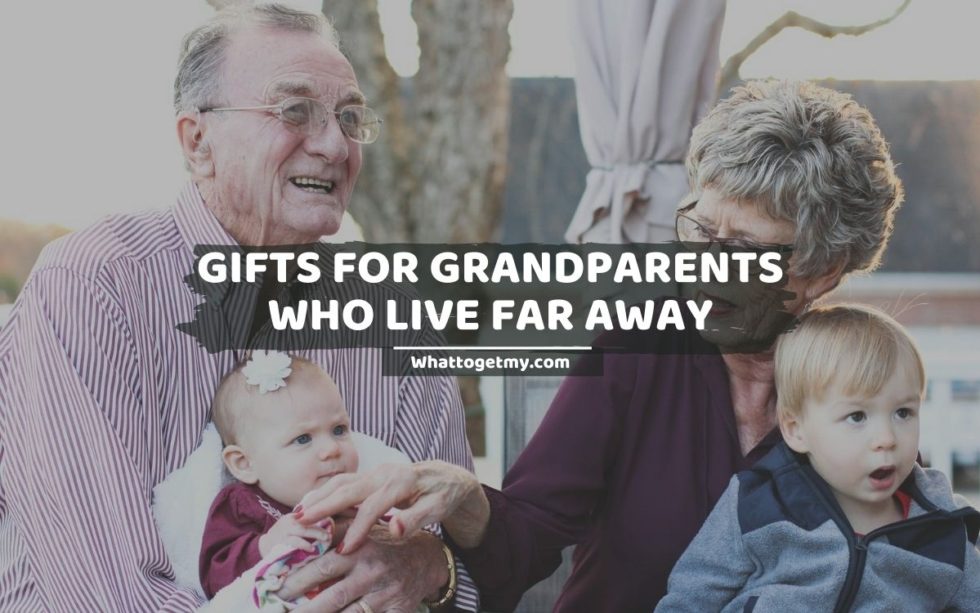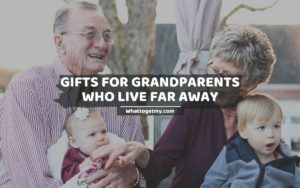 29 Gifts For Grandparents Who Live Far Away
We show you in this article what to buy your grandparents including gifts for grandparents who live far away and gifts for new grandparents. You will also find gifts for grandparents who have everything, last minute gifts for grandparents, tech gifts for grandparents, and a
Read More »