Are you looking for something cool, fun, unique or inspirational to give someone who got a new job? Do you wish to make a good impression on them? If yes, we've got you covered. We understand that choosing the right gift can be confusing and stressful sometimes, so we've picked out 20 great gift ideas you can choose from. 
TIPS TO CHOOSING A GOOD NEW JOB GIFT
A good start will be to know what their job is all about. Having an idea of what they do can help you identify work-related needs and relevant gifts that will suit those needs.

Apart from a work-related gift, giving them something that relates to their lifestyle, hobbies, passion and goals is also a great idea. It is a good way of telling them that you are attentive to general welfare.

We think that paying attention to their age bracket and physical attributes may be helpful too. Particularly when making decisions on design, colour and size.
Now we've gone through the helpful tips, let dive into our gift ideas
As an Amazon Associate we earn from qualifying purchases. We may earn a small commission for our endorsement, recommendation, testimonial and/or link to any products or services from this website. Thank you, your qualifying purchases help support our work in bringing you real daily gift ideas.
Quick Overview: Great Gifts For Someone Who Got a New Job
Source Link: https://whattogetmy.com/gift-for-someone-who-got-a-new-job/
1. Timex Weekender Watch
A quality watch that is stylish and has a good time reader is a good gift for someone starting a new job. We recommend that you get a Timex Weekender watch for him/her. This watch is water-resistant, lightweight, easy to read and comfortable on the wrist. It also comes with adjustable straps for better fitting.
Customers love the inbuilt chronograph, adjustable straps and the overall quality of the timer. The removable and adjustable straps makes it an accessory that can be worn with various outfits. In addition, the size and weight of this watch was considered perfect by a lot of customers. Over all, this watch has a lot of positive reviews and recommendations.
2. KSMA Brass-Tone Hourglass
We know that an hourglass is an old fashioned way of timing oneself but an antique lover will appreciate this gift on their reading table or new office space. It will make a good timer for short tasks and can help with measuring progress. What's more loveable about this Hourglass is that it is elegant, made of good quality and it has a classic feel. It will make a great deco too. It is an unconventional gift to give someone who got a new job don't you think?
Some of the reasons why this hourglass is loved are; its vintage look, sturdy build, design and affordability. A lot of customers were not too worried about the sand timer being a few minutes more or less than the proposed time by the manufacturers.
3. Sipworks Coffee Tumbler
It feels good to sip a perfectly brewed coffee or icey drink in something nice. This Sipworks coffee tumbler is just the perfect thermos tumbler to have. Its double-walled insulated feature can keep a drink as hot and as cold as needed. The tumbler is made with premium stainless steel that is resistant to rust and has a well-coated exterior that gives one a good grip. We recommend that you get them this beautifully crafted tumbler. They will love sipping their hot coffee or cold ice tea in it while on their way to work.
The product design, sturdiness, matured colour and outlook, thermostatic feature, content capacity and lastly, affordability are what most customers value about this product.
4. Anker 20100 Power Bank
There are many reasons a person should have a power bank. Imagine that you want to make a quick browse on your phone or tablet but your gadget dies on you when you urgently need it and there are no available power sources to charge your phone.What do you do at such odd times? We think a power bank is a good gift to get someone who got a new job. It comes in handy when it is needed the most. Get them a reliable power bank, get them an Anker Power Bank.
Pros.
Portable

It has two outputs that allows you to charge two seperate gadgets at a time

High charging speed

Multiple charging time. It can charge a Galaxy 8 phone upto 5 times
Cons.
The few customers that had issues with their powercore were attended to by the company's customer service and they are happy with the product.
Most customers that bought this power bank were impressed with its capacity to recharge their gadgets multiple times and also the durability of the product.
5. INSMY Portable Bluetooth Speaker
A portable bluetooth speaker allows us to share audio messages and music with other people in our social setting. It can be a good way of bonding with colleagues at work, friends at a social gathering and family at home. Listening to music out loud and dancing to it can be fun too. Having an alternative means to enjoy audio sounds without a headphone is good. We think this gadget is worth having and they will love it.
Customers are impressed with the sound quality of this little portable device. In addition, they love its quick bluetooth connectivity and battery life.
Congratulation Gift Ideas for Women/Men
6. Frye Melissa Satchel Leather Handbag
A good fashion statement on her first day of work will not be a bad idea and a Frye Melissa Handbag will help her do that. This classy bag is made with pure leather. It has an inner cotton lining, inner zip pocket and two sleeve pockets. It is spacious enough to contain a laptop. We know how important a quality handbag is to a lady and we think A Frye Melissa Handbag is a great congratulation gift
This bag has a lot of positive reviews for design, texture and leather quality.
7. Tony and Sandy Inspirational Bracelet
A gift that constantly reminds her of her inner strength is a gift worth giving. We think that it is a good idea to get her a gift that inspires, encourages and motivates her and a Tony and Sandy inspirational bracelet is just the right gift. This bracelet is beautiful on the wrist and blends well with whatever outfit they wear.
The beauty of this bracelet is what most customers love about it. They rate it high on sturdiness, comfort, packaging and giftability.
8. Candy Jar
A cute candy jar, filled with lots of goodies and wrapped properly in a gift box, can be a good office desk gift for her. We all crave for sweet things once in a while and a good supply of energy booster at work will not be a bad idea either. A good way to bond with colleagues do you think? We think she will love it!
This beautiful candy jar cost less than $20 and it can serve other decorative purposes.
The beauty and size of the jar is loved by reviewers.
9. MP3 Bluetooth Player
This cool touch screen MP3 player is a handy device that will supply her with good music while exercising or commuting to work. If she is a lover of music, she will appreciate having this cool gadget.
This product rates high on battery life, sound quality, touch screen and ease of usage. Other features such as bluetooth transmission and internal memory were loved by customers
10. Lovery Spa Gift Set
A good way to reinforce the feeling of excitement is by treating her to a luxurious home spa session. Let her deep their body in a warm bubble bath tub and pamper her skin with a luxurious range of well fragranced coconut skin care by Lovery Spa Gift Set. It is a great way of starting a new job. This spa set comes with 2 organic coconut soaps, a 200ml shower gel, bubble bath and body lotion, a body massage oil, unrefined shea butter, 6 bath bombs, an exfoliating scrubber, a plush towel and a wooden decor for storage.
Customers that have purchased this product love the content, fragrance and packaging of this product. Most customers were happy with their purchase.
11. Bulliant Leather Reversible Belt
A belt is an important accessory in a man's outfit and getting a quality belt is a good investment to his work outfit. Add to his style and comfort by giving him a Bulliant Leather belt as a new job gift. He will value getting a quality belt as a congratulation gift.
This belt is made with genuine leather and Zinc alloy buckle which is stretch resistant.
Male customers that have used this belt love the leather quality, easy adjustable buckle and comfortability. Since the belt is cut to size, there rarely any negative comments about its fitting. Customers also love that the belt is stylish too.
12. COWIN E8 Headphones
If he is a lover of music, a noise-cancelling headphone will be valuable to him. We recommend that you get him a COWIN E8 Headphone.  This headphone can work without an audio cable and it has a built-in microphone and bluetooth. This makes it compatible with any device that uses bluetooth and suitable for receiving calls.
Customers that have purchased this headphone rates it high in battery life, sound quality, noise cancellation, volume control, quality of material and bass control. They also love that it is stylish.
13. Cross Luxury Ballpoint Pen
We think that a Cross Luxury ballpoint pen is a stylish and unique gift that speaks of new and better beginnings. We think that he might attach a little sentiment to this lovely gift. You can check out other sentimental gifts you can give him.
This pen set was considered giftable by customers that have purchased it. They also love the beauty of this pen.
14. Bull Guard Trifold Leather Wallet
We know how important a wallet is to a guy and a good one like a Bull Guard Trifold leather wallet can add a touch of class to his new journey. He will love it. This wallet comes with an ID compartment, 6 credit card slots, a secret pocket and a divider money section.
Pros.
It is affordable

It is made with quality leather which makes it durable. 

It is uniquely handcrafted

Classy

It is not heavy

It has enough compartments for cash and card storage
Cons.
A reviewer complained about the stiffness of the wallet which is normal for a new leather wallet. It feels stiff at first but with time, it will soften
Reviewers that have used this wallet, rate it high on leather quality, craftsmanship, durability and style. They also consider this wallet fashionable, comfortable, lightweight and spacious. The wallet is seen as worthy of its price.
15. Wearpro Sunglasses
This budget friendly item is a good accessory to get for him. Everyone knows how important it is to have good sunglasses. Apart from its usefulness in protecting the eyes, this accessory can also make a fashion statement. Pick out a Wearpro Sunglasses for him, he will love it. Wearpro polarized UV protection glasses will shield his eyes from sun rays.
Customers love that sunglasses come in a good package, they have beautiful frames, stylish and comfortable to wear, affordable and good Uv protection.
First Job Gifts
16. Legend Planner
We think a good planner is a great first job gift. By getting them one, they can write down assigned tasks, daily activities, new ideas and goals. It will make it easier for them to track their progress. Get them a Legend Planner.
This planner  is sectioned in weeks and months to help with prioritizing activities. It comes with three colourful bookmarks that enable a person to flip through sections easily. It has a thick cover that is made of good leather to ensure longevity. It also comes with a pen holder, three sheets of motivational stickers and an elastic band.
Customers that have purchased this planner love how it is sectioned. They consider it helpful especially for beginners (people who are learning how to use a planner). A few customers preferred if the planner had dates but the date was purposely left out. Customers rate the planner high on design, durability, sturdiness and easy to use. They found it to be worth its price.
17. Atomic Habits
Atomic Habits by James Clear is a highly recommended book that provides insight into how good habits can be developed and managed to maximize positive outcomes. We think that this book will be a helpful tool in forming healthy work habits as a newbie and we recommend that you get it for them as a gift. A lot of reviewers found this book helpful particularly for its simplified guide to managing one's habit.
Pros.
This book comes in various forms of media. It has hardcopy, softcopy and an audio version.

The provided approaches to achieving good habits are practical

Cheat sheets and templates for planning and tracking personal habit are contained in the book
Cons.
May not be an impressive gift for someone who knows so much about self care or personal development or someone who isn't a fan of reading such genre of books.
This book is highly rated and recommended by most reviewers. What is loved most about this book is how practical the guide on managing habits is. The book is considered well sectioned, clear, helpful and useful. It has a lot of positive reviews.
18. Playable Art Ball
A person's first job can be viewed as stressful sometimes and a little distraction to ease the mind can be helpful in relieving stress. This Playable Art ball is a good office desk stress reliever. Manipulating the colourful balls can distract the mind a bit and give an overall soothing feeling. We think that you should get it for them, they will love it.
Customers that have bought this playable art ball love it and consider it creative, fun and a good distractor. They also love the soothing feeling that comes with manipulating the rainbow coloured balls. Although this art ball was considered a bit weighty, customers had no issues with it.
19. Padike Business Card Holder
Giving clients a well-kept business card can have a huge impact on one's personal and business brand. For many, it is the little things that count and having an organized outlook gives an impression that a person handles their business well. First impressions do count. It will be a great idea to add to their professional outlook by getting them a business card holder. This cute portable item can make a big difference in their new professional journey.
Padike Business card holder is made of leather and stainless steel. It comes in a wide range of colours.
This business card holder rates high on durability, light weight, quality of material and giftability. Customers also consider this card holder as stylish and worthy of its price.
20. Pairs of Socks
Few pairs of socks will make a lovely gift for a guy and we think you should get this Easton Marlowe Men's Dress socks. It comes in 6 pairs which means he will have enough to last him a full week of work days.
Although few customers had issues with their socks, most customers loved the quality of these socks.
FREQUENTLY ASKED QUESTION
What congratulation gift can I give my boyfriend?
In order to pick out the right congratulatory gift for your boyfriend, It is best to understand his personal needs, goal, passion, career path and hobbies. Apart from the new job gifts for men we have suggested in this article, here is another list of meaningful gifts for him. If he is in an IT related career, you may find this article helpful.
What new job gifts can I get him/her?
You can start by imagining what demands come with having a new job, some of the effect of those demands on their general welfare and what a person might love to have around in their work space to help them cope better. For example, a new job can be stressful sometimes therefore a desk toy or cool distracting games might be helpful new job gifts. Check out our article on gifts for stressed out boyfriend and office desk gifts for her.
CONCLUSION
Going the extra mile by getting a congratulatory gift is a good gesture on its own which will be well appreciated by him/her. But if you care about picking out the right gift, find out more about their new job, hobbies and passion. If you have an estimate of their age, that might be helpful too.
ESTIMATED TIME DESIGNING AND UPLOADING THIS ARTICLE
ESTIMATED TIME RESEARCHING AND WRITING THIS ARTICLE
Try our AMAZING GIFT FINDER TOOL! Find GIFTS with 1 CLICK!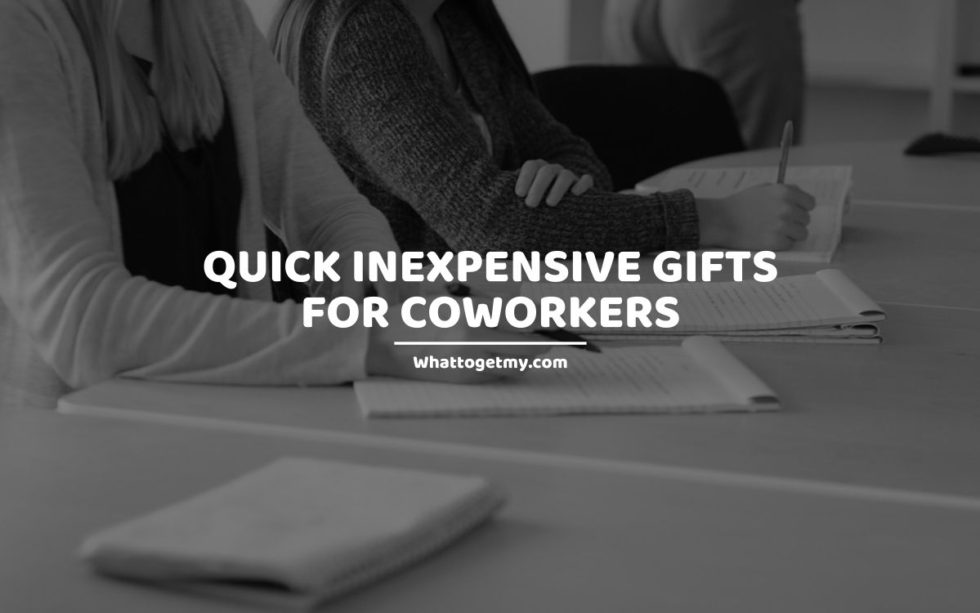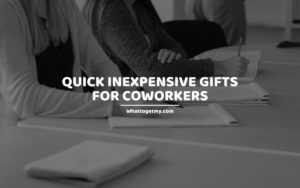 Quick Inexpensive Gifts for Coworkers
Picking out gifts for your coworkers can be a challenging and daunting task. So why do it? You spend the majority of your time at work and with your coworkers. Some you get along with and have become really good friends with while others you
Read More »