If you've ever had an injury that restricted your movement, you know how exhausting daily life can be. Even if you haven't experienced it, you can only imagine the difficulty of the situation. Normally, you want to help a loved one overcome that kind of injury. What's a better way to help than giving a thoughtful gift? You can get him/her something that will put a smile on his/her face or make his/her daily struggles a bit easier. Check out these gift ideas for someone with a broken leg and you'll surely find a perfect gift for your friend or relative.
Before you continue scrolling for broken leg gift ideas, we have some examples of thoughtful gestures you can do for your loved one:
Someone with an injury would greatly appreciate a home cooked meal. Check his/her dietary restrictions and make something delicious. You can even prepare a few meals he/she can put in the freezer.

It's hard to keep your house "under control" when you have a broken leg. You can tidy up now and then, but most chores require movement and heavy lifting. That's why offering help with the chores would be very much welcomed.

Recovering from an injury can be very lonely. You're spending most days by yourself because you're stuck in a house. Surprise your friend with random visits and spend some time together doing fun things like playing games, watching movies, etc.
As an Amazon Associate we earn from qualifying purchases. We may earn a small commission for our endorsement, recommendation, testimonial and/or link to any products or services from this website. Thank you, your qualifying purchases help support our work in bringing you real daily gift ideas.
Quick Overview: Gift Ideas for Someone with a Broken Leg
iWALK2.0 Hands-Free Knee Crutch
If you heard your friend complain about the inconvenience of traditional crutches, it's time you get him/her this revolutionary product. The hands-free crutches are an alternative way to help someone with below knee injuries. They are suitable for most people, but be sure to check the requirements to see if they would be a match for your friend.
Mobility without pain gives your friend a chance for independent functioning around the house and outside! He can climb the stairs, go for walks, and do most of the things he/she did before the injury. The height of the crutches can be easily adjusted. Straps come with comfortable pads, which keeps you pain-free and comfy.
The iWalk hands-free crutch provides mobility without pain and inconvenience. It's safe to use and you don't have to support yourself with your hands. Perfect for running errands, cooking, walking the dog, and other activities that require the movement of your hands as well as the legs!
Crutcheze Premium Crutch Pad and Hand Grip Covers
Let's face it, crutches without pads are one of the most uncomfortable medical accessories out there! Your friend has issues with the pain in the leg, so the best thing you can do for him is to provide comfort when using the crutches. Crutcheze premium pads will do exactly that!
These crutch pads will provide the best comfort and protection you can give your friend. They're made of high-density foam that is durable and can't be easily damaged. The material is anti-bacterial and machine washable, so the pads are easy to clean.
These breathable pads will keep your friend comfortable when using crutches. They can keep the skin dry, so they're convenient even in hot weather. Don't miss including these pads as a part of the broken leg care package!
Krutch Kaddy Crutch Accessory
A pouch you can attach to your crutches is a very handy accessory. The Krutch Kaddy provides a hands-free solution for keeping the essential items near you. This pouch is very durable and safe from tearing, so you can be sure your things are in a secured place.
The bag is easy to attach to the standard A-Frame crutches. The main compartment has a zipper that provides easy access along with the security of the items. A pouch might not be the essential part of the broken leg survival kit but it's a very convenient accessory that helps you keep your keys, cards, phone, and other essentials near you.
Keep the essential items near you, without worrying about their safety. Carry your possessions hands-free with the help of the Krutch Kaddy Pouch that can be attached to the crutches.
Adult Leg cast Protector for Shower
Showering with a cast on the leg can be a nightmare. No matter how you position yourself, the cast will surely get wet! That's why a protector for the cast is one of the best gifts for an injured friend. The shower protector is designed to keep your bandage dry and your wound safe from water. It has an elastic soft opening that allows you to easily put it on and off without pain.
This model will cover your leg from toe to thigh but there are also below the knee protectors from the same manufacturer. The protector is very durable because it's made of surgical rubber that can't be easily torn. The baggy design of the protector provides comfort and flexibility, so your friend can use it with ease.
A waterproof leg cast protector can be a lifesaver! It will allow you to shower in peace without worries about your cast getting wet and damaged.
Dr. Maya Adjustable Bath and Shower Chair with Back
Showers can be very exhausting when you have a leg injury. A sturdy and secure shower chair might be the thing you need to make showering as easy as possible. This shower bench is stable and will not wobble when you move because it has anti-slip rubber feet on each leg. It can hold up to 300 pounds of weight, so you can be sure it won't break under pressure.
Dr. Maya's shower chair is made from materials resistant to corrosion and rust. You can easily set it up and adjust the desired height in a few minutes. It is specially designed to fit small bathtubs and it even has removable handles and back support. We're sure it would be a perfect fit for your friend.
A comfortable and stable chair will immensely help your friend to shower without worries about his/her injury. Dr. Maya's bath chair is designed to provide you maximum security. It's also very easy to set up and adjust to your needs, so don't hesitate to try it out.
Milliard Foam Leg Elevator Cushion with Washable Cover
When you have a broken leg you're always tense. You need to keep the leg elevated but that's usually uncomfortable. Milliard has designed a foam cushion that can help you find an optimal healing position for your leg.
This foam cushion made from polyurethane provides soft but firm support of the leg. It can gently hold the leg in an elevated position, so it can properly heal. It even has a removable velour cover you can wash to keep your pillow fresh and clean. The key to fast recovery is the immobilization of the leg and Milliard foam cushion provides the best way for that.
Keep your injured leg secured with Millard's foam cushion. You would get firm support for your injured leg so that the healing process can be faster. It's the most comfortable way for recovery!
2-Pack of Cast Socks
If you were thinking about care package ideas for a broken leg, you probably thought of including candies, magazines, and other things that can easily pass the time. Those are wonderful ideas but don't forget to include items that can help with comfort too. For example, cast socks are a perfect way to make wearing a cast more comfortable.
Impresa's socks keep your toes warm and safe. They are made of sturdy fleece but they have a very soft velvet interior. These socks are very stretchy and can let your feet breathe. You'll get two pairs in a set, so you can periodically wash them. Don't hesitate to include these socks in your care package, you won't regret it!
Socks might be the most typical gift, but these are not just any socks! Impresa's socks defining purpose is keeping your toes warm and comfortable when wearing a leg cast.
Alcohol Markers for Adults, Teens – AspireColor
If you still don't know what to get someone with a broken leg, why don't you opt for something creative like a colorful set of markers? Help your friend customize his/her cast with style! Markers are a great addition to any broken leg care package.
This set of AspireColor alcohol markers provides a lot of color options. The markers are very durable which means they won't dry easily. With two tips (one bold and the other thin) you'll get a lot of creative choices for drawing, coloring, etc.
This set contains 80 vibrant color options plus a fineliner pen and colorless blender. This will allow an artistic release during the stressful time of recovery. After the cast is gone your friend can continue to use these durable markers for a long period.
Frequently asked questions
How do you make a person with an injury feel better?
In most cases, your presence can cheer up the person with an injury. You can cook something nice, or bake cookies, offer to do house chores, do fun activities together, etc.
What do you send as a get-well wish?
You can use some of the classic get-well wishes or you can personalize your gift card a bit. These sentences can be very encouraging:
Wishing you more strength with each coming day.

Have the speediest of recoveries!

Thinking of you and wishing you a speedy recovery.

I'm sending healthy vibes in your direction.
How do you make a care package?
Think of the things that can cheer up your friend and put them all together. Be sure to also include something helpful in the package. If you need more ideas, check out awesome DIY videos like this one:
Conclusion
We hope that these gift ideas for someone with a broken leg can help you decide how to help your friend in the most efficient way. Recovery from an injury can be very difficult, but if you get him helpful accessories he/she might have an easier time.
It's great that you want to be there for him/her because most people like to have company during tough times. However, if your friend mentions he/she would appreciate being alone for a while, you should give him/her some space. You can always show your love and support by sending a good gift basket.
ESTIMATED TIME DESIGNING AND UPLOADING THIS ARTICLE
ESTIMATED TIME RESEARCHING AND WRITING THIS ARTICLE
Try our AMAZING GIFT FINDER TOOL! Find GIFTS with 1 CLICK!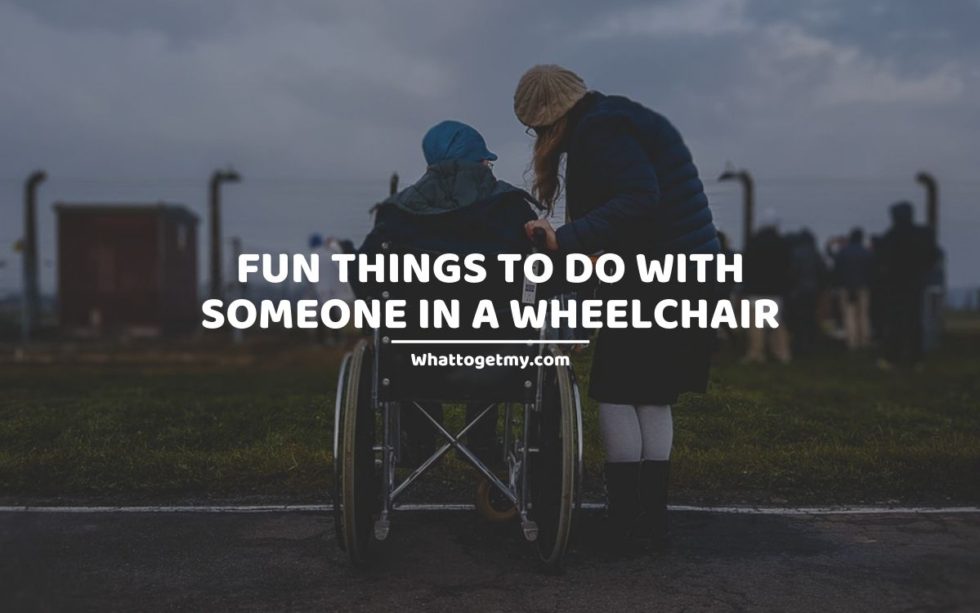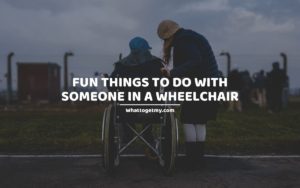 20 Fun Things to Do With Someone in a Wheelchair
Fun Things to Do With Someone in a Wheelchair WhatToGetMy Instructional Article There are many different reasons and factors that put people in wheelchairs. Whenever you are planning activities with wheelchair bound people, consider the mobility of the activity and the availability of the person.
Read More »