Summer camp is about to or has just ended. You have had such an amazing time and have learned so much. You have made many new friends with some of your peers as well as some of the camp counselors. Although, they are not that much older than you are.
You feel that the right thing to do is to find gifts for the camp counselors. These camp counselor gifts need to say thank you for all that they have done during the entire summer.
Camp counselors do not only ensure that you have a fun time at camp but also make sure that you are safe and comfortable while you are there. Before they arrive at camp they go through pre-camp training. There they learn the rules of the camp and how to be a great camp counselor. But more importantly, they are also monitored and tested to see if they have the necessary skills and if they know how to work with the different types of kids.
Skills such as:
They must actually like kids and not just be able to tolerate them

They show signs that they will be a good role model for kids by being kind and generous.

 

They have leadership skills

They have a lot of patience when trying to deal with difficult children or children who are struggling to complete difficult tasks and activities

They have good communication skills, they are able to communicate with children with different personalities and from different age groups

They have excellent problem-solving skills which help them to resolve conflict

Enough Stamina to keep them going each and every day for the duration of the camp

The ability to be fair and not show any favoritism towards any of the children

To be able to treat each child with respect no matter what happens
Then when your camp counselors arrive at the camp, their job is to organize different types of activities, help kids overcome different obstacles, and comfort them if they have trouble fitting in or are homesick. That is not all that they do, some other things that they do are:
To teach and guide a wide range of different outdoor activities, like, hiking, swimming, boating, etc.

Ensure the safety of all campers and monitor all their different activities

Securely set up recreation equipment and then ensure that they are properly stored when done

Supervise campers during their mealtimes

Instruct all campers on their daily routines as well as in cleanup duties

Work with each camper on a one-on-one basis

Organize and give instructions for the different projects for campers like the arts and crafts, dramatics, etc.

They may even perform different administrative tasks like filing paperwork and keeping a record when needed
But for you being at summer camp is more than a way to pass the time during the summer holidays while having a lot of fun. You get to learn new important skills, some life lessons as well as build lifelong friendships.
Some of the things that you may have learned or skills that you have gained
Taking part in different activities that you wouldn't usually take part in

Develop other interests, like dance, singing, archery, or a love for a certain sport

What volunteering for community service is all about and how to take part

Physical activities and different types of water sports

How to work together as a team by communicating with each other during activities and sports

Thinking of solutions and solving problems

Being independent by keeping to the camp's schedule and looking after yourself and belongings.

Building your self-esteem and having confidence in yourself and your abilities

Learning to be creative with arts and crafts

Exploring the different aspects of nature while on a hike

Survival skills 
Here are some of the activities that you may have taken part in which depends on the type of summer camp that you chose to attend. They are:
High Ropes
Rock Wall climbing
Tree climbing
Zip Lining
Tubing
Kayaking or canoeing
Paddle Boarding
Swimming
Raft Building
Woodworking of different types
Painting of different types
Making friendship bracelets
Pottery and Ceramics
Singing
Dancing
Soccer
Basketball
Volleyball
Archery
Crossbows
Paintball
Laser Tag
Trail Hiking
Astronomy Lessons
Night Hikes
Cooking and baking lessons
Robotics
Running
Obstacle Courses
Scavenger Hunts
Tug of war
Building shelters and fires
During all this, your camp counselors were with you every step of the way, they were ready to assist you, guide you, and cheer you on. So you are looking for ways to let them know how much you appreciate them by finding the best gifts for camp counselors. You have maybe even become good friends with some of them and maybe looking for cute things to send in the mail to friends
Although a simple thank you will do, to you it does not feel like it is enough. So our suggestion is to first decide on the type of gift you would like to give your camp counselor, for example, are you looking for:
Something that would be useful to them

Something for them to treasure all the amazing memories that you had

Something that they would like

Something that is simple but very thoughtful, or

Something that you have made yourself
As an Amazon Associate we earn from qualifying purchases. We may earn a small commission for our endorsement, recommendation, testimonial and/or link to any products or services from this website. Thank you, your qualifying purchases help support our work in bringing you real daily gift ideas.
Quick Overview: Gifts for camp counselors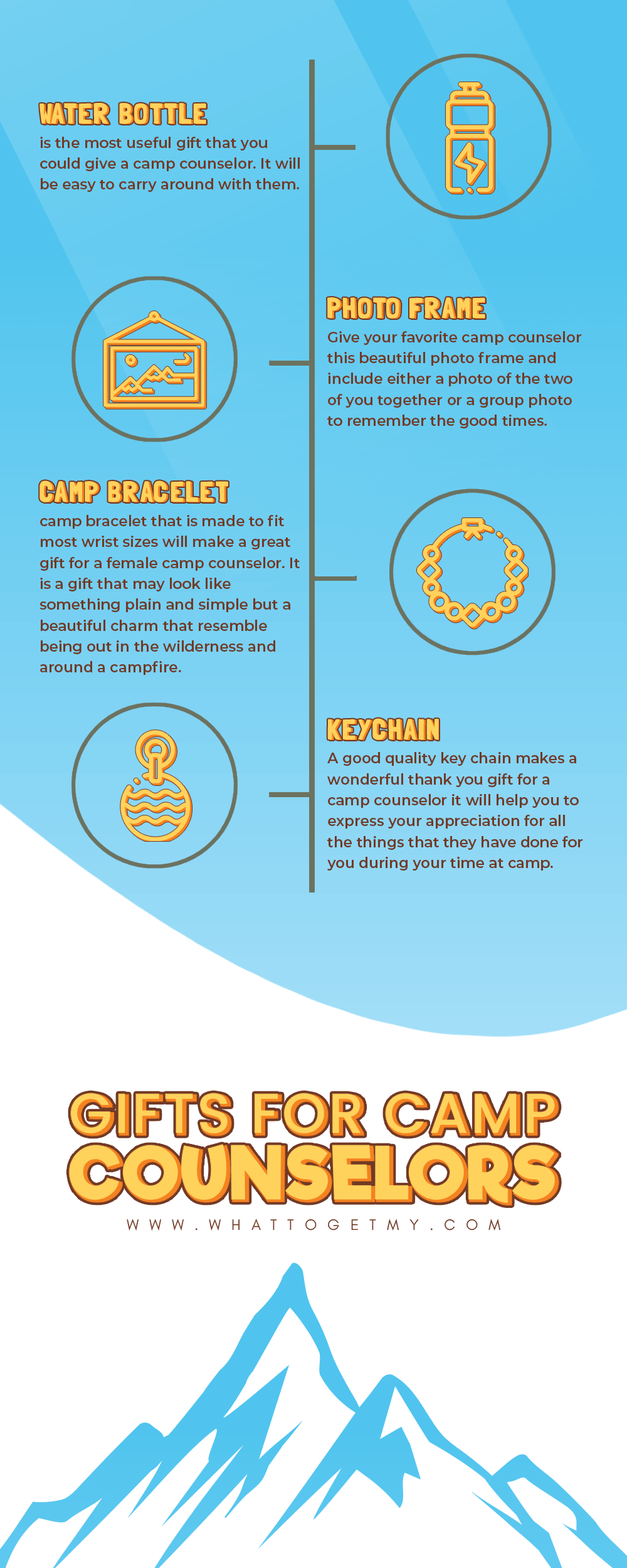 Source Link: https://whattogetmy.com/gifts-for-camp-counselors/
Something that would be useful to them
Hydro Flask Water Bottle
This Hydro Flask Water Bottle is one of the camp counselors must-haves and is the most useful gift that you could give a camp counselor. It comes with a convenient strap on the cap making it easy to carry around with them. With its wide mouth, they will be able to easily fill it up with ice which will keep their water cold all day even while they are outdoors in the scorching sun.
The majority of customers that have purchased this Hydro Flask love it. They use it on a daily basis and carrying it everywhere they go. It is also a great addition to a camp counselor survival kit. They have not been disappointed yet as it keeps their drinks cold or hot for hours.
Something for them to treasure all the amazing memories that you had
Memories are Made While Camping Photo Frame
Give your favorite camp counselor this beautiful photo frame and include either a photo of the two of you together or a group photo. Every time they look at the photo they will always remember the good and maybe the not such good times that you all had while at camp.
Those customers that have already purchased this "Memories are Made While Camping Photo Frame" found that the photo frame is more beautiful in person. It is a perfect thank you gift idea for camp counselors because it is a way for them to hold onto the memories that you built together while at camp.
Infinity Collection Camp Bracelet
This adjustable camp bracelet that is made to fit most wrist sizes will make a great gift for a female camp counselor. It is a gift that may look like something plain and simple but it comes with four beautiful charms that resemble being out in the wilderness and around a campfire.
The majority of the customers that have purchased this Infinity Collection Camp Bracelet are happy with the quality of the bracelet and are thrilled with how cute it looks on their arm.
Keychain Thank You Gifts for Guidance and Inspiration
Whether your camp counselors are female or male, this good quality key chain makes a wonderful thank you gift for them. It is engraved with the perfect and most beautiful words. These words will help you to express your appreciation for all the things that they have done for you during your time at camp. You can also decide to have it personalized with your camp counselor's name and your name on the backside to make it a truly special gift.
Customers that have purchased this keychain are pleased with the good quality of it. It seems to be a great gift idea for camp counselors because it has the perfect message on it that shows your appreciation to them.
Something that they would like
Gourmet Nut Gift Baskets
Everybody loves something delicious to snack on, no matter where you are. This nut gift basket will make a wonderful healthy gift for any camp counselor for them to either enjoy alone or to share with other counselors. With a variety of flavors for them to choose, there is a flavor for everyone from roasted and slightly salted to smoky or sweet and all are incredibly crunchy.
Many of the customers that have purchased this Gourmet Nut Gift Baskets thought that all the nuts inside were fresh and very delicious.
Something that is simple but very thoughtful
Thank You Cards
There is nothing more valuable and thoughtful than a handwritten thank you message. You can show your camp counselor gratitude for all their hard work, support, and guidance that they have given you during the many weeks at camp with these thank you cards. They are good quality cards that are beautifully designed that are blank inside for you to write a special thank you message. If you have more than one camp counselor to thank, this set is perfect as there are 120 cards, envelopes, and thank you stickers for you to use.
Customers who have purchased these Thank You Cards are extremely impressed with the quality of the cards. They are professional looking, thick, and do not smudge or bleed through when you write your special thank you message in them.
Something that you have made yourself
If you are looking for non-food thank you gifts you could use your newly learned creativity to create and make your camp counselor something truly special. This type of gift will be a gift that is meaningful and comes from your heart that they will cherish. Some ideas are:
Handmade Thank You Cards

Friendship bracelets

A photo display board

A beautiful bookmark
Frequently asked questions
Are these gifts suitable for both genders?
Yes, all of these gifts can be given to a male or female counselor.
Is it better to give a camp counselor a DIY gift or buy their gift?
It depends on your relationship with your counselor and also on their taste. If they prefer personal gifts things from their students then you can definitely surprise them with a DIY gift.
Conclusion
These gifts for camp counselors are a wonderful way of showing your appreciation for that they have done for you during the many weeks while at camp. They show them that you are grateful for their support, guidance, and even friendship.
ESTIMATED TIME DESIGNING AND UPLOADING THIS ARTICLE
ESTIMATED TIME RESEARCHING AND WRITING THIS ARTICLE
Try our AMAZING GIFT FINDER TOOL! Find GIFTS with 1 CLICK!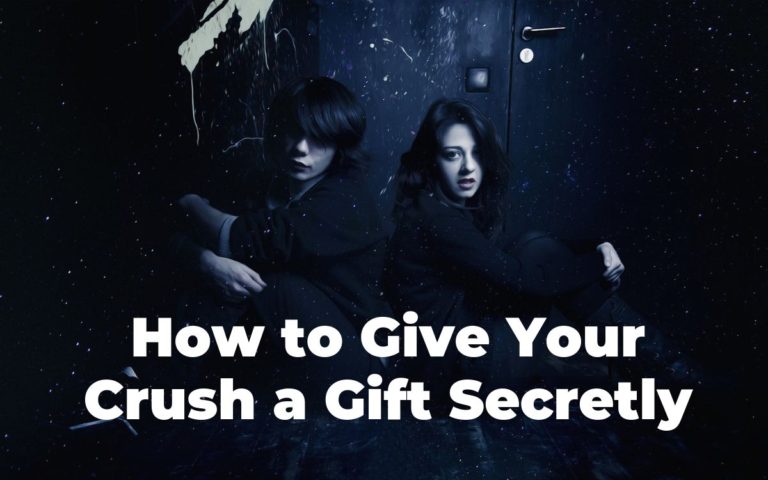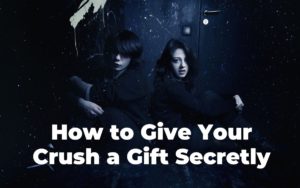 How to give your crush a gift secretly
How to Give Your Crush a Gift Secretly WhatToGetMy Instructional Article You have a CRUSH on someone, it is so exciting but scary at the same time. You want to let this person know how you feel. But it is a little intimidating to just
Read More »