You probably have or know a hockey goalie that is a beginner to the game and position and you want to find some great gifts for hockey goalies that will help excite them and contribute to them becoming the best hockey goalie that they can be.
Being the goalie is hard work and it is one of the most challenging positions in hockey as well as the most important positions in the game. The goalie is responsible for blocking shots on the goal and in many ways they are the leader of the team's defence.
It does not matter whether they are an ice hockey goalie, a field hockey goalie or a street hockey goalie. Safety should be the first and most important thing on their minds before they even enter the goalposts, and they need to make sure that they have the right, essential and good quality gear for their position.
As a hockey goalie, they will face all types of different shots from other players and some can be very dangerous if they do not have the right gear. The 3 most important pieces of protective gear are the chest protector, neck guard, and the helmet as these will protect their vital organs and keep them from getting seriously injured.
Some essential protective gear is:
Sports undergarment

Knee protectors

Leg pads

Neck guard

Goalie chest and arm protector

Hockey goalie mask

Hockey Helmet

Blocker Glove

Catcher Glove

Kickers and boots (field hockey)

Hockey goalie skates (Ice hockey)

Hockey pants

Hockey jersey

The correct Goalie Hockey Stick
Once they have the right gear, the next step for a beginner hockey goalie is to train themselves to feel comfortable wearing the gear because the very first time when they put on the gear they can feel very awkward and clumsy. The best way for them to become comfortable wearing the gear is to wear it as much as they possibly can on and off the ice or field.
By practising to blocking shots with their hockey sticks, their kickers or boots and with their blocker glove, they will get the feel of it and start to feel comfortable wearing them and playing with them on.
To be a good hockey goalie means a lot of hard work in training and in mental preparation which means learning to be mentally tough as a goalie. There are going to be goals made because a hockey goalie is not going to be able to stop each and every ball or puck.
To be mentally tough a hockey goalie needs to find the right way to handle a goal and the best way is, to forget about it and move on. If they don't they will lose confidence and become a lot less effective and another one is going to get by them, making them feel even worse than they did with the first one.
The best gifts for hockey goalies, especially beginners are gifts that will help them get into a great physical condition which will help them focus better, their brain will work faster and more efficiently giving them quicker reflexes to be able to block most shots that come their way.
During the hockey season, they will train with their coach but on their offseason or when they are away from the field or off the ice, some ideas to help them to continue their training could be items like, a folding hockey goal set to practice with, agility training ladder, stick-handling training aid or you can give them an inspirational book that could help them overcome different emotional and mental obstacles.
If you are looking for a great field hockey machine to help them practice reacting to shots by improving their footwork and stick work to increase their rate of blocking and stopping the ball. The JUGS Field Hockey machine is the perfect hockey goalie gift because it is a device that a goalie can use in their off time on their own that will send balls at them to practice preventing goals.
Below are a few carefully picked list of hockey goalie gifts that we have put togehter along with a short review of each gift.
As an Amazon Associate we earn from qualifying purchases. We may earn a small commission for our endorsement, recommendation, testimonial and/or link to any products or services from this website. Thank you, your qualifying purchases help support our work in bringing you real daily gift ideas.
Our Gift To You:
Find out how to download This 
Free Printable Card
For Hockey Goalies at the End of This Article
.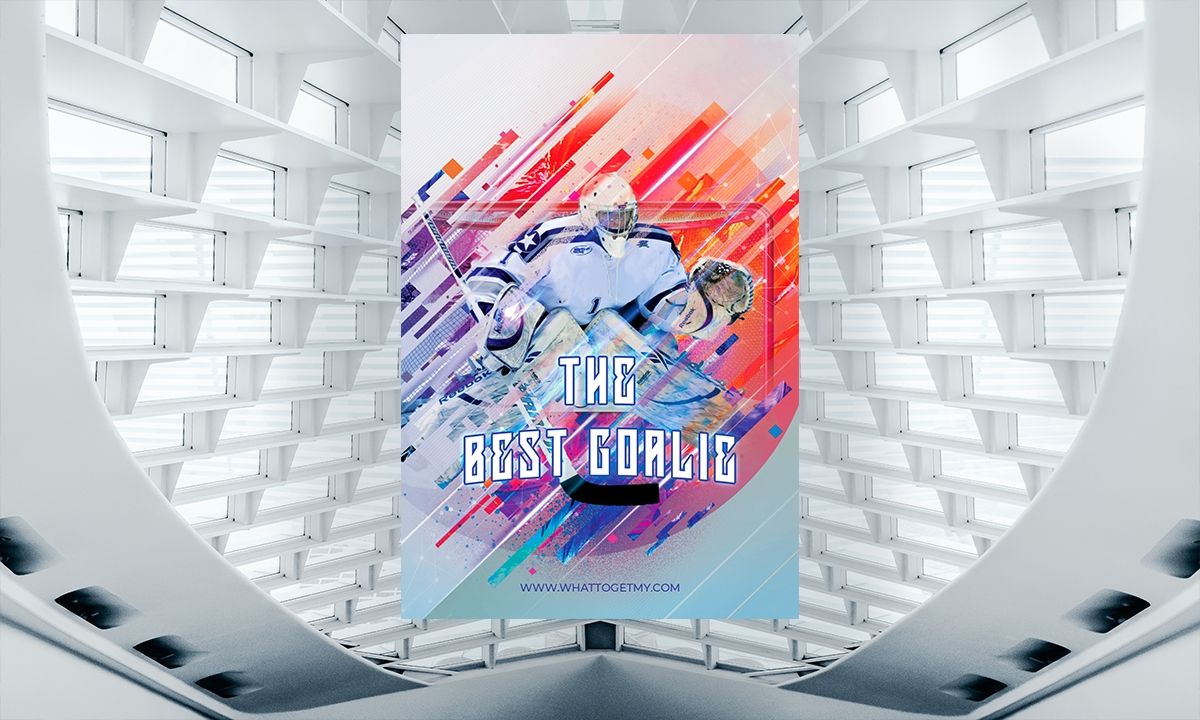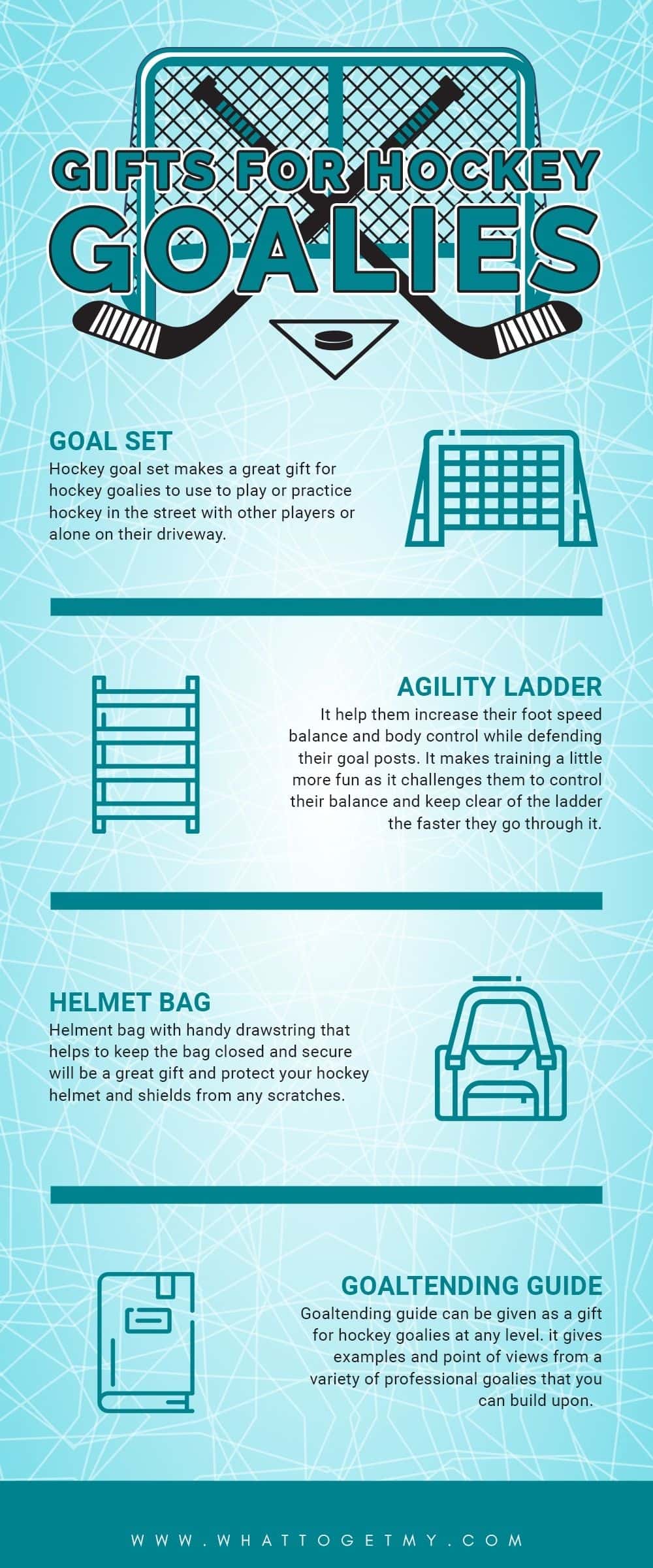 Source Link: https://whattogetmy.com/gifts-for-hockey-goalies/
Mylec Deluxe Folding Hockey Goal Set
This Mylec Deluxe Folding Hockey Goal made from good quality PVC piping with well made strong nets that are easy to put together and fold away. Included with this set are two straight hockey sticks that have real wooden handles and heavy-duty plastic blades and a no-bounce ball that are perfect for beginners. This hockey lover gift set makes a great gift for hockey goalies to use to play or practice hockey in the street with other players or alone on their driveway.
Majority of customers that have purchased The Mylec Deluxe Folding Hockey Goal Set found that it is a perfect set to play and practice street hockey with which is made from great quality materials that will last a long time.
Hockey Revolution Stickhandling Training Aid, Equipment for Puck Control, Reaction Time and Coordination 2nd Generation
This Hockey Revolution stick-handling training aid has a lot of different options to choose from. It is a training tool for all ages of hockey goalies that is easily adjustable and can be used to improve your hand coordination while using your hockey stick. It comes with a wooden ball to help you practice puck or ball control as well as your reaction time. This tool is easily collapsible so you can put it in your hockey bag and take it with you anywhere.
Customers that have bought the Hockey Revolution Stick-handling Training Aid found that is an easy but useful training tool that helps you to practice and improve your stick handling reaction time and speed. This is one of the most practical gift ideas for hockey players.
GHB Pro Agility Ladder Agility Training Ladder Speed Flat Rung with Carrying Bag
If you are looking for goalie gifts that will help the hockey goalies increase their foot speed, balance and body control while defending their goalposts then the GHB Agility Ladder is an excellent training tool. It makes training a little more fun as it challenges them to control their balance and keep clear of the ladder the faster they go through it.
Many customers that have purchased the GHB Pro Agility Ladder has found it to be a great training tool that helps to improve hockey goalie's balance and foot speed while blocking goals which is easy to adjust, durable and lightweight.
The Power Within: Discovering the Path to Elite Goaltending Paperback
This elite goaltending guide can be given as a gift for hockey goalies at any level. It does not give you instructions of exactly what to do but it gives examples and point of views from a variety of professional goalies that you can build upon. It is a book that will help you as a parent understand what goes on in the mind of a goalie and it helps them to elevate and enhance their mental game, making them a more well-rounded goalie. The lessons in this book do not only apply to goalies but to any person's everyday life as well, lessons such as character building, discipline, focus, and confidence.
Majority of customers that have purchased "The Power Within Discovering the Path to Elite Goaltending" Paperback has found that it is a great resource for hockey goalies of all ages. So if you are looking for ice hockey goalie gifts that will help the goalie mentally then you should definitely go for this book. It addresses relevant issues that goalies face on any level and helps them to develop and train their minds to work through these issues.
Franklin Sports Automatic One-Timer Hockey Passer – NHL Approved
This Franklin Sports Automatic one-timer hockey passer makes a great training aid for hockey goalies as it can help them with their timing to be able to block the balls that are directed at the goals. This training aid allows them to practice alone on their own time whenever and wherever they want to.
Majority of customers that have purchased this Franklin Sports Automatic One-Timer Hockey Passer has found that it is a great training tool, it works great and the shots are paced great and are at a decent speed.
If you are looking for a useful gift for hockey goalies that are not related to training, an idea would be:
A&R Hockey Helmet Bag
This A&R Hockey Helmet bag is a very soft, thick and strong bag with a handy drawstring that helps to keep the bag closed and secure. This great helmet bag fits snug around your helmet and will protect your hockey helmet and shields from any scratches. This helmet can be given to a girl hockey goalie or a boy.
Majority of customers that have purchased the A&R Hockey Helmet bag has found that it is a very durable, thick, soft, high-quality bag with a good drawstring for closure that will keep your visor safe from scratches.
Finding gifts for hockey goalies who are beginners to the game and position can be difficult because all they are interested in at the moment is to learn how to play in their position, train as much as they possibly can to become the best hockey goalie that they can be. At this stage, the best gifts for hockey goalies are gifts that will help them get into a great physical condition with quicker reflexes so that they can block those shots that come their way.
Get This and So Many More Free Gifts on Our New Marketplace, Spark Resort!
ESTIMATED TIME DESIGNING AND UPLOADING THIS ARTICLE
ESTIMATED TIME RESEARCHING AND WRITING THIS ARTICLE
Try our AMAZING GIFT FINDER TOOL! Find GIFTS with 1 CLICK!