An Instagram lover is all about the pictures for their next Insta feed, and any gift should be very picture-focused.
Taking the perfect picture entails having two broad categories of things – the essential gadgets that do the actual picture taking, and photo props that make the picture(s) look very good. 
The perfect gift for an Instagrammer has to fall within these two categories and this article lists the best gifts in these two categories.
The gifts are also suitable for Instagram lovers, social media lovers, and addicts who are all about posting that perfect picture on their social media feed/handle.
The term Instagrammer in the usual sense refers to an Instagram user who can be considered addicted to Instagram that they are almost always on it (Urban Dictionary.com). But it also has another meaning specific to Instagram as an app. It also means an Instagram user who has either permanently or temporarily deactivated/deleted their account (Techperx.com).
For purposes of this article, we will be using the term Instagrammer as it is popularly understood.
The gifts in this article will also be suitable for any Instagram lover or social media lover and addict who just loves posting only the best photos.
Giving the Perfect Gift for an Instagrammer.
The language that speaks on Instagram is photos, photos, and more photos. And this is why, for an Instagrammer or Instagram lover, all that matters is the next photo and how awesome it would look. And that is why a perfect gift is one that helps with taking the next perfect photo for their Insta feed.
When it comes to taking pictures and very good ones at that, you will have those items that are very essential and important. Gadgets that facilitate the actual picture taking process fall into this category. You then have those items that make the picture look good. These are known as photo props. And you don't want a photo prop that everyone else is using, or you have the same Insta post that does not command much attention.
Our gift list is divided into these two important categories and lists only the best items that offer good value for money.
12 Perfect Gifts for Instagrammers and Social Media Addicts – the Essentials.
These are gift items that are very important to an Instagrammer in having those picture-perfect Instagram ("Insta") posts that would wow their Insta followers/audience. 5 gift items can be considered essential gifts for an Instagrammer.
As an Amazon Associate we earn from qualifying purchases. We may earn a small commission for our endorsement, recommendation, testimonial and/or link to any products or services from this website. Thank you, your qualifying purchases help support our work in bringing you real daily gift ideas.
Quick Overview: Gifts For Instagrammers
1. A Camera – The Sony A6000 Mirrorless Camera.
We can't talk about a gift for an Instagrammer without talking about the gadget that makes all those Instagram worth pictures possible. Yes, a Camera. Even though taking pictures with phone cameras is still the easiest and fastest way to take pictures for that quick Insta post, an Instagrammer who can be considered an Instagram photographer still needs a good mirrorless camera for sharp pictures especially if their phone isn't the top of the range smartphone. And even if they have the top of the range smartphone, the picture taking experience on both gadgets are not the same.
Mirrorless cameras are loved because of how small, compact, and easy to carry they are compared to the DSLR cameras. This Sony camera comes recommended as one of the best and affordable quality mirrorless cameras. Your Instagrammer would love this camera because, in addition to the cool specs on it, it allows file transfer over WIFI. This means that they won't be wasting any time between taking cool pics and uploading them on the Insta account.
Pros.
The picture quality is extraordinary.

It is relatively very durable.

It is perfect for beginner photographers.

It is small and light and easy to carry.

It transfers files over Wifi and NFC (near field communication).

It's a 24-megapixel camera.

You can switch between autofocus and manual settings.
Cons.
It is not great for shooting videos that are more than 5 minutes long and tends to overheat.

Some customers have complained that it started giving them problems too early.

The lenses may not be for everyone.

The biggest criticism of this camera is its short battery life.
One customer opined on a solution that worked for them with the short battery life. And this solution is to turn airplane mode on because it is set to off by default. And because it is off, the Wifi remains active and searching for network even when the camera is off, and this drains the battery.
The short battery life of this powerful camera can easily be solved by adopting the above solution and perhaps buying a second backup battery. It should not be a reason not to purchase this great picture camera because other cameras that perform at the same level are usually more expensive. It's a bargain for all the power it packs when it comes to taking high-quality pictures.
For other photographer gift ideas check out our articles on Gifts For Amature Photographers and Gifts For Teenage Photographers.
2. A Power Bank – The RAVPower 80W Outlet Power Bank.
The next important and essential item is a power bank to ensure that they are not without power either on the phone, camera, laptop, or camera drone. This particular power bank is a little bulky but this is because of the power it packs. It can charge not just the phone, but all other appliances. This means that as an Instagrammer who may be on a road trip or traveling to some exotic location with a laptop and their camera, worrying about the laptop going dead or the camera dying becomes a thing of the past.
Pros.
It can charge both phones and other appliances like laptops and drones.

It charges things quickly.

The battery lasts for a long time when fully charged.

It has USB-A and USB-C outputs and a USB-C input.

It has indicator lights to tell you the battery strength/life.
Cons.
It is a little big and heavy. But this is not a problem because it comes with a carry case that can fit easily in a backpack or shoulder tote bag.

It does not support Apple and Huawei's original 18W chargers.

It does not come with a power brick of its own.
Charging a phone, camera, laptop, and camera drones all at once requires a power device that would last longer than your typical small power banks. And this device is precisely that. An absolute recommendation for an Instagrammer who needs to always be online to keep their Insta feed buzzing with new posts. It is not ridiculously big or heavy and so carrying it around should not be difficult.
3. Tripod – The Vanguard VEO Tripod.
And not forgetting the tripod for positioning the camera for the perfect shot. The best tripod for an Instagrammer would be one that is light, compact, and easy to lug around.
This tripod packs a punch in delivering what is needed.
Light and easy to carry around is key for an Instagrammer and their tripod and with this, they will not be disappointed.
4. Selfie Stick – Selfie Stick with Bluetooth.
But if cameras and tripods are not your Instagrammer's friend forte and they are more a phone camera person, they'll still need something to extend their phones for that perfect shot. And that's where selfie sticks come in.
This Selfie stick is amazing because it is a selfie stick that also doubles as a tripod for the camera. An Instagrammer would love this sturdy stick because it is very light and easy to use and they also get to use it as a tripod if they want.
Pros.
It is both a selfie stick and a tripod stand.

It comes with a Bluetooth remote.

It is very lightweight, compact, and easy to carry.

It can be connected to one's phone.

It is easy to use.

The remote is USB chargeable.

The phone clamp rotates.
Cons.
It does not come with many instructions.

The tripod stand may not be strong enough to hold a camera.

Some customers have complained that it does not hold all phones securely.

Some customers have also complained that it is not very durable.
The majority of the customers agree that this product is a great selfie stick more than it is a tripod stand. Since the aim of purchasing it is for use as a selfie stick given that the Instagrammer does not like tripod stands, this makes it a good gift for an Instagrammer.
5. Drones – DJI Mavic Mini Drone.
And if selfie sticks and tripods still won't cut it and your Instagrammer friend is so techie they prefer drones, then you can buy them this drone. Unlike most drones where one needs to obtain official permission from the authorities before it can be used, this powerful yet small drone can be used right out of the box. An Instagrammer would not have to worry about official niceties before they can start taking to die for pictures for their Insta feed.
Pros.
It is lightweight, compact, and easy to carry around.

It is easy to set up.

It can be used right away without the need for government permission.

It can fly for a long time.

It comes with remote control.

It notifies the user if weather conditions become unstable or connection is lost.

It can fly high altitudes with clear footage.
Cons.
The app reduces the phone's batteries when in use.

Once you add other extras to the drone itself like propeller guards and it weighs more than 250grams, you will need to obtain government permission to use it.
This drone has received good reviews and is said to be a good value for money. Its notification abilities are laudable and a good check/safety mechanism.
You may also like What To Get My Techie Husband For Christmas.
12 PERFECT GIFTS FOR INSTAGRAMMERS AND SOCIAL MEDIA ADDICTS – THE PHOTO PROPS.
Any Instagrammer will tell you that the right props are very essential to take that picture that would generate the most likes and views on Insta. With props, there are so many things that would or could be used for a prop for any photo. But we all know that bland banal props make for bland, banal photos that no one would pay much attention to. And we know that your Instagrammer can't have that.
The key to props is to stand out. That accessory that would give your picture an extra edge depending on the theme your Instagrammer friend/loved one chooses to go with, is the accessory or accessories you want to give as a gift.
Prop selections are inexhaustible and we would not be honest or realistic if we told you that we can give you a complete and exhaustive list of the best photo props for your Instagrammer friend. What we have done instead is to research and find out what the most popular Instagram posts are at the time of writing, and to find you the best, novelty and one of a kind gift items that would easily transform any background for a photo to one that would make the Instagram friends of your Instagrammer friend stop and take second, third and many more peeks at your Instagrammer friend's account.
Topics like nature, travel, decor and lifestyle, fashion, and food are all-time favorites because these are areas around which our lives revolve. Prop gifts that would add an edge to your Instagrammer friend's next photo on any of these topics would make your Instagrammer friend very happy. We have picked out props that stand out that can be adapted for any theme an Instagrammer wants to go for, whether nature, travel, decor and lifestyle, and the likes. Fashion items always depend on one's preferences and so we have not added these to the list.
6. Milan Navy Rug.
Beautiful novelty rugs make any decor or lifestyle themed Insta post have an extra edge. This plush and breathtaking rug is pretty and cool on so many levels. Any Instagrammer would love it for their next photo shoot.
Pros.
It is very soft.

It is very beautiful and classy.

Ít would light up any photo.

It is big and wide.

It is thick, full, and made with high-quality materials.

They are durable.
Cons.
There are fakes in the market. Customers have advised not to buy from third parties but only from Amazon directly.

It is pricey but worth every cent.
Plush, classy, and high-quality all describe this rug. It's the perfect photo prop for an Instagrammer.
(If plush and soft isn't the Instagrammer's preference/taste, then they would love this Medallion Fringe Area Rug and if they prefer one solid color, they would love this Bordered Indoor/Outdoor Rug.)
7. Phoenix Figurine.
This figurine is another unique piece that would be a great photo prop for an Instagrammer's photo. The beauty of this figurine is that it can be spun anyway for an Insta post – whether to make an inspirational statement like "rising from the ashes like a phoenix" or for a post on a decor or lifestyle theme.
Coincidentally, the color of this phoenix aligns with the color of the Milan Navy Rug. we can already picture a photo that burns with awesomeness with the two props combined.
8. Plush Puppy Teddy.
A female Instagrammer will love this cutie. Female Instagrammers like to have nice cute pictures with their plush teddies and this one would make any Insta photo look really adorable.
This is such a cutie that would capture many hearts on any Insta post and that is why a female Instagrammer would love it as a prop for their Insta feed.
(Another pretty plush teddy is this Sunflower Plush Teddy).
9. Modern Girl Candle Holder.
This candle holder is a show-stopper literally. It is so beautifully crafted and makes a statement. And again coincidentally, the color would go so well with the navy rug in this list. The possibilities with this candle holder prop are endless. It would blow an Instagrammer away as will the photos that it will appear on.
This prop just has so many things going right with it. The girl holding the bird gives off a nice nature vibe. The possibilities with this prop are also endless and it would function well for any Insta post.
10. Lotus Shape Clear Quartz Candle Holder.
This is another beautiful and unique candle holder that can also serve as a holder for other items because of its slightly wide diameter.
For the Instagrammer that loves quartz material, this is a winner. They would love it.
11. Crystal Ball with Golden DragonStand.
This is another unique lovable photo prop for a killer Insta post.
This clear crystal ball is perfect for any Insta post. It can be spun anyway and can go with any theme for a post. All customers love the classy and elegant look and an Instagrammer would also love it for their next photo op.
12. Mixed Flower Decorative Vase.
Flowers always add color to any photo and that is why it's an Insta favorite for Instagrammers. And the more natural it looks, the better for the photo. And this flower vase kills it on that front. It sits in a beautiful white vase that is ready to be placed anywhere that is desired for that perfect Insta photo.
This is a definite flower recommendation for an Instagrammer. If however, the Instagrammer has a preference for roses, you can check out this beautiful Rose Bouquet Vase.
FREQUENTLY ASKED QUESTIONS.
What gifts for Instagram photographers can you recommend?
An Instagram photographer would ordinarily keep a photoblog or do a bit of vlogging and this means that the essential gifts items are very important to them. Give them any of the 5 gift items in the Essential Gift category and they would be very happy.
What good Instagram photo gifts can you recommend?
Instagram photo gifts are gift items that make the photo look very good or photo props. While the list for a good photo prop is inexhaustible, the ones selected in this article are not your typical photo props and would make any Instagram photo stand out. Any gift item in the Photo Prop category would therefore be a good Instagram photo gift.
CONCLUSION.
The language of Instagram is pictures. A good gift for an Instagrammer is therefore one that would advance the cause of taking show-stopping pictures for their Insta feed.
These gifts fall into the Essential and Photo Props categories and our list of 12 Perfect Gifts for Instagrammers and Social Media Addicts brings you top of the range selection in both categories.
ESTIMATED TIME DESIGNING AND UPLOADING THIS ARTICLE
ESTIMATED TIME RESEARCHING AND WRITING THIS ARTICLE
Try our AMAZING GIFT FINDER TOOL! Find GIFTS with 1 CLICK!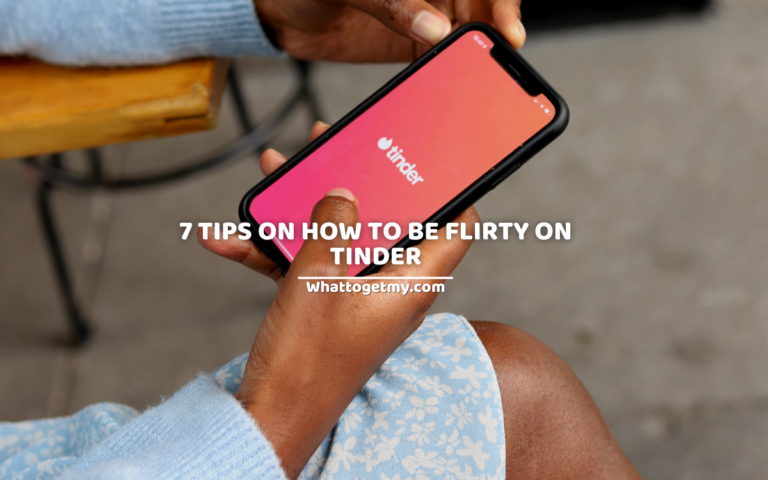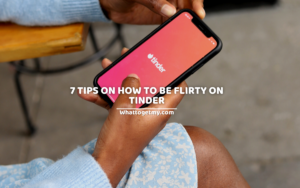 7 Tips on how to be Flirty on Tinder
7 Tips on how to be Flirty on Tinder WhatToGetMy Instructional Article Thousands of people every day find love online. Everyone has their way of flirting through online messages. If you struggle to flirt on Tinder, you may need some flirting lessons. Tinder is like
Read More »