Do you have a marine biologist in your life? If so, you must have heard a lot of beautiful and interesting stories! Maybe you even went diving together? However, knowing interesting stories about the underwater life doesn't make you equipped for the gift-giving situation. If you don't know a lot about her/his job, it might be difficult for you to buy a perfect present. They do a lot of scuba diving, but what else?
Marine biologists study ocean organisms. They don't only observe ocean life but also do everything in their power to study and protect animals, plants, and microbes. Impressive, right? They hold many titles and specializations because they do an array of jobs.
Now, what do you get for such an active and dedicated person? Believe it or not, you have a lot of options, and we are here to help you out. We made a list of the best gifts for a marine biologist, so you can scroll down and pick the one you find the most suitable. We hope that saves you some time and effort you would otherwise spend wandering around the city, visiting stores and shops, clueless about what to get!
As an Amazon Associate we earn from qualifying purchases. We may earn a small commission for our endorsement, recommendation, testimonial and/or link to any products or services from this website. Thank you, your qualifying purchases help support our work in bringing you real daily gift ideas.
Quick Overview: Gifts For a Marine Biologist
Capture All Precious Moments with GoPro HERO 7 Black
GoPro Hero 7 is a perfect gift for a marine biologist. The device made it to the top of our list for many reasons, and one of them being the waterproof design. Marine biologists dive all the time, and they need a powerful and waterproof camera to capture the underwater life. The second reason is pure logic – GoPro Hero 7 has some impressive features.
The camera features hyper smooth video stabilization and predicts movements to deliver clear footage. It even takes photos automatically. The noise reduction feature also optimizes the shots, and you get to stream live right away. That's not all, of course! We already mentioned a waterproof design, but the case is also rugged and protected from bumps and impacts. That makes it perfect for outdoor use, as you don't need to worry about accidentally dropping the camera or soaking it into the water. Did we mention that you can operate it by voice controls? It's a super cool feature!
GoPro Hero 7 is not only suitable for marine biologists but also makes one of the best Gifts for the Sailboat Enthusiast. Basically, the camera is ideal for all outdoor enthusiasts who need weather-resistant equipment that won't get damaged easily.
Observing the Sea with Gosky EagleView Binoculars
Every marine biologist needs a binocular. Diving and capturing the underwater life is one thing, but observing the life above is a completely different story! If you want to surprise a marine biologist in your life, get her/him a Gosky EagleView Binocular. Even if he/she has one already, this device will be an excellent addition to the gear!
The Gosky binocular combines HD optical coating technology and ED glass to give an incredibly clear image. This kind of design reduces glare and ensures better color reproduction. It offers 10X power magnification and a wide field of view to give the most enjoyable watching experience. Additionally, it's protected from impacts and water, which makes it perfect for all kinds of outdoor activities, from hiking to watching wildlife.
Whether you're looking for Gift Ideas for Seafarers, marine biologists, or any other outdoor enthusiast, Gosky EagleView Binocular is an excellent choice. The device provides a clear image and lets you observe nature in the best possible way. It's something that every nature lover would enjoy!
Stay Tuned with Cressi Leonardo Underwater Diving Computer
Did you know that marine biologists use computers all the time for their research? That's right, they rely on technology to develop new methods and track the underwater life in the best way. That's why Cressi Leonardo proves to be one of the best marine biology gifts.
We are talking about a fully developed computer that comes in the form of a wristwatch. It's a device that offers a lot of useful features such as navigation, water temperature, audible alarms, and much more. There are three modes (Air, Nitrox, and Gauge) you can set up with ease thanks to the intuitive menu. In fact, the watch features a one-button screen that is very intuitive. It also has a sturdy and durable construction, which ensures a long lifespan.
If you are looking for marine biology gift ideas, search no more! Cressi Leonardo is a must-have item for all divers out there. Who wouldn't want to have a watch that can tell the time, the water temperature, and all kinds of other information while underwater? It's a handy device with a lot of extra features and it's built to last. One is certain, you can't go wrong with giving it as a gift to a marine biologist!
Cressi Scuba Diving Snorkeling Kit to Complement the Gear
You're on a limited budget? Don't let that discourage you! You can still find some great marine life gifts for a very special person in your life. For example, Cressi Scuba Diving and Snorkeling Kit is an excellent budget-friendly option!
The set includes a frameless mask with tempered glass lenses. The mask is comfortable and easy to put on. The lenses are clear and provide a wide view. There's also a push-button buckle you can adjust for a perfect fit.
The second item in the package is a snorkel with an anti-splash top. It's designed to prevent water from reaching in, and it's quite efficient. All in all, the set is easy to use and quite handy for casual divers.
The set is an excellent inexpensive option for casual divers or entry-level marine biologists. The mask is comfortable, offers a clear view, and the snorkel doesn't let for the water to get in. The Cressi set is just hard to beat for the price!
Genwiss Dive Light for More Visibility in the Night
Do you know what else every marine biologist needs? A flashlight! That's right. Sea lovers are so obsessed with their research that they often lose track of time and spend days on the sea! To help them get through the night, you can get them Genwiss Dive Light!
What's so special about this particular flashlight, you may ask? First of all, it's incredibly powerful. It delivers up to 1000 lumens, and it can be used in 80 meters underwater. Secondly, it offers 5 different modes (high, medium, low, strobe and SOS). You can switch between them in a breeze. That's very helpful for marine biologists because they can adjust the brightness according to the underwater environment. Thirdly, the flashlight features solid construction. It's made of high-quality aluminum alloy, which means it's waterproof, and it won't rust. It's also shock and scratch-proof. How amazing is that? In short, this flashlight is ideal for all outdoor enthusiasts.
If you're looking for Great Gifts for Boat Lovers, marine biologists, or sea lovers in general, waste no time and get this flashlight! It's insanely powerful, handy in the dark, and it proves to be of excellent quality. You just can't go wrong with giving it as a gift!
Earth Pak Waterproof Dry Bag for Keeping the Gear Safe
Here comes another inexpensive product you can get for a marine biologist in your life. It's an Earth Pak waterproof bag that makes an excellent addition to every outdoor enthusiast's gear!
The bag is very handy for those who worry about water damaging their gear. It offers a high level of protection for the stored stuff, and it proves to be very durable. It's made of high-quality materials and offers a long lifespan. Additionally, reinforced shoulder straps provide excellent stability, and they are quite comfortable. There's also a waist belt you can use if you need the extra support for the load.
The Earth Pak bag is one of the Best Gifts for Paddleboarders, marine biologists, hikers, bikers, and all other outdoor enthusiasts. You know that keeping your gear safe from water is a difficult task when outdoors, and the dry bag takes care of that problem.
NATIONAL GEOGRAPHIC Science Kit for the Youngest Marine Biologists
Are you shopping for a young-to-become marine biologist? You have no idea what to get? Don't worry, we got you covered! National Geographic features an excellent science kit that will help a child learn a lot about sea plants and microbes.
The set includes an outstanding microscope, which has two sets of LED lights for looking into biological specimens in the highest detail. Aside from this great device, the set includes 50 more accessories! There are reusable blank slides and covers, tweezers, eye droppers, and much more. All accessories are made of high-quality materials, and they are easy to operate. Your child will have lots of fun discovering the purpose of all the included items!
The National Geographic kit is among the best marine biology science kits available on the market. It includes a large number of accessories to provide the most enjoyable experience. Kids will be occupied for hours, and have so much fun while using it! Of course, that doesn't mean the kit is not educational. In fact, every child will benefit from having it, whether he/she wants to be a marine biologist or not! National Geographic made sure to include everything necessary for learning and discovering new things in terms of science.
Conclusion
How do you like our ideas? We know, it's just hard to shop for marine biologists, especially if you're not part of their world. You know that they like diving (maybe they even bring you along sometimes), but that's about it. Sure, you can get them some home decorations (turtle lamps, dolphin vases, etc.), but when it comes to the gear and more useful stuff, it's hard.
What we are trying to say is that we understand you can't make a decision that easily, even if you do like some of our suggestions. How can you be completely sure that a marine biologist you know needs a binocular? Or an underwater computer? It's simple – we only included the best rated and most useful stuff for sea lovers. Even if your marine biologist has something from the list, he/she might need to improve the gear with a new item. New stuff always comes handy, and a marine biologist will most certainly put in use every single item from our list.
Therefore, try to relax and pick a product you think is the most suitable for that very special person in your life. You just can't go wrong no matter which one of our gifts for a marine biologist you choose!
ESTIMATED TIME DESIGNING AND UPLOADING THIS ARTICLE
ESTIMATED TIME RESEARCHING AND WRITING THIS ARTICLE
Try our AMAZING GIFT FINDER TOOL! Find GIFTS with 1 CLICK!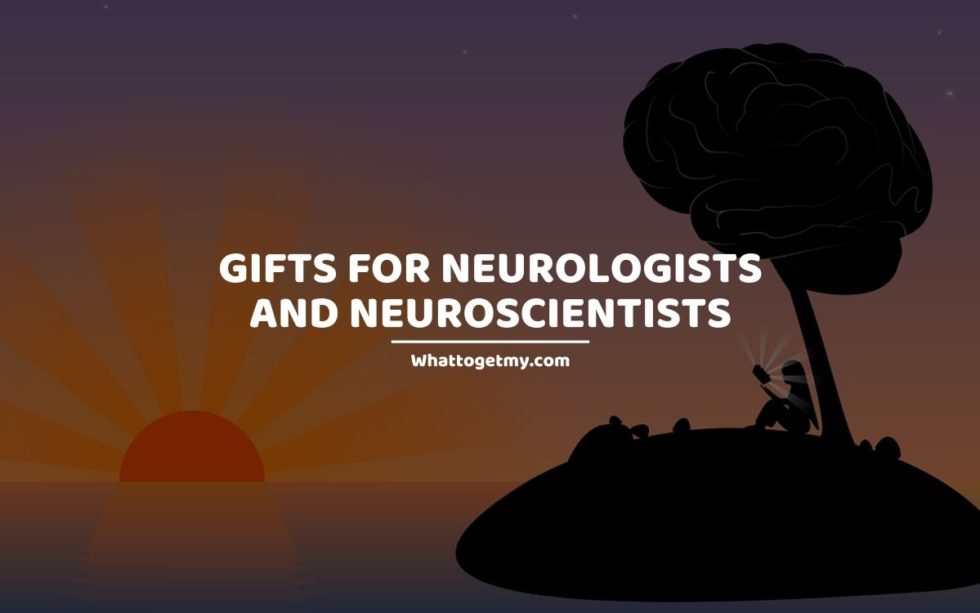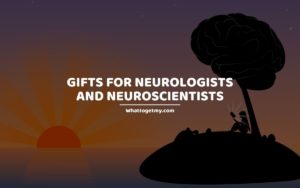 25 Brain Themed Gifts For Neurologists and Neuroscientists
Neurologists, Neuroscientists, and Neuropsychologists (collectively called "Brain Practitioners" in this article) all work with the human brain and different aspects of the brain. Our selection of 25 Brain Themed Gifts for Neurologists would be suitable gifts for any of these Brain Practitioners. Neurologists, Neuroscientists, and
Read More »