When you think about buying gifts for video game lovers, the first thing that comes to mind is to probably buy him a game or two but end up finding out that choosing them is not as easy as you expected? There are so many options available to choose, ranging from action games, shooting games, racing games to problem-solving type games all coming with several editions.
Buying games for your boyfriend could be a problem because the games would have to be ones that he would like and ones that he does not already own. To be on the safe side, if you are not sure of any specific games that you know that he would really want and would like, then it is best to stay clear of buying him any games.
But if you do have some sort of idea, then the right games would make perfect gifts for your PC gamer boyfriend. Below is a list to help you make your choice.
According to pcgamer.com, the best pc games to play right now are:
The only problem you have is that you do not know much about the wants and needs of a PC gamer, all you know is that you definitely want to support his favorite hobby. It is definitely not an easy task buying the right kind of pc gamer gifts especially when you, yourself are a non-gamer.
Serious PC gamers already have everything that they need to play their games, these items are called peripherals and most PC gamers are very particular about what they use or need to use regarding the specific specs of certain peripherals which can become very pricey too. Making it very difficult for a non-gamer to come up with the perfect gamer gifts for their boyfriends.
A good idea for someone that is unfamiliar with all the ins and outs of the gaming world, is to stick to accessories that could make his gaming experience more comfortable. Such gifts cost less and are more flexible as they can fit in with any consoles, gadgets, and/or games that your boyfriend likes. They are usually less expensive too.
Next, you will find yourself asking but how do you find the right accessory that would make his gaming experience more comfortable? The first thing that you can do is to take a closer look at his gaming setup and see if there are any accessories that could be replaced or updated or is missing.
If you don't seem to notice anything yourself then either think about something he might have mentioned previously that he would love to buy but just didn't get around to doing it. Lastly, if that does not work then wait for a time that your boyfriend is not playing his pc games and get him to talk about the games he plays, the accessories he uses, ask him questions about every item that he uses and he will more than likely mention something that he is lacking.
This will help make it easier for you to think of accessories like a hard drive for him that he could use to save all his data because every gamer always needs additional storage space. Think of items that will make him more comfortable like maybe a comfortable gaming chair that will support his back, head, and shoulders while he plays his games for hours and hours.
Maybe he could use a great gaming table that has enough room for his monitor, keyboard, and other smaller items. Think about something that he has been complaining about like may be suffering from some pain in his wrists, then a wrist rest pad would make a great gift for him as it will help make gaming and typing far more relaxed. Another idea is to maybe get him a set of amazing gaming headphones and a headphone stand which will give him an easy, accessible place to neatly store his headphones. As you can see these presents will be suitable for your boyfriend's gaming needs regardless of the gadgets and games that he owns.
Whether you are looking for a birthday or valentines gift for gamer boyfriend, Christmas gift ideas for gamers, or just want gift ideas for a pc gamer to give at any time, we have got you covered with these products that are a great value for their quality, looks, and durability.
As an Amazon Associate we earn from qualifying purchases. We may earn a small commission for our endorsement, recommendation, testimonial and/or link to any products or services from this website. Thank you, your qualifying purchases help support our work in bringing you real daily gift ideas.
Our Gift To You:
Find out how to download This
Free Printable Card
For Your Love at the End of This Article.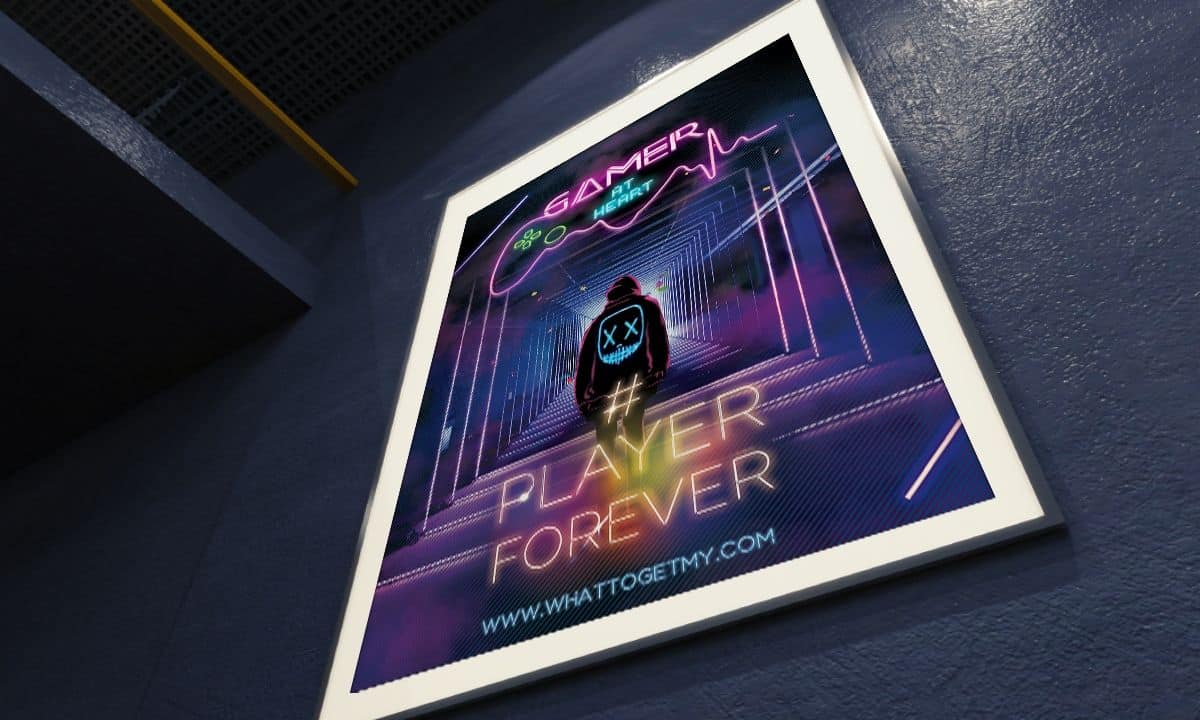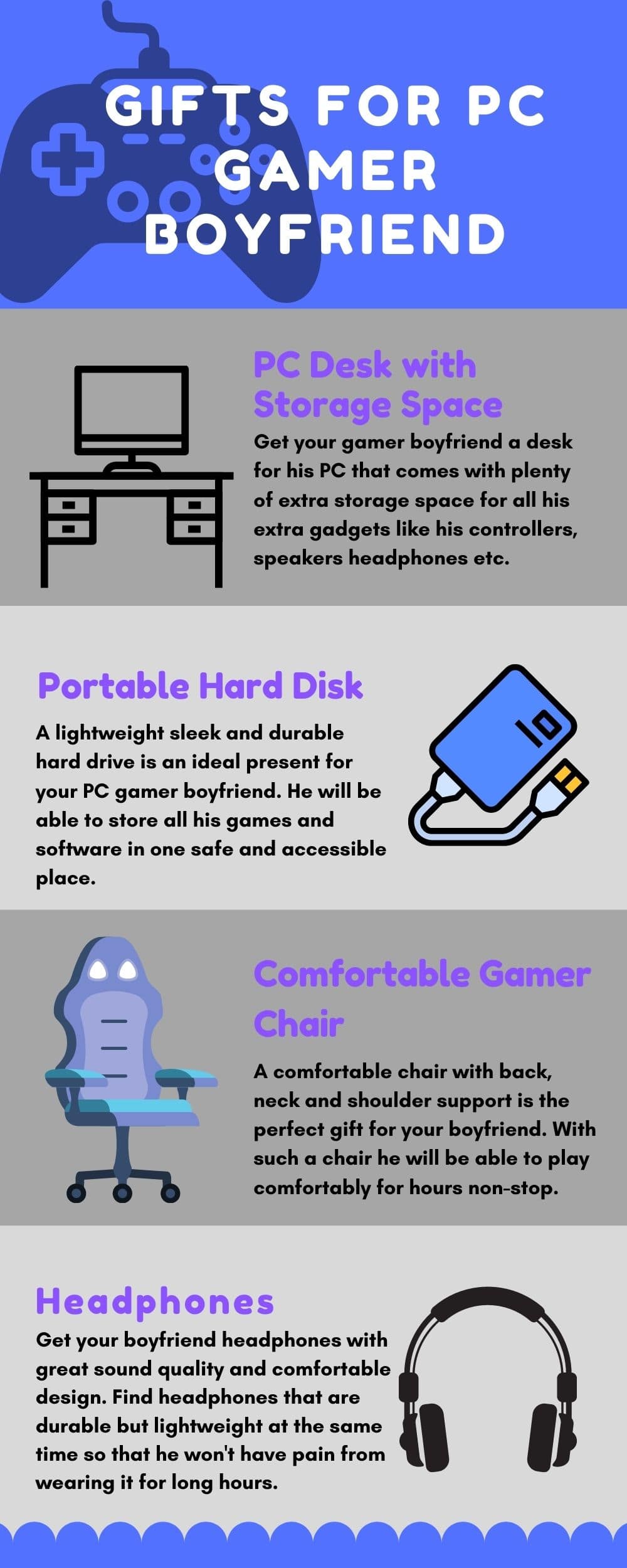 Source Link: https://whattogetmy.com/gifts-for-pc-gamer-boyfriend/
Homall Executive Swivel Leather Gaming Chair, Racing Style High Back Chair with Lumbar Support and Headrest (Black)
Your boyfriend will love this Homall Gaming Chair because it is an ergonomic racing style chair that is designed for durability and style. This chair is one of the things every pc gamer needs to play their games comfortably. The chair design will support your boyfriend's entire back, shoulders, neck, and head during his long gaming sessions while giving him complete comfort while he concentrates on his game.
Customers that have purchased this Homall Gaming Chair have found that the chair is easy to assemble, it is very comfortable and they feel that it is of high quality because of the metal material support design making it heavier which increases the stability of the chair.
Redragon Hand and Wrist Rest Pad Support for Gamers
Improve your boyfriend's hand and wrist posture with this non-slip wrist pad that is soft and comfortable. It is the perfect gift for a gamer husband or boyfriend who might exhaust their hands and wrists from playing video games for long hours. This pad will help reduce the strain on his wrist which will also reduce the aches and pains that he might get from the long hours of gaming.
Customers that have purchased this Redragon wrist pad are saying that it is an amazing pad that looks great, has a good grip to the desk with a very cool design, and is ideal for gaming.
Atlantic Gaming Desk with Controller, Headphone & Speaker Storage
If you want gamer gift ideas to help your boyfriend upgrade his gaming station, this light, elegant looking but sturdy gaming desk is a great choice. This desk comes with all of the added optional extras that any gamer will ever need. This desk will give him a place for everything within an arm's reach, a place for his monitor, his keyboard, speakers, a cup holder and there is even a place to neatly organize all his cables.
Customers that have purchased this Atlantic Gaming Desk Pro Curved-Front have said that it is a great desk and is easy to modify to your needs with all the extras that you can decide whether you want to attach or not.
WD My Passport Ultra Blue Portable External 2TB Hard Drive
Equipped with USB-C technology, the My Passport Ultra portable drive offers your boyfriend an easy way to expand his storage with a modern metal design that will complement his PC. It's Windows 10-ready out of the box to seamlessly deliver plug-and-play storage, while password protection with hardware encryption helps enforce the security of his content.
Customers that have purchased this WD 2TB My Passport Ultra Blue Portable External Hard Drive have said that the hard drive works great and it works very fast and is one of the gaming must haves if the person has a wide selection of games and software to pick from.
Logitech Headphone. X and Dolby Surround Sound Gaming Headset for PC.
With this Logitech G430 7.1 DTS Headphone, your boyfriend can play his PC games comfortably with this soft and lightweight headset, long cord and he will be able to hear his enemies before they hear him with the 7.1 surround sound which he will love.
Customers that have purchased this Logitech G430 7.1 DTS Headphone are saying that the headset is light and comfortable without feeling cheap, the sound is great quality and is very clear.
COZOO Headphone Stand with USB Charger
This Aluminum Headset Stand will make a great gift for your PC gamer boyfriend as he will have the perfect place to hang his headphones. This stand takes up very little space on his desk and he will be able to charge many of his different devices at once too.
If you are looking for gaming stuff to buy that will help your boyfriend keep his gaming station more organized then this is the gift to buy. Customers that have purchased this COZOO Aluminum Headset Stand have said that they love the fact that this stand also comes with 3 USB ports and 2 electrical outlets to charge other devices too.
When it comes to choosing gifts for your PC gamer boyfriend and you have no clue as to what goes on in the gaming world and you are not entirely sure what he needs or likes, it is best to stick to buying him accessories for the gadgets he owns already or accessories that will make his gaming sessions more convenient and comfortable.
Get This and So Many More Free Gifts on Our New Marketplace, Spark Resort!
ESTIMATED TIME DESIGNING AND UPLOADING THIS ARTICLE
ESTIMATED TIME RESEARCHING AND WRITING THIS ARTICLE
Try our AMAZING GIFT FINDER TOOL! Find GIFTS with 1 CLICK!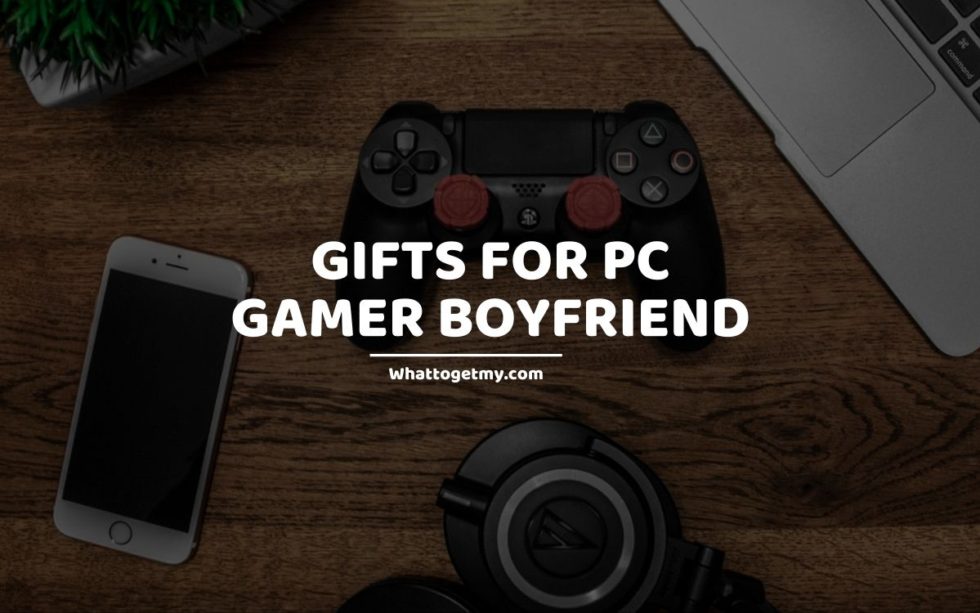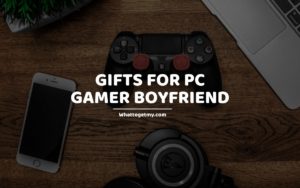 When you think about buying gifts for video game lovers, the first thing that comes to mind is to probably buy him a game or two but end up finding out that choosing them is not as easy as you expected? There are so many
Read More »