How to Decorate a Bridal Shower Chair - 15 Ideas to Jazz Up Your Bridal Shower Chair
WhatToGetMy Instructional Article
Hundreds of thousands get married every year as shown by this graph from Statista and you have the honor of throwing a bridal shower for one such person. We congratulate you for taking this duty so seriously that you even want to know how to decorate a bridal shower chair; it shows that you want this day to go splendidly.
First things first, why is a chair needed? The answer is simple – the bride is being made to feel like a princess today, so it only makes sense that she sits on a chair reserved for royalty. Oh yeah, she should be comfortable as well as she receives gifts.
When decorating the chair, you need to think about what your bride would like. For instance, a bride who prefers simple things would not be too comfortable on a lavishly designed chair. The bride's comfort is your highest priority, so the decorations should match.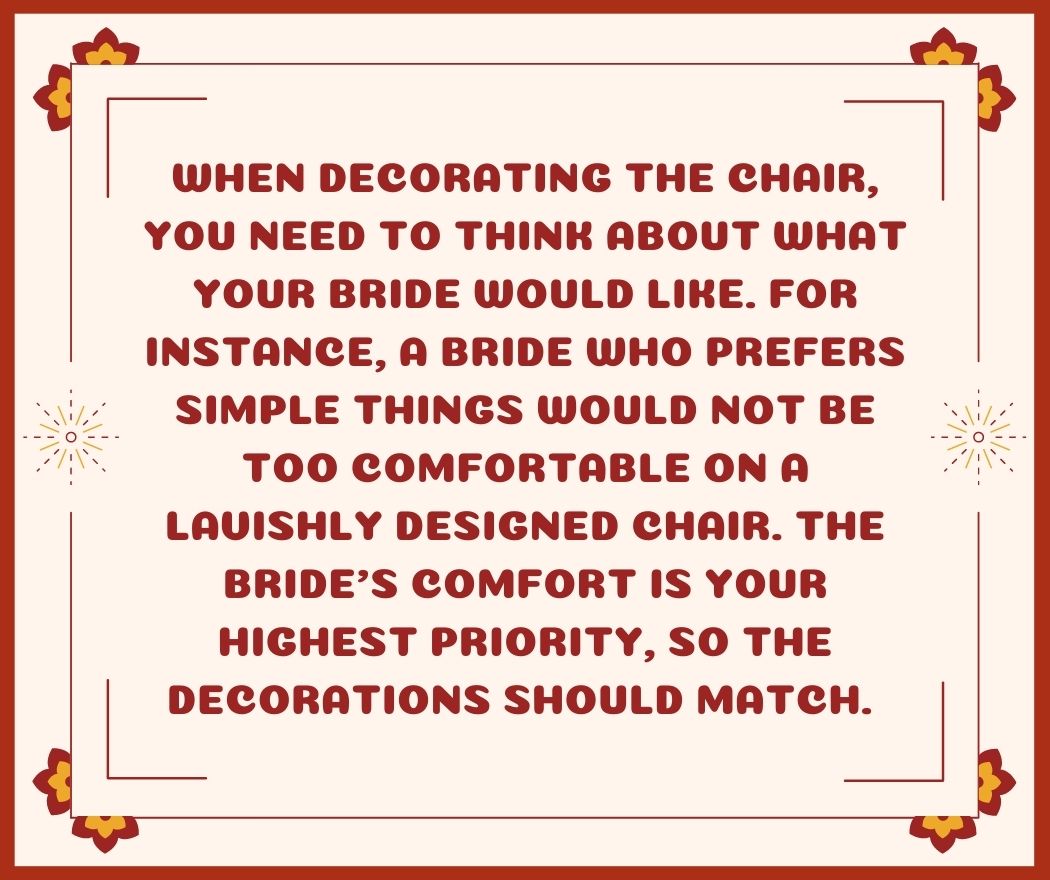 With that said, here are some ideas on how you can decorate a bridal shower chair.
Check out How Much to Spend on Bridal Shower Gift.
1. Flowers
We cannot talk about bridal shower chair decorations without mentioning flowers. They are like peas in a pod, Jack and Rose, Adam and Eve – well, you get the point. Flowers provide you with many options because they can be used for different designs. For instance, they can hang as a semi-circle behind the chair, twirl around the chair like a vine does, or hang on one side of the chair.
To pull a floral design off, you will need to know the bride's favorite flowers, a floral wire to hold the flowers, and some natural or artificial flowers for longevity. With so many floral design ideas on offer, you will strike gold.
2. Flower behind chair
Here's an idea – instead of hanging the flowers on the chair, why not just put it behind it? You wouldn't even need to decorate the chair any longer because the flowers would give off a garden type of vibe that would make for amazing pictures.
So yes, instead of stressing over a bridal chair cover, get a bunch of the flowers that the bride likes and stash them behind the chair. Be sure to place the flowers at the right height to be seen, and the decorations felt.
3. Balloons
Humans grow old, but balloons are forever, and this is why they would be perfect for bride chair decorations. Much like flowers, balloons have the versatility to be used for a myriad of designs that range from hanging balloons behind the chair to hanging them on a backdrop behind the chair. You could even hang them from a floral arch above the bride to make for a stunning image.
As for the balloons to get, you can either base their color on the theme of the shower, or you can use the bride's favorite colors. There are even balloons that allow you to write the bride's name for a customized feel.
4. Personalized leather jacket
This is a bit of a simple idea but hear us out. Get a leather jacket, inscribe the bride's initials (including the new surname, if any) or name, and hang it on the chair. You would succeed in decorating the chair and getting a gift for the bride.
The colors on the leather jack don't have to be bright, but the initials probably should be to make them pop. You could even inscribe funny messages on the jacket, such as a canceled "Miss" and a "Mrs" below that.
5. Drape with Fabric or Woolen blankets
Feel free to decorate the shower chair with tulle or other materials like organza. You could wrap the fabric around the chair into a pattern you like and then tie it up with a ribbon of another color. Attaching flowers to this would be the best icing you could have on the cake.
Instead of using a material, you could go for the unusual idea of hanging a blanket on the chair. This will be especially useful if you are throwing the shower outdoors and it starts to get a bit chilly. Be sure to use a blanket that is not only aesthetically pleasing to the eye but is of high quality as well. Pro-tip – unless the bride vehemently hates red, it would be the perfect color.
6. Wrap the chair in Lace & Burlap
Lace and burlap are an absolutely gorgeous combination that gives a chair a simple yet sophisticated look. This can be incredibly exquisite when the event's theme is more along the lines of natural colors such as brown and white.
Picture this, a lace and burlap decorated bridal shower chair tied into a bow behind the chair or tied such that it drapes to the floor with a flower placed into the knot. You could even use the lace as a type of ribbon to tie flowers in beautiful bows to the edges of the chair.
7. Bride to be Sign
Decorate the chair by using signage to announce that the chair is for a future bride when you put up a bride-to-be sign. There are so many designs and materials to use for this, such as:
Wooden plaques/ slades.

Frames

Color printed paper.

Laser-cut wood

Letter balloons
Each of these has several designs that you can choose from to make for a stunning bride to be sign for a chair. You don't even have to limit yourself to a "Bride-to-be" sign. You could write other things like "Mrs," "Mrs to be," "Quarter to Mrs," or her future last name. Oh and don't forget, calligraphy is your friend.
8. Wood plaque with floral decor
Wood seems to go well with flowers, which makes sense, seeing as both are from plants. Tap into that harmonious natural beauty to make the chair scream, "sit on me, I'm beautiful," by hanging a wooden plaque adorned with flowers on the chair. The plaque will then carry a message proclaiming the bride as a Mrs-to-be.
We would recommend rustic wood for this decoration because it just looks so appealing to the eye. You could again use the favorite flower of the bride or an assortment of flowers, provided the bride is not a fan of any of them.
9. Using Macrame
Macrame is simply too exquisite not to be an answer to how to decorate a bridal shower chair. This beautiful material made from cotton, linen, and yarn gives off a natural beauty that would work well with most themes for a bridal shower.
You could attach some macrame to the chair by itself because it can work as a standalone decoration, or you could jazz it up by mixing in flowers and wooden plaques. However way you decide, macrame is sure to make that chair look like a queen of chairs.
10. Wreath with beautiful flowers
The Romans wore wreaths on their heads to show class. Ancient Europeans used wreaths to pray for a good harvest. Christians use wreaths to celebrate Christmas, and many others use wreaths to remember those we've lost.
Point is, wreaths are used to celebrate important events, and marriage is one of them. With that logic, a wreath decoration on a bridal shower chair makes sense. And with there being several types of wreaths, you can have your pick of the bunch. Feel free to throw in beautiful ribbons and flowers for the more simple wreaths to make for a splendid sight.
11. Floral garland
Give the bridal shower some tea party and garden vibes by draping the bride's chair with a garland. You can go with several garlands, such as a green garland mixed with flowers, a bushy garland with no flowers but with ribbons attached, and huge garlands that come with botanical elements.
You can include a calligraphed bride-to-be sign for a fresh feel for bushy garlands.
12. Hang a quote
Instead of hanging a bride-to-be sign, you could hang a quote that wishes the bride well in her new stage of life. As usual, this would look best on wood, especially when adorned with flowers. Some quotes to use include:
You said yes, but before you say, "I do," have a happy shower.

Congrats on finding your one true love.

Happy shower to a happy bride.

We wish a beautiful marriage to a beautiful bride.
13. Hang a Mason Jar
Another bridal shower seating idea would be to fill up a mason jar with flowers and hang it right on the side of the chair. If the bride has no significant flower preference, consider using sweet peas, baby's breath, or hydrangeas. These flowers give a summer feeling and go great with brown and wooden chairs.
If that's not enough, you can add a ribbon or two around the mason jar or even use the ribbon to hang the jar.
14. Pearls for the princess
In this lesson on how to decorate a bridal shower chair 101, we bring you pearls. Pearl strands look gorgeous on the back of chairs as they can be used for several designs. You could, for instance, drape a couple of strands diagonally from one end to another, or you could form several curves with varying lengths of pearl strings tied from one end of the chair to another.
Add more depth to the decoration by using pearls of different (but related) colors and sizes. A ribbon is usually used to tie the pearls in place, but you can also connect the pearl strands to the chair and attach some brooches instead.
15. Let the chair do the talking
Instead of going through all the hassle of decorating the chair, you could instead opt for an exquisite-looking chair that would be reserved for the bride alone. Chairs that come to mind include peacock chairs, bridal shower wicker chairs, equipale chairs, and ghost chairs.
Should you still want to put up some decorations, calligraphed initials on the ghost chairs and garlands on the rest would work just fine.
Frequently Asked Questions
1. How do you decorate a bridal shower chair?
Hanging balloons on the back.

Draping the chair in macrame.

Hanging a bride-to-be sign.

Hanging a wreath.

Wrapping the chair in lace and burlap

Using a floral garland.
2. How can I spice up my bridal shower?
Coming up with a fire playlist.

Some great drinks and fruity cocktails.

Garland decorations on the chair.

 Wine tasting.

Go on a spa day.

Set up a cool backdrop for pictures.
Gain inspiration for spicing up your bridal shower from Unique Things To Do at a Wedding Reception.
3. Where should bride sit at a bridal shower?
There really is no particular position for the bride to sit, but we recommend that she sit with her bridal party members. She should also sit at a spot where she can see most people.
All in All
The bride's chair at a bridal shower is the throne in a royal event, and we hope that our ideas will be of use to you in making this happen.
ESTIMATED TIME DESIGNING AND UPLOADING THIS ARTICLE
ESTIMATED TIME RESEARCHING AND WRITING THIS ARTICLE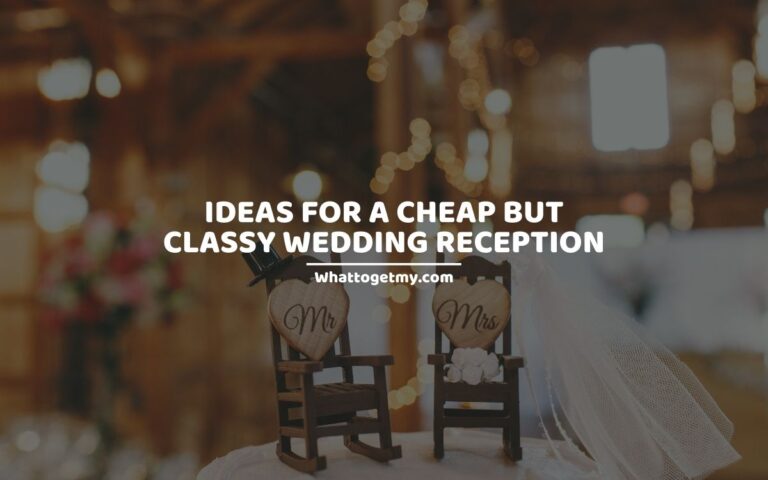 5 Ideas for a Cheap but Classy Wedding Reception
5 Ideas for a Cheap but Classy Wedding Reception WhatToGetMy Instructional Article With the rising costs of weddings in the United States, throwing a wedding together without overspending seems impossible. However, there are many ways to provide a beautiful and classy wedding reception on a
Read More »