How to Give a Charity Donation As a Gift
WhatToGetMy Instructional Article
What if you could skip the exhausting shopping for gifts and choose a less tiring option that even does good in the world? We're talking about charity donations of course! Instead of getting your friends and family gifts they might not use at all, try giving a certain amount of money to charity on their behalf. If you're not familiar with this practice, be sure to keep reading because we will explain everything you need to know on how to give a charity donation as a gift.
Before you continue scrolling, we'd like to mention a few things:
Donation gifts are very much appreciated by close friends. However, it's not recommended to give them to a casual friend. The reason for that is simple. You have a pretty good idea about what causes your closest friends support, but you don't know what charity your casual friends and coworkers care for. Then, if you give them a card about a donation on their behalf to the "wrong" charity, they might not be so impressed. 

When you are doing generous acts like this one, it's important to stay humble. Not only because humbleness is one of the 

characteristics of generous persons

you admire, but because you don't want to seem self-righteous. That narcissistic attitude might affect the holiday spirit and make others feel blue.
How to do it online
Various sites offer the service of donating in someone's name. You can go directly on the website of a charity you want and choose gift donation as an option or you can browse the sites that have search engines for comparing different charities. That way you can check out charities to find the one suitable for your loved one. You can see how much of the donated money goes to program expenses, administration, etc. You'll find out where your money is most needed.
There are a lot of websites out there that offer "charity gift baskets". You can just type the area of interest (animals, environment, elderly) and you'll get a list of all nonprofit groups devoted to that cause. Research a bit more and you'll find the perfect charity for your loved one. Then, you're just a few clicks away from purchasing a gift.
You can always choose to go to the charity in person. Talk to the workers, ask around and decide to make a direct donation on the spot. It's a bit of a hustle, so most people donate online.
Why are people giving charity donations as gifts?
A charity donation as a gift makes you and the recipient feel good about the impact you have on the world. You know that this gift won't go to waste. After all, the message of holidays is giving to the less fortunate. How is it that only in recent years did this practice become popular?
It took some time before people realized that holiday consumerism leaves them with stuff they don't want or need. Opting for gift cards instead of gifts was the first step in changing consumers' behavior. Combine it with the holiday spirit of giving and you'll get gift cards allowing the recipient to donate to charity. As you see the most important thing is finding ways to show generosity to others because the bottom line is that if you do good, you'll feel good.
Think about this next time you're struggling with that one person on your holiday shopping list who has everything. He/she is impossible to shop for and you don't want to give him/her unnecessary gift. The only logical solution is, of course, giving a donation as a gift.
Sure, there are a lot of other ways to do good for the holidays aside from donations. You can volunteer your time, get your presents from nonprofit groups, and engage in many other generosity activities for adults.
How to choose charity organizations?
When you're donating to charity instead of Christmas gifts, you have two options. You'll either choose the charity yourself, or you'll get your friends a gift certificate that enables them to choose a charity of their liking. Both options are easily accessible on specialized websites, so you just need to research a bit.
If you want to choose the charity, be careful about your choice. Your donation should matter and make an impact in the world. Try picking the one with the least administrative fees and expenses. First, you'll need to think about the cause. Will it be the environment, hurricane victims, the elderly, children, the homeless or any other cause? Every single one is important because there are so many problems in the world. Unfortunately, you can't help in solving all of them, so choose the one that the receiver of the gift supports.
Some people might make a mistake when choosing a nonprofit organization because they pick the one that suits their beliefs. You're buying a gift for someone else and you need to think about their point of view. For example, you might be an animal lover who wants to donate the money to an animal shelter. However, for a gift to your friend who's volunteering every month in a homeless shelter, you'd to might want to find a charity that helps the homeless. That kind of gift acknowledges him, his preferences and his charitable work. As long as you're taking into account things they believe in, a donation as a Christmas gift is the most thoughtful gift you can think of.
Will my money definitely fund the cause I choose?
There are a lot of charities out there. Some are well-known and established ones but some are unknown and suspicious. Big, well-known charities are reliable but your money won't be used only for charitable work. They are structured like corporations and use a large portion of donations on administration expenses. Smaller unknown charities are more likely to use all the donations directly for the cause. However, unknown charities are not reliable and some of them might be a scam.
It's crucial to find out as much as you can about the nonprofits you want to support. You'll need to research all the options, so you can make an informed decision. Unfortunately, you can never be 100% certain which one is a scam and whether your money will go where you want.
Learning how certain charity organizations work and what's each one's policy can help you choose. Most charities use donations wherever the money is needed, but some of them let you pick one aspect to spend your money on. That can be, for example, buying certain necessities like farm animals for people in need.
How to notify people of your gift?
How to let someone know you made a donation in their name is a tricky question. You want to show caring and give a gift from the heart, but how will you tell a person what you've done without sounding a bit self-serving. It's normal that you want to let people know about your thoughtful gift because if you don't, they would think you didn't get them a gift at all!
Fortunately, most charities can do this task for you. They'll send your loved one a note to let them know about your donation. Some people think that a note is a bit impersonal which doesn't fit the holiday spirit. What's the solution to this problem? You can opt for a card instead! There are a lot of cards out there specially designed for this purpose. Some nonprofit organizations even have their own selection of wonderful cards, so you'll just need to find the right one.
We'd like to note one more thing. The charity doesn't notify the recipient about the amount of money donated (unless, of course, the giver chooses to).
Gifts that give back
If you want to be charitable for holidays but still give your loved ones a material gift, don't worry! Various websites offer that kind of service too. We're talking about "gifts that give back". When you're buying these presents, the seller transfers a portion of the profits to a charitable cause. It's a nice bonus to old-fashioned gift-giving.  When your friend or a family member hears that their gift, which they loved, also helped someone else, they'll be very pleased.
Some of these gifts support particular nonprofit groups and some are made for one-time fundraising. However, their purpose is to give back to the community. They are not made only for Christmas. Any season is a great time to be generous! You can give them for other holidays or birthdays. It's a wonderful opportunity to give to charity and still send love to your friend with a thoughtful gift.
Donations aren't the only thing these gifts can offer. If you consider buying "ethical gifts", you can choose the ones made from recyclable materials or in fair working conditions. You might need to spend a few extra bucks on fairtrade products, but it's worth it because you won't be supporting the exploitation of workers with your purchase.
A small percentage of your gift's worth goes to a global cause like providing people with clean water, ending child hunger, cleaning the oceans, etc. Individually that isn't very much but combined with the efforts of thousands it can have a huge impact on the world. Together we are stronger is the motto of every charity organization.
FAQ: Frequently asked questions about giving a charity donation as a gift
If we missed answering some questions you have, you might find a quick answer in the list of common questions about this topic.
How do you make a charitable donation in someone's name?
You can donate to charity in someone's name in four easy steps:
Think about what causes your friend supports.

Find out which charity can suit your friend the best.

Make a donation.

Send a notification or a card.
How do you ask for donations instead of gifts?
Be honest with your loved ones. Tell them you already have too much stuff, so you don't need a gift. Suggest they donate to charity if they really want to get you something anyway.
How do I make a donation in memory of someone?
All you have to do is choose the organization and the amount you want to give. You can then give that money to the organization via their website, by sending a check in the mail, or by putting it in an envelope provided by the funeral home.
Conclusion
Giving to charity instead of buying gifts promotes an idea that holidays are about caring for other people. It's a simple way to find a gift for that person who already has everything. We tried to explain how to give a charity donation as a gift in this article and hope we succeed.
Remember that gift-giving is about honoring the other person. Make sure they are okay with giving a donation as a gift and with charity organizations you might be choosing.
You can include kids in this kind of gift-giving because the holidays are a great opportunity to teach them the right values. For more ideas about doing that you can check out our article about teaching your child to give back.
ESTIMATED TIME DESIGNING AND UPLOADING THIS ARTICLE
ESTIMATED TIME RESEARCHING AND WRITING THIS ARTICLE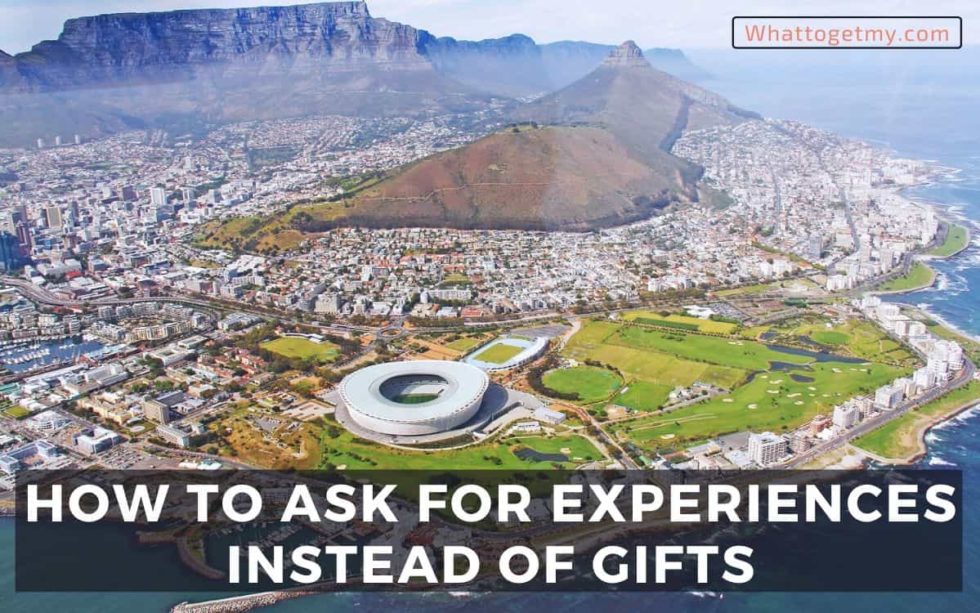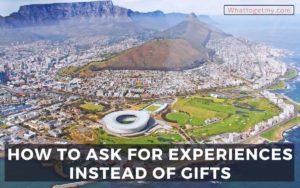 How to Ask for Experiences Instead of Gifts
5 ways for How to Ask for Experiences Instead of Gifts WhatToGetMy Instructional Article You have made up your mind about the gifts that you would like to receive. And have decided that you do not want any more materialistic gifts for you or your
Read More »