17 Amazing Ideas of What to Do for Christmas Instead of Gifts
WhatToGetMy Instructional Article
Looking for what to do instead of buying and giving gifts this Christmas? Then you have come to the right place.
So many people love the Christmas season but are so tired of the stress it brings. Trying to find perfect Christmas gifts for everyone on their list. Holiday cards need to be sent out, attending or hosting of Christmas parties or dinners, Travel plans need to be arranged by some people and many more things need to be organized. It can be extremely overwhelming and expensive.
So why not ditch buying gifts for everyone? This will save you so much time by not having to run around from one shop to the other finding Christmas gifts. You could spend this extra time with the people that mean the most to you.
I can hear you saying, but Christmas morning without gifts will be so boring. It is going to feel very strange not sitting by the Christmas tree as a family. Opening up the many various gifts that everyone has bought for you.
That may be true. But only because you are so used to the tradition that on Christmas morning that is what you do, you open presents. But start some new Christmas traditions instead of gifts by doing things differently and starts by having no presents for Christmas.
After all, celebrating Christmas is all about spending time with those you love. So why not spend your time doing some amazing, fun alternatives to Christmas gift giving.
17 Ideas of what to do for Christmas instead of gifts
1. Use your creative skills in the kitchen
If you are thinking of ways to celebrate Christmas with no gifts then baking Christmas cookies and making snacks with your loved ones can be so much fun as well as memorable. Everyone can get involved in one way or another no matter their age or gender. There is something about teaching your kids or kids of different family members to bake. Then how to decorate delicious treats that are priceless.
2. Create your own Christmas Cards and decorations
Creating your own Christmas cards and decorations as a family is so much more meaningful than buying them in the store. You can set up an area in your home. Have a table to place different colored paints, glitter, glue and any other craft items you can find. You can even use nature for your creations by using leaves, twigs or pine cones from your garden.
Decide if you want to create garlands, Christmas wreaths or hanging ornaments for your Christmas tree. Let your imagination run wild.
3. Host a Potluck Dinner
If you are a believer that Christmas is not about gifts, but about everyone in the family coming together then hosting a big potluck dinner can be a great idea. Ask every household to bring their own dish for all to share and enjoy. This will ensure that there is enough food to go around and will take some pressure off of you as the host.
To put some more fun into the celebration set a dress code to the theme of Christmas. Some people might surprise you with their creativity and some will make you laugh so much that your belly hurts.
4. Go Christmas caroling
Christmas caroling is a tradition that we all know well and most of us love. Whether you and your family members enjoy singing the carols or listening to others sing. It always brings Christmas spirit to those around you and them making it a great way to celebrate Christmas without gifts.
If you and your family wish to go Christmas caroling make sure that you all know the words. Because if you don't it could be an embarrassing moment for you all. Be friendly and make sure that you smile.
5. Go see a Christmas play
Taking the whole family to go see a Christmas play is a perfect opportunity to spend some time together as a family and to enjoy the season. Search for playhouses near you and choose the Christmas play that you would all enjoy. The plays that you choose could be Christmas stories, musicals or if you would prefer a religious one. It is your choice.
Some great examples are:
The Nutcracker

A Christmas Carol

Elf

How the Grinch Stole Christmas

Rudolph the Red-Nosed Reindeer

A King is born
6. Christmas movies Marathon. 
If you feel like staying home and catching up on your favorite Christmas movies. Then a Christmas movie marathon is a great idea. Get comfortable on the couch with all your loved ones. Make sure that there are enough snacks and refreshments then start watching. 
Need a little help with where to start? Here are some of the best:
The Santa Clause 1, 2 and 3

A Christmas Carol

Elf 

Four Christmases

Gremlins

National Lampoon's Christmas Vacation

Scrooged  

Die Hard (Although many debates are on the go whether this one is a Christmas movie)

Miracle on 34th Street  

White Christmas

The Nightmare Before Christmas

Love, Actually

The Holiday
And if you don't like the above list, you can use your streaming service to find others like Netflix, Amazon Prime Video or Hulu.
7. Listen to or sing Christmas songs
A fun idea to do at Christmas is to get your family together and pick your favorite Christmas songs. Play them and either listen to them or sing along with them.
If you are singing them together as a family then why not add some instruments of your own. You do not have to actually own any instruments to have some fun, your kitchen pots and pans will do just fine.
8. Read Christmas Books together
A fun thing to do especially if your kids are young is to read Christmas books together. Kids love Christmas stories and even more so if mom or dad sits and reads the stories to them. If you need some ideas for some classic and much loved Christmas books for kids. Here are some to help:
The Snowman that is written by Raymond Briggs

The Spirit of Christmas written by Nancy Tillman.

Elf On The Shelf written by Carol Aebersold and her daughter Chanda Bell

The Magic Of Christmas written by Trisha Ashley

The Polar Express is written by Chris Van Allsburg

Christmas Treasure Hunt was written by Roger Priddy  

Dear Santa was written by Rod Campbell.
9. Play some board games
Board games are great to play with your family at any time of the year. They also do not have to be holiday-themed board games. You can play whatever games you have as long as more than a few players can play so that everyone can join in.
You can play Monopoly, Scrabble, Charades, games with a deck of cards, or any other games that you would like. As long as you are spending time with your loved ones, that is all that counts especially at Christmas.
10. Get Your Picture Taken with Santa
People and their children stream to the mall every year to have a picture taken with Santa. It is a long-standing tradition that is enjoyed by many. So go to your local mall stand in line to wait your turn to have a cute picture taken with Santa.
11. Create your own Christmas Photo Booth
Christmas time is the most exciting time of the year and it is a great time to take family Christmas photos. This is the time when people are always smiling and feeling happy. Families come together, the different Christmas decorations, lights, and varieties of food. All make it the perfect time for some amazing photos.
To make family photos a little more special at Christmas, there is nothing better than creating your own Christmas photo booth. Which is done by using some creative props. These props have either been made bt yourself or they are items that you have found laying around.
It is actually super easy to create your own Christmas photo booth. All you need to do is to choose your favorite backdrop. Have a photo booth made out of a cardboard box. Good lighting and some Christmas props and you will be good to start clicking away at that camera's button.
12. Attend a Christmas tree lighting ceremony
This is a wonderful thing to do at Christmas. You should be able to find a Christmas tree lighting ceremony of some kind near you. So gather the family together and go watch the beautiful Christmas lights.
13. Spend time together outdoors
Spending time together as a family outdoors, playing games, a fun sport or even going for a walk is so rewarding. It gives you the opportunity to reconnect with each other while having fun and breathing in some fresh air.
And if you are lucky enough to have a white Christmas, you should definitely take advantage of being outdoors playing in the snow. You can build a snowman together, have friendly snowball fights and make beautiful snow angels. If you grow tired of it, you can all go ice skating.
14. View and judge the best-decorated house
Many households enjoy going all out to celebrate Christmas. This includes decorating their homes with many different Christmas lights. Take a drive around your neighborhood and find these houses, view them and judge them amongst yourselves.
15. Donate Toys, games, and books
Christmas is the time for giving, encourage your kids and your families kids to clear out their old toys, games, and books that they do not use anymore. Clean them up and take them and give it to a children's home or shelter near you where it will be appreciated.
Giving something even if it is used goods that are still in a reasonably good condition to people, especially children that do not have much, is such a good feeling. This is so fitting for Christmas time. It helps you to de-clutter and clear out your home and do something good for others at the same time.
16. Volunteer as a family
Another way to help those in need over the Christmas season is to volunteer as a family. You can hand out food, clothing, and blankets at a soup kitchen. Spend some time at an animal shelter, visit a children's hospital or an old age home.
By volunteering and helping out during the holidays gives you so much more than any gift would. Volunteering helps spread the holiday cheer, it helps you to appreciate all the things that you have, builds new relationships and makes you a happier and healthier person.
17. Being Thankful for all that you have
You have already celebrated thanksgiving and have mentioned some of the important things that you are thankful for. Christmas time is yet another great opportunity to be thankful and to give thanks to the people around you. Be thankful not only for the things you have received but also for the time you can spend with your family. For all the love that you receive from them as well as the things your loved ones and others have done for you.
It does not matter how big or how small the things are that you are thankful. Keep in mind there are people out there at this time of year that is less fortunate than you are. Sit down with a pen and paper and write all the things that you are thankful for. Things like:
Your Health

Being Loved

Family

Good Conversations with those you love

Home Cooked Meals

Freshly baked cookies

Hot Chocolate with Baby Marshmallows

The joy of having a Christmas Trees
It is your list so the items you write down can be anything you like even if it something as small as having Netflix.
Once you are done with your thankful list, you can then make your loved ones thank you cards and write your own personal message to each one thanking them for the joy and happiness they bring to your life.
If you have difficult teenagers that are hard to please. And none of these amazing ideas interest them. You can try some other things to do with teenage grandchildren or children that they might like.
But if you can't imagine Christmas without gifts and feel that you still have to have something small to give on Christmas day that won't break the bank. You can take a look at some cheap Christmas presents that look expensive.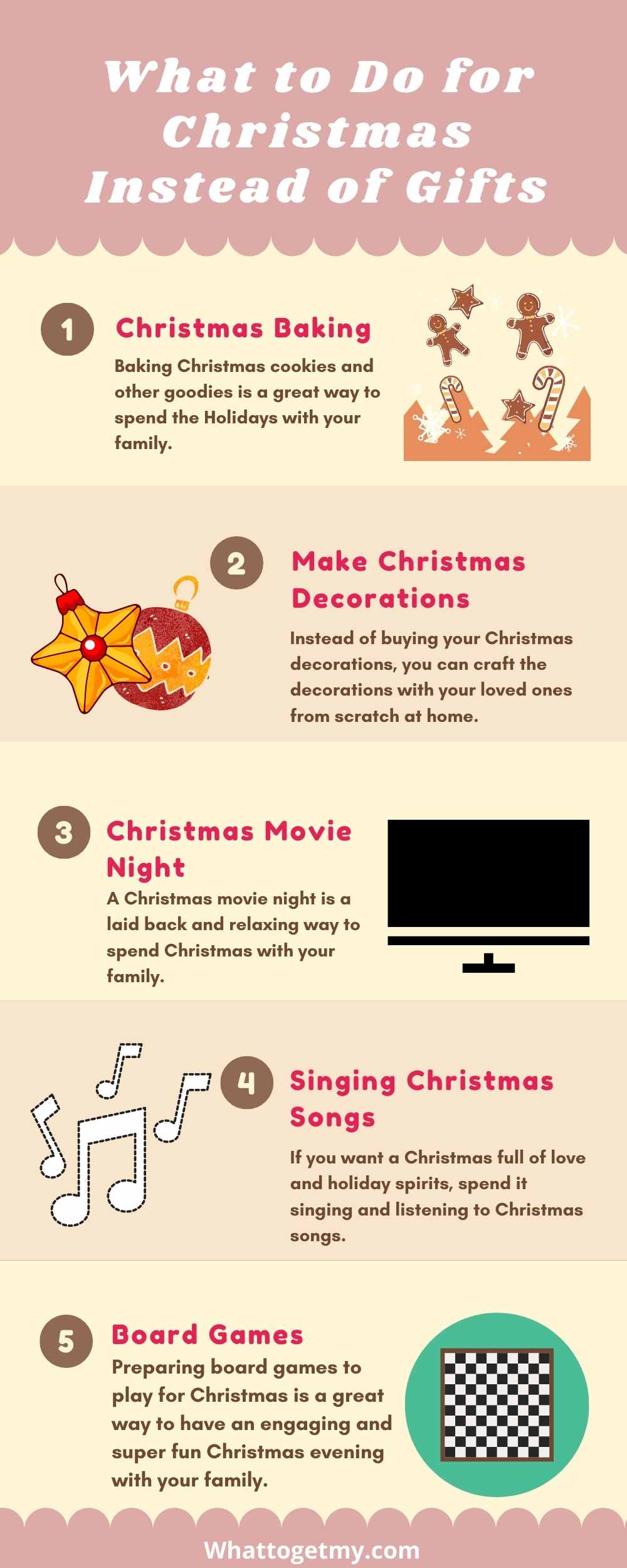 Source Link: https://whattogetmy.com/what-to-do-for-christmas-instead-of-gifts/
Frequently asked question
You think children will love the idea of a Christmas without any gifts?
This one will depend on the children and their families. If the family manages to do something super fun like atake a family vacation or something else that is very unusual on Christmas then the kids will most probably not care about the gifts, because a gift can be given on any other time of the year whereas an unforgettable experience won't.
Is not buying any Christmas gifts going to save me money during the Christmas season?
It depends on what you decide to do instead of  buying gifts. If you choose to go to a family vacation or host an extravagant Christmas party it will probably end up costing you equivalent to buying gifts.
Conclusion
There are many amazing ideas on what to do for Christmas instead of gifts. These ideas are so much more thoughtful and meaningful than any gift can ever be. Pick a couple of your favorites and enjoy the holidays.
ESTIMATED TIME DESIGNING AND UPLOADING THIS ARTICLE
ESTIMATED TIME RESEARCHING AND WRITING THIS ARTICLE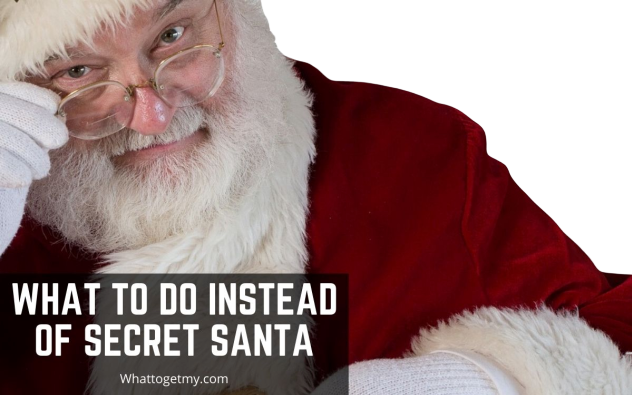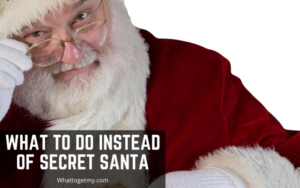 What to Do Instead of Secret Santa
8 Unique Ideas on What to Do Instead of Secret Santa WhatToGetMy Instructional Article Let's be honest here, organizing secret Santa every year can be quite stressful. It's not just about the game but about repeating the same thing over and over again. It can
Read More »