11 Tips on How to Show Your Wife She Is Top Priority
WhatToGetMy Instructional Article
Learning how to show your wife she is  top priority could help you bring back the long-lost love and happiness in your home. Many homes feel like a lonely island because of a lot of reasons. Marylyn gave a list of reasons why her marriage may soon fall apart; here are her reasons;
My husband makes plans without consulting me

; This doesn't feel right as marriage involves both partners working together to make the house a home.

My husband puts his friends before me

; this can be very annoying as most of the time, the wife begins to feel she is not valued.

My husband puts his hobby before me

; the wife feels less appreciated and begins to pull away.
A lot of problems can arise when your spouse doesn't put you first;
Couples begin to pull away from each other

The love grows cold

They drift apart gradually

Loneliness and depression

work, friends, and other hobby takes the place of their partner

They begin to make room for others which results in cheating

Finally, the marriage hits rock bottom ending in divorce
The marriage rate in the United States in 2019 was 6.1 per 1,000 people. The divorce rate in the United States was 2.7 per 1,000 people in the same year (with 44 states and D.C. reporting). The "crude divorce rate" is the term for this. While valuable for describing changes in divorce rates over time, the crude divorce rate does not give precise data on the percentage of first marriages that result in divorce. In 2019, both marriage and divorce rates in the United States were declining, with the marriage rate falling from 8.2 per 1,000 people in 2000 to 6.1 in 2019 and the divorce rate falling from 4.0 in 2000 to 2.7 in 2019. According to recent studies, millennials are the key driver in the fall of marriage and divorce rates in the United States, as they choose to wait longer to get married and stay married longer. In the United States, about half of all marriages end in divorce or separation. According to research, 41% of all first marriages end in divorce. Divorce is common in second marriages, with 60% ending in divorce. All third marriages end in divorce in 9.73 percent of cases. The United States has the world's sixth-highest divorce rate.
The chart below shows a graph of the divorce rate of whites from 1996-to 2009. To read more about this research, please click here.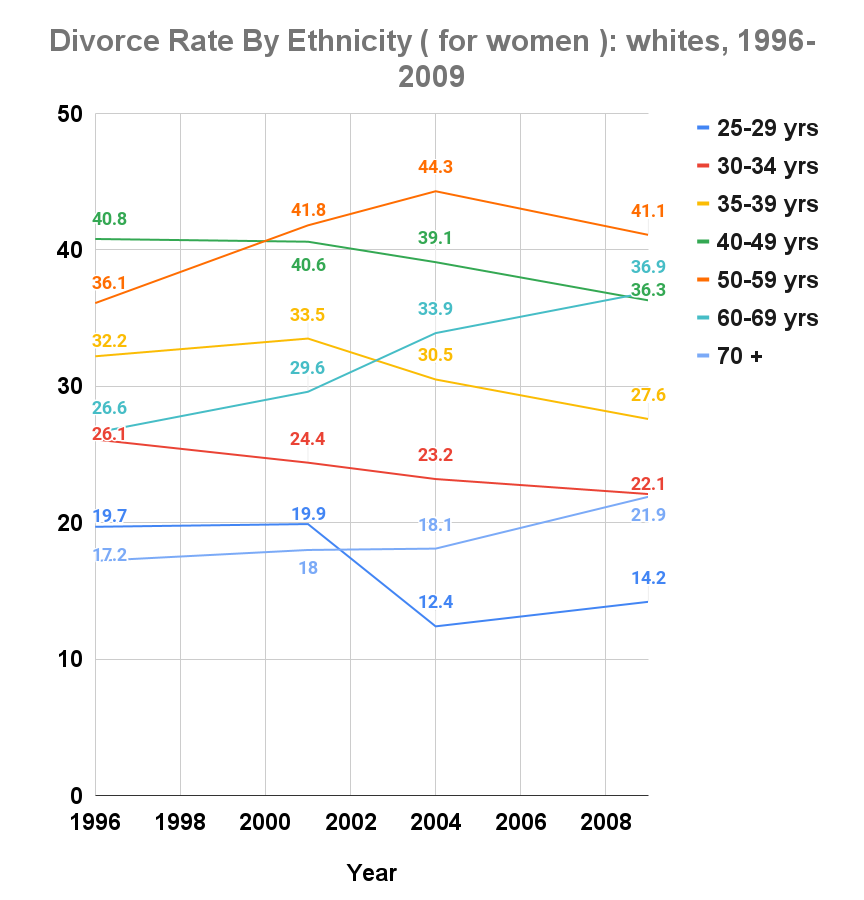 WHAT DOES PRIORITIZING YOUR WIFE MEAN?
To prioritize your wife means to put your wife first in everything. Make her feel important and needed. Sometimes couples lose the spark in their relationship; they begin to feel bored. Some partners begin to lose connection with their spouse and, as such, do not place them first, especially when making decisions and in their daily routine. Imagine never having to spend up to one hour with your partner for weeks because he is out there spending quality time at work or with his buddies or at the gym? Imagine hearing from his mum that he has decided to quit his job and switch professions; this is what happens when your spouse doesn't put you first. These actions end up destroying the love you once had; you can change this by setting your wife first in all you do, this is how;
1. MAKE TIME FOR HER
Don't be that husband or boyfriend who hardly has time for his wife or girlfriend. Husband not prioritizing his wife can be fatal; imagine if someone else begins to spend more time with your wife than you do. Soon your wife will feel the said person cares about her more than you do; this may be true because you make time for what is important to you, and right now, that is not your wife.
2. CELEBRATE HER
Are there men who never celebrate their wives? When a husband has priorities wrong, this is what happens; he refuses to see the efforts his wife makes in the relationship. Her daily input, hard work, and encouragement to him and the various sacrifices ensure that the relationship thrives. Celebrating your wife means you see the little wins she brings, and you applaud her for it. Let her know you value her input and encourage her to do more.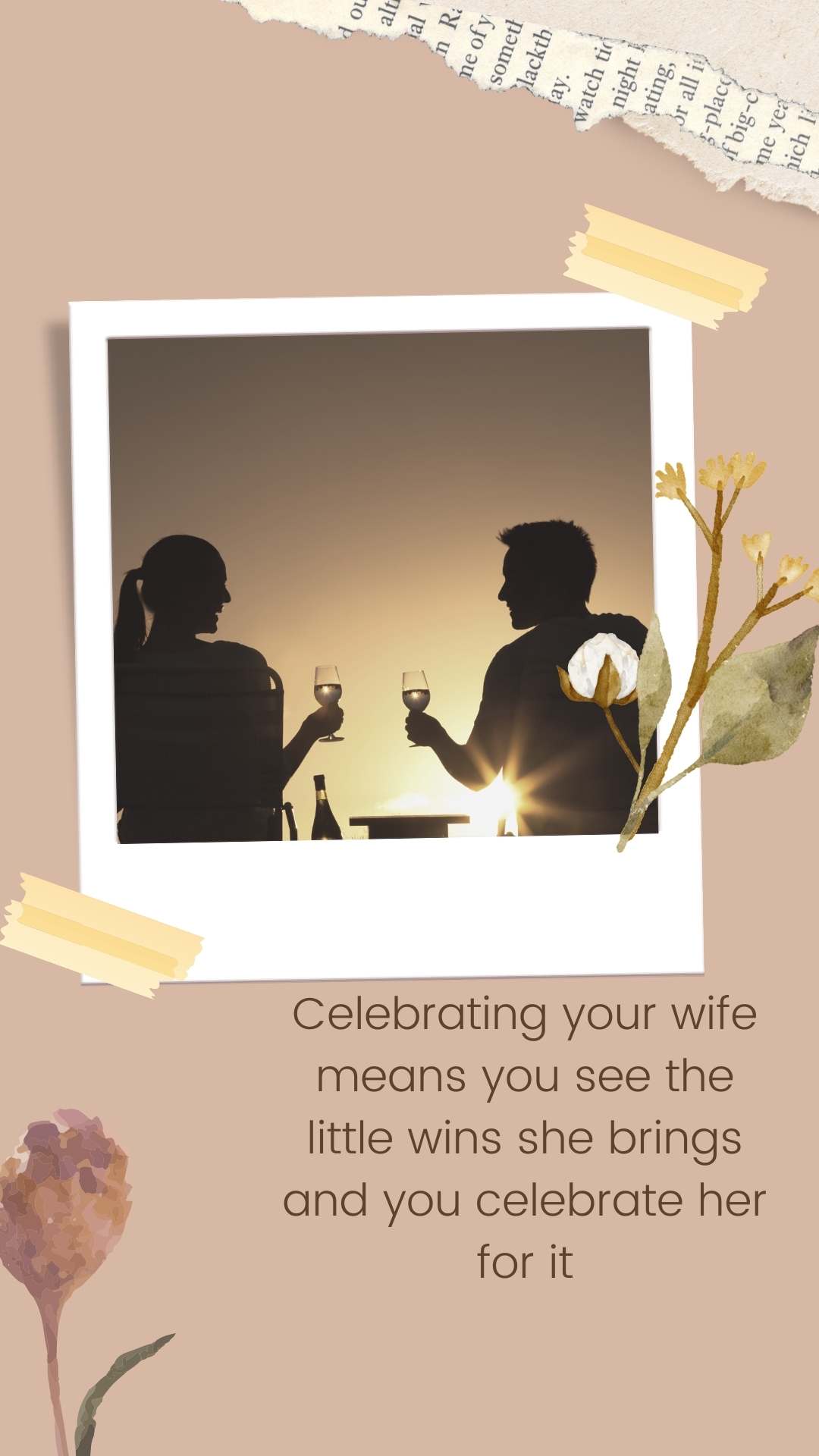 3. ALWAYS SEEK HER OPINION BEFORE YOU MAKE A DECISION
Do you make decisions without consulting your wife? What to do when your husband puts his family first; this can be so annoying and discouraging. Making decisions without consulting your wife only shows that she is not top priority in your life. Should your wife hear from your friends and family of a decision you plan to make, or should she be the one to tell them about it? Imagine being the last person to find out that your husband has quit his job and is changing career; how would you feel? Not happy as this shows the husband not prioritizing his wife.
4. LISTEN TO HER
If you care, you have to listen. "I don't feel like a priority because my husband doesn't listen to me," said Anya, "he would rather sit in front of the television or just read his newspaper." Listening to your spouse will help you know how to help or support them. Listening is a way of showing that you are interested and that the individual you are listening to is worth your time. When you do not attend, you may end up losing the friendship.
5. REMEMBER HER DATES
Top signs your husband puts you first is when he remembers your dates and surprises you on that day. How many wives are happy knowing that their husbands do not remember their birthday or wedding anniversary? This could be the beginning of divorce for you; not knowing your wife's birthday shows that you are not paying attention. What could be running through your mind enough to make you forget your marriage anniversary? Are you happy? Because these actions only prove that you do not value your wife.
6. SURPRISE HER
You are married does not mean you stop surprising her or taking her out on dates. Fix dates for a vacation together, spend time having fun, put a smile on her face as often as you can by surprising her with lovely gifts. You may also like these wedding anniversary gifts for your wife; this is how to show your wife she is top priority by giving the valuable gifts that make her happy.
7. SHOW THAT YOU STILL LOVE HER AND ALWAYS WOULD
"I can tell if my husband still loves me when he makes me a top priority; he will need to show me in many ways that he still loves me and always will. This can be seen in the way he talks to me, the gifts, his show of affection, our romantic moments, and his support for my dreams and careers." a husband who still loves you will always put you first; this is how to show your wife she is a top priority.
8. DO NOT SPEAK BAD ABOUT HER TO YOUR FAMILY
How do you know when your husband puts his family first; When he speaks ill about you to his family. When he belittles you in front of his family, when he tries to avoid taking you to his family, and when he ignores your request just because his family says so, what to do when your husband puts his family first can be confusing; after all, his family should be your family right? One of the ways how to show your wife she is a top priority is by never speaking badly about her to your family. Remember, the way you treat her is the way others will. Your eyes are the mirror through which others see your wife; ignoring, not listening, insulting and belittling her in front of your family means anyone could do the same too; since you do not show that you value your wife, others may decide not to appreciate her too.
9. MAKE COMMITMENTS
Not to your job, your hobby, or your family; make commitments to her. Show her you are ready for a happy ever after with her and only her. Show her that she is "the one" and there is no one you would prefer to be with more than her. Tell her how happy she makes you and how you wish you had met her earlier. Making commitments in a relationship will make your partner feel important to you. One of how to show your wife she is a top priority is by making commitments to her in whatever form you could; marriage, partnership, promises, etc.; this would make her feel important and valued.
10. BE IN SYNC WITH HER FRIENDS
See how much she loves to spend time with her girlfriends? You may need to get acquainted with her friends and be on good terms with them. This will help you a great deal to understand your wife/girlfriend and know how best to relate to her in any given situation. Her friends probably know her more than you; they may teach you a thing or two that will help you in your relationship. Being in sync with her friends shows that you put her first.
11. NEVER CHEAT ON HER
You love her, don't you? If you are here learning how to show your wife she is a top priority, it means you love your wife and want to build a better relationship with her. That will not happen if you cheat on her; cheating on a spouse is a way to show that you do not love your spouse. Loving a spouse means you stay faithful to them. Faithfulness to one's spouse is done willingly and happily without regrets. If you wish to show your wife she is top priority, never cheat on her.
Showing your wife she is top priority will not only strengthen your relationship with her, but it will also make her show you that you are a top priority too. Love goes both ways; you give what you expect to receive. When you provide selfless love, it shows that you also want selfless love.
FAQs
1. How do I make my wife a priority?
By showing her, you love her now and always, never cheating on her, and making a commitment to her. This way, she will know that she is your top priority.
2. How do you show a woman she is a priority?
Show her that you love her; never forget her birthday or your anniversary, don't cheat on her; this way, she will know she is your top priority.
3. Should a wife be a husband's priority?
Of course, your wife is your partner; who else would be the top priority if not her/ A wife should always be her husband's top priority; this is the only way your marriage will last the test of time.
CONCLUSION
Most times, couples tend to drift apart as they lose the passion they once had for each other. Making your wife a top priority could reignite the light in your dying marriage. This article on How to show your wife she is top priority can go a long way to help you revive your dying relationship rather than wait for it to hit rock bottom and end in divorce.
ESTIMATED TIME DESIGNING AND UPLOADING THIS ARTICLE
ESTIMATED TIME RESEARCHING AND WRITING THIS ARTICLE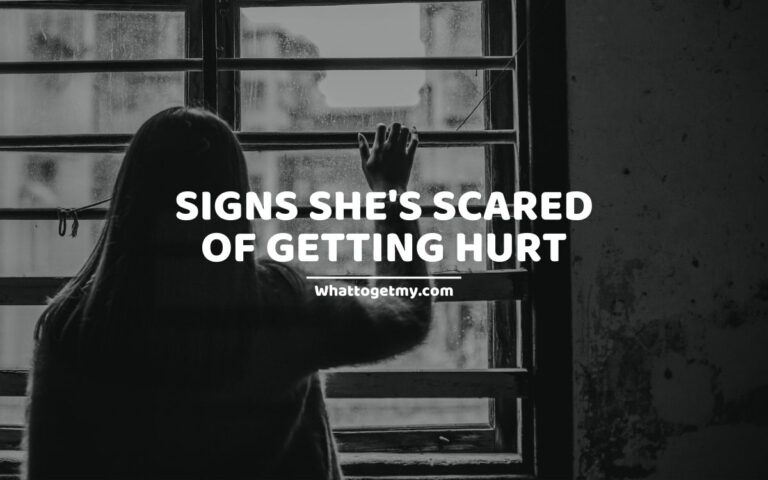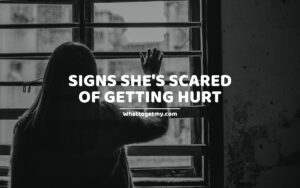 19 Signs She's Scared of Getting Hurt
19 Signs She's Scared of Getting Hurt WhatToGetMy Instructional Article The girl that is scared of commitment either has been hurt before in a previous relationship or is afraid of getting hurt in a relationship. In this article, we will be showing you all the
Read More »