So there is a woman in your life who loves being outdoors. She loves taking part in physical and recreational outdoor activities or hobbies. The weather does not seem to bother her at all. Where there is an adventure she feels she has to experience it.
It does not matter if the sun is shining if it's raining, or if it is winter or summer, she always wants to be on some outdoor adventure. You find yourself trying to understand the thrill of it all, you want to know what draws her to the outside world.
You understand the excitement of exploring and experiencing new and different places but what you don't seem to understand why an outdoorsy person could possibly risk their lives for it. This outdoor lover can be any girl; your mom, girlfriend, wife, sibling, or friend and you want to get them a gift that will be beneficial for them during their outdoor trips.
You want to find her the perfect outdoor adventure gifts but you seem to be struggling as you have no idea where to start. You can't seem to decide whether to get her a common item that is practical and could keep her from harm or a gift of something that is more of a luxury gift but will help her enjoy something small that reminds her of home.
We know that it can be really difficult
Especially, if she has been on many different types of adventures and has years of experience. Because a true outdoorsy woman will have purchased and collected all the essential items and gear that she may need to help make her journey and experience more enjoyable and a lot safer for themselves.
They have learned what has worked and what does not. From the clothes they wear, the gear they use right up to the type of items that are lightweight enough to carry with them for having meals.
Another thing that scares you about buying any type of outdoorsy gifts for her is that you know that she is extremely picky about the type and quality of the gear that she uses while out on one of their adventures.
Think about it, you can't really blame her. Although her adventures always sound like a lot of fun and are always exciting to you. But there is always the possibility of things going wrong while being out in the wilderness. And when this happens, her life could depend on her gear as it is they are the only items that she has with her.
The type of gear that she would have with her would depend on a number of things. It would depend on the type of activity, how long is the activity takes, for instance, a day or a couple of days and of course the type of weather that she could expect.
The gear then could range from the totally practical items like a tent to give her shelter to something that is not essential but would add a little extra enjoyment to her trip like a portable coffee maker, if she loves coffee.
This puts you in a really tough position by making your choice of outdoor gift ideas for her that much more difficult.
But it doesn't have to be. We have broken it down for you to help make it a little easier for you.
All you have to do is think about the purpose of your gift, ask yourself these two questions:
Will your gift solve a problem that she could encounter while being outdoors?

Is there a better and new version of a particular product that she already has?
Finding the best gifts for the outdoor woman would work the same as finding gifts for the impossible woman or any other woman. You would need to consider doing some of the following:
Make a list of all the types of

outdoor activities

and hobbies that she loves to do, things like hiking, rock climbing, kayaking, etc.

Look at the items that she has bought in the past.

Think of items that she may have mentioned that she still needs

Do a little investigating of your own and find out some new things about her and the outdoor activities and hobbies that she does

Think about giving her a new outdoor experience that she would enjoy

Think about a gift that will teach her something new about the next adventure that she plans on going on

Think about a gift that would make her laugh. Maybe a gag gift relating to her favorite outdoor activity or hobby
Once you have considered all of the above. It is then time to decide if you are looking for adventurous gifts for her that is essential for her protection while she is outdoors, something to help make her adventures easier or something that will help her experience more of her surroundings.
Essential for protection
Being outdoors for an entire day or for a couple of days, there are certain essential items that you would need to protect yourself from the elements. If you are out in the sun, you would need to make sure that you stay hydrated, have items like a buff that helps shield you from the sun or a warm jacket that keeps you warm when the weather gets bad.
As an Amazon Associate we earn from qualifying purchases. We may earn a small commission for our endorsement, recommendation, testimonial and/or link to any products or services from this website. Thank you, your qualifying purchases help support our work in bringing you real daily gift ideas.
Quick Overview: Outdoorsy Gifts For Her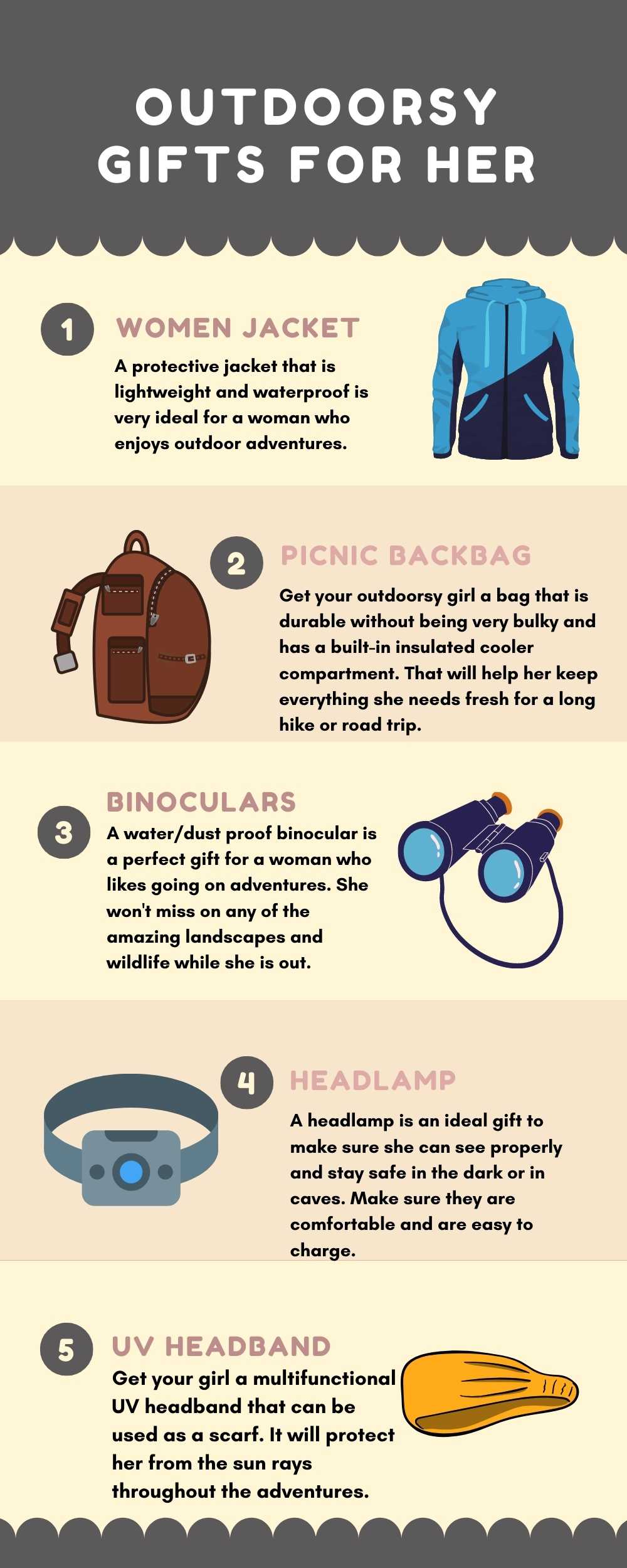 Source Link: https://whattogetmy.com/outdoorsy-gifts-for-her/
Women's Hooded Ultra Light Weight Down Jacket
This women's hooded lightweight down jacket will make one of the best and most practical outdoorsy gifts for her. Although it looks thin, it is extremely warm and comfortable. It is perfect for ultralight backpacking, hiking, or any other outdoor adventures. This jacket has two deep inside pockets and two deep outside pockets with zippers to keep her essentials safe.
The majority of customers that have purchased this Down Jacket found that the jacket is lightweight, so soft, warm, and extremely comfortable to wear. It is the perfect jacket for outdoor adventures.
Buff UV Headband
These practical buff headbands can be used in many different ways and for many different things while being outdoors. They are one of the most popular outdoorsy gifts for her which she will love. They offer UV protection and are available in many different designs and colors that would be perfect for her.
Those customers that have already purchased these Buff headbands love them. They find them to be available in many different designs and colors and are a very versatile item to have while outdoors.
CamelBak 90352 Omega Water Reservoir
This reservoir easily slips into any backpack and you can drink while enjoying many outdoor activities or hobbies. It holds 3 liters of water which is more than enough for a couple of hours hiking, climbing, or any other outdoor activities. The bite valve is strong with a good flow of water and it has an insulated hose that prevents leakage. It is easy to open or close when needed and makes a great gift for the outdoorsy person.
Many customers that have purchased this CamelBak Omega Water Reservoir are extremely satisfied with it as they were able to stay hydrated while hiking, biking, and snowboarding. They found that it was easy to use and it did not leak.
Something to help make things easier
There are many items to choose from that can help make things a little easier for her while being outdoors. From all types of drinking and eating gadgets to items that could become very useful. These items could be something like a picnic backpack or a headlamp that helps when adventures are stretched into the night or if she finds herself stranded.
Apollo walker 2 Person Red Picnic Backpack
This roomy picnic backpack with an insulated cooler compartment for food will help lengthen her hikes and other outdoor activities that she may do. It makes a wonderful and practical outdoorsy gift for her as it has everything that she would need. From the perfect size blanket with a water-proof bottom, cutlery, plates, and wine glasses for two.
Many customers that have purchased this picnic backpack found it to be a handy item to have while going for a picnic or while out on a hike. It is has everything you need with extra space to pack in food and snacks
Black Diamond Revolt Headlamp
If she loves being outdoors at night this headlamp makes the perfect gift for her. It fits comfortably with multiple brightness levels and modes. They are easy to change ensuring that she will not blind the people around her. There are four amazing colors to choose from that are lightweight and are also rechargeable with a USB cable.
Customers who have purchased this Black Diamond Revolt headlamp have found it to be a great headlamp for all outdoor activities at night. It is lightweight with tilt down features and a rechargeable USB cable feature.
A gift so that she never misses a thing
People who love the outdoors want to see and experience as much as they possibly can. But humans can only see so much with the naked eye. So an idea for great adventurous gifts for her would be a pair of good quality binoculars that are water and fog proof.
Bushnell H2O Waterproof/Fog proof Roof Prism Binocular
This pair of compact binoculars will ensure that she never misses a thing while being outdoors. She will be able to get a better look at all kinds of wildlife and landscapes with an impressive magnification feature that is clear and bright. And if she happens to drop it in water by accident, it will still work perfectly as it is waterproof as well as fog proof.
Customers that have purchased this Bushnell H2O waterproof and fog proof binocular are impressed with the quality. They find them to be perfect for outdoor activities as they are light, easy to focus, and are very clear and sharp.
Frequently asked questions
Are these gifts also suitable for an outdoorsy man?
It depends, the practical gifts can be used by both men and women. However, the gifts such as the head band are appropriate only for women.
Will an outdoorsy woman appreciate an experience gift?
Yes, an experience gift would be a great gift idea especially if you get to go with her. You will get to have a lot of fun and adventure and make great memories.
Conclusion
When it comes to finding the best outdoorsy gifts for her, think about the sort of items that could be essential for her protection, make her adventures easier, or help her experience even more. She will love the thought and effort that you put into choosing the perfect gift for her.
ESTIMATED TIME DESIGNING AND UPLOADING THIS ARTICLE
ESTIMATED TIME RESEARCHING AND WRITING THIS ARTICLE
Try our AMAZING GIFT FINDER TOOL! Find GIFTS with 1 CLICK!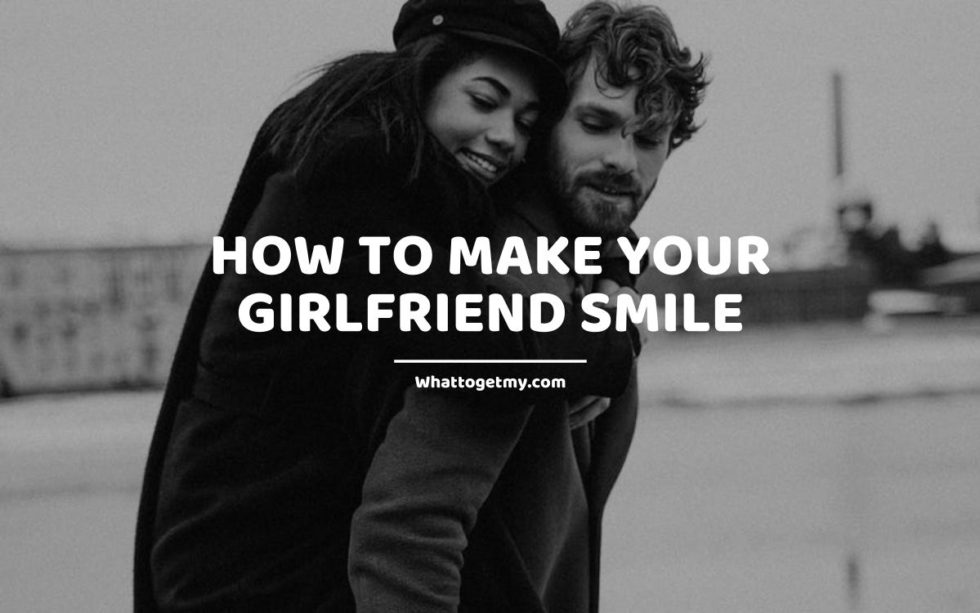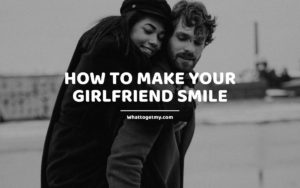 How to Make Your Girlfriend Smile
How to Make Your Girlfriend Smile WhatToGetMy Instructional Article Trying to put a smile on someone's face is tougher than it seems. If you too don't know how to make your girlfriend smile, then you're in the right place. We found the cutest ways to
Read More »