The 9-month wait is over, and a new baby is born! That's great for the whole family, especially the mom. For the new mom, this moment is one to cherish, and the start of a new life. It is surely bliss, but along the way, she'll be dealing with stress and anxiety.
To make sure that she doesn't succumb to the stress of being a new parent, here are 6  relaxing gift ideas for new moms. These presents for new mothers are surely going to make this exciting but tedious journey go much smoother for the new moms.
Acupressure Mat and Pillow
Being a new mom is an exciting yet challenging experience. She will be facing a lot of difficulties in taking care of her baby. Combined with sleepless nights, she will surely be having a sore body.
The best way to keep her away from neck pain, sore back, and stiff shoulder is to give her an Acupressure mat and pillow.
Acupressure is a form of therapy wherein manual pressure is applied to specific points on the body to stimulate it. This is similar to acupuncture but without the use of a needle.
As an Amazon Associate we earn from qualifying purchases. We may earn a small commission for our endorsement, recommendation, testimonial and/or link to any products or services from this website. Thank you, your qualifying purchases help support our work in bringing you real daily gift ideas.
Our Gift To You:
Find out how to download This
Free Printable Card
For New Mum at the End of This Article.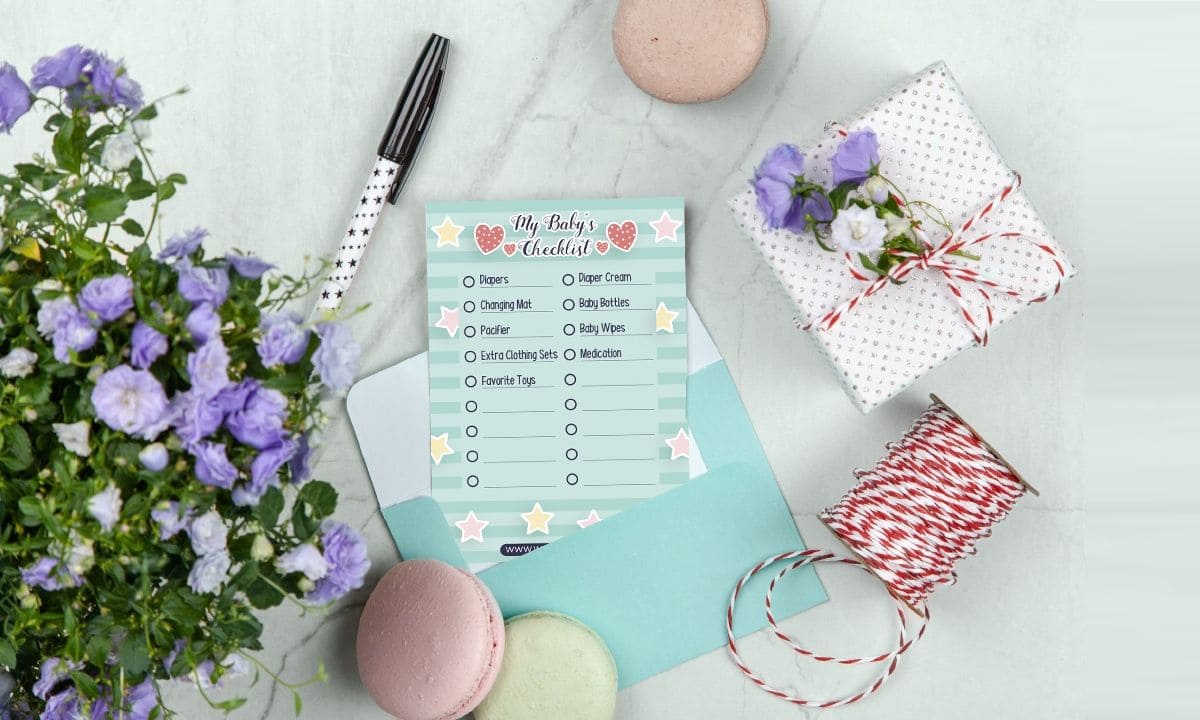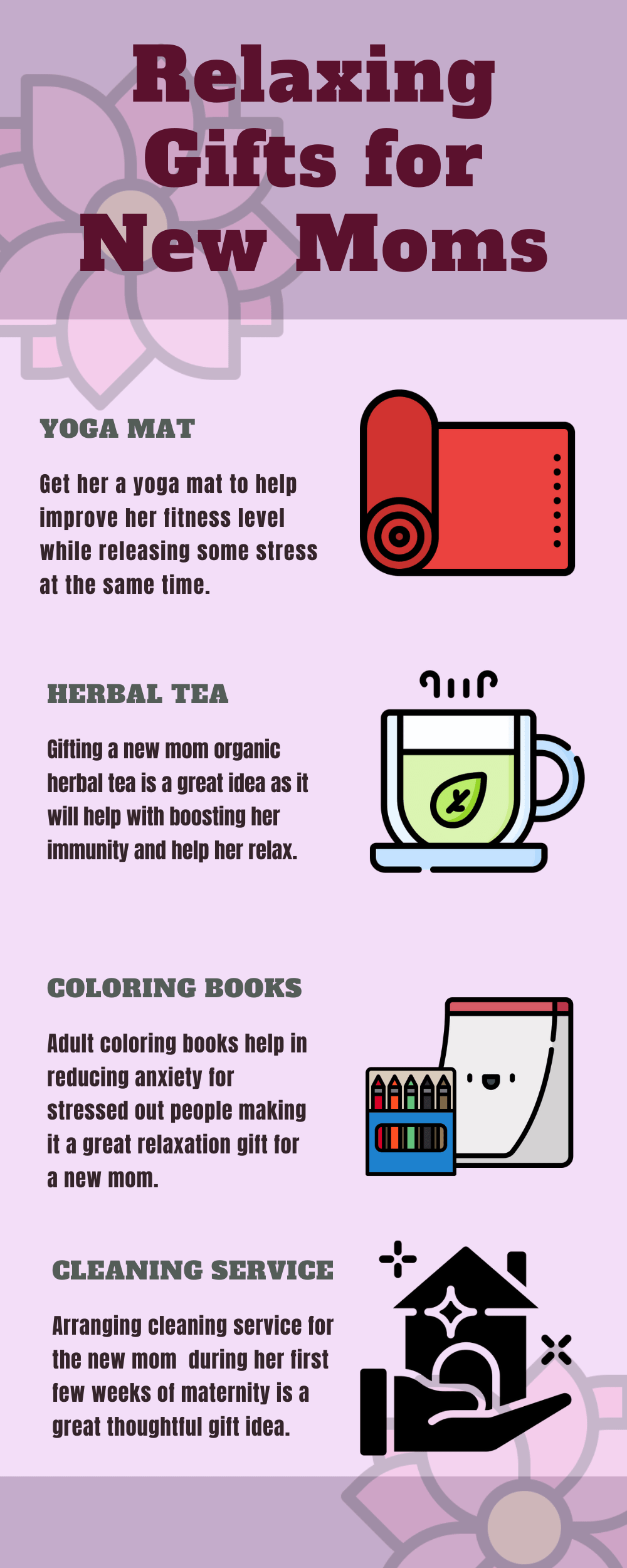 Source Link: https://whattogetmy.com/relaxing-gifts-for-new-moms/
NAYOYA ACUPRESSURE MAT AND PILLOW SET
Customers agreed that the Nayoya acupressure mat and pillow set is a great relief for their lower back, neck, shoulder, hip, and leg pain.
For an immediate and easy natural pain relief at home, give your new mom friend or wife Nayoya Acupressure Mat and Pillow Set.
She won't need to go and spend a lot of money on a chiropractor, acupuncturist, masseuse, or even physical therapist.
This acupressure mat and pillow will help her ease her neck and back pain, as well as her muscle spasms. This was designed using the wisdom of thousands of years of acupuncture to provide a simple, easy yet effective pain relief.
Using it is simple: lie down shirtless on the mat and rest your neck on the pillow and let the acupressure points do the work. This will help increase the blood flow and promotes fast healing to the sore muscles.
The Nayoya Acupressure Mat and Pillow set is one of the best gifts for stressed out moms who don't have the luxury of going to physical therapists for muscle pain relief. Make sure to advise those new moms to visit their physicians before use.
Herbal Teas
The two most common feelings that new moms have after having their first baby are happiness and weariness. 
For new moms, nothing beats the feeling of having her first baby after months of carrying it in her womb. But along with this happiness comes the fatigue of taking care of a baby. Having to tend to the baby every time it cries, taking care of the diapers, preparing the meals, and the worst of them all, waking up from its midnight tantrums.
To lessen the weariness a great relaxation gift for moms would be herbal teas.Herbal teas have been a go-to drink for improving health naturally. They also drink this because they give a relaxing effect. Most are loaded with antioxidants and other healthy vitamins and ingredients.
BIGELOW I LOVE LEMON HERBAL TEA BAGS
Not all people like herbal tea. But most of the customers of Bigelow I Love Lemon Herbal Tea Bags just can't get enough of it.
Lemon herbal tea is caffeine-free and rich in antioxidants making it one of the best products for new moms. Giving it to your new mom friend or wife will help her improve her sleep and may also reduce the risk of cancer if drank regularly.
Lemon is also known for its removing properties, making it a good drink to remove cholesterol, toxins, fats, and uric acid in the body, lowering the blood pressure. It also helps in relieving fluid retention because it is rich in potassium that increases the production of urine.
It is also great for skin and hair health
For a relaxing gift for new moms that they can consume any time of the day, give them Bigelow I Love Lemon Herbal Tea Bags. They will have to say goodbye to the hard, sleepless nights with this around.
Bathtub Caddy Tray
A new mom is going to need some special time to herself to stay sane during this beautiful but overwhelmingly stressful period of having a newborn to take care of.
A bathtub caddy tray is a perfect gift to help a new mother relax because she will be able to do multiple things at once. She can enjoy a glass of wine, read a book or scroll through her computer all while enjoying her relaxing bath
The product mentioned below is very well designed and made 100% from premium bamboo and comes with plenty of space for the new mom to keep everything she needs to keep her entertained during her bath.
Bath Caddy Tray- With an Adjustable Tray and Free Soap Dish
This beautiful classy caddy tray comes with enough space for the mom to keep everything she needs in the tray without having all getting messy as it comes with convenient partings making it one of the best gifts to help mom relax.
She will be able to do her nails, sip on her wine while watching her favorite shows, or read her book in full comfort. 
The tray also has space for a towel just in case the mother needs to dry her hands when she wants.
If you're thinking of getting a pampering gift for a new mom this caddy tray should definitely be at the top of your list. This gift is an affordable gift for a new mom and she will definitely appreciate it and benefit from it every time she wants a nice relaxing bath.
Yoga Mat
Most moms, not only the new ones, lack exercise whenever they get pregnant. This is because moving around with a big belly is hard enough for them, making exercises or simple aerobic training out of the question.
Giving them a yoga mat will inspire them to do aerobic exercises again and to get back in shape.
Yoga is a discipline that includes breath control, simple meditation, and the adoption of specific bodily postures. Its purpose is to build strength, awareness, and tranquility of both the mind and body.
The techniques done in yoga helps in reducing chronic pain such as carpal tunnel syndrome, arthritis, lower back pain, and headaches. It can also help in lowering the blood pressure and reduce sleepless nights.
Furthermore, yoga can help with stress management. This is because yoga is an effective discipline in developing coping skills and having a more optimistic view of life.
AMAZONBASICS ½-INCH EXTRA THICK YOGA MAT
Thicker and longer than most yoga mats available, this product by Amazonbasics is a great partner for your yoga exercises – a delighted customer.
Have your new mom, friend or wife take a yoga workout to a whole new level with the AmazonBasics Yoga mat. It is designed to be thicker and longer than most yoga mats available in the market for the user to be able to do more exercise position without the worry of hitting the hard floor.
It is perfect for use both in-home or studio and is really easy to bring anywhere.
This mat is perfect not just for yoga exercises, but for other aerobic activities such as pilates, stretching, strengthening training, and other floor exercises. You can also use this just for sitting alone without any problem.
Help your new mom, friend or wife get back to her lean body with this yoga mat gift. She'll not just be having a mat to exercise in, but also a place to play with her new baby.
Mom Coloring Book
This may look like something out of the blue, but giving new moms a mom coloring book is actually worth a lot.
Coloring is a form of art therapy. It is a form of therapy that explores feelings, fosters self-awareness, reconciles emotional conflicts, reduces anxiety, and increases self-esteem. Not only that, but it is also a mean for expressing yourself.
Coloring books are thoughtful gifts for new moms because similar to meditation, coloring diverts our minds from other thoughts and makes us focus completely on it, which is helpful to relieve free-floating anxiety.
MOM LIFE: A SNARKY ADULT COLORING BOOK
Customers have been giving this product a positive review, saying that it is an effective tool for relieving their stress and anxiety.
Made by a publishing company that is focused on helping adults have premium coloring books for a unique, funny, and entertaining experience. This book provides relaxation, meditation, and stress relief. Not only that, but it will also surely provide laughs because you can relate to the images included.
To give the new moms something to laugh at while taking care of their baby, give them this coloring book together with some coloring medium. She'll surely be having a relaxing and fun time with this.
Cleaning service
Arranging a cleaning service is a great gift idea if you're thinking of getting gifts for newborns and moms. A new mother is definitely going to be having her head in a lot of places during the first few weeks of childbirth. 
One way you can make sure the new mother is going to get some time to relax is by arranging her a cleaning service for the first few weeks of her maternity period. Cleaning service is one of the most practical gifts for new mom and baby because now the new mother will be able to spend more time with the infant without having to worry about keeping her space clean. 
Cleaning service is a great relaxation gift for moms because now she can assure that her house remains clean and she can just worry about her cute bundle of joy and maybe squeeze in some time to spoil herself a little bit with a long bath or a self-care session to help her hop back to her pre-mom bod.
Being a new mom is an exciting yet challenging experience. Giving them something that will help them relax, relieve stress, or just have fun will help them get through these tough moments.
Get This and So Many More Free Gifts on Our New Marketplace, Spark Resort!
ESTIMATED TIME DESIGNING AND UPLOADING THIS ARTICLE
ESTIMATED TIME RESEARCHING AND WRITING THIS ARTICLE
Try our AMAZING GIFT FINDER TOOL! Find GIFTS with 1 CLICK!