EXPECTANT MOM GIFT BASKET
WhatToGetMy Instructional Article
There will come a time when your family member or close friend is going to be expecting a child. Regardless of whether it's her first child or not, pregnancy is always going to be a very precious period for any mother-to-be. As a friend or family member, you will surely want to make this period as comfortable and memorable for her. 
When people think about gifts to get for an expectant mom, they tend to immediately think about gifts for the baby, because baby gifts are gifts an expectant mom would need. However, those baby gifts should be saved for the baby shower, or gender reveal party. This article is about gifts you can buy for the mom to make sure she is pampered and well prepared for her delivery day, and even for her postpartum needs.
During the three stages or trimesters of pregnancy, expectant moms need some taking care of from her close families considering the physical and emotional toll the pregnancy will have on her. Gift baskets are the perfect idea to give to an expectant mom. Instead of purchasing a ready-made gift basket that might contain items that deem useless or impractical, you can handpick all the different necessary goodies yourself and place everything in an adorable basket ready to gift the expectant mom. Not only does a DIY gift basket scream thoughtful, but it can be less expensive too!
Now, your next question is, how exactly do you make your gift basket?
Here are the items you will need:
You will need to consider a few things before making a gift basket for the expectant mom: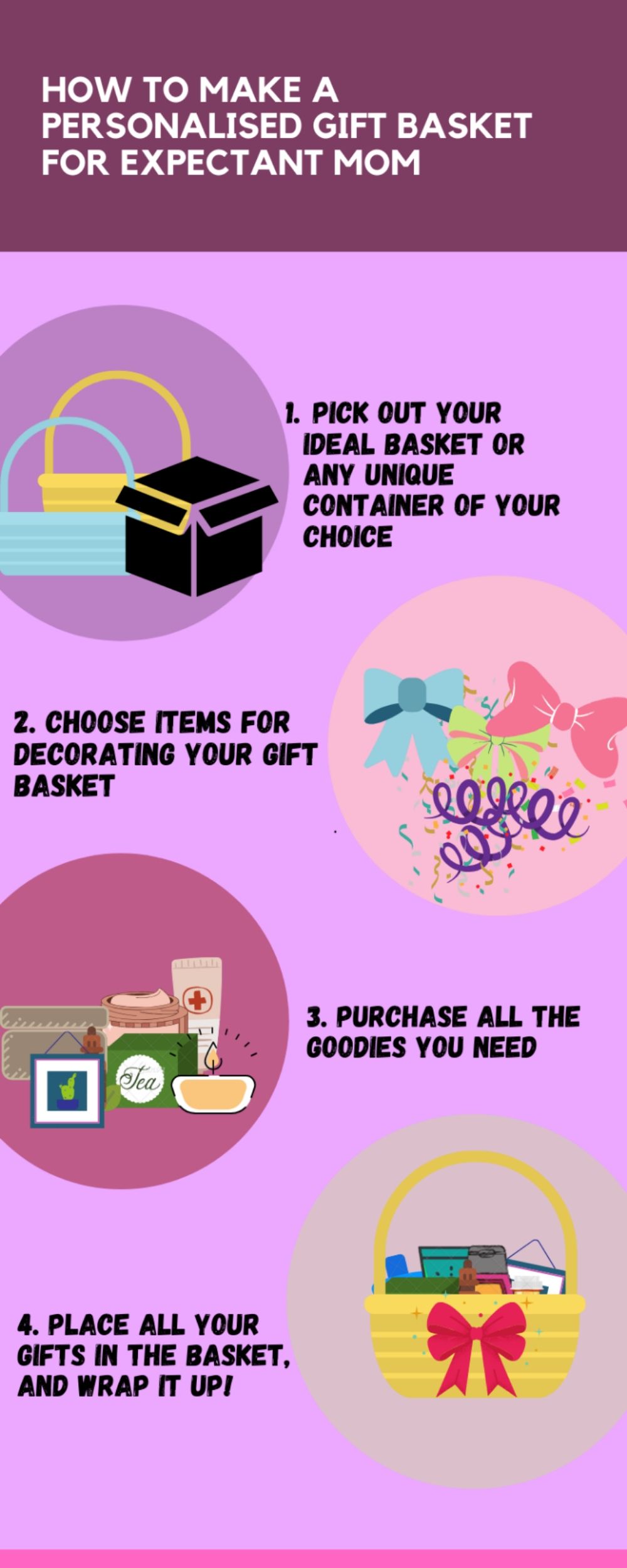 Source Link: https://whattogetmy.com/expectant-mom-gift-baskets/
Below is a list of ideal items to include in your gift basket categorized based on which trimester is the mother to be on.
First Trimester 
The first trimester starts out with joy and excitement about the pregnancy. The new mom-to-be will probably be out spreading the wonderful news to her friends and family. However, after a few short weeks into her pregnancy, some dreaded symptoms are most likely going to pop up.
Some of these symptoms are:
Morning Sickness or Nausea

Heightened Sense of Smell

Mood Swings

The need to urinate more frequently

Some slight aches and pains due to a growing belly

Fatigue

Constipation

Headaches
Depending on the severity of these symptoms, the once excited mom-to-be might start struggling to get wholesome food in her body. Remember, not all pregnancies are the same, symptoms can vary a lot depending on lifestyle choices, genetics, etc. For example, some may feel queasy occasionally, while others may feel queasy all the time, some may vomit, and others may not at all.
Here are some ideas for a gift basket for the first trimester
As an Amazon Associate we earn from qualifying purchases. We may earn a small commission for our endorsement, recommendation, testimonial and/or link to any products or services from this website. Thank you, your qualifying purchases help support our work in bringing you real daily gift ideas.
First-trimester gift basket items 
Mama bees relaxation collection.

This amazing collection consists of, mama bees oil, a tummy butter, and softening foot cream. This collection can help the mother pamper herself before the baby bump starts to show, therefore preventing stretch marks from appearing. It's the ultimate set to include in an expectant mom gift basket.

Preggie Pop Drops

is an ideal solution for morning sickness and nausea. It is gluten-free and comes in four different flavors for the expectant mom to choose from.

Saltine crackers, ginger biscuits, and candy as they are known to help with nausea, bloating, and digestive issues.

Pregnancy tea

and peppermint tea, for morning sickness relief, bloating, and digestive issues. The pregnancy tea is 100% organic, caffeine-free, and contains 96 sachets in each box.

Prenatal vitamins

help in supporting the baby. These gel pills are gluten and GMO-free and primarily assist in the development of the baby's

brain, nervous system, bones and, eyes. Each container contains 110 pills.
Second Trimester
A lot of pregnant women enjoy the second trimester more than the first because they are likely to feel less nausea, and food will finally start to smell and taste good for them again. Their energy level will pick up and stabilize too. 
Towards the end of her second trimester, the expectant mom's belly will really start to grow, and she will experience the joy of feeling her baby's kicks. Although she may look radiant, she might start experiencing other new symptoms that may cause some discomfort for her.
Some of these symptoms are:
Heartburn

Constipation

Weight gain

Swollen and sore feet

Leg Cramps

Back pains

Skin breakouts

Sensitive gums

Congestion

She may have feelings of irritability, frustration, and forgetfulness
This is why in the second trimester, it is a good idea to fill the expectant mom's gift basket with a few items that will allow her to pamper herself,  and allow her to relax, which will make a huge difference to her and will lift her spirits too.
Second-trimester gift basket items
A pregnancy body pillow is a  great gift item you should consider to buy for an expectant mom on her second trimester. Although it will not fit in a gift basket, it will do wonders for an expectant mom battling to get a good night's sleep.
Third Trimester
The third trimester is an exciting one because the soon mom-to-be is getting closer to d-day, the long-awaited arrival of her beautiful baby with the constant reminder of some serious kicks and pokes in her belly.
The third trimester is also the worst trimester for most expectant moms because everything seems to hurt more by each passing day. She might feel extreme discomfort too, due to her belly growing bigger.
Some of her symptoms at this stage may be:
Lack of Sleep

Extreme exhaustion

Shortness of Breath

Lower abdomen pain

Severe swelling of feet and ankles

Having difficulties walking around

Heartburn

Varicose veins

Stretch marks

Lack of bladder control

Leaky breasts
Third-trimester gift basket items
Obviously, you do not need to purchase all the items mentioned in each trimester, only the ones that you think and feel that she will need. You can even mix and match items from different trimesters because sooner or later, the expectant mom will need all the items mentioned above.
Ready-made gift basket options
If you're too busy to assemble the gift basket by your self, or you are not a DIY person then here is a highly recommended gift basket gifts for an expectant mom 
Pregnancy Gift Basket by Our Green House 
This gift basket includes All Natural Belly Butter, Natural Foot Cream, Nourishing Body Oil,  Organic Lamb Rattle, Eco-Friendly Journal with a pretty cover, and Organic Pregnancy Tea Cute Storage Bin. For every pregnancy gift basket that is purchased Our Green House donates 5% of the proceeds to a charity dedicated to making childbirth and pregnancy safe for every mother, globally.  
Buying a ready-made gift basket will save you from the hassle of making one by yourself and will definitely be of great help to the mom-to-be. 
In addition to your precious gift basket, if the expectant mom is a first-time mom-to-be, she may need your help getting organized and ready for her baby's arrival. These gestures below will be very helpful:
Taking a tour of the hospital where she will be giving birth together.

Making sure that a good pediatrician has been arranged for the delivery day.

It is good for her to be educated about going into labor so that she has some idea of what she might experience in the delivery room. If you are a mother yourself you can pass on very helpful tips to her.

Making sure that she is ready for breastfeeding.

Making sure that she has everything that she will need for her and her baby at home.

Making sure that her baby's nursery is organized and the house is baby proof

Help her in packing the hospital bag for her and her baby 

Making sure that her medical insurance has everything that they need regarding the birth

It is a good idea to make sure that she has some prepared meals for when she gets home from the hospital.
Now that you have a wide range of items to pick from, and you know what trimester the expectant mom is in or about to enter, you can now prepare your gift basket. Start with the fun part of assembling your gift basket with the gifts that you have chosen, then cover the entire gift basket with a color matching cellophane and tie a beautiful ribbon around it, and Voila you have the perfect expectant mom gift basket.
Related articles:
Try our AMAZING GIFT FINDER TOOL! Find GIFTS with 1 CLICK!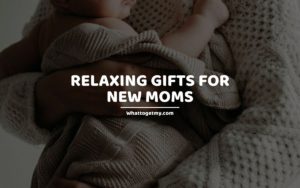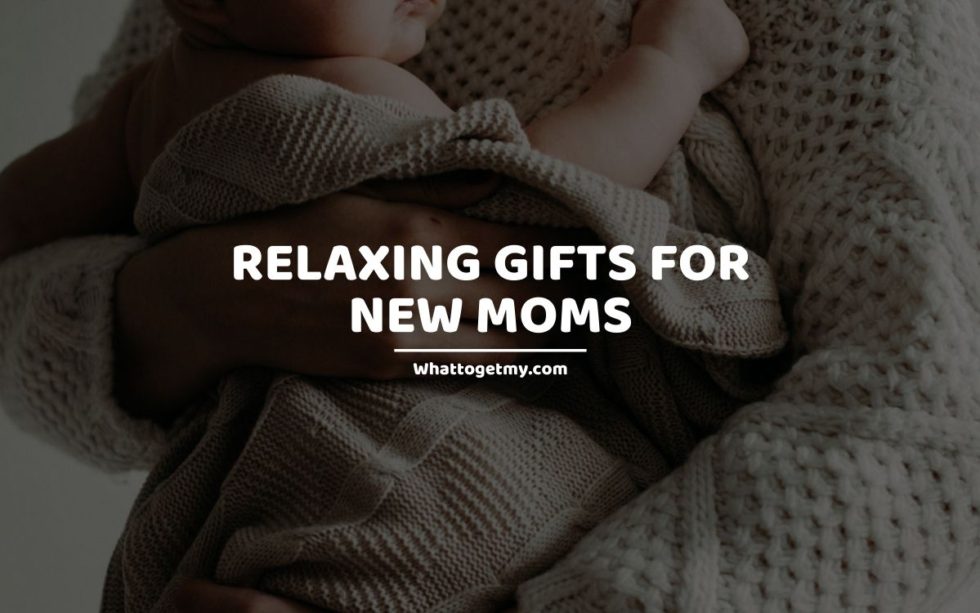 The 9-month wait is over, and a new baby is born! That's great for the whole family, especially the mom. For the new mom, this moment is one to cherish, and the start of a new life. It is surely bliss, but along the way,
Read More »