17 Best Things to Do on a Rainy Day With Friends
WhatToGetMy Instructional Article
THINGS TO DO ON A RAINY DAY WITH FRIENDS
Nobody likes a rainy day – let alone the rainy season. It is always wet, there is thunder and lightning, and your movement is limited because the roads aren't as safe. You have very limited options to have fun and do things that you would normally do because your movement is restricted. For couples, this can take a toll on the relationship as it may begin to feel like you are stuck in a rut doing the same things day in and day out.
Depending on which part – and State – of the US where you reside, you may be experiencing wet weather more frequently than others. According to a survey conducted by National Oceanic and Atmospheric Administration (NOAA) between 1981 and 2010, the following major U.S. cities have the days with the most rainfall: Rochester, NY., Buffalo, NY., Portland, OR., Cleveland, OH., Pittsburgh, PA., Seattle, WA., Columbus, OH., Cincinnati, OH., Miami, FL., and Detroit, MI.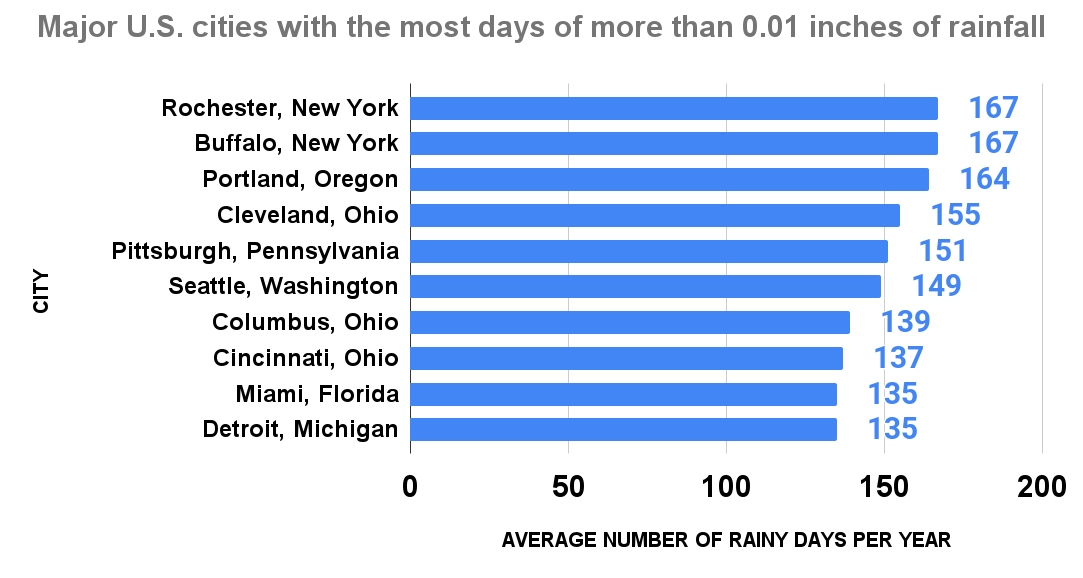 Source: Currentresults.com
1.
BUILD A FORT
One of the best things to do with friends when it's raining is to build yourselves a fort because who doesn't like a fort?! Forts are timeless and fun for people of all ages. You can build a simple fort or an elaborate fort with mazes and rooms. This activity is fun and a great way to showcase your creativity, help you and your friends work well together as a team, and also a great way to bond with your friends and strengthen the relationship.
2.
WATCH A MOVIE
One of the best and most cozy rainy day activities with friends is to watch movies all throughout the rain. Nothing is more relaxing and entertaining than a movie night with your closest friends. You could each pick one movie that you would like to see and watch them back to back or pick a genre you all enjoy and watch random movies from that genre. To make the experience even more enjoyable, you can get snacks and make popcorn, and use a projector for the movie to give it a more "movie theatre" feel. The best thing about watching movies with your friends is that it is an activity that can last all day which makes it perfect for rainy weather because rains usually last all day.
3.
LISTEN TO MUSIC AND DANCE
What would you do on a rainy Sunday when you have nowhere to go and nothing to do? Listen to some feel-good music and have a dance party. There is nothing more freeing in this world than dancing to your favorite music that's blasting through the speakers. Something about dancing silly with your friends that's liberating and shows that you can be yourself authentically around them. The best thing about this activity is that you can facetime your friends and have a virtual dance party if none of you wants to leave their house for the other person's.
4.
CLEAN YOUR APARTMENT
Another activity that is appropriate to do on a cloudy day is to clean your apartment. Granted, this is not something that you might need to do with friends, however, doing it with a few friends will make the experience feel a little less like a chore and more like a fun activity with friends. This works even better if you and your best friend live together, you could use this opportunity to clean up your apartment as a team and add other fun activities such as dance and music to the chore to make it more fun. This would be a great time for you to sort out your belongings; keep what you need and donate what you no longer use to those less fortunate.
5.
TELL SCARY STORIES
Another fun thing to do with friends on a rainy day is to take turns and tell your favorite stories in the dark. Think of the stories from your childhood that gave you the heebie-jeebies and had you looking over your shoulder every 5 seconds. Not only will the retelling of these stories be fun for both parties, but it will also allow for you to open up and talk about your childhood to your friends, strengthening your bond even more and giving you the opportunity to get to know your friends on an intimate level.
6.
PLAY BOARD GAMES
Another one of the fun things to do in bad weather with your friends is to play board games. If you and your friends like board games then this activity will be great for you to pass time when it is raining. You can choose to put together puzzles or play popular board games such as monopoly, the game of life, pandemic, and scrabble. Turn a bad weather day into a classic board games day and you will not even notice the gloomy weather. Additionally, you will be spending time with your friends and this will boost your mood, overall.
7.
PLAY VIDEO GAMES
Another one of the best things to do in bad weather is to play video games.  If you and your friends like playing video games, then use your time indoors on a rainy day to indulge in some friendly matches of your favorite games. You can even decide to team up and battle against other people online. It is a great way to bond and it will improve your communication skills. On the other hand, you can all play video games online from the comfort of your own homes, making this the best activity for bad weather.
8.
READ TOGETHER
One of the best and most relaxing things to do on a cloudy day is to read together. Reading is such a great activity because it is something you and your friends can do together while keeping a distance for personal space. It is an activity that allows each of you to enjoy a book they love simultaneously without having to compromise – which is something you cannot do with movies or video games.
9.
WORKOUT
Another one of the things to do on a rainy day with friends that you can consider is working out together as there are a lot of home workout routines that you can try. Find videos on YouTube or download apps that let you keep track of your home workouts. Also, check out this article to see the benefits of working out together and learn how this activity can bring you closer as friends.
10.
NURTURE YOUR INDOOR GARDEN
If you have a green thumb and have a garden or plants in your home, a rainy day allows you to take care of your plant babies especially the ones that aren't getting any of the rainwater. This could be a great chance to teach your friends how to take care of [your] plants. If they are your friend's plants, then this would be a great opportunity for you to learn how to take care of them properly. Check out this article to see what gifts you can get for your plant-loving friends to help nurture them even more.
11.
CREATE A VISION BOARD
If you are still wondering what to do on a rainy night, then creating a vision board is a great way to spend the rainy weather with your friends. Write down all your dreams and what you wish to accomplish in the next year, five years, and ten years. This exercise is a great way to find out if you and your friends are on the right track towards the future you plan on having and show you how you can help and push each other towards achieving this future together.
12.
HAVE A LAZY DAY
An awesome thing to do on a rainy weekend is to have a lazy day or days. Take at least one day out of the weekend that is completely dedicated to yourself and do things that make you happy. It is quite okay to not do anything on a rainy day. Stay in your pajamas all day and do nothing but eat and sleep and binge-watch your favorite shows on a streaming service of your choice. A "do-nothing-day" is a form of self-care. Take the time off and just chill under the soothing pattering of rain on your roof, you deserve it.
13.
HAVE A SELF CARE DAY
One of the things to do on a rainy day with friends is to have a self-care day. You can actively organize a self-care day when it is raining since you are most likely stuck indoors. Use this time to give yourself and your friends a manicure and pedicure, wash your hair, drink some wine, do yoga, and order in from your favorite restaurant. Do activities that help you relax. You can make this part of your lazy weekend activities and blend your lazy day with a self-care day
14.
SNUGGLE WITH YOUR PET(S)
Another one of the things to do on a rainy day with friends is to be with your pets. You can either arrange a pet date or a virtual pet date if you or your friends do not want to leave their house. Your little furry friends also need some loving when it is raining outside. Cuddle with your pet especially if it is raining hard outside – thunder, lightning, and all. They need to feel protected and cuddling is also good for you.
15.
GO TO A COFFEE CAFE
A warm beverage on a cold wet day? Could there be any other perfect places to go on a rainy day with friends? Go out to you or your partner's favorite coffee shop and talk, or just people watch – with your hot beverage, of course.
16.
GO TO A SPA
One of the best indoor places to go with friends during the rain is a spa. Get you and your friends a day at the spa to get pampered. Take the time to relax and find serenity. This is also a great idea for things to do on a rainy day with boyfriend if you have one.
17.
VOLUNTEER AT A SOUP KITCHEN
This is a great idea for indoor activities to do with friends who like giving back to their community. It is a great way to spend the weekend, by bringing and serving people hot food on a cold day. It can be such a humbling and fulfilling experience for both you and your friends.
FREQUENTLY ASKED QUESTIONS
1. What to do on a rainy night?
There are many things to do on a rainy night either with your friends or with yourself. Check out these activities for some inspiration on fun things to do in the rain. You can also look up at the list compiled above to find activities that are to your liking that you and your friends would like to try out the next time it rains.
CONCLUSION
In conclusion, this article has given you 17 things to do on a rainy day with friends. These activities are safe to do both indoors and outdoors and they are perfect for long rainy weekends when you are cooped up inside and bored out of your minds with nothing else to do.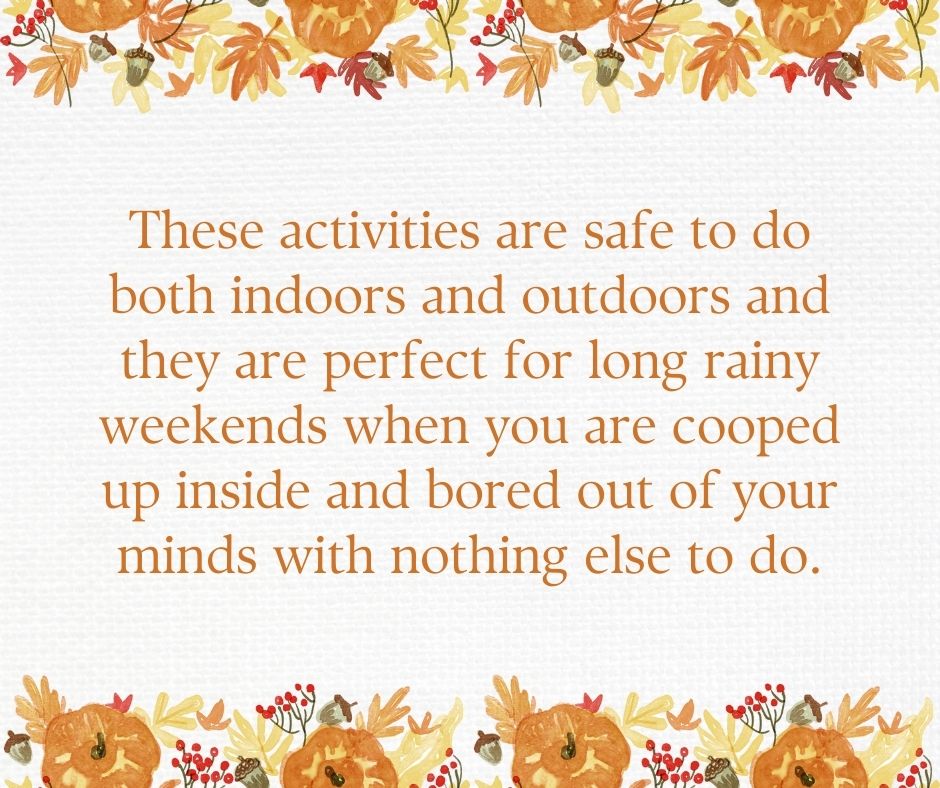 This article has shown you that there are many activities you can do with your friends even when the weather is damp and gloomy.
ESTIMATED TIME DESIGNING AND UPLOADING THIS ARTICLE
ESTIMATED TIME RESEARCHING AND WRITING THIS ARTICLE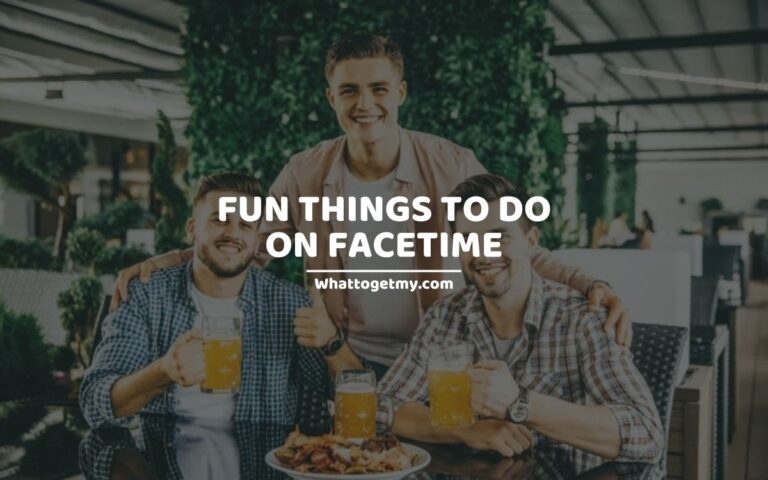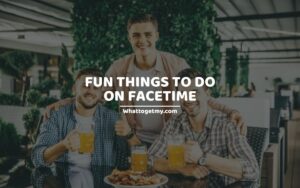 15 Fun Things to Do on Facetime
15 FUN THINGS TO DO ON FACETIME WhatToGetMy Instructional Article This article brings you 15 fun things to do on facetime with your friends, family, and people you are romantically involved with. Some of these are things to do when you're on facetime and trying
Read More »