8 Tips for Living in a Basement Apartment
WhatToGetMy Instructional Article
We've prepared tips for living in a basement apartment because you need to have all the information available, so you can make the best decision about the next place of residence. Basement apartments are becoming more popular as a more affordable housing option.
Sure basement apartments have flaws but if you can overcome all the cons, you can save lots of money on rent and utilities. You'll find a great deal because a lot of people avoid them. We'll give you some tips on making the best of your living space!
Before you keep scrolling let's just mention this:
Basements, as we said, have problems with the lighting, temperature, pests, etc. However, if you opt to live in a basement apartment there are affordable ways to tackle these problems with ease. Make sure to carefully research your local housing options and the costs of needed improvements to compare.

Landlords know basement apartments are less desirable options, so they often include some perks in the offer like free parking, garden access, etc. Try to negotiate as much as possible to get the best deal.

Don't be confused with lots of terms realtors use such as garden-level apartments, English basements, etc. Garden-level is a vague term but it's often associated with apartments located between the first floor and the basements. On the other hand, an English basement is partially below ground and partially above while other basement apartments are mostly below ground.
Did you know?
The main factor in choosing a place to live is the rent price, so it's no wonder that basements apartments are getting more popular!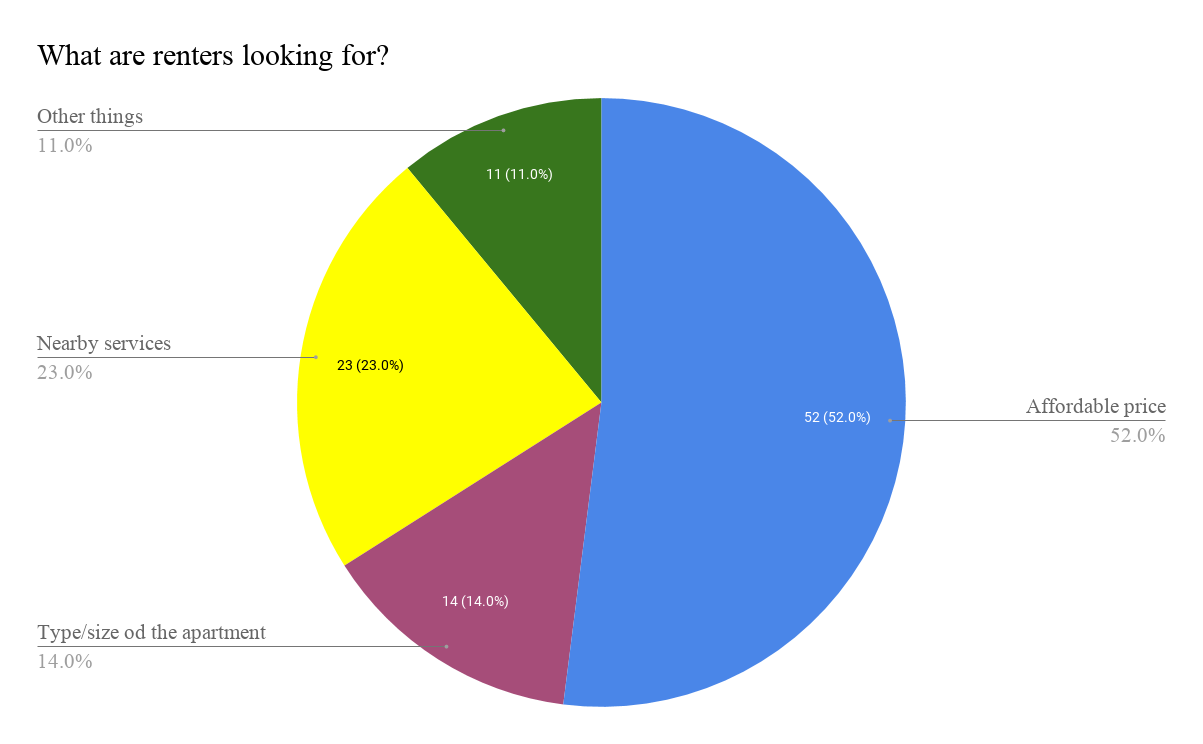 Source: burlingtongazette.ca
Safety tips
Turning a basement into an apartment has to be done in consideration of tenants' safety. If you plan on renting an apartment or converting your basement into a living space, make sure to put safety measures as your priority. Only after you're sure that the place is safe to live in, you can focus on furniture, decoration, etc.
Inspection
The first thing you should consider is the status of the apartments you're looking to rent/or build. Are basement apartments legal is a good question because for a residential property to be legal it has to meet the requirements for light, air, sanitation, and exits. You can check the legality of any property in The Department of Buildings.
What is considered a legal basement? A legal basement apartment needs to be safe from fire and flood and have an easily accessible exit. It needs to have windows, smoke detectors, fire extinguishers, etc. Of course, it also needs to have a bathroom and a kitchen area.
Landlords need to make sure that their basement apartments are up to code. If you want to make a basement livable it's not enough to add furniture and redecorate a bit, you need to make sure that the wiring, plumbing, gas lines, and heating systems are safe.
When renting a basement apartment, you should always check the legal status. If you have even the slightest doubt about the apartment's legality and safety, you can call an inspector to take a look before you move in. If the landlord has nothing to hide, he/she will allow the inspection.
Sure, you can rent an illegal apartment (the landlord is breaking the law and not you) but this might put your life in danger. If the apartment doesn't have proper sanitation, exits, and ventilation, you risk your life by living there.
Mold and gas
You need to ask "can living in a basement cause health problems" and the answer is obviously yes if the apartment isn't legal and it doesn't meet the requirements mentioned above. Otherwise, living in a basement is perfectly safe.
Besides checking the legality of the apartment, you need to test them for mold and gas. Basements are very prone to mold (especially if there's a potential leak in the upstairs apartments) and inhaling mold can cause serious damage to your respiratory system.
Gas is also a common threat but you can test for Radon and other dangerous gases with a homemade kit. You might notice a strange smell for both mold and gas, so don't hesitate to inspect the place as soon as you find something strange or before you even move in.
Escape plans
Every living space needs to have an accessible exit. Basement apartments are safe during tornadoes but they are more dangerous during fires, floods, and hurricanes. You need to have an escape plan in case of an emergency, so make sure doors and windows are reachable and you can use them efficiently.
You should avoid the apartments with no windows. Not only you'll lack natural light, but in case of emergency, if you can't go out through the door because of the damage, you'll be stuck. When you're making an escape plan, always consider worst-case scenarios and try to create a solution to those problems.
Preventing burglary
Basement apartments are more dangerous in situations of burglary simply because you can't see the danger approaching, as you might in above-ground apartments. You should take additional anti-theft measures like installing an alarm system, hide security cameras, and get motion lights. You can also get some of those automatic lights that randomly go on and off when you're at work, so potential burglars would think that someone's home.
You also need a plan of action in case of burglary. It's advised that you exit the apartment unnoticed (maybe through a window) or lock yourself in the bathroom and call the police. You can even get a guard dog, just make sure the dog won't be bored at home when you're at work. There are lots of tips about how to protect yourself from burglary as you can see in the video below.
Comfort
You want to enjoy your apartment as much as possible and you want to be happy you're living there. In one word, your apartment needs to be comfortable. Although basement apartments need a bit more care, these tips will absolutely help you.
Air quality
You should try to improve the quality of air with either air-purifying plants or oil diffusers. Naturally, you should open the windows as often as possible. Getting a dehumidifier is also a good invention for a basement apartment because it can prevent mold and mildew.
Plants
Choose plants that don't need lots of light. A bamboo plant is a great option because it can grow with no problems in limited light conditions.
Oil Diffusers
Oil diffusers use cool or warm water to create a mist that fills the spaces. Diffusers with a combination of water and essential oils will add much more comfort in your apartment because it will keep the air fresh. Your apartments will smell wonderful and you can choose the citrus-based, peppermint, or lavender oils depending on your mood.
Dehumidifier
Dehumidifiers take away moisture from the air by turning water into mist. They'll purify the air, prevent mold, and help you breathe easier.
Air Filters
One more thing that can improve air quality are filters. Basement apartments should have some sort of air regulation system, so check with your landlord how you can install the filtration system most efficiently.
Light
You should always wonder "how do I get more light in my basement apartment" unless of course, darkness is your thing. Bright spaces tend to lift the mood, so try to find the light wherever possible. You might get some natural light with ground-level windows, but you need more.
Use lamps that can mimic the sun's rays or install pocket lights. Ceilings are very low in basements apartments, so installing pocket lights will help you a lot. Decorative lighting is also very helpful in setting a relaxing atmosphere in your apartment.
One more thing, try to keep the space around your windows clear. Avoid dark curtains and don't put any furniture, plants, and other things in front of the windows. Protect that limited source of natural light any way you can.
Decoration
Putting your focus on decoration will help avoid the feeling of being crowded in a tiny space, so you can enjoy your basement apartment more. Strive to a comfortable and bright environment with, for example, huge art pieces or colorful murals.
Every basement apartment decorating idea aims to open up the place. A vibrant big art piece will help you more than stuffing your walls with a thousand little pieces of art. Huge posters or paintings can simply define the room.
Naturally when you're choosing artwork, pick the stuff you like, not your friends or family. You need to get something you like to observe, so you can enjoy them to the fullest.
One more tip on how to decorate a basement apartment, avoid dark colors of decoration pieces and choose bright vibrant colors. You can also use mirrors to bounce around light and give rooms a more natural appeal. You need to make tiny rooms intimate and cozy, so use decoration to achieve that homey look everyone enjoys.
Colors
Let's talk more about the colors. You probably know that the walls need to be painted with light colors, so the space feels open and endless. If you want white walls, try to choose the "right" shade of white, the one that will work in your room. Get a variety of samples, so you can see how they'll look throughout the day, or with the light from the lamps, etc.
White isn't the only color that will help you brighten up the place. Cooler tones such as bright green, blue-green, ocean blue, etc. remind us of nature and give the space a soothing and relaxing setting. On the other hand, rich warm tones such as red or orange can make the room feel aggressive. Bold walls are a good thing if you have lots of space, but basement apartments should avoid them.
If you love bold colors, we suggest you paint the walls in gentle light colors and add color accent with pillows, vases, or vibrant artwork. Contrast with decorations can really open up the place but you can also experiment with an accent wall. 
Accent wall has a design that differs from the other walls in the room. It's usually used to break the pattern and add a creative touch to your living space. If you want to experiment, go for it! You can get one wall painted in the color of different shade or texture but make sure to avoid dark tones, as we said, so you won't close up space. You can also make one wall stand out with artwork, plants, or even wallpapers.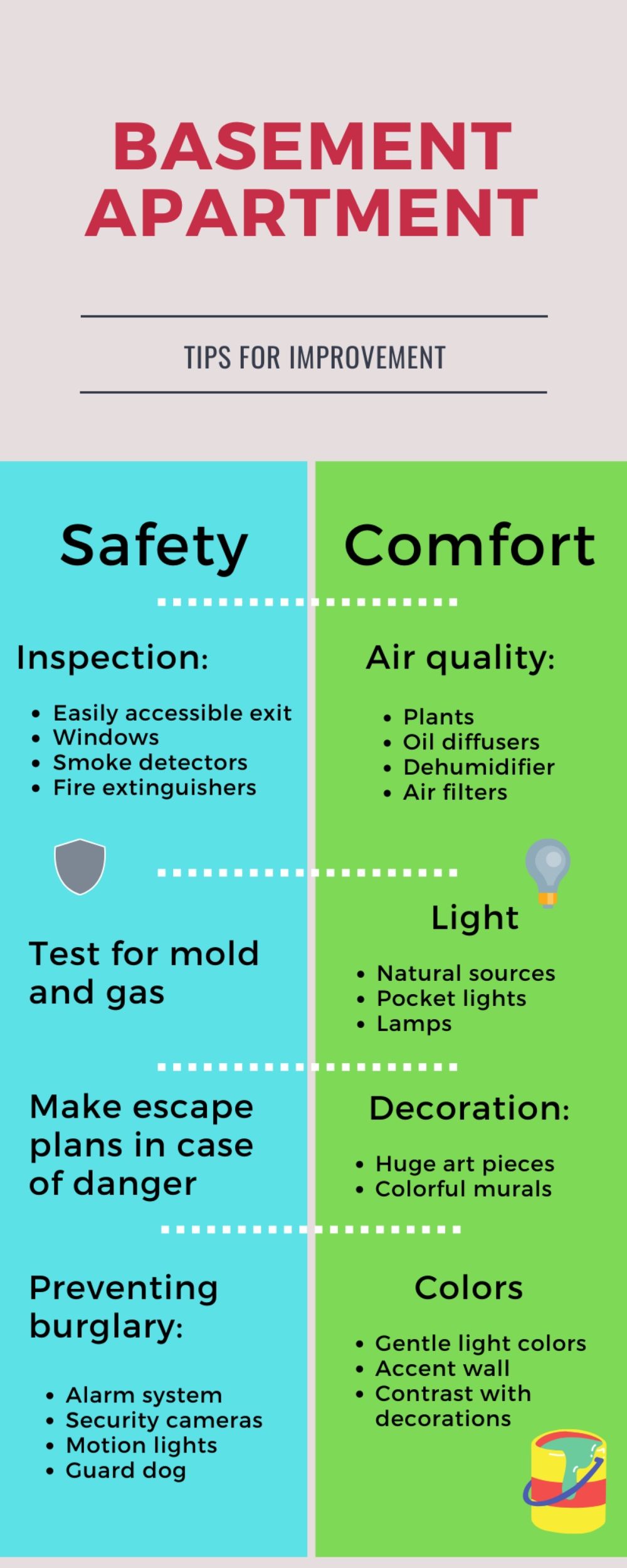 Source Link: https://whattogetmy.com/tips-for-living-in-basement-apartment/
Frequently asked questions
Is it healthy to live in a basement apartment?
There are risks if you live in a basement apartment that has mold, radon, etc. However, if you've inspected the apartment and it's safe, you shouldn't worry.
How do I purify the air in my basement?
You need to keep your home adequately ventilated. You can install a proper air ventilation system, control the humidity with dehumidifiers and oil diffusers, get lots of plants, etc.
Does living in a basement apartment give you privacy?
Outsiders aren't able to see inside your unit, so basement apartments give you more privacy than ground floor or upper floor apartments provide.
How can I brighten up my basement?
There are lots of ways to brighten up space. Paint the walls in white tones or any light colors, use glass doors, add plants, get different light sources, put a lot of mirrors and art on the walls, etc.
Conclusion
We hope that these tips for living in a basement apartment will help you make your living space safe and comfortable. If you want to have fun adapting your home, don't be afraid to experiment a bit. You're the one that calls all the shots, so do your best to make your apartment homey and suitable for lots of home activities.
ESTIMATED TIME DESIGNING AND UPLOADING THIS ARTICLE
ESTIMATED TIME RESEARCHING AND WRITING THIS ARTICLE