Toddlers are little adventurers who seek thrills and excitement. They are on the quest of discovering the world and nothing can stop them! You should encourage their curiosity and try to boost their creativity and imagination. The best way parents (and other family members and friends) can do that is by giving toddlers unique toys that are educational and fun at the same time.
Luckily for you, we have an entire list of toys for 4-year-old boys that are super fun to play with and also beneficial for children's development. We picked the items that allow kids to improve social interaction, educational skills, and explore their interests. You'll find a variety of toys in this article, from role-play to single-player ones, and you'll love all of them! So, stick with us, and choose what's best for your child!
Before you get to the actual toys, take a quick peek at our extra tips!
It's crucial to find a toy that will keep your child entertained for many hours. There's no use buying toys your child will throw away as soon as you turn your back.

Try to pick a gift that is educational and fun at the same time. You don't have to buy books or other educational stuff, you only need a toy that is engaging and stimulating in some way.

Play with your child whenever you get the chance

. Toddlers need attention and social interaction that will help them build their communication and social skills.
As an Amazon Associate we earn from qualifying purchases. We may earn a small commission for our endorsement, recommendation, testimonial and/or link to any products or services from this website. Thank you, your qualifying purchases help support our work in bringing you real daily gift ideas.
Quick Overview: Unique Toys for a 4-Year-Old Boy
Source Link: https://whattogetmy.com/unique-toys-for-4-year-old-boy/
REMOKING Robot Toy
If you're looking for cool toys for a 4-year-old boy, we have a perfect one to recommend! Our top pick is a smart robot toy suitable for the age of 3 and up. The toy is incredibly versatile and will entertain your little one for hours. It can sing, dance, walk around, and even talk back! How amazing is that? The robot won't only teach your child more about robotics and advanced technology but also improve his communication skills!
When it comes to the toy's overall design, there's not much to say. It features an intuitive interface and responds to commands immediately. You get to manage its movements, talking and singing modes, and adjust the volume. The toy even allows you to record parts for up to 8 seconds. Additionally, the device is made of high-quality materials that are safe for children and also very durable. It will last for many years, that's for sure!
The robot toy is what every little boy would like to have! It's cute, fun to play with, and entertaining. It's basically like a small buddy around the house. Also, the robot is one of the most unique Gifts for Kids Starting School as you get to surprise your little one for a new phase in his/her life!
DreambuilderToy Magnetic Tiles
In case you're wondering whether we included the best selling toys for a 4-year-old boy on the list or not, here's your answer! These magnetic tiles are widely popular and highly praised among parents. They make a perfect toy for a little adventurer who should work on motor skills and creativity!
The set includes 120 pieces your child can use to build all kinds of stuff, from vehicles to towels. The tiles come in many colors and fit perfectly. They even come with cards that can be inserted into the magnetic block and teach your child spelling and math. Sounds good? That's what we thought too! You'll also be pleased to hear that the tiles are made of high-quality ABS plastic and are safe for your child.
One is certain, the magnetic tile set is one of the best presents for a 4-year-old boy you can get. It's entertaining, beneficial for your child's motor skills, and educational. Your little one will love it, and you will keep him occupied for many hours!
DDAD Digital Video Camera Gifts for Boys and Girls
This kids' camera is one of the most popular toys for a 4-year-old boy on the market. What makes it so special, you may ask? First of all, the camera is equipped with a high-quality screen and has 5 Mpx, which means it's quite powerful. Thanks to the user-friendly interface, it produces amazing photos with only a little effort. The camera can also take videos, records, and so much more (for advanced users, of course). It has 6 different filter effects as well as 5 games. All in all, this is one of the best cameras for kids you can find on the market. It's compact, lightweight, and made of eco-friendly materials. You'll even get a one-year warranty!
The camera will inspire little users and boost their creativity. Kids will be able to explore the hobby of photography and improve their motor skills. We also recommend the camera as one of Valentine's Day Gifts for Preschoolers.
FUN LITTLE TOYS Train Set
If you're not sure what to get a 4-year-old boy, we have a solution! The train set is a perfect toy for little ones. It's engaging, fun, and keeps kids entertained for hours. You might as well get hypnotized by it!
The set comes with detailed instructions, and it's super easy to assemble and disassemble. All the pieces are made of high-quality plastic and are free of harmful materials. Once put together, the train set looks beautiful, and your child will love it!
The train set is one of the birthday gifts for a 4-year-old boy you can get! Actually, it's a gift ideal for any occasion, and you can't go wrong with it. It's entertaining, looks beautiful, and it will last for quite some time!
LEGO DUPLO Disney Pixar Toy Story Train
This one is a classic! LEGO makes a perfect gift for kids and the Disney Pixar Toy Story set is one of the best you can find on the market. It's an engaging game that activates motor skills and practical thinking. Your child will be able to build it all on his own and have so much fun! The included pieces look amazing and they'll definitely catch your little one's eye. He'll be playing with the set for many hours and months, that's for sure.
The set includes 2 figures, a Woody and a Buzz Lightyear figure, as well as a toy train with accessories. All the pieces are made of high-quality materials and colored beautifully. With this set, you'll boost your child's creativity, imagination, and improve his fine motor skills. On top of that, he'll be entertained for hours. How does that sound?
The LEGO set is a classic gift for kids and you can't go wrong with it! It's not only super fun but also beneficial for your child's development. It influences creativity, imagination, and motor skills. Your little one gets to enjoy the game and also improve his skills!
Baby GUND Animated Flappy the Elephant
Are you looking for Gifts for Children Who Love Animals? We have a perfect one for you! It's a plush animal coming from GUND. We picked this little elephant because it's super cute and it makes one of the best-personalized children's toys for 4-year-olds. You get to add a name if you want to and make your gift more unique. If not, this little elephant will still be perfect for your little one!
We love this plush animal because it's soft, huggable, and safe for children. On top of that, it comes with two options – it can sing a song and play peek-a-boo. Yes, we know, it's adorable! Your little one won't only get a buddy for hugging but he'll engage in an interactive game.
Don't miss to get this little elephant for your 4-year-old boy. He'll love to have a friend with whom he can play a game or sing a song. Oh, and the super-soft hugs are a big plus too!
Fat Brain Toys Dimpl Baby Toys
Don't worry, we're not out yet of the toys for 4-year-old boys! This is a simple toy that will keep your child's attention and entertain him for hours. It features 5 colorful silicone bubbles your little one can push, pop, poke, and grab. It's a perfect toy for babies and toddlers who are inpatient and difficult to entertain.
The toy is made of BPA-free materials, and it's completely safe for your child. No matter how much your little one plays with it, the toy won't change its shape and color. On top of that, the toy engages children's senses, and it is truly beneficial for their motor skills.
If you want to get a toy that is both useful and entertaining for your child, this little item is the perfect thing for you! The bubbles are not only fun to pop and squeeze but also beneficial for your child's skills. People actually find it quite therapeutic for all ages!
Hand Operated Drones for Kids
If you're not sure what to buy a 4-year-old boy and you don't want to get toys, we have a suggestion for you. Think ahead and get your little one something for the years to come. The hand-operated drone for kids is a super unique gift your child will use for many years. It's easy to operate even without a remote, and it responds to commands very well.
When it comes to practical stuff, this drone is simply designed, and you won't have any maintenance issues. It recharges over the included USB cable rather quickly. It's compact, lightweight, and you can take it anywhere with you. All in all, it's a perfect toy for both children and adults, and everyone would love to have it!
Hand operated drones are perfect for everyone, even for full grown-ups who claim they don't know how to play anymore! The device is fun to play with and easy to operate. It comes with many user-friendly features, so it's ideal for kids. We highly recommend it as a gift!
Conclusion
As you can see, we have everything you need to make your little one happy! Our list of unique toys for a 4-year-old boy contains products that are both fun and educational. We have a plush animal, a train set, a robot, and much more. You just can't go wrong no matter what toy you choose!
Still, don't forget to consider your little one's preferences. Yes, we know, he's just a toddler. What does he know about hobbies? He maybe doesn't but you do! You can certainly spot what interests your little one the most. Does he stare at beautiful photos all the time? If so, get him a kids' camera. On the other hand, if he prefers building things, go with the tile set. Now you get where we're heading, right?
Lastly, don't forget to take your own preferences in mind. We're talking about the rules you set up for your child about gifts and other material stuff. For more clarification, visit one of our links added here.
ESTIMATED TIME DESIGNING AND UPLOADING THIS ARTICLE
ESTIMATED TIME RESEARCHING AND WRITING THIS ARTICLE
Try our AMAZING GIFT FINDER TOOL! Find GIFTS with 1 CLICK!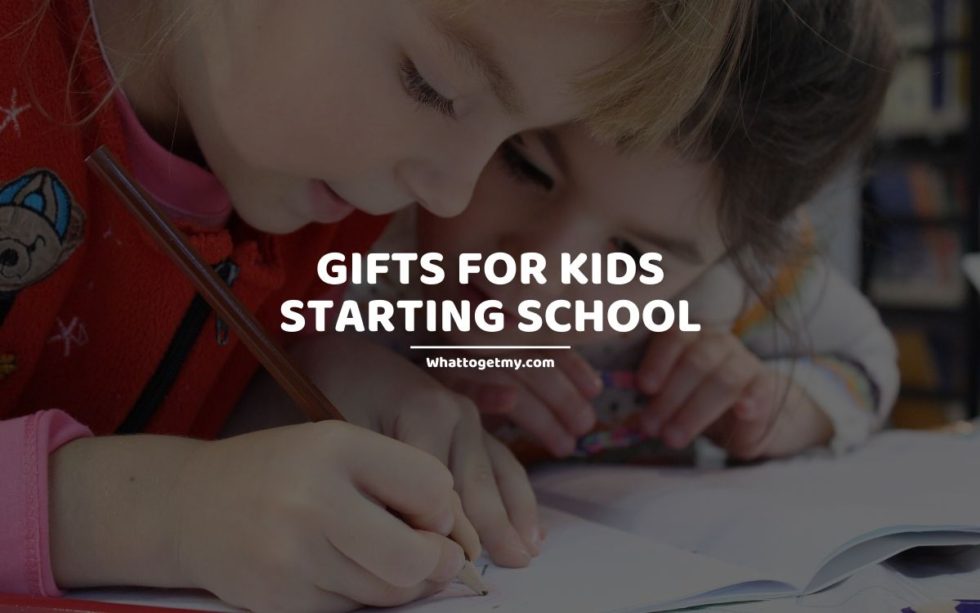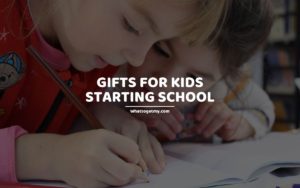 Gifts for Kids Starting School
Naturally, if your child is starting school anytime soon, you want to get a perfect gift for the occasion. Giving gifts for school can be quite beneficial for your child's development. When you show support with a little surprise gift, your child will be more
Read More »