What to Do When Your Family Hates Your Boyfriend
WhatToGetMy Instructional Article
There are many reasons why your family would not approve of a person you are seeing – some of these reasons might be valid, while some of them might be vain and shallow. Finding out why your family hates your boyfriend may be the first step to trying to fix the rift between them.
This article will help guide you on the steps you can take when it comes to making decisions about choosing your family or your boyfriend over the other.
WHAT TO DO IF YOUR PARENTS HATE YOUR PARTNER
So what do you do when your family hates your boyfriend? There are many things you can and should do but they can be brought down to three points when your family doesn't approve of your partner:
1. TALK TO YOUR PARENTS
When you find out that your family doesn't approve of your partner, the first thing you have to do is talk to them and find out why. In most cases, people have a reason for disliking others. Do they not like the way he talks, or how he dresses, or maybe the fact that he is older than you, or way too young for you? Whatever the reason, you need to find out so that you can start attempting to fix it – if that is something you want to do.
Depending on your family dynamics, you may choose to ask them directly or indirectly why they have a problem with your partner. In most cases, people will be willing to speak their minds when you mention it in passing and incorporated in another conversation as opposed to you creating a whole conversation based on why they do not like him.
Make sure that when you ask that you are ready to hear the answers they are about to give you. Do not take offense or say offensive words to them when they finally let you know why they do not approve of your boyfriend.
2. TALK TO YOUR PARTNER
Now that you have spoken to your parents and have found out why they do not like your boyfriend, it is time to sit down with him and talk to him about it – especially if he noticed that he wasn't their favorite person.
If it is a small issue like an age gap or manners (lack thereof), then it is a very easy fix. You can let your boyfriend know that you would prefer if he dressed differently when meeting the parents – which is a small sacrifice to make because it's not like you will be spending your entire time with your family, anyway.
However, if their concerns are more serious such as they don't approve of the way he treats you – they think he is manipulative and abusive, then sitting him down will not work – because if he is really manipulating you and abusing you, then telling him this will only make things worse for you. When this is the case, you should leave him immediately and spend time with your family. Often times, people in emotionally manipulative relationships do not even realize they are in one. Taking some time away from your partner and reflecting on your relationship will give you perspective on the relationship.
PARENTS DON'T LIKE MY BOYFRIEND BECAUSE HE'S POOR
If you find out that your parents do not like your boyfriend because of his financial status, there are many things to consider as an individual:
1. DOES POVERTY BOTHER YOU?
If you are not bothered by the fact that you or your family is much well to do than him and his, then this will definitely be a non-issue for you. But if his being poor does bother you, then you have to consider what that means for the future of your relationship. Ask yourself why you are with him and where you want your relationship to go – involve him in this discussion so you both know what to expect from the relationship. Our article on how to talk to your boyfriend about the future will help give you some insight on how to go about having this discussion.
2. ARE YOU READY TO BECOME THE MAIN PROVIDER OF THE RELATIONSHIP IF YOU AND YOUR BOYFRIEND DECIDE TO GET MARRIED?
If you do decide that his being poor doesn't bother you and you want to take the relationship to the next level, you have to consider if you are okay becoming the main provider of your relationship. Statistics have shown that most marriages break up because of financial issues. You have to consider the toll that lacking money sometimes will take on your relationship and how it will change the dynamics of it.
3. IS HE DOING ANYTHING TO CHANGE HIS CURRENT SITUATION?
Now there is being poor and working towards something, and then there is being poor and being perfectly content with it. Which category does your boyfriend fall under? If he is the former, then maybe he is worth sticking around for because he is trying to rectify his situation, he understands he was dealt a bad hand at life and wants to do better for himself. If you know you can support him through his dreams and aspirations – then you get to decide whether you want to stay with him or not.
PARENTS DON'T LIKE MY BOYFRIEND BECAUSE OF HIS RACE
So what if your family hates your boyfriend because he is of a different race from you? There is no easy fix for this, and it will most likely lead to you having to choose between your boyfriend and your parents. To make this decision, you will have to consider the following:
1. DOES HIS RACE BOTHER YOU?
We are going to assume that of course, his race does not bother you because if it did, you would not be with him. However, this is a very good place to start deducting your reasoning. When you establish that the color of his skin does not bother you, then you will proceed to why you think it bothers your parents. It will also prepare you for the harsh realization that your parents may be/ are racist – and this could, and will, shift your perspective of them.
2. DO YOU CARE THAT MUCH ABOUT YOUR PARENTS' APPROVAL?
The other thing you will have to consider when you find out that your family doesn't like your boyfriend because of his race is not whether or not you care about your family's approval, but rather just how much you care about their approval. Is it everything to you? Do you stand to lose something – like inheritance – if you decided to stay with your boyfriend instead? And how much do you care about this as compared to how much you care about your boyfriend?
Finding answers to these questions will help you make a decision that is better for you and your boyfriend. Because you do not want to wake up 10 years later and resent him for estranging you with your family. Pick him over your family only when you are sure you want him to be your family and you are not disappointed over what you are losing by choosing him.
3. IS THERE ANYTHING YOU CAN DO TO TEACH YOUR PARENTS OTHERWISE?
Use this as a teachable moment for your parents. Find out why they hold the biases that they do towards your boyfriend's race. Is it something that they have been conditioned to fear by the media or are their biases deep-rooted? Because if it is just bias based on conditioned influence, that can be easily swerved but if it is something deeply rooted – for example, hatred for one race then that is racism and it is much harder to deal with.
FRIENDS HATE MY BOYFRIEND
Sometimes friends don't like your boyfriend based on things you have complained to them about him. They may think he does not treat you well and therefore does not deserve you, and sometimes they are right. When your female friends, sister, and mom don't like your boyfriend, it might be time to look into why that is the case. Most women are quick to dismiss other women when it comes to the men in their lives because they believe that the other women are "jealous" and don't want to see them happy. However, if you find yourself constantly complaining about your significant other to your friends and family, can you really blame them when they tell you they do not think he is good for you?
CHILD DOESN'T LIKE MY BOYFRIEND
This one is a little more delicate because you have to assess carefully why your child doesn't like the man in your life. According to findings from a survey conducted by the National Child Abuse and Neglect Data System, 10% of child abuse comes from the mother's boyfriend and 26% from a male nonparent figure in the child's life. when your child expresses discomfort towards your boyfriend, you need to consider the possibility that he may be physically or sexually abusing your child and it is your responsibility as a mother to protect your child first, always.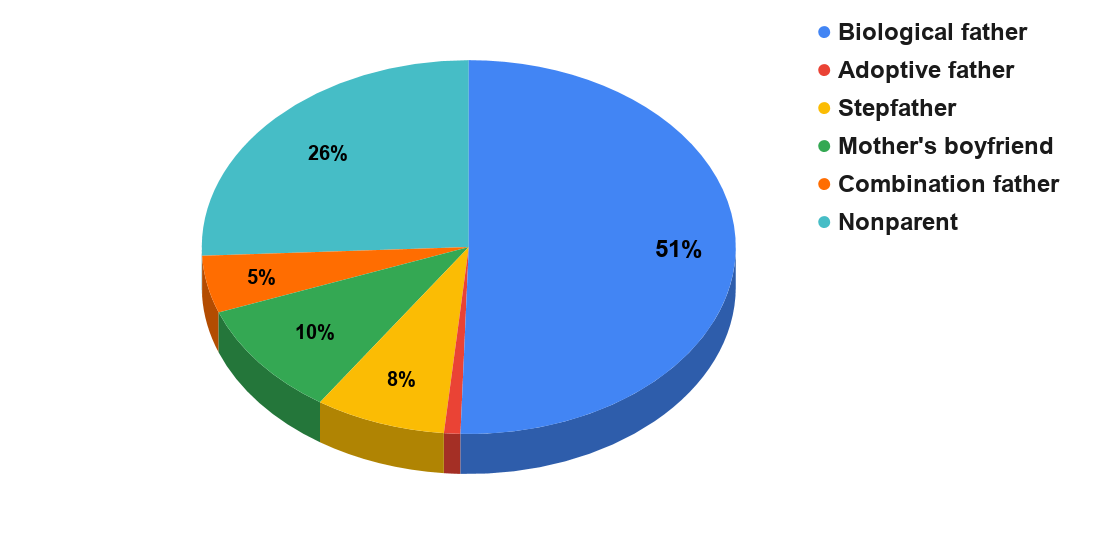 If for whatever reason your boyfriend doesn't like your son, there is no question about it – you have to drop the boyfriend. Because you cannot build a future with someone who does not accept you fully – and your child is a package deal. They go with you wherever you go.
BOYFRIEND HATES MY FAMILY
What do you do when your boyfriend doesn't like your mom, sister, or dad? You consider all the possible reasons why he might harbor feelings of resentment towards your family:
1. WHY DOES HE HATE THEM?
Have they been unkind to him in the past and now he just has had enough of them? Or did he just not like them off the bat? Finding out why your boyfriend doesn't like your parents will help you understand and maybe try and fix the situation before it escalates.
2. DOES HE WANT TO TRY AND KNOW THEM?
Is he willing to give your parents a chance? And if he is not, are you okay with being with someone who doesn't, for whatever reason, like your mom? Is he worth straining your relationship with your parents over?
3. CAN THIS BE FIXED?
If he wants to try and fix things –which is a good sign – then you go back to the reason why he doesn't like them in the first place. If it's because of something that they did or said to him – then you can start off by apologizing to him and work on mending their relationship. However, this only works if your parents are willing to accept that they were wrong and take accountability for what they did.
FREQUENTLY ASKED QUESTIONS
How do I win over my boyfriend's family?
In this turn of events, you find yourself seeking the approval of your boyfriend's family – there are a few things you can do to impress them: dress to impress the first time you are going to meet them, there is a high chance that they will judge you first based on what you are wearing – make sure you dress appropriately even if it means switching up your style for the day. Another thing you can do to impress them is to be well-spoken; have things to say about topics but do not say too much or dominate the conversation – this will make you seem knowledgeable, yet teachable and approachable which will make them open up to you more. Follow this link for more tips on how you can impress your boyfriend's family.
CONCLUSION
There are a lot of reasons why parents wouldn't like a man that you are seeing. Whether or not those reasons are valid is up to you. If these things don't bother you, then it is very easy to ignore them and just move forward by creating a friendly environment between your family and your boyfriend.
However, if these reasons are too serious and racially based, then you shouldn't have to put your boyfriend through that trauma. You will have to make one of these two decisions; either leave your boyfriend and save him from your family or leave your family and remove them completely from you and your boyfriend's lives.
It is not easy having to choose between two of the most important people in your life – but sometimes it is necessary. We wish you the best in all your decision making and hope that this article helped you come closer to one.
ESTIMATED TIME DESIGNING AND UPLOADING THIS ARTICLE
ESTIMATED TIME RESEARCHING AND WRITING THIS ARTICLE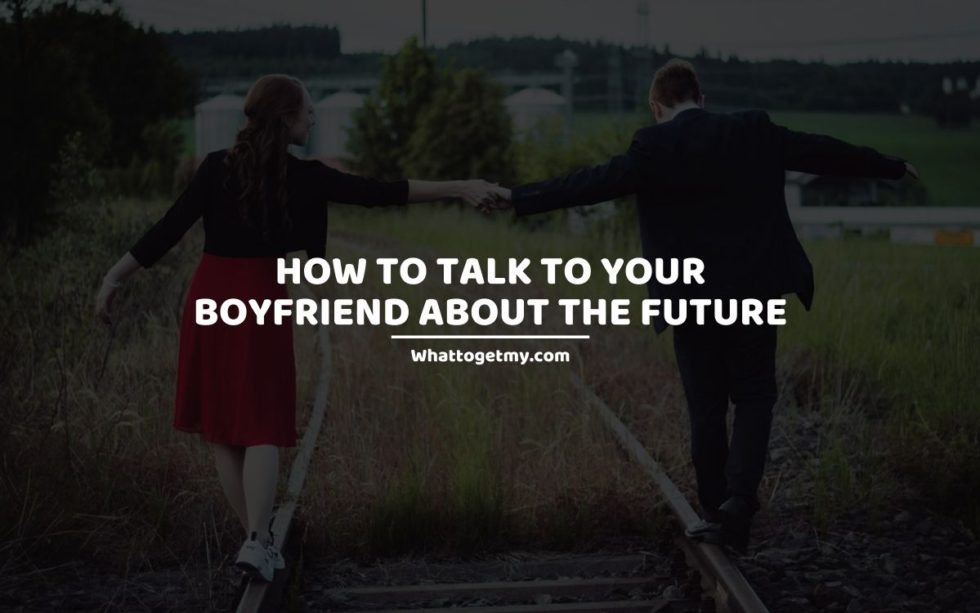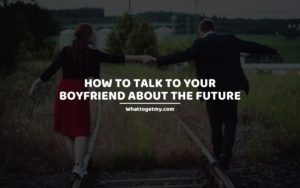 How to Talk to Your Boyfriend About the Future
How to Talk to Your Boyfriend About the Future WhatToGetMy Instructional Article It is very natural to want to talk about the future with your boyfriend especially when you are in love and want to spend the rest of your life with this one person
Read More »