What to Pack For a 7-Day Trip?
WhatToGetMy Instructional Article
Packing ain't easy. You don't know what to pack for a 7-day trip, should you bring a backpack or a suitcase, how many clothes do you need. Relax, we've got you covered! We'll go through each step in your packing process, so you can be sure you won't forget a thing.
Before you start packing, check the weather forecast for the country/city you'll be visiting. We'll try to give you a neutral list of clothes you need for a week-long trip but you should adapt it according to the weather. You don't need shorts and sunglasses if it's going to be cloudy all the time, right?
Once you start making your 7-day vacation packing list, consider this:
Unless you're going to the Amazon jungle or Sahara desert, you'll have access to any kind of store. Don't worry about forgetting your toothbrush or ibuprofen because you can get that in the first store/pharmacy.

Shift your mindset from "I'm going to pack this in case I might need it" to "I'm going to pack this because I will use it". This will prevent overpacking because you'll only be packing necessities.

It's good to have a duffle bag with you for additional space. You might need it for those souvenirs you've bought at the last minute.

Don't forget about safety measures. Get a luggage lock or take the most valuable items with you all the time.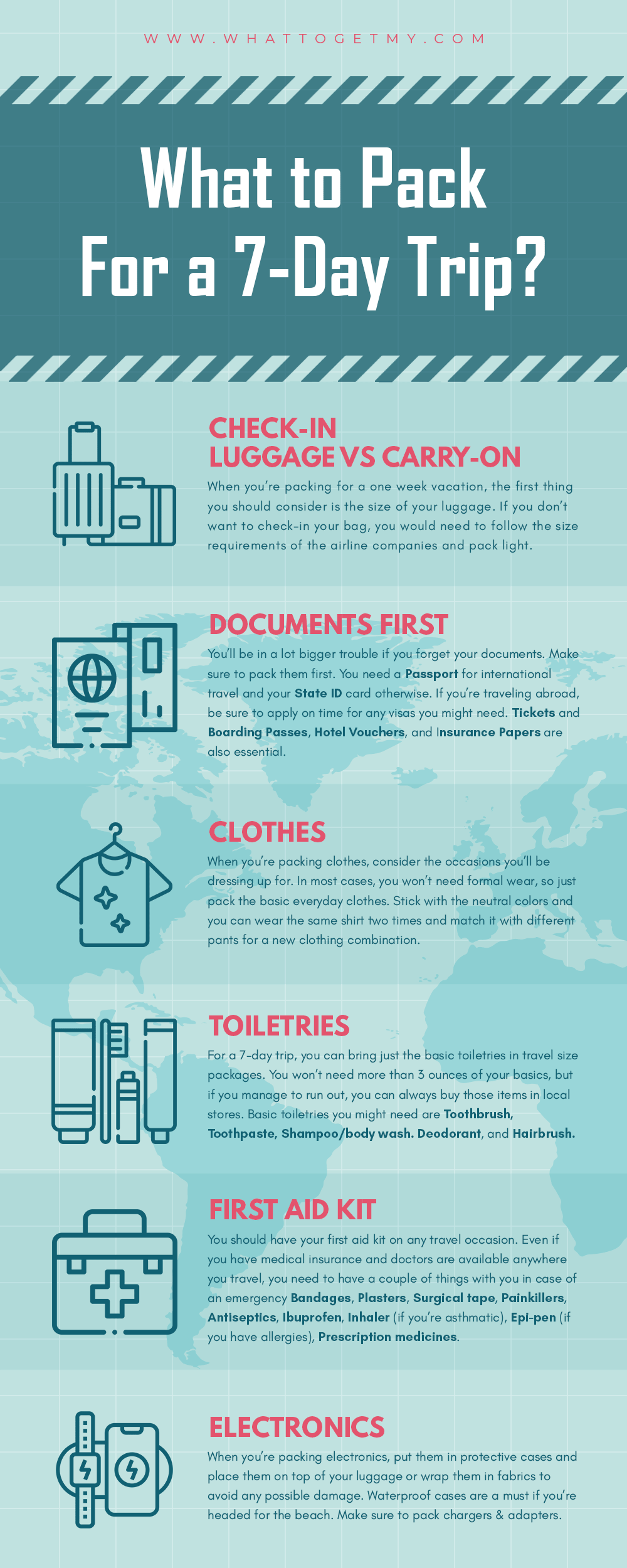 Source Link: https://whattogetmy.com/what-to-pack-for-a-7-day-trip/
Check-in luggage vs carry-on
When you're packing for a one week vacation, the first thing you should consider is the size of your luggage. If you don't want to check-in your bag, you would need to follow the size requirements of the airline companies and pack light. However, if you're traveling by car, you don't have to worry about additional fees. Although traveling light is always advised because it's more convenient.
The easiest way to avoid heavy bags and the hassle of dragging luggage around is by choosing a small and light bag. You can either opt for a backpack or a suitcase with wheels but make sure it's small. If you get a bigger bag, you'll be tempted to fill the space. This leads to overpacking and bringing a bunch of unnecessary things to your trips. Smaller bags offer you just enough space you need to pack comfortable for a 7-day trip.
People advise taking carry-on luggage because checking a bag at the airport is very inconvenient. Especially if you have a layover and a tight schedule. There's nothing worse than your bag missing and you waiting endlessly for your things. If you pack a carry-on bag, you'll not only avoid checking fees but save precious vacation time. Nobody likes to sit at the airport more than it's needed, right?
You also need to decide whether you'll pack in a small suitcase or you'll bring a backpack with you. Some people like to hold their phones, drinks, and other things while walking, so backpacks seem more convenient. However, if you're worried about your back and you don't want to put additional pressure on your body, a wheeled suitcase would be the better choice for you.
To follow the airline instructions about the size and still pack everything you need, you should make a quality checklist and find a proper packing technique. Some people use packing cubes to organize their bags. If you never used them, check out the video below for more info.
Other people don't like packing cubes, they just roll the clothes and still keep everything organized. Rolling is very convenient for shirts, shorts, dresses, etc. However, you need to fold bulkier items to save space. It's also advised to wear bulky close to maximize the space in your bag. Now that you've chosen the type of luggage you want and you've mastered the packing technique, let's discuss what to pack for a week-long trip.
Documents first
Essentials first! You can be just fine if you forget to pack your hairbrush, but you'll be in a lot bigger trouble if you forget your documents. Make sure to pack them first. You need a passport for international travel and your state ID card otherwise. If you're traveling abroad, be sure to apply on time for any visas you might need. Tickets and boarding passes, hotel vouchers, and insurance papers are also essential.
Make copies of your documents and give them to your travel companion. If you're traveling alone take pictures of your documents (and your credit cards) and email them to yourself. This will help you to prove your identity, cancel your cards, or invalidate your passport in case of an emergency.
Clothes
Any guide about how to pack light for a one week vacation starts with a clothing list. Prior to actual packing, do your research. Check the weather for the location you'll be visiting. It's not the same to pack for rainy/cloudy days and sunny hot weather. It's also different to pack for a week at the beach and a week in the mountains. Take into consideration the travel location, weather, and activities you plan on doing.
If it's cold you don't need more stuff but your luggage will get bulky. To pack light try to wear the heaviest items (boots, coats, jeans). Some people recommend leaving the heaviest things behind and buying/renting them on the spot. They say it's less convenient to transport a winter coat from one part of the planet to another than getting a used coat for the same price as additional luggage fees.
If it's hot weather at the location you're visiting, you'll be changing your clothes more often. You need a variety of shirts/shorts but your luggage would still be light. You can leave behind long sleeves shirts, jackets, and thick pants.
Activities you plan on doing will also help you decide what items should you bring/leave behind. For sightseeing, you don't need anything more than comfortable shoes but for hiking, you have to pack quality boots, plenty of socks, etc. At the beach you need a swimsuit, sunglasses, and towels, while for skiing you need ski pants, boots, and other pieces of gear you won't be renting. If you adjust your luggage to your vacation needs, you won't have problems with over/under packing.
When you're packing clothes, consider the occasions you'll be dressing up for. In most cases, you won't need formal wear, so just pack the basic everyday clothes. Stick with the neutral colors and you can wear the same shirt two times and match it with different pants for a new clothing combination. If you bring 3 shirts and 3 pairs of pants, you'll have 9 possible outfits – more than enough for a 7-day trip.
The basic clothing checklist:
3 shirts

3 pairs of pants

3 pairs of shorts/skirts/dresses

1 light jacket

1 sweatpants/leggings

2 pair of shoes (put on the bulkier ones)

7 pairs of socks

7 pairs of underwear

2 bras
Accessories are optional but try not to pack more than 3 (sunglasses, hats, jewelry, watches, etc).
Naturally, if you need something more than just the basics, add it to the list. Just try packing the stuff you'll really wear. Otherwise, you'll end up with a bunch of clothes that didn't even leave the suitcase.
Toiletries
For a 7-day trip, you can bring just the basic toiletries in travel size packages. You won't need more than 3 ounces of your basics, but if you manage to run out, you can always buy those items in local stores. We suggest you also check if there are in-room toiletries in the hotel you'll be staying in. Usually, hotels offer the basics like shampoo, soap, toilet paper, etc.
A lot of hotel rooms have appliances as well, so make sure to check if they have a hairdryer, an iron, etc. If your hotel doesn't have something, for example, an iron, you can either bring your own travel size iron or avoid packing things that get wrinkled in the suitcase.
Basic toiletries you might need:
Toothbrush (in a sanitized case)

Toothpaste

Shampoo/body wash

Deodorant

Hairbrush
If you use makeup regularly, feel free to bring your basics like powder, mascara, lipstick, eyeshadow, etc. However, if you don't plan on putting on your make up more than two times on your trip, we suggest you leave it at home to save space for other needed items.
First aid kit
You should have your first aid kit on any travel occasion. Even if you have medical insurance and doctors are available anywhere you travel, you need to have a couple of things with you in case of an emergency. After you help yourself or someone near you, don't hesitate to visit a hospital or a pharmacy for medical assistance.
For emergencies you would need:
Bandages, plasters, and surgical tape

Painkillers

Antiseptics

Ibuprofen

Inhaler (if you're asthmatic)

Epi-pen (if you have allergies)

Prescription medicines
Electronics
Traveling without electronics is possible but not very enjoyable. Your trip would be much more pleasant if you can listen to music, take pictures, etc. Not to mention that you need internet access for finding important information about the places you visit. However, electronics are heavy and very fragile to pack. That's why we suggest you only bring 2-3 items on your trip.
When you're packing electronics, put them in protective cases and place them on top of your luggage or wrap them in fabrics to avoid any possible damage. Waterproof cases are a must if you're headed for the beach. Make sure to also pack chargers and adapters.
We suggest you pack the items you "can't live without" and leave the rest behind. Most people bring their phones on trips. If you're going abroad, consider unlocking your phone, so you can use local SIM cards.
Tablets are also handy and a lot of people find them more convenient than phones. You can use them to browse the internet, listen to music, take pictures, etc. However, you can't quite fit a tablet in your pocket, so you need to be extra careful to avoid damaging it.
Some people also bring Kindle to their trips to avoid packing books. We're actually fans of the hardcover, so we suggest you bring one novel and leave your e-reader at home.
If you don't need it for work, leave your laptop at home. It's a huge liability on trips because they are very heavy and fragile. You would need to pack a protective case and a charger which will basically take 30% of your luggage.
Also, music fans shouldn't forget their headphones. You can listen to music on your phone or bring an MPR player and make those long flights/train rides more enjoyable.
Frequently asked questions
How do you pack lightly for a week?
Limit your "just-in-case" items and pack only 4 days worth of clothes. Rewearing will save you a ton of space. Use compression packing cubes and leave bulky items at home. That's all it takes for packing light.
Is it better to roll or fold clothes?
Most people advise rolling shirts, pants, and casual dresses and folding bulky clothes, like sweaters and jeans.
How much money do you need for a 7 day trip to Europe?
If you plan to visit some affordable place in Europe, you would need less than 50 euros a day for food, accommodation, sightseeing, etc. However, that depends on your hotel and restaurant choices.
Conclusion
Now that you know what to pack for a 7-day trip, don't wait anymore. Make your packing list, choose the suitcase, and prepare for your vacation. Just relax and have fun, that's all! 
If you decide to stay for longer than three weeks, check out our packing guides for 3-week trips and 6 months traveling.
ESTIMATED TIME DESIGNING AND UPLOADING THIS ARTICLE
ESTIMATED TIME RESEARCHING AND WRITING THIS ARTICLE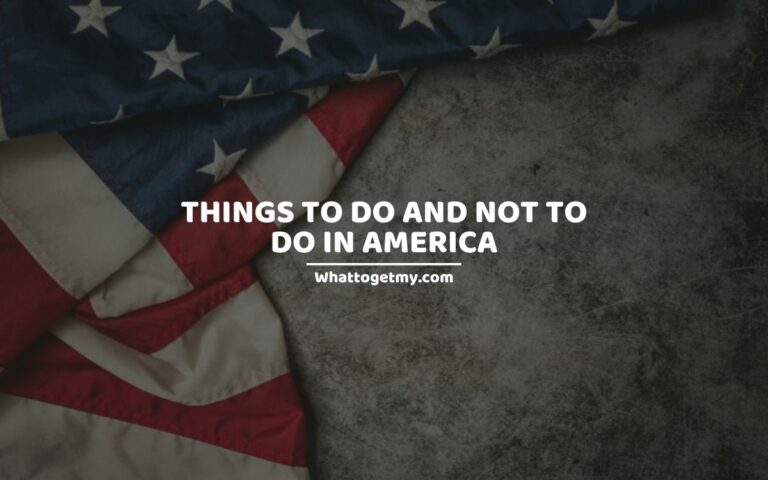 15 Things To Do & Not to do In America
15 Things To Do & Not to do In America WhatToGetMy Instructional Article The social norms of different cultures vary by country. Before you travel to any foreign country, it is good to read up on some of the cultures practiced by the locals. If
Read More »