As an Amazon Associate we earn from qualifying purchases. We may earn a small commission for our endorsement, recommendation, testimonial and/or link to any products or services from this website. Thank you, your qualifying purchases help support our work in bringing you real daily gift ideas.
Quick Overview: HOMELESS CARE PACKAGE CHECKLIST
1. ORAL CARE PACKAGES
One of the most useful things to include in a homeless care package is an oral care kit. These will be really useful to the homeless who might not always have access to a new toothbrush or a tube of toothpaste.
Product Summary: This oral care package is convenient for people who do not have a lot of storage space and are constantly on the move. It cleans and refreshes the mouth while also fighting cavities.
2. SOCKS
One of the basic items you should always include in homeless survival kits is socks. Since homeless people are usually on their feet during the day, chances are they wear out their pair of socks quicker than the average person.
Product Summary: These Dickies socks are great for both summer and winter because of the fabric they are made from which makes them breathable and yet soft and warm.
3. SWEATERS
Another essential thing to include in a goodie bag for the homeless is a good sweater – one that is light enough to wear through fall but also heavy enough to keep them warm during harsher weather.
Product Summary: The ZESICA sweater is very fashionable and comfortable. It can be worn during the fall or winter. It comes in 48 solid colors which makes it easy to style; it can be worn with a pair of blue jeans and some sneakers and the outfit will look great.
4. HAND AND BODY LOTION
Another thing to always include in personal care kits for the homeless is hand and body lotion. This is because even though homeless shelters might provide the homeless with a shower and some soap, they rarely provide them with lotion.
Product Summary: The Vaseline Intensive Care Essential Healing Lotion is great for the skin especially during winter when the weather is harsh and makes the skin dry. It is formulated to keep the skin hydrated for longer and retain moisture which in turn makes the skin softer.
5. LIP GLOSS
A great addition to the pack of toiletries for homeless people is lipgloss. Lipgloss is better than lip balm because it moisturizes the lips for longer and protects the lips better.
Product Summary: The Broadway Vita-Lip lipgloss is infused with vitamin oils that are great for moisturizing and soothing. It also comes in a variety pack from 4 items to 10 items that you can choose according to your budget.
6. FACE TOWELS
When you are thinking of assembling homeless kits and care bags for the homeless, you should always include face towels because they are essential to personal hygiene. Their small size allows the homeless people to easily carry them around and use them conveniently when they find a place to shower and clean themselves.
Product Summary: These Utopia Cotton towels are soft and absorbent and lightweight. You can buy them in bulk which is convenient for distribution to the homeless.
7. BACKPACKS
Homeless people need simple bags that they can store their valuables in, and this is where the backpack comes in. When you purchase backpacks for the homeless, you are not only giving them a place to keep their items, but also providing them the convenience of having all their items in one place that is safe.
Product Summary: The Osacaurt backpack is one of the best anti-theft backpacks on the market. It is designed in a way that the items in the bag stay safe from theft as well as elements such as water and snow because it is waterproof. It is also very convenient because of its use of solar energy which can be used to charge items such as phones or tablets. It is stylish and comes in 4 different colors to choose from.
8. WET WIPES
You can also include wet wipes in the care packets for the homeless when you are making a list for the homeless packages. Wet wipes are a great hygienic item to have on standby because of their convenience. They can be used in substitution of a shower or toilet paper – things that aren't easily accessible to the homeless.
Product Summary: These Cottonelle wipes are environmentally friendly and made with renewable plant fibers. There are no harmful chemicals used in these wipes which makes them good for sensitive skin.
9. EMERGENCY FIRST AID KIT
Another thing to include in your homeless care package is an emergency first aid kit. Life as a homeless person can be quite unpredictable and most of them do not have medical insurance to cover them in case of an injury. This is an essential item to include in all of your homeless kit starter packs.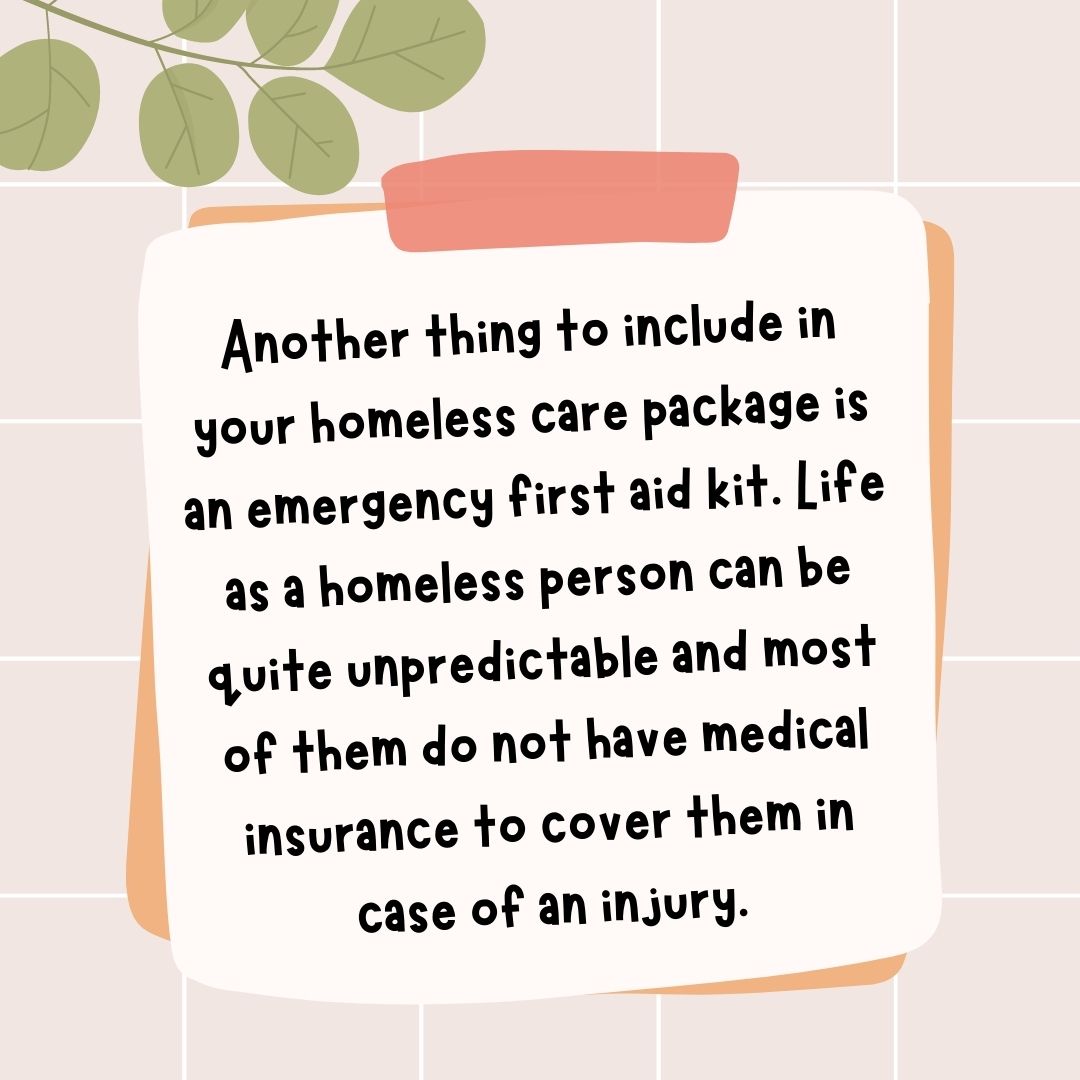 Product Summary: This first Aid Kit is conveniently packaged with antibiotic ointments, gauze pads, and ibuprofen amongst other emergency medical products. It is great for pain relief but not a substitute for medical attention. Always seek out medical attention for severe symptoms.
10. MAXI PADS
Of all the important things that homeless people need, this is perhaps the most important of them all. Pads are considered one of the homeless necessities when packaging because not always do people who get menstruation who are homeless get access to feminine hygiene products and they need these on a monthly basis.
Product Summary: These Stay Free Maxi Pads are comfortable and soft. They neutralize odors and offer anti-leak protection because of their wings.
11. TAMPONS
In solidarity with maxi pads, another thing that homeless people need and that is considered as an essential item for homeless people who menstruate are tampons. For the same reason as above, tampons are a great package kit and also useful and convenient in that they can be bought in bulk and kept for as long as they can last because they do not expire or go bad.
Product Summary: These Tampax Tampons are unscented. They come in a pack of 112 size variety and they are leakproof.
FREQUENTLY ASKED QUESTIONS
1. How to make care packages for the homeless
Making care packages for the homeless is hard because you do not know who these people are or what their preferences are when it comes to anything. If you can afford it, it is best to include items that are bought in bulk and have variety so that they can pick and choose their favorite ones. You can find some of the best snacks for the homeless, some ziplock bags where they can store their food, a variety of beef jerky, and both non-consumable and consumable goods should go on your homeless supply list.
2. What is the best thing to give a homeless person?
The best thing to give to a homeless person is something that they want and a lot of the time, this is food. Because most homeless people do not have access to three meals a day, preparing lunch bags for the homeless can be the best gift for a homeless person. 
Additionally, depending on the season, it might be quite helpful to get homeless people seasonal clothes such as gloves in bulk.
3. What to give a homeless person on the street?
If you happen to meet a homeless person unexpectedly and you don't know what to give them, you can always give them money, or offer to get them a meal of their choice. You may also give them homeless snack bags which will give them energy until they can find their next meal.
4. What to give homeless people?
You can give homeless people anything that may be useful to them while they are on the streets or in homeless shelters. You can even prepare some care packages for homeless shelters, mostly with some of the best foods to donate to homeless shelters (such as canned goods and anything you can buy in bulk i.e. rice, beans, etc.) which can go a long way for the shelter in helping more homeless people find food, and shelter.
5. What do the homeless need?
The homeless usually need things that will protect them from other people and the natural elements. This is why toiletry bags for homeless people is the best kit you can get for them. Make sure you get a pack that has the essentials; toothpaste, toothbrush, body lotion, tampons, and tissues – just to mention a few. You might also want to give them some survival kits for the homeless such as a flashlight so that they are able to see in the dark. And to protect themselves from natural elements such as the changing of the weather, you might want to consider putting together winter care packages for the homeless which will include items that will protect them from the harsh winter such as gloves, thermo-pants, and blankets.
CONCLUSION
In conclusion, this article has given you 11 essential items that you can put in your care package for the homeless. Caring for the homeless is a charity that only a few dedicate themselves to and it is important that in your quest to make this world a better place, you put forth dignity and love whenever you are helping out those less fortunate than you. With this in mind, it is important that you make the homeless feel that you are helping them for humanity's sake and make them feel as connected to your donations as possible, you can always accompany your homeless care package with a note or a  message for the homeless person who will be the recipient of the package. This way, you uplift them spiritually and mentally.
ESTIMATED TIME DESIGNING AND UPLOADING THIS ARTICLE
ESTIMATED TIME RESEARCHING AND WRITING THIS ARTICLE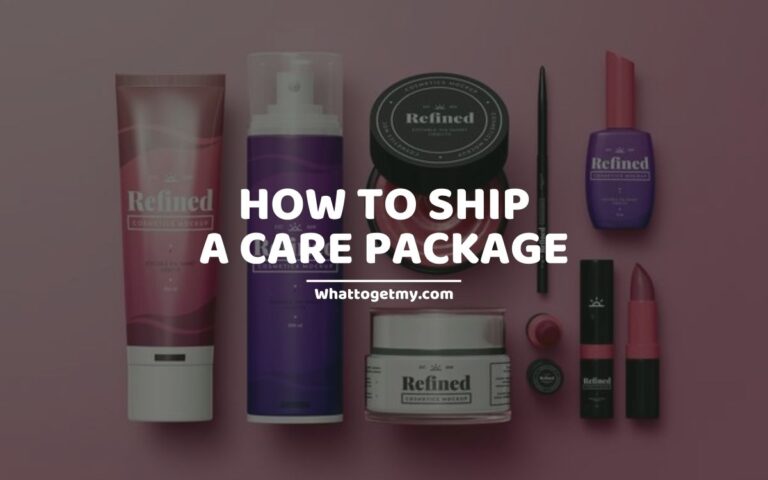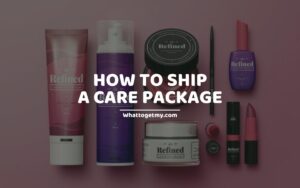 7 Ways on How to Ship a Care Package
7 Ways on How to Ship a Care Package WhatToGetMy Instructional Article Do you find it difficult to ship a care package to a friend? This article is created to help you pick the right way to ship a care package to a friend or
Read More »