What to Say and Not to Say to Someone Who Miscarried
WhatToGetMy Instructional Article
WHAT TO SAY TO SOMEONE WHO MISCARRIED
As a society, we are really unprepared when it comes to how to talk about miscarriage and so when it happens to someone close to us, individually we find ourselves clamoring for the right words to say.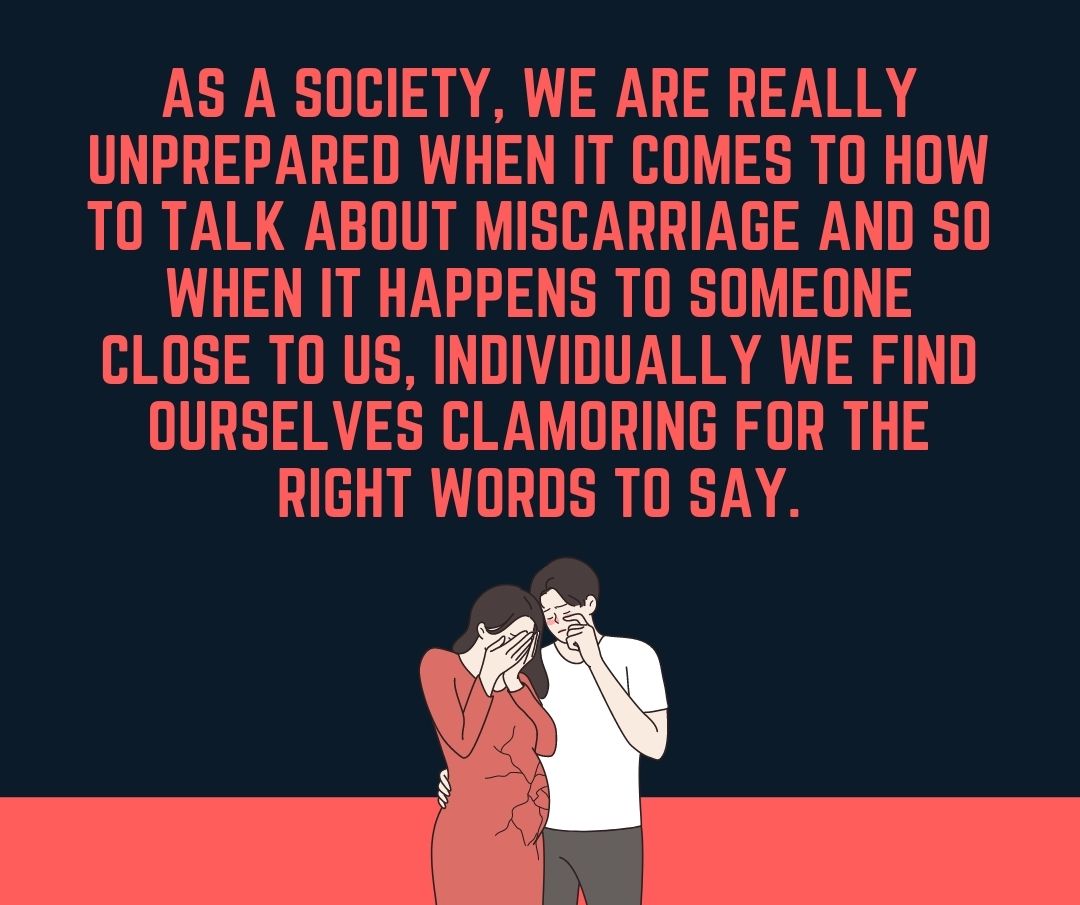 Because how do you express your condolences to someone whose pain you have never felt, let alone been made aware of? This section of the article has listed some of the things that you can say to someone when they are going through a miscarriage; in summation, "I love you" "I am here for you" and "I am sorry for your loss" are the only things acceptable to say to someone who is experiencing a miscarriage.
1. I AM SORRY FOR YOUR LOSS
A sympathetic thing to say to a friend who had a miscarriage is to express how sorry you are for their loss. This shows them that you validate their feelings and that their loss is something that deserves to be mourned.
2. YOU ARE NOT ALONE, I AM HERE IF AND WHEN YOU NEED ME
This is a great message for someone who has a miscarriage because not only does it let them know that you are there when they need you, it also gives them the freedom of choosing when or if they want to contact you at all. Most times when people go through a traumatic event, others think it is okay to just show up unannounced and justify it with "being there for a friend" however, you can only truly be there for someone who wants you there and has asked you to be there. Otherwise, learn to respect people's boundaries and stay away unless asked.
3. HEALING TAKES TIME, BE GENTLE WITH YOURSELF
These are some of the most encouraging words for a friend who miscarried. People may try to hurry the emotional or physical healing process after a miscarriage so that they can "get past it" and "move on" and by so doing end up burying emotions deep inside which fester over the course of time and manifests themselves in unhealthy ways. Letting your friend know that it is okay to take all the time she needs to process what her body and mind have been through and to especially do so with grace and gentleness.
4. TAKE ALL THE TIME YOU NEED TO  GRIEVE, EVERY EMOTION YOU ARE FEELING IS VALID
Telling your friend to take all the time they need to grieve are some of the best words of comfort for miscarriage you can tell them. You can write this in a sympathy card message for miscarriage or send it as a text message, or tell them in person. Either way, let your friend know that whatever emotion they are feeling is valid and therefore they should allow themselves to feel every emotion as it comes. After all, the only way to get through grieving a loss is to go through it.
5. YOU ARE SURROUNDED BY LOVE, WE ARE ALL HERE FOR YOU
Lastly, for some miscarriage words of comfort, let your friend know that they are surrounded by love and support. Most women who have had a miscarriage say that they felt alone and that no one understood what they were going through, and so even if you do not fully understand what your friend might be going through, you can make them feel less alone and show them that they have love all around them.
Another way to let your friend know that you love them and you are thinking about them is to send them a gift that will lift their spirits.
WHAT NOT TO SAY TO SOMEONE AFTER A MISCARRIAGE
Whatever has not been listed in the first part of this article highlights everything you should not be saying to someone after they have just had a miscarriage. However, in case you need more precise examples, here are 11 things you should not say to someone after a miscarriage.
1. YOU CAN ALWAYS HAVE ANOTHER
When you are thinking about comforting words for miscarriage, do not tell your friend who is going through the loss of a child that they can always have another child. In as much as that is true, it is in bad taste and it can come across as you telling them to get over the loss already and get on to making a new baby that will "stick" this time. It is insensitive and it does not matter what your intentions are when you say them, these words paint you out to be malicious.
2. AT LEAST YOU WEREN'T FURTHER ALONG
For your friend who just had a miscarriage that wasn't far along, never ever point out to her what stage she was in before the loss of her pregnancy. To add to that, do not tell her what size pea her baby was or what cells it had – that essentially made it "not human" yet. It desensitizes the magnitude that your friend is feeling loss over this little bean she had been expecting to grow into a baby that she was going to love and nurture.
Risk of Miscarriage by Pregnancy Week. Source: Expectingscience.com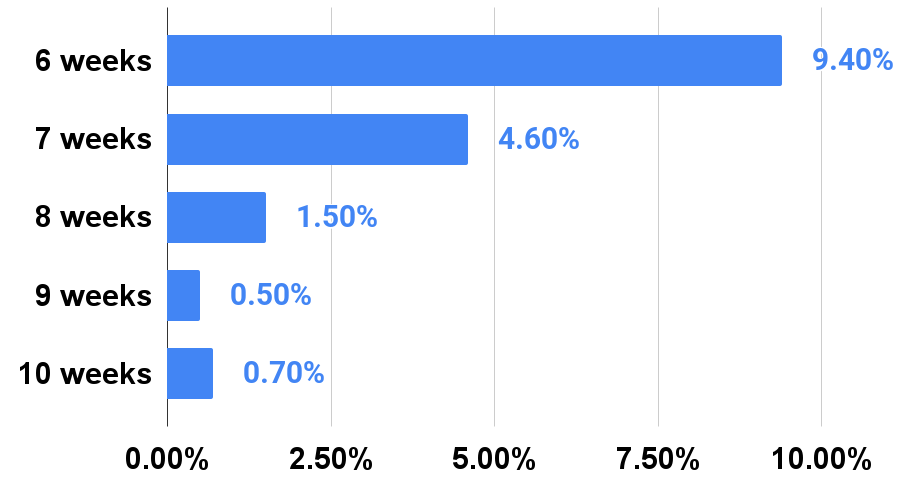 3. IT'S FOR THE BEST
As much as this may seem like a sympathy quote for miscarriage, it does not translate the same way when told to someone who has just had a miscarriage. Because in whose best interest is it for that they had to lose their child? Avoid saying this to people grieving the loss of their unborn child because it is insensitive and comes across as condescending and disingenuous.
4. THIS IS REALLY COMMON ESPECIALLY FOR SOMEONE YOUR AGE
Of all the statistical miscarriage quotes you can find for a friend, never send them this, because chances are that your friend already knows all this information, and what your piece of information is going to do is make her shift the blame inwards onto herself which may lead to mental health issues such as depression.
Whatever information about older women conceiving and carrying to term that you find on the internet, refrain from sending it to them – it may be your effort of trying to show them that they are not alone as this kind of thing is common with women their age, however, it just won't come off that way and you may end up causing more damage than good.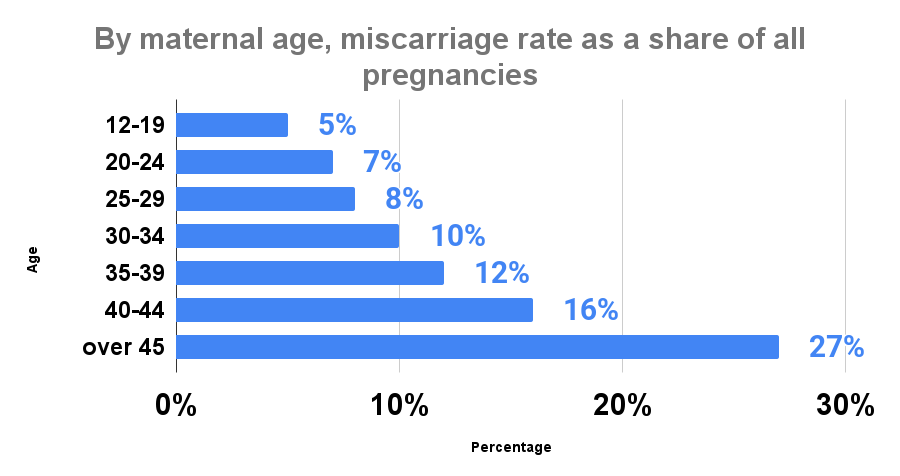 Source: www.kff.org
5. EVERYTHING HAPPENS FOR A REASON
Whatever you do, do not quote miscarriage scriptures or any other faith-based cliches to your friend who has just had a miscarriage. This is because, at a time of loss, the people grieving do not see the best or a logical reason for the tragedy – and telling them that everything happens for a reason or that it is all part of gods plan, just makes it seem as if you want them to ignore their pain and accept what has happened because of some grand master plan that they do not fully understand.
If you are a true believer, you will help your friends figure out a way through their grief and find their way back to their faith on their own and at their own pace. Let them grieve as much and as long as they need to without feeling guilty about not trusting the bigger plan.
6. AT LEAST YOU DIDN'T GET TO LOSE THEM AFTER YOU HAD ALREADY RAISED THEM
If you can, you must always avoid "at least" statements when giving miscarriage messages of sympathy. This is because at least statements tend to minimize the magnitude of the loss – "oh, at least it's not as tragic as it would have been if you had lost a baby that you had held." really reads as insensitive and demeaning to the people who are grieving the loss of their unborn child. This message is not sympathetic and it will only come across negatively to whomever you are trying to sympathize with.
7. DID YOU DO SOMETHING YOU WEREN'T SUPPOSED TO BE DOING DURING PREGNANCY?
Do not ask grieving mothers if they did something wrong during their pregnancy that may have caused their miscarriage. Miscarriages happen for a number of reasons and rarely are any of them the mother's fault. This question is not only insensitive but it is also shifting blame onto the mother. A lot of women tend to blame themselves a lot when they lose a pregnancy and they can do without you piling onto that little voice in their heads that tells them that maybe if they had taken time off of work, or had a longer bed rest, or made it to the hospital in time, or gotten pregnant earlier in their lives, then maybe they would still have their baby. Do not be an additional voice that says to them "hey, this could be your fault, have you thought about that?" because yes, they have. And no, you are not being helpful. This is definitely one of the things you should never say to someone after a miscarriage.
8. AT LEAST YOU HAVE OTHER CHILDREN TO TAKE CARE OF
When you are passing on your condolences for miscarriage, avoid pointing out that your friend has other children that are alive and well that they need to be taking care of. Trust us, they know. It is their children, they have not forgotten about them. However, they are still allowed to mourn the loss of the one they were expecting without being made to feel like they are failing as parents for the children that they already have.
If you are truly looking for a way to help your friend, here are a few tips on what to do for someone who had a miscarriage
9. I KNOW HOW YOU FEEL
When you decide to send a card message after miscarriage, make sure you avoid writing in it how much you understand how they are feeling. The truth is no two people mourn the same way and even though you may have gone through the same experience, you cannot state with certainty that you know how they feel. You may tell them that you understand what they are going through, you may tell them about the time you went through something similar and remind them how they were for you and let them know that you were going to be there for them just as they had been for you. However, do not assume you know how they feel just because you suffered a similar loss.
10. YOU MUST BE DEVASTATED
If you ever decide to write your friend a miscarriage poem, make sure you do not emphasize on how devastated they must be feeling after their loss. Yes, it is a devastating thing to happen, and no pointing it out does not help them realize how devastating it is. It is a useless reminder because they already know what a big loss they have suffered and what big grief they are feeling, they do not need you to constantly bring it up to remind them just how big and devastating their loss is.
11. AT LEAST YOU KNOW YOU CAN GET PREGNANT
What do you say to someone who lost a pregnancy? Definitely not "at least you know you can get pregnant." again it is very condescending and it minimizes the loss that your friend is feeling over the miscarriage. It comes across as "why are you sad when you can just try again and get pregnant?"
If you do not know what to say to your friend who has just had a miscarriage here are a few words to say instead of sorry for your loss
FREQUENTLY ASKED QUESTIONS
1. How to tell someone you had a miscarriage?
 The best way to tell anyone that you had a miscarriage is to just say the words. However, you should do it in your own time, when you are ready. Sometimes, saying the words out loud to someone else can help you accept your loss and begin to heal from your trauma – say it however you feel appropriate and comfortable for you, at a time of your choosing.
2. What to say to someone who is pregnant after a miscarriage?
You can still be happy for someone else who is pregnant after you have lost your baby. Tell them congratulations, ask them when they are due, talk to them about the pregnancy experience, and everything in between that they are comfortable and willing to talk to you about. It is okay to let other people know that they can rejoice in their pregnancy around you without you making them feel guilty for doing so. It is okay to be happy for your friend who is still pregnant after you have lost your baby.
CONCLUSION
In conclusion, this article has brought you what to say and not to say or write to someone who had a miscarriage. We hope that these have been helpful to you in finding the right words to say to someone close to you who is going through a miscarriage. May they find the strength to get through this difficult time and may you find the right words and the right way to be there for them.
Sending you love and light.
ESTIMATED TIME DESIGNING AND UPLOADING THIS ARTICLE
ESTIMATED TIME RESEARCHING AND WRITING THIS ARTICLE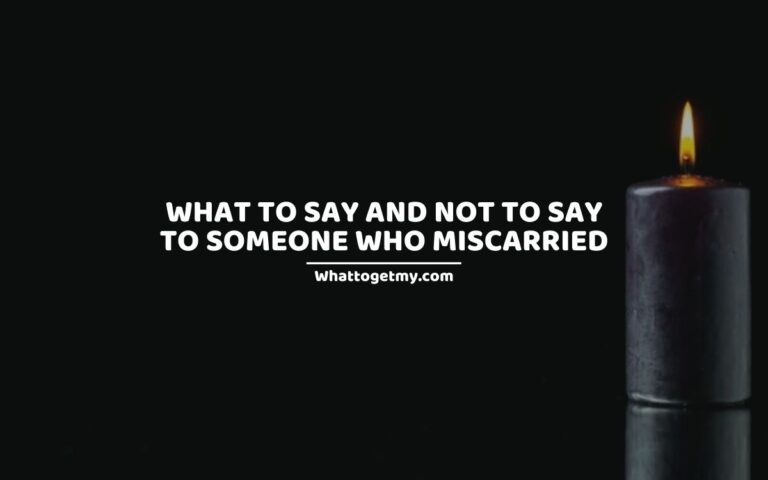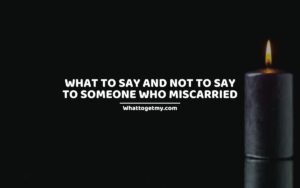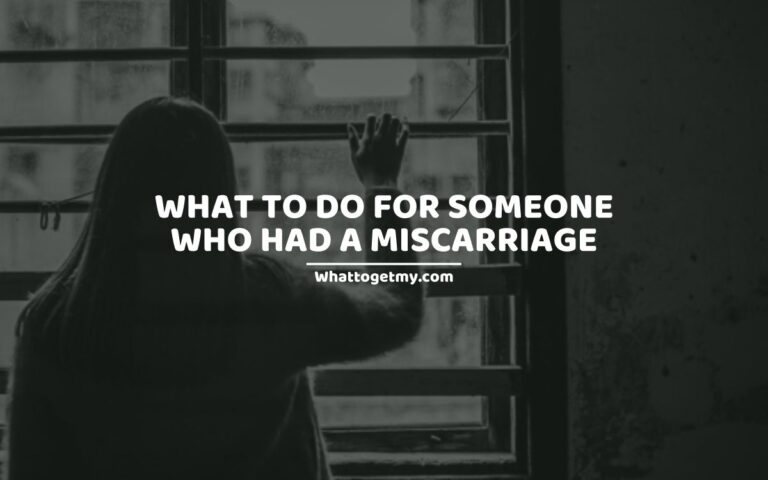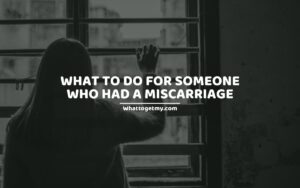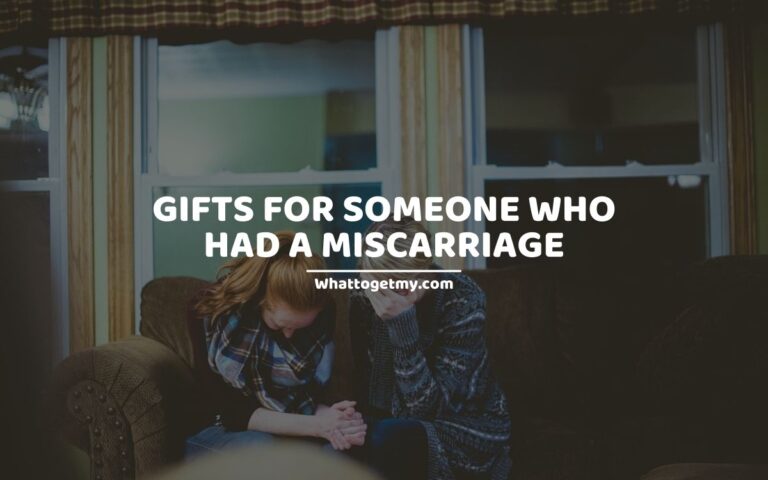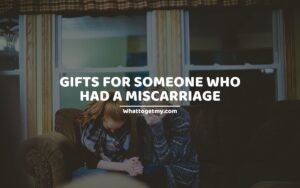 9 Appropriate Gifts for Someone Who Had a Miscarriage
When you are thinking of getting gifts for someone who had a miscarriage, you should consider what is appropriate and what they can find comforting during this time because therein lies your perfect gift for someone you know who has had a miscarriage. Getting a
Read More »