As an Amazon Associate we earn from qualifying purchases. We may earn a small commission for our endorsement, recommendation, testimonial and/or link to any products or services from this website. Thank you, your qualifying purchases help support our work in bringing you real daily gift ideas.
Quick Overview: Gifts for Someone Who Had a Miscarriage
JEWELLERY TO REMEMBER MISCARRIAGE
1.
NECKLESS
A memorial necklace is a good pregnancy loss necklace to include as a gift in your miscarriage care package for your friend or family member who has experienced this painful loss. It is something they can wear and keep around them at all times to remind them of the love they felt for the child they never got to have and hold.
Product Summary: This amazing turquoise necklace is specially designed for miscarriage and infant loss.
2.
BRACELET
When you are thinking of miscarriage gift ideas, you can rest assured that a miscarriage bracelet will make an amazing jewellery gift. Wearing it will remind the mom not only of the loss but also that their child existed and that their love for the child was as real as anything. You can engrave it with the date of the day of the miscarriage or if they had already picked out a name, you can have that engraved in it, too.
Product Summary: This cuff bracelet is made from stainless steel with the inscription "God has you in his arms, I have you in my heart." It is perfect for the loss of a child or a miscarriage.
3.
INFINITY NECKLACE
The infinity necklace is a good item to give for a twin miscarriage gift. This is because every half of the infinity symbol could represent each child that was lost. When you are getting pregnancy loss gifts, it is very important to be intentional and pay close attention to details and this necklace allows you to engrave personal details that will make it that much better of a gift.
Product Summary: This infinity necklace has angel wings and baby feet hanging from it. It is hypoallergenic so anyone can be able to wear it without getting an allergic reaction.
MISCARRIAGE GIFT BASKETS
4.
SYMPATHY CARD
A great thing to include in a miscarriage support box is a card for miscarriage. The best thing about this sympathy card for miscarriage is that you can personalize it and write your own words to express your condolences better. Here are some ideas on what you can write on the card to express your sorrow; What to say instead of "sorry for your loss".
Product Summary: This sympathy card is customizable which makes it the best gift because you can make it say whatever you want for your loved one to ease their pain during this difficult time.
5.
WILLOW TREE REMEMBRANCE ANGEL
This Willow Tree Remembrance Angel is a great gift for a mom who lost a baby because it is symbolic of an angel which can have a two-fold meaning; the first one being that the baby was an angel and therefore not of this world, and the second meaning is that the baby is in heaven now and they are amongst angels, being protected and loved – as much as they would have been protected and loved with their earthly parents.
Product Summary: This Willow Tree Angel is made from Resin and it is carved and painted by hand – which makes it special and well thought out. A truly great gift to give someone in mourning to let them know you are thinking of them.
6.
COMFORT SNACKS
Comfort smacks are always a good idea for gifts after pregnancy loss or as a gift for someone who miscarried. We all need our comfort snacks when we are sad, depressed, or overwhelmed. And these maybe some of the feelings that a mother who just lost her unborn baby might be feeling and it would be nice to have food around that gives her comfort.
Product Summary: This snack pack has assorted snacks that include chips, candy, and cookies. It is great for long trips and for people who enjoy different kinds of junk food.
7.
SCENTED CANDLES
This beautiful candle set makes for an amazing gift for someone who suffered a miscarriage. Its essential oils will make any room smell delicious. The candles also have aromatherapy benefits which can lead to the relaxation of the mind and body since aromatherapy has throughout history been considered a natural way of healing people's minds and enhancing people's moods. Scents such as lavender and vanilla are considered soothing and have calming abilities, which is why it is the perfect gift for a woman who miscarried because it will calm their nerves and help them relax.
Product Summary: These candles made from Soy burn for longer and are infused with different essential oils to deliver a relaxing and refreshing scent to your atmosphere.
8.
OIL DIFFUSER
Another great sympathy gift for miscarriage that also has calming effects is this oil diffuser. Just as the scented candles would work, the oil diffuser is also responsible for releasing aromas that have a calming effect on people.
Product Summary: This oil diffuser comes with 10 essential oils that are natural and safe for the environment.
9.
BOOKS ON LOSS
And lastly, but definitely not least, one of the best comforting gifts for a woman going through a miscarriage is a book or books on loss – especially ones that detail other women's struggle with fertility and also pregnancy loss. It is often common for women to feel isolated when an incident like this happens and showing them that they are not alone will go a long way in helping them accept what has happened to them and start healing from it.
Product Summary: The Art of Losing is a book of poems compiled and edited by Kevin Young. It has a total of 150 poems that are theme centered around loss and grief.
OTHER THOUGHTFUL GIFTS AFTER MISCARRIAGE
MEAL PLANS
Meal plans are great because they are a form of personalized miscarriage gifts. You can tailor every meal plan according to the person's preferences and dietary needs. Usually, people who are grieving will not have the energy to cook or feed themselves, having a meal plan for your grieving friend or family ensures that food is one less thing they are worried about.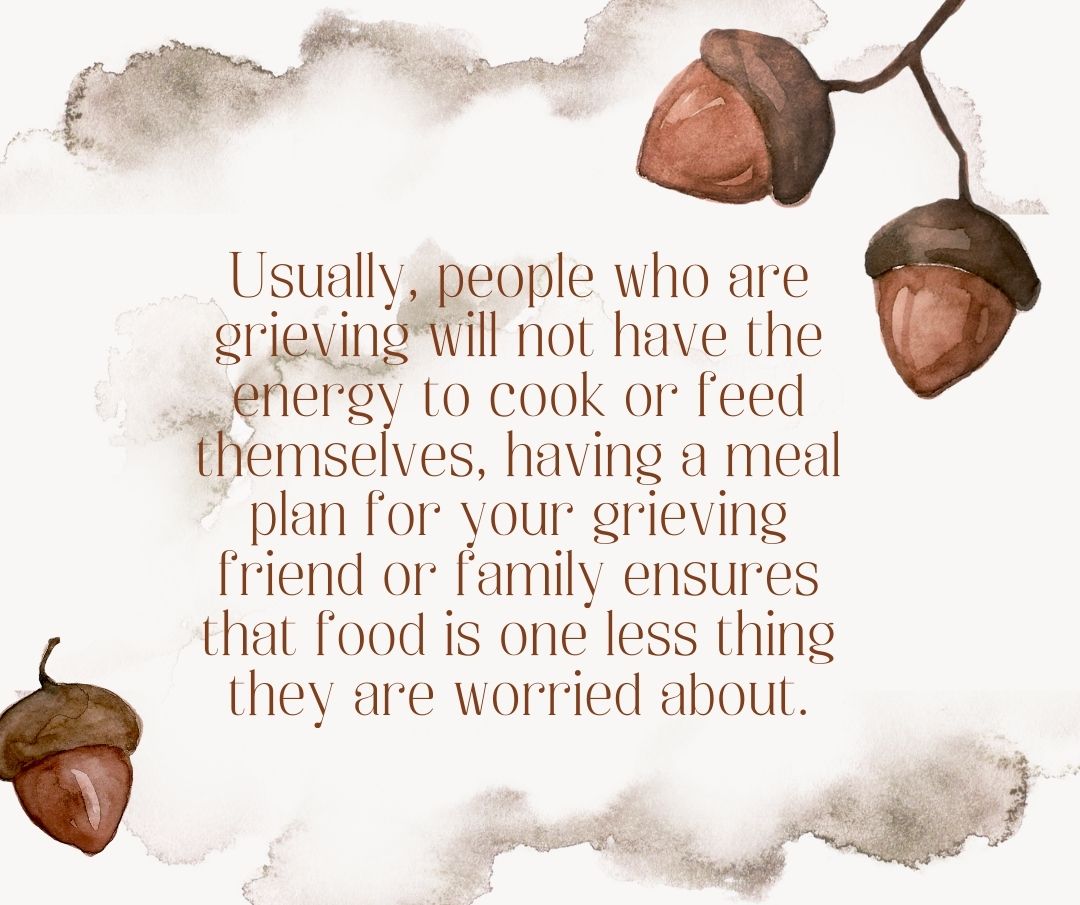 CLEANING SERVICES
Another great condolence gift for miscarriage is ordering a cleaning service for your friend or family member who is in grief. This is so to make things easier for them because when you are grieving, the small day-to-day tasks can become overwhelming.
VACATION/GETAWAY
If you are still wondering what to get someone that had a miscarriage, then maybe you should consider booking them a vacation. tai=king time away for themselves in a different environment may be just the thing they need to get out of their heads and start accepting the tragic event for what it is and stop dwelling on what they could have or should have done differently (Usually women who go through miscarriages blame themselves for the loss)
SPA DAY
Another great gift for someone who had a miscarriage is to book them a spa day. You may choose to go with them to keep them company, or you may choose to book it with their spouse so they can have some relaxing time together. Spa days are known for their calming effects and relaxation, two things that the body needs after experiencing both physical and emotional trauma.
Related Articles: Memorial Gifts for Loss of a Child
FREQUENTLY ASKED QUESTIONS
Is there a flower that represents a miscarriage?
There is no specific flower that represents a miscarriage, however, it is almost customary to send flowers for miscarriage that occurs to your friends or family members. This is because flowers are symbolic of beauty, love, and the beginning and end of life – all of which can be quite comforting and assuring to a person who is mourning the loss of their infant. Flowers also make for a great DIY miscarriage gift because you can assemble the person's favorite flowers on your own and present them to make the gesture feel more personal.
CONCLUSION
In conclusion, this article has given you a list of 9 incredible gifts for someone who had a miscarriage and 5 other thoughtful gifts you can give to a mother grieving pregnancy loss. We have also highlighted and distinguished memorial ideas for stillborn babies, baby remembrance ideas, and miscarriage remembrance gifts.
A miscarriage, no matter at what stage, is a very tragic thing to happen and the mother will have an array of emotions when it happens, it is important to be graceful and patient with them during this time until they can come to a stage where they can accept what has happened and begin to heal. But in the meantime, as they grieve, do whatever you must to make their lives easier and send them a gift – or two!
ESTIMATED TIME DESIGNING AND UPLOADING THIS ARTICLE
ESTIMATED TIME RESEARCHING AND WRITING THIS ARTICLE